Dropbox for Windows 10 updated with in-app camera, notifications view and more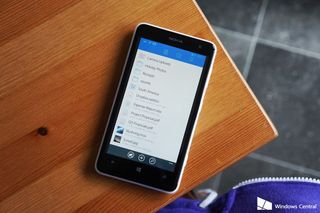 Dropbox is rolling out an update to its Windows 10 cloud storage app for PC and Mobile. The new version adds an in-app camera, a notifications view and much more.
Rudy Huyn, who works on the Windows 10 team at Dropbox, has posted a detailed change log of the new 4.2 version:
Undo copy, delete, move, and rename actions - When you copy, delete, move, rename a file, a toast will appear. You can swipe to remove it or click undo to undo your action
Notifications view - Retrieve all your notifications in this view, including preview of comments, be able to browse a folder not in your Dropbox
Transitions and animations - New page transitions and animations based on GPU (new Windows 10 API)
New small UI for Desktop/tablet - A new UI has been added for desktop/tablet, displayed when the window width is between 360px and 500px (before: 500px was the minimum width for the app). This new UI will allow users to decrease a little more the size of the window and is based on the phone UI (with some little tweaks to replace the missing physical back button for example)
New Search UI - All results include a mini breadcrumbs, very interesting to distinct 2 files with the same name + allow you to navigate in parent folders. This new feature has been added to Offline tab too. Another new feature is the possibility to navigate in the search, if you click on the page header, you can now select a parent folder to extend your search to this folder.
New "add" button
In-app camera to take pictures and record videos + upload them in the current folder
Include comments in Recents - include a preview of the comment
Video timestamps added to Photos view
The Photo tab is now updated in real time
performance improvement
improve background uploads
etc...
Download Dropbox for Windows 10 Mobile and PC (opens in new tab)
Windows Central Newsletter
Get the best of Windows Central in in your inbox, every day!
So hassle free storing of receipts/invoice etc.... excellent!

I know, the office lens app stinks oh my phone I approve this message.

Oh man, even Rudy did forget about the people on Surface 2. Time to change hardware ..... i am thinking Surface 4. I'll wait.

Don't worry, the 8.1 update for phone and desktop arrives, it's too risky to ship 3 updates at the same time

A while ago I ditched Onedrive and use Dropbox for everything "cloud". Never looked back. It is the best multi platform cloud sw out there.

the best part is they bring back placeholder... to bad MS don't get that we need that fonction with tghe cloud... I thinking of switching just for this...

Q. Why didn't Microsoft hire Rudy Huyn?
A. Because he didn't know how to make iOS or Android apps.

Haha! I was just about to ask that. Glad you answered. ;) OneDrive UWP by Rudy would have been so much better.

Lol....poor Microsoft fans !

I think OneDrive backend is so much more complex than Dropbox's. You always see signs of the 'Legacy' coming out of the seams of OneDrive, unfortunately.

Lmao Posted from Windows Central for Windows 10
on My surface phone

Still no "Download" button to redirect me from this article on WC App to the Dropbox App on the Store :(
Windows Central Newsletter
Thank you for signing up to Windows Central. You will receive a verification email shortly.
There was a problem. Please refresh the page and try again.