Dropbox's Project Infinite lets you access all your files regardless of hard drive space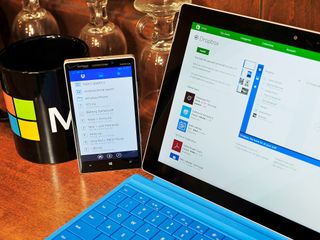 The team at Dropbox is constantly trying to assist in our storage troubles, and Project Infinite is another way the company hopes to alleviate some headaches. Often times companies and users are storing terabytes of information in Dropbox, way more than their computer hard drive can store locally.
Trying to access these files in the past has been clunky, but that is about to change. You will no longer need to bounce between the local app and web browser to find the files you are searching for. Dropbox notes that Project Infinite will bring teams a number of features, including:
Visibility in context. Every file you've been given access to—even ones that aren't stored locally—will appear in Windows File Explorer and Mac OS X Finder. You can quickly drill down through folders to find what you need, without the lag of a network drive or the inconvenience of a web app. Plus, you can view key info like file size, and creation and modification dates through your desktop file system, no downloading required.
Real-time access. Files and folders stored in the cloud can be organized with familiar drag-and-drop simplicity, right from the desktop. And when you need to open something from the cloud, just double-click it like any other file. Dropbox will automatically sync and open the file for you.
Universal compatibility. For IT teams, Project Infinite works the way your teams work, supporting cross-platform access and backwards-compatibility on any computer running Windows 7 or higher, or Mac OS X 10.9 and up. IT teams can bring the power of Project Infinite to the systems they manage and you can share and collaborate with ease.
Locally synced files will continue to have the blue check that we are used to seeing, while files not stored locally will gain a new cloud-shaped icon.
Jared started off writing about mobile phones back when BlackBerry ruled the market, and Windows Mobile was kinda cool. Now, with a family, mortgage and other responsibilities he has no choice but to look for the best deals, and he's here to share them with you.
Imagine if Windows 10 had this bookmarking method of accessing files on Onedrive. Unfortunately MS tells us this is too confusing for Windows customers. I guess Dropbox customers are a cut above?

They need to bring it back as an option!

Yeah, this was great on Windows 8.1. I find keeping track of which folders are on which computers much more confusing, and regularly get errors from trying to sync something on one computer that was already in the OneDrive from another. I would much rather have this new Dropbox system: selective sync, but you can still browse even what is cloud-only.

Yea, I addressed this by getting a NAS drive. Trying to rely on the likes of MS to provide a consistent and practical service is always risking disappointment. It turns out I'm a way better provider of cloud services than MS is. Nice.

I don't have time to deal with NAS drives and the security issues they present when I want to access something and I'm *not* at home. Plus, the equipment can be quite expensive unless you're getting the cheapest crap on the market.

Yes! Go dropbox goodbye OneDrive. Microsoft destroyed windowsphone which could become the best smartphones every if Nokia didn't sold it. Bill I'm disappointed ):

What Bill? I thought it is Satsha Nadella?

Bill Gates is the owner and founder of MS

Bill Gates isn't even the largest shareholder of Microsoft.

What's this got to do with Windows Mobile though?

Not much, but this site is called Windows Central and ths has a lot to do with WIndows.

I was talking to the guy saying he's switching because Microsoft messed up Windows phone.

Earlier they announced we will loose OneDrive's free space and MS has created things that are not even compatible on their own devices like wordflow while pretty much anyone with android n IOS can use it and there are alot more than only this and I'm like WTF!!!??
Like take Skype for example. Shitiest app ever. You own skype mofos and not a proper app for your OWN paltform Fucck Me Sir why bother than just shut the fccking platform off. It's like I make cars and thier spare parts and when ppl buy a car n then spare parts they relies that those spare parts dnt even fit coz they are for some competitor car company this is exactly what's happening to us for just staying loyal to windowsphone. I will seriously switch to s7 edge the day I get a chance... **mic drop**

Pick that mic up boy! You ain't earned no mic drop.

I just dropped it do whateva u want

Lol. You're just adorable.

I wonder if Bill and his family are still banned from using iPhones? They'd lead a frustrating billionaires lifestyle if they are. I'm still clinging on to my WP, cos I love the OS, but really disenchanted atm. As for OneDrive, there's no reason why they can't implement something like DropBox's solution.

They already had that implemented in Windows 8.1. They literally removed it moving to Windows 10 citing "confusion." Personally, I think they just wanted to conserve server resources.

Sounds awesome but not enough for me to switch from OneDrive

Well the free OneDrive Storage sure is not one of the arguments anymore.

I'm an Office 365 suscriber with 1TB of storage, your argument is invalid.
​Tips: share licenses with friends so it could be just around 2$ per month.

So your argument is that you can buy a bigger package that might or might not include 1 10 or u limited tb of storage and makes it better than Dropbox..i see

What if your friend becomes a non-friend? Who loses their access, you or they? Are you just going to say "it's under my name, so I guess you're SoL" or are they going to be the jerk in that situation. Nevermind, people can monopolize licenses across their multiple machines and there's nothing you can do from stopping it (can't put restrictions on how many liceses someone you share with can access). Those 5 License packs are aimed at Families for a reason. What you said is more of a risk than a tip :-P

Haha, I wanted to switch to Drop Box because it's a lot faster, but I can't because their free 2 GB is nothing compared to the terabyte I got for free with OneDrive the other day (Free Office 365 for a year) :) lol. Plus the integration in the Photos app is pretty great.

Exactly what we loved about OneDrive before MS F#cked it up!

I want that mug. Where can I get one?

Amongst us Windows customers you'll find plenty of mugs, unfortunately...

Yep. Microsoft, you've got your heads-up. If this feature from W8 isn't brought to W10 before the one year free upgrade period expires, I'm switching to Dropbox. Onedrive might be 'just one app' and this might be 'just one feature', but it's a feature that deals with how I access all my files. Which, is pretty much the main purpose of having a computer.

Oh great, the best feature of Onedrive (online only files), that MS inexplicably removed in the transition from 8.1 ->10, is now a key feature of their biggest cloud storage competitor......get your $hit together MS. I'm a firm believer that instead of paying 4 billion dollars for Nokia, they should have dumped a few hundred million into developer payments for application ports and contracts to keep them up to date.....at least we would have apps, instead of our dying mobile platform.

Have you ever considered that maybe Nokia was going to give up on Windows Phone which would have left it in a worse state than it is now? By buying then out Microsoft was able to keep phones in the market and avoid the even bigger PR / Perception disaster that would have been caused by Nokia just switching to Android or going bust. I think whatever way you look at it, Windows Phone was heading for an awkward transition and Microsoft stepping in bought a little more time to delay the inevitable. Posted from my Lumia 950

Maybe I'll have to switch to Dropbox then. Removing placeholders basically made OneDrive on Windows pointless. The reason we use cloud storage is so we don't have to store everything locally.

Dropbox showing how is done. Taking one of the best features used to have and way faster than OneDrive to boot. (And I am a OneDrive user myself). :(

placeholders !!
I will switch to Dropbox as soon as they release the function

Is it time to switch from Onedrive to Dropbox?? How much time should we give MS to catch up?

Microsoft is too busy taking 5 steps backwards before they go one step forward. And by the time they release features like the one mentioned in the article, it has been a standard feature at every other cloud storage company for 2 years.

Use whatever service you want. It doesn't hurt to have multiple online storage accounts.

Ummm.... www.odrive.com has used this as their reason for existence for 1 1/2 years now.

Odrive is close, but there's a big difference. In odrive all placeholder files show up with a .cloud extension. This makes it tough to find files. You can't sort by extension nor can you use the open file menu option from inside an applicaiton to open a placeholder file since the extension does not match to an application. It looks like dropbox's method shows the icon and extension for the original file. That is much nicer.

Dropbox is tempting me to ditch OneDrive. They're really doing some great stuff over there.

I'm sticking with OneDrive. Dropbox is known for data breaches and for giving government access to files. Microsoft is more reluctant to grant governments access to users' files.

Cloud First - Place holders removed, Unlimited withdrawn. Mobile First - No mobile priority for this year, Market share plummets from 10% to 1%. What is going on? Like someone else has said. Adios MS Onedrive Just had a look at Dropbox plans, maybe business offering unlimited storage is actually worth it.. https://www.dropbox.com/plans?trigger=homepagefoot

10%? It's never exceeded 3%...

I just sounds like the cloud files are indexed and that index is searchable on the local machine being used. I thought we could already do this.

Wow, this is new and incredible technology! If only Microsoft had thought of it before, perhaps introducing it along with Windows 8.1. I feel like they would've called it SmartFiles or something like that. But we know that didn't happen, it's not like Microsoft would be stupid enough to get rid of a feature like that! /s

I've had 18 Go for my Dropbox on licence-activation.com
Windows Central Newsletter
Get the best of Windows Central in in your inbox, every day!
Thank you for signing up to Windows Central. You will receive a verification email shortly.
There was a problem. Please refresh the page and try again.