Duet, a frustratingly challenging Windows Phone game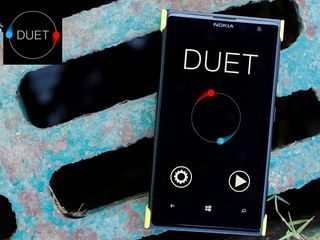 Duet is a relatively new Windows Phone game that is insanely simple to learn but frustratingly challenging to master. None of which is bad.
The game has you spinning two colored dots around a circle in an effort to dodge objects that are falling from the top of the screen. Duet has over fifty levels scattered about nine chapters. Duet will test your patience, speed and reactions. While Duet can be painfully irritating at times, it is a fun game to have in your Windows Phone gaming library.
Update: It's worth noting that we've since discovered that this is not an official app, according to the original developer. Since this is a commercialized clone, we'd recommend you all steer clear until an official version is available on the Windows Phone store. Sorry, folks!
Main Menu
Duet's main menu is clutter free with buttons to access the game's settings and to start the game. Settings are minimal and hidden away to the left of the main menu. They include turning on/off the sound effects and visual effects (background effects).
Game play is divided across nine chapters and covers over fifty levels of play. Each level is progressively unlocked and becomes increasingly challenging. Tapping the play button will reveal the chapter or stage list that is hidden to the right of the main menu. Your completed levels are highlighted in gray and your next level has the spinning highlight box.
Game Play
Duet's game play is rather simple. You have a stationary circle at the bottom of the screen with a red and blue dot. Your goal is to safely maneuver these dots around the circle, avoiding a variety of shapes that will begin to fall from the top of the screen.
You tap the left side of the screen to rotate your dots counterclockwise and tap the right side of the screen to rotate things clockwise. Timing is key and should one of your dots hit an object, you fail that level.
There is no scoring with Duet, just survival. The transition from level to level is marked with a short phrase for good luck and a momentary period where you can rest your nerves and fingers.
Overall Impression
While Duet is a simple game for our Windows Phone, by no means does it lack challenge or an addictive quality. While the first few levels may come across as easy, the game picks up in speed and challenge rather nicely.
Blocks begin to spin and you will find yourself constantly rotating your red and blue dots to avoid smashing into an object.
The graphics, while minimal, help add to the attraction to the game. The only thing missing is a catchy soundtrack playing in the background.
If you are looking for an entertaining and challenging game for your Windows Phone to help pass the time with, Duet should be on your short list. There is a trial version available for Duet that includes the first five levels of play. The full version of Duet is currently running $1.99 and has over fifty levels of play.
Duet is available for both Windows Phone 8 and 7.x devices and you can find your copy here in the Windows Phone Store.
Windows Central Newsletter
Get the best of Windows Central in your inbox, every day!
George is the Reviews Editor at Windows Central, concentrating on Windows 10 PC and Mobile apps. He's been a supporter of the platform since the days of Windows CE and uses his current Windows 10 Mobile phone daily to keep up with life and enjoy a game during down time.
I guess people dont realize not every game has to support Xbox Live.

Great!! Available in Brazil!! Thank you.

Finally, lol. Great work(y)

Mahn you are really doing it.. Hats off!!

Hahaha good news for Brazilians finally :)

But this time I didnt do anything. At least directly with the developer... :)

More than the game I am happy coz its available in Brazil...

How do I start the game ... i dont get it. EDIT: Okay it works after restart.

Looks horrible. Bad graphics, expensive price.

It's worth noting that though the app poses as the iOS original, it's a straight-up clone.

The store description says so, on the very first line :P

Pretty sure "based on" is outweighed by claims of "One of the best AppStore Games of 2013 on iPhone & iPad, now on Windows Phone!" and all of the review quotes for a totally different game.

Yeah, I agree. But, the impressed developer at least had the conscience to cite that subtly at the least.

Conscience is about the last thing this developer has. He's made a rip-off of a well-established indie game, and he's trying to convince Windows Phone owners that's he's the same developer. He is not a dude I would feel good giving money to.

There are a lot more developers who don't even cite. But, everyone is entitled to his own opinion. So, cheers! :)

So if the original developer chooses not to create a WP version then nobody else can? It seems like they want it both ways. WP is a second tier platform so they don't develop the app for it, but then they complain if somebody else does.

Plus if they were ever to venture into WP, Microsoft would be more than willing to take down the clone. May be, this rip-off would motivate the original developer ;)

Games these days simply just won't come with XBOX achievements anymore :(

Reminds me of Gyro on android.

wow that looks very difficult. Flappy Bird 8.0!

Just bought the game but it seems that the above video does not show the Windows Phone version: there are no marks on the blocks where I hit them :-/ Or did I get the low-gore edition? ;-) A bit disappointed right now :-\

This game is not the original one. You just bought a clone. The original will have all the graphics as in the video.