Duolingo teases possible Windows Phone app, coming out on November 19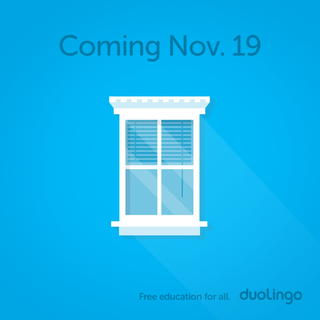 Duolingo is a free service that allows you to learn new languages using apps available on both iOS and Android. Looking at the official Duolingo Facebook page, the company has teased what appears to be a Windows Phone version of the app, which will be made available on November 19. Releasing an image showing nothing but a window, one can only assume that this is a hint at Microsoft's platform.
It makes sense for Duolingo to launch an app on Windows Phone, especially when market share in certain markets is taken into account. Those who use the Duolingo apps are able to learn Spanish, French, German, Portuguese, Italian, Dutch, Irish, Danish, and English. The best part is it's free with no advertising and there are even some fun elements to make it less of a chore.
If you've been eagerly awaiting the arrival of Duolingo on Windows Phone, remain tuned to our feed for the announcement later this month.
Source: Facebook (Duolingo)
Windows Central Newsletter
Get the best of Windows Central in your inbox, every day!
Rich Edmonds was formerly a Senior Editor of PC hardware at Windows Central, covering everything related to PC components and NAS. He's been involved in technology for more than a decade and knows a thing or two about the magic inside a PC chassis. You can follow him on Twitter at @RichEdmonds.
It could be just Windows 8.1. Or 10.

There is already an app - babble.. It works amazing

This, Babble is pretty amazing, but more options are always appreciated.

can you provide a link? because all i can find under babble is a silly bubble-popping game. or perhaps you meant babbel? in that case, no - that is not even close to duolingo.

It's spelled Babbel. Also appears the apps haven't been updated in just over a year.

I don't know about this. But with most of the apps reviewed here in WC, I will download and use it :)

Now I just need a better Khanh Academy app.

Would be awesome if available for both PC and WP .. Xbox will be fun too

Yes. This needs a desktop app counterpart.

Great - Been waiting a whole year for this. They've taken extremely long to develop it so I hope it is as good as its other os counterparts. Now, Duolingo must just make us learn useful sentences, not things like "The black dog eats the rice"!

How do they make money? Add on features?

You must be kidding me, I just switched to iOS just for this app. BUt thank god WP users can finally enjoy this. Congrats guys!

That's why switching to other platform just because of apps is dumb. I'm not saying you're dumb, but this decision you made is truly dumb.

I gotta admit, it is kinda dumb, but I am currently contempt with the app selections I have. I still miss my 41megapixels though(Using an old iPhone 5 my uncle gave me). Now I recall, another thing that made me quit, when I was in Korea, my university wifi couldn't connect to Lumias(tested with the few Lumia users) and the GSM sims(unlocked, can be used with iPhones and droids from my country) does not support Lumias. Furthermore, I couldn't access the internet because there wasn't the Skype Wifi app on WP8.1. I'll return someday, but not likely in the short term.

Lol, and it's only dumb people who make dumb decisions, so lol.....

Enough with that dumb comment. -_-

Have you been to Korea and tried living there with a Windows Phone? If you have and didn't faced my problem, call me a liar. If you haven't then you shouldn't leave a comment.

Ohh my god I craved for it for soo long! Yessss!!!!!

Finally! Now I can be fully satisfied with WP :)

Yay! I've been waiting for this

Nice, I started using Duolingo just yesterday and was disappointed (though not surprised) that there's no WP app around.

If it pans out, this app coming to WP will be the highlight of my month. Even more than the HTCOne on ATT.

Able to learn foreign languages, free with no advertising... My curiosity level has spiked beyond the chart. Come on, Nov 19!

I've wanted to try this service, an app would be a great motivator

you mean language of terror?

course is 40% finished being developed because the team making it is focusing on getting English for Russian speakers out of beta first and probably other roadblocks such as grammar. https://www.duolingo.com/courses

Hoping for an universal app

A universal application would be perfect.

Wow this is the only app I'm missing.

Finally!! I don't regret switching anymore ;)

That's great news. I tried an android for 3 months, didn't like it. So I'm switching back to WP with a lumia 730. It'll be here by next week. Great to know Duolingo is coming to WP too! Won't miss it. :)

Awesome. Thanks for sharing babble too

Yes, yes and more yes! This is the only app on the other platforms that I have really wanted on Windows Phone that wasn't already available. Thank you Doulingo!

can't wait and hope it come with universal app

The image hint is almost most certainly for a Windows Phone Duolingo app. Luis von Ahn himself confirmed a whole 9 days ago at the re/code.net conference that an official Windows Phone Duolingo app is coming! http://recode.net/2014/10/27/duolingo-founder-personalized-adaptive-education-is-more-efficient/

Finally! Finalement! Schließlich! Lol

Finally! They did it, the question I posted on the Duolingo website itself, asking them to make a WP8 app.
Link: https://www.duolingo.com/comment/93966$from_email=comment&comment_id=5345280

This is the byfar the bestest news about windows phone here.. Waiting for this app here, for like a year or so..
Thanks for this update..

This is welcomed by me.. And the second app that I really want is the one a user already mentioned...
Khan academy..