EA working on fix for FIFA 15 error on Xbox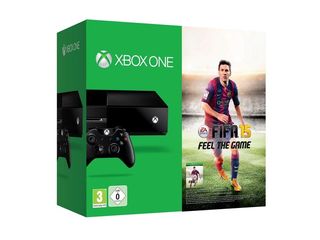 After customer complaints that FIFA 2015 isn't launching for Xbox One users, EA Sports is acknowledging the issue, saying that it is working with Microsoft on resolving the error. The issue appears to only affect digital copies of EA's popular 2015 FIFA game, but the studio says that some non-EA games are also impacted.
A thread on Reddit says that users are getting the following error when trying to start the digital copy of FIFA 15:
The issue is being recognized as well on the Xbox support site:
EA is apologizing for the issue on Twitter:
And the company is working on a fix now:
Be sure to also read our FIFA 15 review for more on the game.
Source: EA 1, 2; Reddit; Xbox Support (opens in new tab)
Chuong's passion for gadgets began with the humble PDA. Since then, he has covered a range of consumer and enterprise devices, raning from smartphones to tablets, laptops to desktops and everything in between for publications like Pocketnow, Digital Trends, Wareable, Paste Magazine, and TechRadar in the past before joining the awesome team at Windows Central. Based in the San Francisco Bay Area, when not working, he likes exploring the diverse and eclectic food scene, taking short jaunts to wine country, soaking in the sun along California's coast, consuming news, and finding new hiking trails. For news tips or to connect, please message him on the Signal messaging app at +1 (424) 666-7438.
Why are the games broken??

The game won't load and keeps asking gamers to insert a physical disc even though we own the Digital Copy.
And I'm off work today and was looking forward to a day of FIFA 15.

"if you own a disc"
"if"
c:

Because games are being rushed now a days, since they can just send out an update to fix anything with the games.

I've made the decision recently to stop preordering games.
I'm gonna take a stand and wait until after the game launches and see what's up before I just give away my hard earned $60.

I don't think this is a game issue. I've had it since day 1 with no problems. Been playing GTA all week so didn't know this was going on. It's probably a server problem

Gooooooooaaaaaall! Now, Chelsea football club better get me the free Xbox one that I asked them for.

PvZ is having the same issue. It seems Xbox live has an alert for purchased content currently.

Inconvenient things happen on Xbone? Lol Blasphemy!

All MS things seem broken...

Been a bad week for their services...

It is a Xboxissue not EA, having trouble all evening...

Guess those DRM policies weren't fully reversed eh ;). Still, im sure ms will fix it soon

I heard some bad guys hacked XBox Live?
Hmm.. Regarding to Fifa15, I dint have any problem with the game. ;)

I've also noticed stability issues with Assassin's Creed Unity with the disk...a little disappointed since this is the first issue I have noticed with XB1 games. Am thinking these recently released games were rushed out incomplete because of the holiday season...

I try play fifa about 30m and appears that error insert disc lol I have digital copy. Gift me gold pack a lot of them for this issue.

Makes HUGE sense for you to comment here then.

That's why you spend less money and buy the disc copy ;)

Fix FIFA15 : UT on windows phone also...

What is going with MS lately with the outage? I seem to read a lot of outages lately...

Great, more shit to download.. To waste my bandwidth

Even the mobile fifa14&15 are not working fine for smartphones with 1080p support

My friend told me that FIFA 15 on XBOX is not good as PS4, so I wonder to play the game on PS4. Even if I need some coins, the price will be cheaper than XBOX on fifa1314.com And we can enjoy free coupon and discount code. Discount Code: fifa1314jyy5% (5% price off)
Coupon Code: fifa15coinscode (8% more free coins) Skype: white.sophia24
Windows Central Newsletter
Get the best of Windows Central in in your inbox, every day!
Thank you for signing up to Windows Central. You will receive a verification email shortly.
There was a problem. Please refresh the page and try again.