Easily track your flights with FlightHero on Windows Phone and Windows 8.1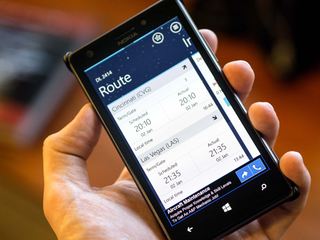 Tracking your flights on Windows 8.1 and Windows Phone just got a whole lot easier thanks to a new universal app called FlighHero. The app will present you with everything from weather conditions at a given airport to real-time updates on flight tracking information.
FlighHero comes in both a free and pro version, with FlightHero Pro fetching $4.99. If you decide to give the app a shot, here's what you can look forward to:
1550 airlines: commercial, cargo, and charters
17000 airports around the world
Real-time flight board with arrivals and departures
Flight tracking with actual aircraft position (including airspeed and altitude)
Airport weather and traffic delays
Hit up the links below to give FlighHero a shot and let us know what you think in the comments below.
Thanks to Kyle S. for the tip!
Windows Central Newsletter
Get the best of Windows Central in your inbox, every day!
Dan Thorp-Lancaster is the former Editor-in-Chief of Windows Central. He began working with Windows Central, Android Central, and iMore as a news writer in 2014 and is obsessed with tech of all sorts. You can follow Dan on Twitter @DthorpL and Instagram @heyitsdtl.
umm...guys you can track your flight via cortana. Just type the flight alphanumeric characters and it's auto added to your interest. Good app nonetheless...but for the price of free, Cortana will come to the up to the minute rescue. I believe you can even pin the flight as a tile.

You are aware that Cortana is only available in a handful of countries, right? Vast majority of Windows Phone users do not have such an option. This app also has TripIt integration and radar info as well.

True. I suppose you're right. I was way ahead of myself for a moment there. It must be the anxiety of the upcoming year. Right Dan? :)

I was going to day the same thing.

I was going yester day the same thing.

I love autocorrect. Thank you! Lol.

U could always use the msn travel app you know.... :)

Although this app is very detailed (thumbs up for that), Bing can give you a summary. Just type the flight name and you'll know if it's on time or delayed. Cortana may be limited, but Bing is available everywhere (correct me if I'm wrong).

Hey, just got Denim for 630 in Lithuania

Yeah, I have to agree, maybe for those with no Cortana but for those of us with Cortana there is no need particularly for that price. Cortana tracks the flick, plans the trip, let's you know the weather of where you are going etc. Cortana for the win!!!

Flight tracking does not work in the Cortana Alpha countries.

Unless you have the Alpha in Canada because Cortana does pretty much nothing, just as feature-less as it was at release. Keep adding those predictions though instead of making it useful!!
EDIT: Just to clarify, Cortana will ask you if you want flights in your email tracked, however you are not notified of any thing regarding them.

Featureless, she speaks Klingon, man!

I love how Cortana tells me my flight has landed 5 minutes after it lands :) Posted via the Windows Central App for Android

Most of these flight trackers are terrible, I tried to track that flight that was missing after 2hrs when everyone knew that the flight was missing and it been on the news, they still say that the flight was on time.

If its missing though surely would be difficult to track....very sad story

When a flight goes missing, such as this weeks AirAsia, I'm sure ANY logical software developer would simply freeze the tracking at that point just as they all seem to do. What do you want to see happen? A big flashing "MISSING" across the screen? Have the plane just disappear from the map? Yea, that would be a great idea, especially since most situations where the data is dropped are due only to network or system glitches. Let's give millions of people a day a heart attack for no reason.

Msn Travel app does it for free

Right, but there is no Cortana on Windows 8.1 ;)

How can I add flights to Cortana exactly?

Open Cortana, say, (or type) "Track XX flight XXX". The fight status will appear. Tap on "Update me ... " It will be added to your interests. Next, go to Cortana's notebook, then interests, and then find the flight and change the date to your date of departure.

Yes
X = any number or latter

XX is airline. XXX is flight number. For example. Track United fight 123.

US only else does not work in Alpha countries.

Amazing what a $4.99 App can track, yet planes in the Malaysian region are just disappearing w/o a trace.

We need a better way to track planes. Not just in Malaysia. How can we do this. What is your suggestion?

Hopefully we can build on an existing system to make tracking over long and isolated areas of the globe a lot more accurate. With so many smart folks and satellites around the globe and so many electronic equipment on board of planes like cell phones and pc's we should be able to use all that to narrow things down a bit. Hopefully a new tech comes forth soon to make this types of situations be a thing of the past.

Already exists. Some Canadian company flyht, I think (spelled effed up like I wrote), has a system that tracks in real time when shit goes south (pun intended). Otherwise it pings off satellites about every 5 minutes.

Where in Malaysia? I've heard no news about planes disappearing in Malaysia, only Indonesia

I stand corrected. Thanks for letting me know about my typo.

QZ8501? Anybody tried it?

I don't have the app but I'm sure it will show you the current flight status as the flights doesn't have a unique name for every trip

Hmm, it wants access to Onedrive. Is that safe?

I use FlightAware and found it useful.... just found out that Cortana could do this for me natively :) .... just out of curiosity, does this app do anything that makes it more useful than the (free) FlightAware app?

Read the article, and yes.

True story: cortana told me about a cancelled flight that was United coded, but Brussels operated. United couldnt confirm that it was cancelled and Brussels office wasnt open yet. Indeed, it was cancelled, and only had a head's up because of my bff (cortana).

thanks to a new universal app called (FlighHero). Typo there, should be FlightHero

I need a smart phone to start! Then can check out the app!

I have Flight Factory and while it's not bad, it has not been updated in ages and this one seems to have a nice UI.

And as usual the developers have used some kind of a translation tool, instead of getting help from people that lives in the actual country...