From the Editor's Desk: Microsoft News, Xbox, Lumia 928 review and more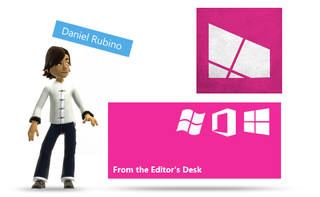 We're back from London and Nokia's main event last week to begin another exciting week here at Windows Phone Central.
First up, I'll give you my gut reaction to the Lumia 925 announcement and what it means for the platform, next up I want to welcome our new Microsoft News editor to the site and tell you what that means for us (and you), next up is that Xbox thing tomorrow and finally, some Lumia 928 impressions.
Yes, it's time for me to just blog some thoughts in a stream-of-conscious manner. Read on, if you dare!
The Lumia 925 is a big deal
Last week we saw Nokia take the cover off of the Lumia 925, a sideways upgrade if you will to the Lumia 920. By that term we mean that if you own a Lumia 920, you won't see that much reason to "upgrade" to the 925. But that's totally fine as this is not "the next Lumia 920" but rather it's a device meant for the rest of the world who doesn't own a Lumia 920 (either due to lack of carrier availability or they thought the phone was too big).
Indeed, amongst our readers it seems to have caused some confusion with many of our more hardcore users noting that Nokia has given up too much with the 925 to make it compelling. For example, the 925 loses built in Qi wireless charging in exchange for becoming thinner (and lighter). Sure, you can add it back in with a clip on case but for many that's already a barrier to entry.
The other "downgrade" is memory with certain variants of the device only coming in 16GB instead of 32GB. This is still in flux a bit as we're seeing carriers like Deutsche Telekom evidently wavering on this issue. That has sent many people into a tizzy who demand 32GB on their device.
While I totally get the want for 32GB devices (heck, even I appreciate it, though I rarely use all of it) I'm going to come out and say a lot of you are simply in the minority. Whenever I've spoken to HTC, Nokia or Samsung on this topic they all tell me the same thing: their market research shows most people are content with 16GB. Between the need to keep profit margins high and costs low to the consumer, it's easy to see why OEMs would cut this area to save a few bucks (or cents even) per device.
It is fine to declare that a 16GB device is not for you but it's another to predict a device's failure amongst the general populace because of it. Nokia is aiming for an aggressive $99 price point on this device in the US (T-Mobile) and in order to do that, some things need to be cut. Having said that, until your carrier has come out with final specs and pricing, I wouldn't harp on this too much.
Personally, even though I'm a big fan of the Lumia 920 (especially in my super proud bright yellow version), I'm totally picking up the 925. Why? Well, being one of the few people in the world to have handled one on a few occasions now, I can say it's a fantastic looking device. Pictures (and even video) simply doesn't do it justice and my guess is a lot of you will change your opinion when you actually see one in person.
The device is like the Lumia 720 but packed with the 920's guts—that's basically all I ever wanted. The AMOLED display is one of the best I've seen, that extra 6th lens for daylight shots has my interest piqued. Sure 16GB and no wireless charging is a compromise, but for my needs, I can live with it.
So yeah, I'm very excited about the 925 and you should be too. It's going to give an option to many more potential Windows Phone owners who want a thin, light device that is in my opinion, fantastic looking.
For you Lumia 920 owners looking for the "next big thing", I have two things to say (1) your phone is just six months old—chill out! and (2) Nokia will show off that 41MP camera phone later this summer and we're confident it's AT&T's next major Windows Phone.
Make sure you read our Q&A with Nokia about the Lumia 925 too, it should answer a lot of questions.
Windows Phone Central and Microsoft News: Welcome Michael Archambault to the fold!
You've spoken and we've listened.
Every time we post "off topic" Microsoft news stories on WPCentral.com, including Surface and Windows 8 bits, our traffic jumps and commenting goes up. Sure, we're a "Windows Phone site" but let's face it, Microsoft is pivoting Windows, Windows Phone and soon Xbox to be on the same playing field and you folks know it.
That's why starting today, Michael Archambault will begin taking on the major Microsoft and Windows 8 news for the site. Frankly, the rest of us just have too much Windows Phone news to devote significant time towards that huge area and Michael is well versed on those topics.
So who is Michael? He hailed previously from the site Pocketables where he was an Associate Editor and wrote extensively on, well, Microsoft. He also serves as a continual guest author for Lenovo's corporate blogs, making him quite the resource on upcoming PCs, tablets and ultrabooks.
You can check out his previous articles indexed on his Tumblr page: https://marcham93.tumblr.com/#_=_ and follow him on Twitter: @marcham93.
So what does this mean for the site? Well, no worries if you just don't care for Microsoft or Windows 8 news (though you will be taken down a peg) as we'll be instituting a "filter" of sorts on the front page so that you can have only Windows Phone news show, Microsoft news or both.
Give us a few days to get that setup and a few weeks for it to head to our official Windows Phone app. Until then, expect to see a few stories pop up in your stream. Read 'em. Comment on them. And give a hardy welcome to Michael, as he's very excited about joining the largest Windows Phone site in the world
True fact: Windows Phone Central does more traffic just in the US than our closest competitor does globally.
That Xbox thing…
Oh yeah, tomorrow Microsoft is evidently ready to reveal the next Xbox. We'll have a post on that later, as we'll be live-covering the event…from our couches, like you. Unfortunately due to travel constraints, we couldn't be there to cover it live but since it's streaming on your Xbox 360 and the web, it's no biggy.
We plan to have a few articles focusing on it tomorrow, including any new revelations, features and how it may (or may not) affect Windows Phone.
We will of course be at E3 in June covering that event live, including Microsoft's follow up Xbox announcements. Indeed there will three of us (myself, Paul and Sam) on hand to bring you everything gaming related at that time.
And if you missed it, Microsoft today released an official Live Video Player app for Windows Phone 8 devices, which you can utilize to stream tomorrow's Xbox announcement right to your phone. Sa-weet!
The Lumia 928 for Verizon is all kinds of awesome
My review of the Lumia 928 is coming along and it should be here within the next day or two (tomorrow's Xbox stuff might delay it a tad).
Although Verizon's cell service is not as good in my living room compared to say AT&T, overall I've been very impressed with the 928. Last night I took it to a punk rawk show in Manhattan to do some video and photos and needless to say, it performed quite well. Heck, the LTE was much better for Verizon than AT&T, resulting in more reliable service. Trade offs.
Sure, I wish Verizon didn't tone down the phone's looks so much…you can almost hear the Verizon suits telling those "hippies" at Nokia to cool it with the wild colors and "weird" designs, resulting a more "conservative" Lumia. But the phone has the specs where it counts and so far, it's been performing like a champ.
But if you're on Verizon, I think you have a winner here. Just too bad it's not in yellow!
Daniel Rubino is the Executive Editor of Windows Central, head reviewer, podcast co-host, and analyst. He has been covering Microsoft here since 2007, back when this site was called WMExperts (and later Windows Phone Central). His interests include Windows, Microsoft Surface, laptops, next-gen computing, and arguing with people on the internet.
Yes welcome, look forward to your posts!

Yes, welcome Michael. Looking forward to your MSFT/Windows-related articles.

Yup welcome. Can't wait to read some articles as well...

Im going to E3 too! Can we get a windows phone meet up? Show Microsoft our support?

yay welcome michea!l and ill be wating for some microsoft and windows 8 news

Maybe a 720 review one day? One day soon?

Yup, right after the 928, I swear!

Daniel I'm waiting for the black 928. Anything you think one should get with the phone? I'm moving on from my 8X.

Wireless charging stand. That's about it, for now.

Unless Microsoft fixes the damn "Other" Storage problem, 16 GB is not enough for anyone. My wife has her HTC 8X with almost no apps or music but it is already out of storage because "Other" Storage is up to 9.7 GB on her phone.

Sigh... Is it possible for us to have at least one article without someone whining and complaining? On a positive note, awesome news about the 925. I suspected it was one of those things you had to see in person to fully appreciate.

Nokia has a fix. The Lumia Storage check beta app.

Nah, this doesn't fix "other storage" just deletes Temp files.

Yes, I agree. But the temporary files have to be resident somewhere on the system right?
Like the temp folder in Windows. Its a bug when you cannot manage it, this app helps you to clean it. I dont ever expect the other storage to go away completely. But being able to manage it is the way forward IMO.

Check to see if your music is filling up the other section. Happened to me. Had about 5 gigs of music but only 500 Mb were in the music storage and the other 4.5 was in other storage.

Yes. Welcome Michael! I am looking forward to some Windows 8 news! I'm all about Windows and Microsoft and the more news the merrier!

I'm selling my Ativ S with a case and a screen protector and with a 32GB micro SD card £400 ono

Its a month old too no marks

I played with the Lumia 928 at a local MSFT store over the weekend. My mini-review:

"The phone is elegant, classy-looking and feels very well in the hand. Nokia perfected the form factor. If you have some concerns about the differences between this phone and the Lumia 920, then don't worry. Nokia has put a lot of thought into the design.

One difference is the curved display. The display is not as curved as that on the Lumia 920, but that phone had curved sides and that made it look great with the curved display. This phone's sides are not curved, and the less curved display goes perfectly with it.

Another difference is the location of the micro-USB port. It has moved to the top, in this phone. While many may think this is a weird location for a micro-USB port, I cannot tell you how many times I wished my Lumia 920 had its micro-USB port at the top. Every time I had it plugged in, it became inconvenient for me to hold and use the phone because the cable simply comes in the way. With the port now on the top, using the phone while having the cable plugged in becomes more comfortable.

Another difference is the speaker positioning. The speaker is now on the back side of the phone. Before getting into how that affects loudness, lets talk about the speaker quality. Nokia has made this speaker louder, compared to that on the Lumia 920. Its most likely due to the use of a speaker amplifier with more gain. The speaker, when the phone is held in landscape mode (viewing YouTube, for instance), sounds louder than that on the Lumia 920. Now, back to the position part. When placed on a desk, the sound bounces off the surface, making it sound much louder. Acoustics is an amazing thing! :-)

Another difference is the display technology. This phone rocks an OLED display (non-pentile for those who care) and the colors just pop. Looks stunning.

Finally, things that made the Lumia 920 so awesome are still present here: The super fluid display with high refresh rate and amazing visibility in sunlight, super-sensitive display that allows you to use it with gloves on, NFC, wireless charging (which makes it hard for you to go back to charging with a cord once you get used to it), Nokia Here Maps, Here Drive+ that provide truly offline voice-assisted turn-by-turn navigation, and an amazing camera coupled with the lens feature (I can't say enough how awesome the camera on my Lumia 920 is, and this one's pretty much the same, if not better).

Its the operating system that takes this phone to an entirely new level. WP8 is an organic, fluid, metro, simplistic, fast-in-fast-out operating system that will make you fall in love with it. The design team at Microsoft has done an amazing job. The user-experience is simply out of this world. You can customize the start screen the way you want it, and with live tiles, you get a ton of info just by looking and without even opening the app. Live tiles are what make this operating system organic. Lockscreen integration is also awesome and makes things very efficient. For instance, first thing I do when I wake up in the morning is look at my Lumia 920's lockscreen, which shows me hourly weather forecast for the day, details about my upcoming meetings and appointments, if I have any unread mail or messages. All this without even unlocking the phone. Apps designed using the metro theme look great, which also makes navigating within an app very intuitive. WP8 comes bundled with Office, which makes the phone ideal for work too.

Now, the apps! Over the past few weeks, several big-name apps and games have appeared in the store. Pandora, Foursquare, Hulu Plus, Tumblr, Twitter, Facebook (beta stage right now), Temple Run, Angry Birds Rio, Modern Combat 4, Cut the Rope Experiments, NBC News, BBC iPlayer, Fidelity Investments and OpenTable to name a few. Many believe WP8 has reached a point of critical mass and can only gain more traction going forward. More quality apps will keep coming.

And finally, support! Nokia support is simply fantastic. They work hard with 3rd party devs, help them build quality apps (Foursquare, for instance) and even to the point that they deliver Lumia-exclusive apps (something that HTC and Samsung have failed to do, at the same level, so far). Customer support is awesome too. You cannot go wrong with this phone. Use it, you will enjoy the experience."

Ahh Daniel, 16gb is not enough and you will see it if the device comes like that to T-Mo US. Besides being people that didn't want the 920 because of the bulk or carrier availability there was some T-Mo and Verizon customers that wanted the 920. Why you think Verizon ask for the 928. It's a 920 with some improvements. T-Mo people expect the same, hence 32gb onboard.I expect T-Mo asking for 32gb

I have (and use) the Lumia 720 with 8GB and while that is not enough, I know from my personal usage that 16GB is actually okay.

As one of the folks on T-MO US I'm ecstatic about the L925.. 16GB ok well I can live with that if I have to using Skydive it's not that big of an issue but I would rather the 32GB. But in no way would it stop me, from buying it, if it came with just the 16. This device would be the first true high end WP device to hit T-MO since the HTC HD7.

@Daniel, I understand that you are able to test the phones way ahead of us.But once you start using that awesome camera on the 925 and put some pictures on the phone, some music and the Lumia collection of apps and games plus the regular apps from the store I don't think is going to be enough and one will be thinking all the time about getting short of storage. How much storage does the 925 has left after talking the OS space.About 12gb or 13gb?

Oh god. I'm going to go out on a limb - I think that Rubino, as an owner of a 920 and a reviewer, has an adequate handle on what his personal storage needs will be with a 925.

Yes, I am quite the expert on myself ;) 16GB is fine for me, mostly because I don't keep too much music on my device (I stream via Pandora and Beem 90% of the time) and backup my photos frequently. I'm not saying I'd turn down a 32GB device and I would prefer it. I'm just saying for my daily needs it's not a deal breaker either. Heck, I've used the 8GB Lumia 720 and was almost okay with that...

Having said that, until your carrier has come out with final specs and pricing, I wouldn't harp on this too much.

I disagree. It is at this point in time, before things are finalized, that you can have the most effect with feedback. Once it's on sale, sure you can say 16GB is insufficient mass storage, but too bad, you're stuck with it until the next update.

Why wouldn't they have the same tiered mass storage levels as the iPhone does? Then if you really want the extra space, then you can pay for it and help improve those profit margins at the same time.

I'm very interested in the 925. I just switched us over to T-Mobile. While I was able to bring over our 920's from AT&T, I've noticed my wifes has some issues and may need replacing soon. Can't wait to see the final price of the 925 so I can figure out if its worth it over the $130 521. If they can surprise my with something under $400, I might just have to bite. I know its more like $600 over in Europe, but it seems like Nokia is delivering these phones at reduced prices in the US, probably from subsidization from the carriers for exclusivisity.

@WhyFiNYC I understand that Daniel 's needs might not be my needs and vice versa but he is trying to justify in general that 16gb is enough for everyone. Even 8gb when he reply me with the 720 example wasn't enough for him but 16gb was. For me 16gb is not, having and HD7 on T-mo a while ago wasn't enough.It came to 13gb taking out the OS.

"...but he is trying to justify in general that 16gb is enough for everyone"

Not justifying, just telling you what the OEMs tell me directly on the topic. Who knows their customers better--you or them? They do some heavy market research on their devices and they have found 16GB is adequate for the majority of users. Not hardcore users, but your everyday citizen. Obviously there will be those who want or "need" 32GB. Heck, there are people out there who "need" 64Gb who scoff at your 32GB requirements (see the comment below). But they are the minority and that's just a fact. Shoot, Nokia knows from their surveys and interviews that owners of Yellow and Red Lumia 920s are "more happy" with their purchase than those with different colors. Weird, right? (I think it's a pride thing). What I'm saying is OEMs have chosen 16GB as a middle ground because that's what the data tells them.

Did they tell you How much storage is left on the 925 after taking out the OS space. I'm very interested in knowing that? And don't get me wrong , i like your job and the way you keep us informed. Is that sometimes we like to know more since you are the one with the contacts and the access. ;-). Since they did a special event for this device(925) . I think that some people expect it to be like the 920. I see it that way and i think that's the way Nokia is portraying the device.

Did not check and the OS/firmware was still "prototype" but I think ~12GB is a fair guess for available storage. Will confirm when we get our 925s in.

Honestly, Perhaps I am in the minority, but I want to replace my Zune HD 64g with my WIndows Phone. I'm not going to be completely happy until I have a WP with 64g capability.

Same thing happens with the surface pro.Until they address the storage and battery capacity is a no no from me

CNET said the 928 was slow on Verizon's LTE network. I went to the store and it didn't seem slow at all.

928 was faster/more reliable for me in NYC than AT&T/920. That's not saying the 920 is slow on LTE just that AT&T's network (with the iPhone) gets hammered more. The Snapdragon S4 is a fairly standard LTE chipset so unless they can suggest specific bugs with the 928 (of which I have not experienced) i find that conclusion ridiculous and difficult to discern from just network traffic.

I went to the Verizon store and tested it against my Lumia 920 and couldn't tell a difference at all. I think it's just CNET's typical propaganda. Has the issue with the proximity sensor been resolved in this model?

Is your closest competitor WMPowerUser or AAWP?

The former. AAWP is doesn't even register--while good content, they're even more inconsequential than WMPU.

Michael, can we expect to get an article for every new windows 8 xbox game that gets released like they do for windows phone? Would be awesome, because the guys here only report on a couple currently.

I was going to ask you on Twitter how you liked the 925 looks Daniel. The more I look at the pictures the model you were holding in the hands on looks fantastic and I thought that pictures were doing it a disservice. Best thing is that the critics don't have the weight and bulk to point to anymore and the ever improving app selection has Windows Phone poised to continue making strides globally.

I like the 928.... now going offtopic. Ashley come back!!! Pretty and geeky girls sound like an oxymoron and they're 1 in a billion. You are that one girl to the billion of us geeks. Without you wpcentral looks like a geek sausage fest. I'm sure Daniel Rubino looks dashing to the female audience but I don't find a monday brief narrated by Daniel quite as appealing. ( Sorry Daniel, you're not my type. )Your witty comments on your monday brief always brings a smile to my face. Why oh why did you have to go? *cries like a baby*

And Daniel, Which site is your closest competitor?

I'm reading from different sites and comments that the 928 has problems with signal strength. : ( Perhaps Nokia's placement of the antenna was not very well tested.

I was surprised that Nokia chose a smooth case for the 928 while most handsets are moving towards a matte, even grippy finish. Other than that, the new 928 is very appealing. I would probably put some cover on it anyway. A coworker has the 822 which is wicked quick. The additional weight of the 928 (162g) as compared to the 822 (142g) is probably due to the combination of the inductive charging, a slightly larger battery and slightly larger overall size, yet thinner to some extent. I would have liked to see a removable battery, but I suppose they wouldn't have been able to achieve the thin profile if they didn't do that. My Verizon store doesn't have the 928 in stock yet and they said it might not be available without special order. That would be a shame. I'd like to see what it is like in person, although I don't expect much difference in performance from the 822.
Nice to see some good feedback on the 928 so far.

Here's a request: create 3 filters. WP, Windows and Xbox. That way we can choose which of Microsofts new we want.
For example, while I enjoy articles on WP and Windows 8RT, I couldn't care less for Xbox. So that way I could only see the platforms I'm interested. Same for someone who, for example, doesn't care for Windows 8 but does for WP and Xbox
Windows Central Newsletter
Get the best of Windows Central in in your inbox, every day!
Thank you for signing up to Windows Central. You will receive a verification email shortly.
There was a problem. Please refresh the page and try again.