EE continuing 4G UK rollout - 17 new locations covered by March 2013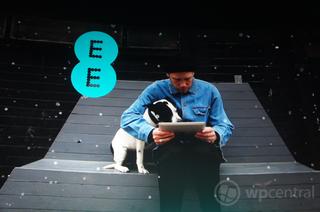 EE, the only UK carrier to be rolling out LTE services, has announced plans to have a further 17 new towns and cities using its 4G network by March 2013. The next generation of mobile data connectivity will be switched on in Bradford, Chelmsford, Coventry, Doncaster, Dudley, Leicester, Luton, Newport, Reading, Rotherham, St Albans, Sunderland, Sutton Coldfield, Walsall, Watford, West Bromwich and Wolverhampton.
While the new service will enable those who are subscribers to access faster data speeds, data allowance and pricing of plans leave something to be desired. Many have complained about the services offered by EE, but still it's the first network operator to offer 4G until Spring 2013. The Lumia 820 and Lumia 920 are exclusively available on the carrier.
Rich Edmonds is Senior Editor of PC hardware at Windows Central, covering everything related to PC components and NAS. He's been involved in technology for more than a decade and knows a thing or two about the magic inside a PC chassis. You can follow him over on Twitter at @RichEdmonds.
Words can not fully describe how much of a joke this service is. Having a data allowance that can be consumed within minuets with 4G speeds just doesn't make any sense. Unless of course you consider how much money you can charge for being the only people who supply it. Meh

You are a joke....
Unless you've tried the network, then don't bash! I've been on EE 4G for over a month with my 920 and have had NO issues with EE....
I have 1GB and NEVER burn through it in "minutes", and I use it a fair bit!
If you're retarded enough to stream a HD film over mobile data, then obviously that's where you'll burn through it; but that's your own retarded fault! Plus, with EE; they supply access to BT Wifi, so therefore you won't even have to use data allowance if you actually know what you are doing! People like you, misinformed and totally naive; really annoy me!

You're not taking into account how many people rely on mobile data as their main internet access, this makes the EE prices very expensive.

That's fair enough....
But when a company has a monopoly on the latest tech, you're going to pay a premium for it.... Another example was Sky and their HD packages!
Its not like EE is putting a gun to your head and saying you have to get 4G!
If you bitch about prices for latest tech, then just keep with 3G instead of this biased bullshit some of you guys post!
I pay £5 more for my 1GB 4G EE plan than my 1GB 3G O2 plan... And on the flip side for the speed, I can't argue. So, unless you've tried it, shut up moaning.... Simples....

Watford! Yay! My hometown

This really is a "so what?", Rich. I truly can't believe anyone is switching to EE for this unless they have more money than sense. Roll on some competition!

I switched for the speed plus the offer of free roaming abroad used it loads when I was in New York last week, it exoensive but I had an IPhone 4S and i didn't pay up front so thr cost was comparabe but instead of 256mb a month I get 8GB and free roaming in certain countries like Europe and USA

yay for Rotherham gettin a mention :D

Got to say guys im on EE. The sim only plan i am on is £9 more expensive than what i was paying with 3. The 4g speeds are amazing i got 27mbs the other day. I am prepared to spend £9 (three pints) for the extra service. But if people think £9 is too much then fine as the competition will drive the drive price down eventually

I'm on EE and I cant get 4G in my area, the price is competitive as I use around 2gig a month which was costing me about £60 a month originally, my plan with EE saves me 20£ a month and I get unlimited calls, txts and 3gb a month. Switching onto EE was a total nightmare but now im on its good

Some interesting and valid points raised worth considering. I am with Orange, decided that the EE pricing was a bit of a joke (that's my opinion) a lot of other people feel the same. One thing I will say is that some of the people on here are very abusive. You might not agree with me but chill out.

Warning if you've got first wave lumia 920, there's a software glitch that locks the phone to first sim card inserted. Ie i upgraded to 920 on orange then upgraded my account to ee later, apparently they cant do this instore! So my lumia had an orange simcard in it the i tried to put ee simcard in and it gets stuck in a shutdown/ restart cycle that can only be stopped by unplugging sim! Its been a right palava to get sorted but ee are couriering me a new phone tomoro - a Sunday! So i like them again now :)

Ah right! Thanks for the heads up!
Windows Central Newsletter
Thank you for signing up to Windows Central. You will receive a verification email shortly.
There was a problem. Please refresh the page and try again.