EE unveils more affordable 4G plans for the UK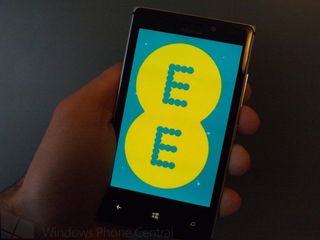 UK mobile operator EE has announced new entry-level 4G plans for the market. These new contracted plans start from £13.99 per month, enabling consumers to take advantage of faster Internet speeds at a more affordable price point. The operator has been criticized in the past for its pricing of LTE in the UK.
If you have yet to hop onto the 4G train, EE is now looking as a more affordable option. That said, the likes of Three with its unlimited data plans is still a superb alternative.
See the full press release below.
EE INTRODUCES NEW ENTRY-LEVEL 4G PAY MONTHLY PLANS AND THE UK'S MOST AFFORDABLE 4G SMARTPHONE
New 4G standard pay monthly handset plans on the UK's number one network from just £13.99 per month
4G Extra pay monthly handset plans offering inclusive roaming calls and texts and the UK's fastest download speeds from just £21.99 per month
4G pay monthly handset customers can now get 10GB of mobile data each month from £13.99 when they also take EE home broadband
New pay monthly handset options for business customers now include 180 minutes of roaming and international calls to and from Europe and USA
EE also unveils its first own-brand handset – offering great 4G smartphone features at an entry level price
Wednesday 26th March, 2014 – EE, the UK's most advanced digital communications company, today launched a range of new entry-level 4G pay monthly plans as well as the UK's lowest price 4G smartphone, allowing even more people to experience all the benefits of the UK's biggest and fastest 4G network - rated number one for mobile internet, call, text and reliability across the UK.
EE continues to offer 4G standard and 4G Extra plans as a result of its unique double speed 4G network, and the move reflects the growth in new entry-level 4G handsets coming to market.
New entry-level 4G pay monthly handset plans
From today, customers can choose from a range of 24 month entry-level 4G handset plans which includes the option of a free 4G handset, 500MB of mobile data and an inclusive minutes and texts allowance, all on the UK's number one network for just £13.99 per month - less than the cost of a pint of milk a day.
EE has also extended its range of 4G Extra plans which offer EE's biggest mobile data allowances, the UK's fastest 4G speeds, as well as unlimited roaming minutes and texts when in Europe – with new options from just £21.99. Customers on all other pay monthly plans can now also benefit from unlimited calls and texts in the EU for just £2 a day, via a new Euro Talk and Text Unlimited bundle[ii].
Windows Central Newsletter
Get the best of Windows Central in in your inbox, every day!
Rich Edmonds was formerly a Senior Editor of PC hardware at Windows Central, covering everything related to PC components and NAS. He's been involved in technology for more than a decade and knows a thing or two about the magic inside a PC chassis. You can follow him on Twitter at @RichEdmonds.
Sweet! Nice to see! I hope this gets the ball rolling for US carriers..

4G speed "seems faster" in UK

Considering I get up to 25mbps on 3G, and have seen 60 on 4G, compared to most speed tests I see else where on the internet, it does seem faster :P

But 3G on EE includes HSPA+ which I believe is equal to 3.9G. So sticking with that for now. They offer a double 4G but not sure of the speed.

You may well be right this one time :/

I hear 4g hammers the battery, is that right? Also, I am with EE and there are plenty of times when their 3g is pretty patchy, does 4g help at all with reception?

I have no issues with EE 3G or 4G coverage myself

To be honest, I mean at work. Seems to be a bit of a bad area. At home it is fine, but then I have WiFi anyway (which is actually terrible in the bathroom).

4G doesn't really change the call reception. I get virtually no signal at all on the business estate where I work despite EE claiming I should get 4G. Thankfully I can sit on wifi all day for messaging. 4G does kill the battery pretty quick if you make use of it though. Surfing for most of an hours train journey used 60-70% while normally my phone lives for up to 2 days on wifi and easily a day if I use 3G.

To me, that is damned excessive. I'll stick with my 3g. Good enough for me.

I was on EE for a short while, I was lucky if I could get a 2G signal at work (in the centre of town) at home (in a leafy suburb) or anywhere in between! Now I'm back on Three and loving the fact that I never lose signal... Ever! Three's 4G hasn't rolled out by me yet, but their H+ has been here for a long time and is normally faster than EE's LTE anyway, and when I'm in a 4G area it doesn't cost any extra. :)

Am I right in saying that 3 share the EE signal? I seem to think they used to. I do love the call quality I get, and the reception coverage for calls is usually fine for me. Just don't get the best mobile internet signal.

I found battery life goes down faster on 3g as opposed to 4g, though O2's 4g is spotty at best in terms of call quality.

Good one TechFreak1. UK 4G doesn't carry calls yet. Your handset rolls back to 3G or 2G to make a call. We're still a way off to having VoLTE (Voice over LTE) [pronounced Volt, like electricity]

I was gonna ask about that. Wasn't sure myself.

4G does hammer battery life, but most phone manufacturers have built battery capacity to max out at a day's worth of usage to compensate. Also, Windows Phone has better life in that regard anyway :)

Still rather stick with Three and get 4G data at 3G prices =D

Yup, £15 for unlimited everything really can't be beaten.

Their price went up to £20... I tried signing up the other day and they told me that they can only sign me up at £20... As opposed to £15.. The moment i told then was misleading and false advertising as it was still £15 on their website the cr put the phone down on me before i could finish talking lol!

If they advertise at £15, then you ought to get back on at them.

Well they have updated their website to reflect the change.. So yeah abit annoyed and so is my bro in law his price got changed lol. His on a rolling and he was assured that it wouldn't go up - when he told me that - my words to him were "you naive baboon that is just sales speak, its going to go up next month", sure enough it went up to £23.00. Main reason i haven't gotten back to them is fibre gets enabled in my street in may (despite having a fibre enabled cabinet two years ago and living 5 minutes from the local exchange). I'm waiting for a good fibre bundle and see what Tesco prices are, I've heard through the grape vine they will be offering 4g for no extra cost.

I took out a second plan with Three for my now emergencies only 920, since the 1520 uses a different size sim. It was £15 a month on a 12 month plan, or £18 a month on a month to month plan. This was 2 weeks ago.

Trust me, 4G is worth the price you pay. ;) I'll never go back to a 3G price point ever again.

How should that be worth the price you pay with the rip off prices at EE?

The other providers have 4g now not just EE.

I believe that 3G actually goes up to 3.9G, which I think is HSPA+, so not far off 4G. EE does a double 4G but not sure what that means exactly. Anyway, I'm sticking with 3G at present that includes HSPA+ for now.

Trust me. Try paying the pricing for US-based cell phones for a year. Those prices you just quoted sound like heaven to us!

I just joined Three for the same deal for my 2520! Month to month can't be beaten!!!

yep, 4G is not a must for me.

Nope, me neither. Although I am hoping it will help lower the price of 3g.

So you pay more money to use the 4g/3g network ? Geez i didn't know that, maybe it's cuz vodafone in my country allow us to use the 4g for free....you should claim from you carriers to make it free.

Apparently nore is data, I can't use GiffGaff, O2's data network is appauling.

"Great news". How is this relevant to a Windows phone user not from UK?

based on your theory, can't also publish any regional news?

Just like how relevant WP news are to users in all other countries than India or US

Compared to what I'm paying now, this is painful :'(

It's frustrating to see this pricing abroad and then see US pricing. I know it is because of subsidies we pay as per our contracts, but also, some of us do JUMP! or EDGE, so I don't see how cell phones can be so expensive for such a small piece of service. I guess we will see what happens....

In the UK for contracts we tend to have network (carrier) subsidies. Its just our networks compete heavier. Pretty much any 'headline' price offered by our networks include some phone be it a network branded ODM handset or an HTC/Nokia/Sony/Samesung. We have specific 'sim only' contracts without handsets and subsidies - you pay for the airtime alone. Those are deadly, I used to have 750 mins, unlimited texts and 500mb 3G data for £12.50 (around $20). Now I pay about $53 for a Lumia 925 32GB, unlimited calls & texts and 8GB 4GB data, nothing upfront, no connection charges, no sim issue fees.

The us prices are eye wateringly high, sure it has a bigger land mass and has higher maintenance costs but it has larger population so surely they (providers) are able to take in beyond their break even point lol. But then again profits come first.. then the consumer.

Their site is down. Also, when I tried out one of their PAYG Sims last year I couldn't access my account online, ever.... An error message every single time for 3 months. Rubbish.

EE are still a rip off. I'm on the Three network and 4G has just been introduce in my area, I can get speeds of 67Mb download and 12 upload, I do not pay anything extra for 4G and have unlimited data.

Presuming you pay £15? In that case if I were you, renew for as long as you can as the one plan has gone upto £20 now...

Sim 200 rolling 1 month contract. £12.90 a month. 200 mins for calls, 2000 minutes Three to Three calls and 2000 texts. All you can eat data. Not to concerned with the calls and texts. plus Three's got no roaming charges for certain countrys (Feel at home) for USA, Italy, Austria, Australia and a few others..

In what way is it entry level? Is there a bandwidth cap? My current EE contract is eyewatering and is only 3GB , plus I don't want to take their broadband.

Here in Brazil, CLARO will release 4GMax speed for every single customer (no additional cost) :D

Wow these plans are cheap compared to what I pay in the USA.

Yet EE is the most expensive network in the UK.

That maybe down to competion. In the UK everyone and anyones doing it through Mobile Virtual Network Operators. Even the supermarkets provide mobile services.

Lucky. The USA operators are slowly changing to no contract plans. I like this we save money long term.

this would be the EE who phoned me to get me to switch to a 4G plan as it was coming to my area soon!!!! that was APRIL 2013 STILL has'nt come to my area and no date as to when it will arrive.

If only those prices came to Australia as well. We can easily pay up to $15.00 per GB
Windows Central Newsletter
Thank you for signing up to Windows Central. You will receive a verification email shortly.
There was a problem. Please refresh the page and try again.