Elements: Epic Heroes - Another smash Windows Phone hit from Game Troopers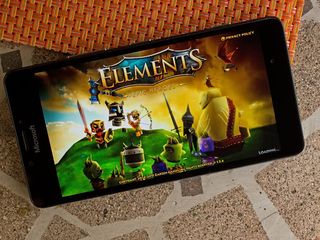 It should be no secret that Game Troopers is one of the leading Windows Phone developers and Elements: Epic Heroes is their latest gaming title in the Windows Phone Store.
The Windows Phone game is an epic adventure where you lead a band of warriors in a series of adventures and quests to defeat the Dark Lord, whose evil forces have taken over the land. The game has plenty of upgrades for your weapons, armor, magic skills and more.
Graphics are solid with Elements and game play is fast paced and challenging. Overall, Elements: Epic Heroes is another Windows Phone gaming hit from Game Troopers.
Elements: Epic Heroes puts you in the role of the leader of a band of warriors who must battle the dark forces that have overwhelmed your lands. When you first begin game play, one of your early tasks is to decide what type warrior your character will be.
They are elemental based with three warrior types available as the game begins. You can choose the Earth Element Warrior, Fire Element Knight or Air Element Archer. As you progress through the game, a wizard can be unlocked and there is a hint that a monk, duelist and engineer will be eventually added to the game.
The base of operation with Elements: Epic Heroes is from the city of Riverfall. Throughout the city you will find a series of merchants you can buy and upgrade equipment from, your Mentor and a High Mage. Here is a brief description of each of the characters who call Riverfall home.
Jahi the Merchant: Here is where you can pick up potions, scrolls and rings to enhance your warrior's elemental abilities.
Aishe the Inn Keeper: Here is where you can switch up your party of warriors with additional characters under your control, mercenary warriors or your buddies warriors.
Big Alex the Blacksmith: Once you reach level seven in experience, Big Alex can upgrade your weapons and armor.
Ironborn the Great Vendor: Here is where you buy more powerful weapons and stronger armor.
Kuan Chin the Mentor: Kuan Chin gives you the option to change your party leader.
Greybeard the High Mage: As you earn achievements, you can visit Graybeard to collect rewards such as gold, scrolls and other items.
Each character will also present you with quests to take on that are in addition to the main story line. Along with the characters in Riverfall, you will find your inventory chest (far left of the city) and a portal that will send you to the gaming map.
As far as the Riverfall screen is concerned your team's health and strength is displayed in the upper left corner of the display. Across the top of the screen, you will see your character's experience level, your gold and gem counts and access to your quest list, game messages and any deals that may be available for in-app purchase.
Winding up the Riverfall screen is your potion count in the bottom left corner, your elemental attacks and a knapsack for your scrolls.
As you first begin playing Elements: Epic Heroes you will be taken through a series of tutorials that covers the basics of game play. Once you have completed the tutorial lessons, transitioning to the gaming map is done by the portal that is in Riverfall's city center.
The heart of game play is battling a wide variety of monsters. Movement is simple, tap the screen where you want your hero to go. The other members in your party will follow your lead unless they are busy battling monsters. A red arrow will appear to give you a sense of direction and with the evil minions you will face, you will also have boss battles to contend with. As your hero gets close to an enemy, he will automatically attack the monsters. When treasure appears on the battlefield, just have your hero run over it to collect it.
Your elemental powers (displayed on the right side of the display) are available during combat and will replenish after use. You can double tap the screen to unleash power attacks on your enemies. Potions are available to revive your fallen hero or heal your entire party.
Gaming levels are a mix of open battlefields and paths you will have to navigate, hunting down the enemy. You will find gold, mystery bags and gems to collect as you wage battle. Each gaming level can be replayed if you need a little practice or just want to earn a little more gold.
As you battle, you may lose one or both of your fellow warriors. To avoid this, you can use potions to restore their health but if all is lost, you can revive your team
Along with the gaming levels, you will also find Skyrock. This floating city offers you the opportunity to socialize with other Elements players. There is also an Infinite Tower you can test your skills at combat. The higher the level of the tower you reach the more rewards you earn.
Another Hit from Game Troopers
Game Troopers can lay claim to bringing another entertaining gaming title to the Windows Phone Store with Elements: Epic Heroes. Game play can be intense, fast-paced and a little overwhelming with all the action. Graphics and animations are well drawn up and reminds me a little of the Lego Bionicle series (opens in new tab). The controls are simple, but with the pace of play, you will have to stay on your toes to keep your band of warriors alive.
My only nit with Elements: Epic Heroes is that the game lacks a help section. The game does a really good job of walking you through the basic mechanics of game play and new features as they come into play. Elements isn't an overly complicated game to figure out but with as much as this game has to offer, a help section would be nice.
If you are in the mood for an action-packed role-playing game, Elements: Epic Heroes is a great Windows Phone title to add to your gaming library. It is a free gaming title in the Windows Phone Store with plenty of in-app purchase opportunities. If you have given Elements: Epic Heroes a try, let us know what you think of things in the comments below.
Download Elements: Epic Heroes from the Windows Phone Store
George is the Reviews Editor at Windows Central, concentrating on Windows 10 PC and Mobile apps. He's been a supporter of the platform since the days of Windows CE and uses his current Windows 10 Mobile phone daily to keep up with life and enjoy a game during down time.
Loving their games! Looking ahead to try out this one too!

Loving this gameeeeeeeeeeee

Do many people here make use of the in app purchases, and if so do you spend more on them than you would usually be happy to pay for a game? I still prefer the model of paying for a game outright rather than In-App purchases but I totally get why companies go for this freemium model with mobile games with most people not willing to spend money outright on apps/games in general.
Just curious to know if anybody ever intentionally buys credits and things for free games, I've never really been tempted personally, but I do buy games that have a purchase price like the Halo games, Lara Croft GO and Hitman Go amongst others, as well as playing free games for nothing. I'll definitely be checking this one out later.

I have never liked in app purchase games and never played or completed them if played. Bores the crap outta me.


Whether a game has iaps or not, doesn't determine if that game will be boring. There are plenty of crappy games that you must pay to play.

He meant IAP bore him. It's too easy to finish games if you pay all the time.

Depends on the game, how much I play it and what I get for my money. If its a game I have enjoyed I will use iap's as a means of donating to the developer. However I avoid posting money in time waiting games, as they are the biggest cash grab around.

I support developers if I like the game.

I support the developers by clicking on the ads.

I normally only buy an iap if it gets me something that will last or to say thanks. For example, I will not buy iaps that give you energy or get you an item that will be outdated. I have bought point doublers, angry birds epic had something that gave you an extra advantage, etc... In general I like to buy full games too but there are some free games that are good.

first of all.. need windows phone 10 for atleast see these apps in the store... It's almost half of december...

I didn't know that Riverfall is a city :)

Tried it out and deleted at level 8... The graphics are nice from a design perspective, but in practice it's near impossible to see what's going on. The arrow showing direction says it all (and doesn't really help in the thick of battle). Storywise, there's... none. "The Dark Lord's minions are running rampant in the forest. Kill!" There, that's almost literally it. Good idea, but badly executed...

Are you supposed to be following the arrow mid-battle?

If you're the playing an archer, and plan to hit anything with your multi-shot special attack...

Downloaded and looking forward to this game. Slightly of topic question. Can anyone recommend a good panorama app? I have my 950XL(which takes stunning pics btw) but seriously lacking panoramic shots. Cycloramic was good but now gives HW missing error when I try to DL from store. Thanks all.

Well the game requires stable net
And doesn't even start ahead..
My net gives 12mbps download speed and still is unstable for the game ;-;

I have a 535 with win10 preview for developers and when I play a game the bottom of the display is cut off by a black bar where the on screen buttons would be if they were up. Why is this and does anyone know how to fix it

looks like it's a Win8.1 game. These kind of apps cannot request to enter full screen mode that is supported in Win10. I'm afraid the only way is to launch the game with nav. key hidden...

Thanks but it doesn't work. There's still a black bar at the bottom covering some of the game

It's a cool game but I wish it had on-screen controllers rather than tapping. It would make it way more enjoyable as I have to hold the screen with one hand as I tap all around and it's not very convenient especially with the large lumia 950xl.

You should be able to just drag instead of tapping if I'm remembering correctly

Yes but I still have to let go of phone. When in landscape I prefer holding it like a controller. So buttons on right and a touch analog on left. It can be done to work well. Paper monsters a platformer game has the most amazing controls.

anyone found out how to hire a friend on the tavern to ur party? I add friends but when i got to the tavern they dont show on my friend's list

Yeah! This game is lifesaver or I would be bored to death. But this game lags often and crashes in 20 minutes. In 512 MB ram

Would it need a network connection for gameplay?

Been waiting so long for this!!!
Windows Central Newsletter
Thank you for signing up to Windows Central. You will receive a verification email shortly.
There was a problem. Please refresh the page and try again.