Elop confirms first Nokia phones this quarter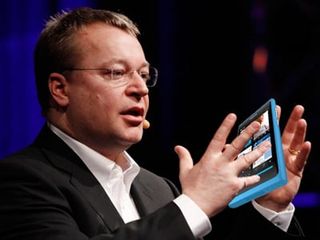 Nokia's CEO, Stephen Elop confirmed today what was expected all along, the first Nokia Windows Phones will be coming very soon. It has been long suspected that the Finnish manufacturer would unveil the first of their WP7 devices at the Nokia World conference in London on October 26th, and at a Helsinki technology fair this morning, Elop spoke of introducing "products" in the current quarter. What's exciting here is his use of the plural form, denoting that we can expect at least a couple models this year. With Apple's new iPhone about to launch, Elop said, "Our belief is that there is a clear opportunity for an alternative ecosystem."
Elop compared the company's decision to abandon Symbian for Windows Phone to jumping off of a burning oil platform, which is pretty accurate. Nokia saw Symbian steadily losing ground and had to act, though moving to a completely new platform left them in a state of financial limbo with nothing to offer investors or consumers for eight months. With that stagnancy drawing to an end, we're close to seeing if the gamble paid off.
Source: Reuters; Via: PhoneScoop
Get the Windows Central Newsletter
All the latest news, reviews, and guides for Windows and Xbox diehards.