Elop confirms first Nokia phones this quarter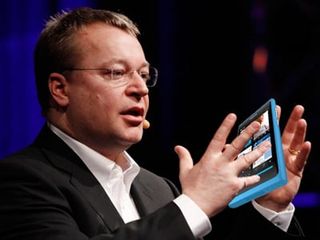 Nokia's CEO, Stephen Elop confirmed today what was expected all along, the first Nokia Windows Phones will be coming very soon. It has been long suspected that the Finnish manufacturer would unveil the first of their WP7 devices at the Nokia World conference in London on October 26th, and at a Helsinki technology fair this morning, Elop spoke of introducing "products" in the current quarter. What's exciting here is his use of the plural form, denoting that we can expect at least a couple models this year. With Apple's new iPhone about to launch, Elop said, "Our belief is that there is a clear opportunity for an alternative ecosystem."
Elop compared the company's decision to abandon Symbian for Windows Phone to jumping off of a burning oil platform, which is pretty accurate. Nokia saw Symbian steadily losing ground and had to act, though moving to a completely new platform left them in a state of financial limbo with nothing to offer investors or consumers for eight months. With that stagnancy drawing to an end, we're close to seeing if the gamble paid off.
Source: Reuters; Via: PhoneScoop
Nokia this is your moment. Don't **** it up.I really hope you take notes of what's coming up with iPhone5 today.This fall is everything for Nokia and WP7. People have big expectations.

With the rumors looking more and more like there will not be an iPhone 5 anytime soon (just 4GS) Nokia has a huge opportunity to get a jump here. Hope they take it.

Ace, N8 camera, 4.3" AMOLED CBD, 32GB.Make it happen Elop, and it will be mine next September.

he must bring out the best nokia hardware NOW nobody is asking to for them that they cant do all were asking is nokia best now it is time for Nokia to bedazzle us and rest of the world Nokia FTW

Do you think the Ace will be on AT&T?

That's what the rumors say...Crossing fingers.

Att again. Every top wp7 is going to Att.

Other US carriers dont seem interested, rather at&t than no carriers at all.

Nice, now support CDMA with those devices so I can get it on Sprint. Tired of seeing the new wave of Mango devices going to T-Mobile and AT&T.

Rage at Sprint. As I've said before, they are the ones who need to see demand. I don't know if the Arrive is doing much for them, but, even though I love mine, it's pretty sad that it's by itself on the network and it makes me worried that I'll have to switch to AT&T at the end of my contract. Same with the Trophy on VZW.

Agreed. Although I love the keyboard on my HTC Arrive, It would be nice to swap it for a lighter and thinner Windows Phone.

Y U NO TELL US WHICH COUNTRIES!!!

does anyone know if North America will be part of the initial launch?

@Lucky7Phone...The intial launch sites mentioned here: http://www.engadget.com/2011/06/17/nokia-windows-phones-will-launch-in-s...

altho Im excited to see what nokia releases and how ppl respond, Im waiting until next year to get really hyped about a new nokia phone.

I just want a 4"+ phone on Verizon... first one to make one gets my money.

I love my Arrive and I am sad that Sprint is not getting more Win7 phones, I truly hope that changes because I don't plan on moving from a Win7 phone now. I no longer love the iphone and that is why I moved to Sprint for the Win7 phone. ATT service is poor in my area, it is CDMA or nothing. COME ON SPRINT, nokia, and MS get the devices to sprint! Put out the commercials!
Windows Central Newsletter
Thank you for signing up to Windows Central. You will receive a verification email shortly.
There was a problem. Please refresh the page and try again.