Emby media center is a worthy Plex alternative for Windows
Emby is another solid media center option for Windows 10 users. But what exactly is it all about? Read on for answers.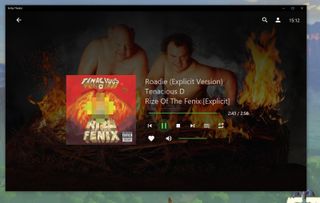 Plex and Kodi are both perhaps more well known, but neither is the only solution for your Windows-based media center. Emby is one option that may have slipped by unnoticed, but it's a service with good support for Windows 10, mobile and Xbox One. And that makes it worth a serious look.
Getting set up with Emby
The general set up process with Emby is very similar to that of Plex (opens in new tab). You download a server application that will do the heavy lifting of actually cataloguing your media, while a separate client app will be your front end for media consumption.
The Emby Server app is available for just about any platform you could imagine, including for some NAS drives, without the need for it to run on a PC.
Image 1 of 3
The server will pull artwork and metadata for your media — as you'd expect from any good media center — but you have ultimate control over exactly what it is you want.
At the initial set up of your server, you can also plug in your live TV if you're using something such as an HDHomeRun (opens in new tab), which is a nice touch. Unfortunately, I don't have one of those, so I can't say how well the feature actually works.
Getting up and running with Emby is a mostly pain-free affair. You just grab the companion apps from the Windows Store or on your Xbox One and then enjoy your lovely content ... at least if you purchase Emby Premiere first.
Emby Premiere is a must-buy
Plex has Plex Pass, and Emby has Emby Premiere. In both cases, to get the most from the service you need to pay up. In Emby's case, if you actually want to use any of the apps properly beyond just the server and its web app, you need to pay.
It'll cost $4.99 a month, with plans available for a year as well. You can pay using PayPal and set up a recurring debit so you don't ever forget about it. Once you've paid, you get a license key, which for the life of me I couldn't get the Windows 10 app to accept. Instead, I went to the Emby Server and entered it there.
So what do you actually get for your money? From the company:
Feature wise that translates to:
Cover art — A plug-in that provides advanced image enhancements for your media artwork.
Mobile and cloud sync — Synchronize your content to your mobile devices or cloud account for offline viewing in supported Emby apps.
Server configuration backup — A plug-in that allows you to back up critical configuration settings for your Emby Server, both manually and on a schedule.
Genre and studio cleaner — Plug-ins that help manage your genres and studio metadata, eliminating redundant or irrelevant information.
DVR functionality — Advanced recording functionality in the built-in Live TV features of the server.
Cinema mode — Turn movie night into a real theater experience with current trailers and other intros before your feature.
Free apps — Full access to the Android mobile, Android TV, Fire TV, iPhone, iOS and other apps provided and supported by the core Emby team. (Note: Some apps are provided by third parties and you don't get free access to those.)
Good Karma — That incredible feeling you get when you support all of the hard work that goes into developing, growing and maintaining the entire Emby ecosystem.
You can find more details over in the Emby forums.
The apps
Emby gets a big thumbs up for having official apps available for Windows 10 PCs, tablets and phones, as well as for Xbox One. If you're using Emby Premiere, you get access to them completely free of charge to enjoy all your content.
Visually, the official app is a bit of a throwback to the Windows 8 era, not like the sleek, Windows 10-inspired Plex app, for example. Choosing a server is straightforward if you're on the same local network, or you can use Emby Connect to sync across the cloud.
Emby also has the benefit of third party support, with a few apps available in the store to choose from. The best of these is probably Ember, but it's not free. It does have a free trial, though the full version will cost you $5. It's essentially everything you get from Emby officially, just wrapped up in a nicer application.
Emby and Kodi
Ah, Kodi. The one stop shop for all things media center gets a mention here because it integrates beautifully with Emby servers.
The official Emby for Kodi add-on integrates with the native Kodi library, which means smooth, speedy access through your system. Emby does the heavy lifting with server-based transcoding, too, which means you can also integrate it into a mobile Kodi system and still get excellent performance.
Installing is as easy as any other Kodi add-on, and Emby has the leg up over Plex here — also available on Kodi — by natively integrating into the Kodi system. It doesn't pull you into another interface to get at your content. It's all Kodi, all the time.
Find out all you need to know at the links below.
Emby bottom line
Emby is a super-solid media center for Windows users, with the added bonus of support for mobile and Xbox One. If you're already using Plex, there's not necessarily a reason to switch, but if you're not using anything else yet definitely give it a look.
Where Emby edges ahead is when you hook it up to Kodi. Plex will require the use of its own interface, which might put some people off. Emby, which is priced similarly to Plex, is a more natural fit for Kodi users because it hooks into the native library while still offering server-side transcoding.
Whichever you go for, though, using Windows 10 isn't a hinderance in any way to getting a top quality media server up and running. Windows 10 users are actually spoiled for a change.
Windows Central Newsletter
Get the best of Windows Central in in your inbox, every day!
Managing Editor - Tech, Reviews
Richard Devine is a Managing Editor at Windows Central with over a decade of experience. A former Project Manager and long-term tech addict, he joined Mobile Nations in 2011 and has been found on Android Central and iMore as well as Windows Central. Currently, you'll find him steering the site's coverage of all manner of PC hardware and reviews. Find him on Mastodon at mstdn.social/@richdevine
Yes. Thanks for covering this. I've been using this for a few years now. When 7Illusions published an emby client for Windows Mobile, that made it my go to solution for home media storage and playback. I love how the updates he's making to his ember app are focusing on improving navigation on xbox ONE. I disagree that Emby Premiere is a must-buy though. Been using it without from day one.

I tried Plex as a server,
but my impression is that without buying the whole thing
the experince with free version becomes fairly limited fairly quickly. What is with Emby that makes you happy as a non-paying user? -

Metadata retrieval and automatic sorting of series / seasons without moving the content on the filesystem. I get a consolidated virtual view of my content, even when it's not in the proper folder structure. Really, as a non-paying user, I've never had a need for the premium features. I don't have it connected to live TV, so I don't need DVR. I have content that would get me banned from cloud providers, so I don't need CloudSync. I think cinema mode is a gimmick. Just overall, the only value to me in being a paid member would be the Karma. Devs need $ like I need Karma. I'll pay the one time $99 at some point, but I'm not there yet.

I have to look into using the free version more just installed on my phone and is asking me for 4.99 I will wait as I am a paying plex member (need to do lifetime) but if this works it will be a toss up. Interface so far is not as clean as plex imo.

Metadata and automatic sorting is brilliant, even if (unlikely - if) I was to move to another platform for delivery, I'd probably still run Emby to monitor my folders and do the housekeeping.

Excellent, thanks Richard! Haven't had chance to read fully, but happy to help if you need any tips etc. Btw - Emby also supports cloud, device sync AND liveTV (#FTW).

I stopped reading at "It'll cost $4.99 a month" 😋

I wouldn't mind a one time payment, but the recurring fee just sucks.

There is a lifetime membership also available for $99 USD.

Does this include content delivery/rental?

Emby is a media server that allows you to watch your own content on multiple devices (both locally and remotely). it does not provide the content (only meta data, images etc. for the content you put on the server). It's not Netflix or simliar. Think of it more like a digital CD changer mated to a radio station. It allows you to play what you own where you want it. (hopefully that doesn't confuse more then help)

Which surely has free or cheaper alternatives then.

There surely are free and cheaper alternatives out there. This thing has a free option, but you don't get the advanced features. A cost benefit analysis for me showed that the paid membership was not worth the value, at the time. That being said, after using it for years, I do feel some obligation to support the developers.

You can pay a one time $99 life time fee. That's what I did. Well, actually, I received a Christmas special for $79 and I payed that immediately

I need to test this out I was just talking with wife about paying for plex lifetime. If this works as well and has amazon fire apps I am in as we converted to prime sticks and kodi. Thanks for the article.

Used to be a big fan (became a lifetime member in fact), but it just wasn't stable enough. Emby has a ton of features and keeps incorporating more and more, but at the cost of stability. I finally gave up and put away my WMC and bought a bunch of firetv's, and loaded up plex on my server instead. Plex combinded with HD Home Run app for live tv meets all my needs.

Stability issues? In WMC back in the media browser days maybe, but WMC (itself) instability is the only issue I experience... however, like you, I've mostly moved to using FireTV as the container for Emby.

I used Emby back when it was called Media Browser. Emby isn't bad but I dropped it because I got tired of waiting for it to evolve from that boring interface it had. Maybe its better now but I've since re-discovered Plex and its a breath of fresh air in comparison.

I can't access my Plex Server from outside my home network because of a supposed "double NAT" issue that it keeps throwing out. Problem is, I have literally one router in my house, a combo modem/router, and there is no way to get rid of the issue. Anyone know if Emby has issues with double-NAT?
Windows Central Newsletter
Thank you for signing up to Windows Central. You will receive a verification email shortly.
There was a problem. Please refresh the page and try again.