Encrypt files using your eyes with 8 Zip for Windows 10 and Mobile (Testers needed)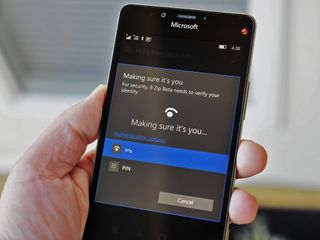 Microsoft is bringing a lot of neat technologies to the masses with Windows 10 and Windows 10 Mobile, and one of the most exciting ones is Windows Hello. Microsoft's Windows Hello is an authentication system that uses biometric data to create an encrypted hash on the local computer or phone for logging into systems and, increasingly, to unlock apps.
Finebits OÜ make the excellent 8 Zip app for Windows 10 and Mobile (along with numerous other apps like Torrex, Files&Folders, and Metro Commander) and that app is getting a private beta. The reason? Finebits OÜ is adding Windows Hello support for archive encryption!
The 8 Zip encryption method is rather simple: using your biometric hash the app can encrypt the file. You can then send the file around to other devices and using 8 Zip on your PC or Phone you can unlock it just by using your fingerprint, facial recognition, or iris scanning. If you do not have a Windows Hello-enabled device, you can open it using your PIN.
The file can only be opened on Windows devices with the same Microsoft Account as the original user and only using the 8 Zip app.
No doubt this is a smart usage of the Windows Hello technology, and it is also very practical. The process is simple:
Create new 7z archive
Enable encryption in the Compression options
Mark checkbox Make use of Windows Hello
Add files to archive
I've been using it all day today with no issues, and I'm quite impressed by it.
Become a beta tester!
Currently, this feature is not in the public version of 8 Zip so don't bother looking for it. However, if you are interested in beta testing the app with Finebits OÜ just send an email to them at info@finebits.com asking for the beta version of 8 Zip. They will be looking for your feedback and experiences in using the app day to day.
Remember, you'll need a Lumia 950 or Lumia 950 XL for phone or a new Surface Pro 4, Surface Book or PC with a fingerprint reader!
Try 8 Zip anyway
If you have never used 8 Zip, just go and grab the non-Windows Hello beta version from the Store to give it a spin. There are two versions including a free 'lite' one and one for 99 cents.
Download 8 Zip Lite for Windows 10 (opens in new tab) (Free)
Download 8 Zip for Windows 10 (opens in new tab) ($0.99)
Windows Central Newsletter
Get the best of Windows Central in your inbox, every day!
Daniel Rubino is the Editor-in-chief of Windows Central, head reviewer, podcast co-host, and analyst. He has been covering Microsoft since 2007 when this site was called WMExperts (and later Windows Phone Central). His interests include Windows, laptops, next-gen computing, and for some reason, watches. Before all this tech stuff, he worked on a Ph.D. in linguistics, watched people sleep (for medical purposes!), and ran the projectors at movie theaters because it was fun.
So neat to see devs use Windows Hello in creative (and useful) ways.

So neat to see such a great support! Appreciate it!

I had never imagine that option, so nice

I have this app, It's great.

It would be awesome if Enpass added this to unlock their app.

You can with the latest update. I've been using it quite a lot. --
Posted using the Universal Windows Central app, on a Lumia 950XL.

Can I know how many apps in Windows 10 mobile so far that utilize the iris scanner feature?

Don't immediately see the use since you can open it only on your devices and with their app... Then I'd just use my OneDrive to make stuff available on my other devices. Nevertheless it's nice to see windows hello being integrated on software ☺

As far as i can see, their is a pin to;) Aproved by me!

That's only for devices without Windows Hello... Quote from the article :
"The file can only be opened on Windows devices with the same Microsoft Account as the original user and only using the 8 Zip app." Especially the part "same microsoft account" is a limitation for me as you can't share them with other people...

Yes, this feature is perfect choice for those who don't wanna share something private with anyone​ ;)

Ok, you're right. But is a good thing anyway. At least, I find it good. Aproved by me!

Yeah, this seems better for storing personal files at the moment. Still not a bad thing. I'm sure we all have something on out hard drives that we could do with encrypting, and don't really need to share with anyone. I personally have a couple documents containing product keys and such that I have encrypted through other means, but another layer of security couldn't hurt.

So the eye, finger recognition is saved in the cloud of the MS account. Does that mean in the future we can set up are NEW W10M or PC with your Windows Hello data. Would it be possible for it to use the data stored in the account without having to set the account first (like in a brand new phone or pc) and then automatically start installing your apps and changing your settings you have on other devices or a list of what you have on other devices and let you choose what to install and what settings to keep?

This is actually a very interesting idea! Posted with the Windows Central app for Windows 10 on HP 250 G1 notebook. It is a scary old monster, I think :D

No, your Microsoft Account is cloud-based. Your Windows Hello PIN, iris, fingerprint, 3d face scan hash is stored locally only, and that in turn is allowed to unlock your Microsoft Account on that device only. So you can have a different PIN on different devices, and you have to set up Windows Hello on each device you want to use it in lieu of typing your Microsoft Account password. But as for your idea, that's what they had in Windows 8.x, and I loved that aspect. Unfortunately, they dropped that in 10, and now you have to wade through your purchase list that takes what feels like 2 hours to load because there's so much in there and reinstall the apps you want by clicking on each one. At least when you load an app from another machine, your data that was saved on the other device is restored as the last phase of the installation (as long as it was backed up). Posted from Windows Central for Windows 10

The Hello data is stored locally so that it's not used maliciously

Why would you want your biometric data stored in the cloud? That's not a good idea.

LIke the idea. But how secure is your file if it can also be unlocked with a 4 digit PIN?

You can actually make PINs longer than 4 digits. We had a tutorial on it.

Can you view single files in an encrypted archive without having to unzip the entire archive?

The important thing is that it can be unlocked with that PIN on that device only. If someone watches you type your PIN on your phone, they can't log into your Microsoft Account online using just your PIN. They can only log into your phone and anything on that phone. That actually protects you from someone looking over your shoulder and going to their own machine to take over your account. You can protect yourself even more by enabling two-factor authentication on your Microsoft Account in case your actual password ever gets compromised. All that said, the PIN you use on each device should be different to minimize any attack vector. Posted from Windows Central for Windows 10

I like the windows 8 version. Will be giving this a Shot Sent from pure chaos(windows 10 mobile) and lovin it

Great move by the developer.
Appreciate it

Encrypt files using your eyes with 8zip for windows 10 and mobile (MORE DEVICES REQUIRED)

I would love to test this
But I have a 3 year old Lumia 720 lol

That's nice except for the fact that we need more devices supporting windows hello!

The title makes it seem ridiculous but it's actually a really cool feature. Kudos to the dev

Hahaha, have to say I didn't notice at first but you are absolutely correct =D Posted from WC 920, 1520, 920, 635, 640 or 950XL

Good things are happening to Windows

I hope you can unlock files on your dekstop version from mobile. That would be cool.

Will it work if your eyes are afflicted?

Why Windows Hello box don't appears on my Dell Vostro 5470 and it has Windows Hello with Fingerprint Reader?

Windows Hello should be enabled in the system settings.

but already it is!
Look this print https://scontent-gru2-1.xx.fbcdn.net/hphotos-xta1/v/t1.0-9/13015139_1020...

Could you please send email with this problem to info [at] finebits.com

I wish Microsoft would release another affordable flagship with windows hello(iris or fingerprint scanner), then more people could have the chances of using this neat feature. :(