Enjoy a Free Xbox LIVE Gold Weekend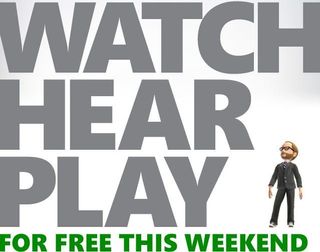 If you're on the fence about signing up for an Xbox LIVE Gold Membership, this weekend you can give the Gold Membership a try for free.
From Thursday, November 29th through December 2nd Microsoft is unlocking Xbox LIVE Gold in Argentina, Australia, Brazil, Canada, Chili, Colombia, Hong Kong, India, Japan, Republic of Korea, Mexico, New Zealand, Singapore, Taiwan and the United States.
Xbox owners in these regions will have access to online multiplayer gaming, video Kinect, and the entire collection of entertainment apps for the weekend. You can find a complete listing of the Xbox LIVE Gold Membership features here at Xbox.com.
Source: Major Nelson (opens in new tab)
George is the Reviews Editor at Windows Central, concentrating on Windows 10 PC and Mobile apps. He's been a supporter of the platform since the days of Windows CE and uses his current Windows 10 Mobile phone daily to keep up with life and enjoy a game during down time.
Cool I'll hold off on using my xbox gold card I just got

Wow finally an offer that is valid in India

Does this mean a free UFC fight?

No, Xbox Gold opens the door. You still have to pay for premium content.

haha I just noticed that, I sure wish there was a country dedicated to chili

The right name is Chile not Chili

XBOX Live options need an overhaul. I was about to buy an XBOX last week for media center type use and some gaming. Til I found out I have to pay something like 60 bucks a year to stream other services I already pay for. Sounds good for gamers that get the full benefit out of it. For me though... no thanks.

They need to seperate the live gaming from the streaming....or just let me pay a single up front cost. But with MS going to a subscription model for more and more things, I think that is incredibly unlikely.

Hmmm this makes me think that it would be a good idea for Microsoft to do a media only Xbox Live subscription. It would be way cheaper (maybe $30?) and would get more people using Xbox for entertainment.

I agree. IMO, MS really should split out the media services and make them no cost. I'd even be fine with a higher up-front cost/one time fee to offset any current subsidisation. PS3 doesn't charge fees for the ability to use paid media streaming services, nor do a multitude of other streaming devices out there. I was certainly put off by the subscription cost, enough to decide against purchasing. To me, it also detracts from the overall appeal of the MS product ecosystem. Others are certainly passing on XBOX because of this too.

You do know PS3 online service is not near as good as live right? You really can't compare the two. The old saying that you get what you pay for applies here. There's a reason that there are twice as many subscribers on live than PS network . Just saying

I honestly don't know. I hope that's the case, since there's a fee. Maybe there's something valuable to me that MS marketing hasn't been able to draw my attention to. Just seems like MS could throw the things their competitors offer without fees (Netflix, Amazon VOD, VUDU, etc) in the free LIVE plan, and charge for all the things that really set LIVE apart from the competition.

Passing on Xbox? You must be on some serious crack because Xbox is the NUMBER ONE selling system in the US and it still racked in high black Friday sales

With that logic, I guess I should sell my WP and get an iPhone then, right? ;)

So everywhere but the UK, Thanks Microsoft!

sigh... when will the Philippines be added on the list... :(

Yeah should be world wide

Just was about to add my $35 12 month card (current sub ends 8/8/13)....Oh well, can I get 3 extra days then ?

I have a Xbox and Ps3 so 1st of all Xbox live charging us to use netfilx and Hulu is ridiculous considering we already pay for it so Microsoft should be allowing us to use netfilx and Hulu without a membership and the quality of online gaming on ps3 has nothing to do with why psn is free and you get way more with playstation plus vs Xbox live thats a fact anyone who's had both will tell you! I have a roku,ps3,sonytv I can stream from I paid my money for them there isn't some extra charge for streaming from them so why is Microsoft forcing us to stay Gold

Dude its just $60 once a year! You aren't going to go broke. That's only $5 a month, don't be ridiculous.

U pay for the service. I get HBO go, Netflix, ESPN, Hulu, and get to get my game on easy as pie. I'll pay 8 month its not that bad. I pay for the services already but to have them all on one box is worth the money to me. I like the interface and the ease of use. U can get free stuff but u pay for service :)
Windows Central Newsletter
Thank you for signing up to Windows Central. You will receive a verification email shortly.
There was a problem. Please refresh the page and try again.