Enpass gains 'full-time' Windows Hello support and more in latest update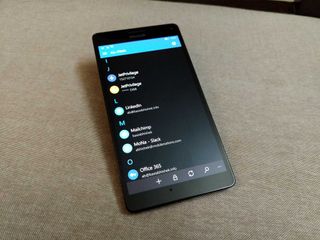 A fresh update is rolling out to the universal Enpass app, bringing along "full time" support for Windows Hello and more. While Windows Hello was supported for logging in on the previous release of Enpass, it was limited and required entering the master password if Enpass was closed. That's no longer the case with this latest version.
Here's the full breakdown of what's new in Enpass version 5.1:
Full time Windows Hello support - Now you can unlock Enpass every time using Windows Hello on your phone (for supported devices only), unlike previous version, where it was mandatory to provide master password once the Enpass was closed.
TOTP - Enpass is now capable to save and show Time-based One-time Passwords.
Option for Password History on Details Page.
Option to Change Category on Details page.
Improved Password Generator - Using the Diceware algorithm, Password generator can generate strong and pronounceable passwords in better way.
Sensitive fields on Edit page will be displayed by bullets.
Option to manually unlock using Windows Hello on Login page.
Fixed an issue in changing Enpass Master password where presence of some Unicode characters was behaving unusually.
Scaling issue in large displays fixed.
Fixed an issue with WebDAV sync while using self-signed certificates.
Other Bug Fixes.
If you're interested, you can check out all of the latest improvements to Enpass by download the update on the Windows Store. And if you're still on the fence about trying the app, be sure to read about why our own Daniel Rubino recently made the switch.
Download Enpass for Windows 10 and Mobile (opens in new tab)
Windows Central Newsletter
Get the best of Windows Central in your inbox, every day!
Dan Thorp-Lancaster is the former Editor-in-Chief of Windows Central. He began working with Windows Central, Android Central, and iMore as a news writer in 2014 and is obsessed with tech of all sorts. You can follow Dan on Twitter @DthorpL and Instagram @heyitsdtl.
Really liking this app so far. It should be obvious but if you are using Windows Hello with the app make sure you have a secure and long PIN (That's really the great thing about Hello, you can have a very long one as you rarely enter it) Reason is that by enabling Hello you also enable unlocking the app with your PIN, so don't have something short or easy to guess (Should go without saying really) Also that means anybody with your PIN can access your passwords in this app when Hello is enabled but you shouldn't really be sharing your PIN anyways

Well that was fast ... this is looking to be a very viable option. I just purchased lastpass a week ago but I may have to consider this. Edge extension soon?

I heard in the next few weeks.

really? that's awesome. I'm almost 100% on edge, except at work where I use a windows 7 PC, enpass would make it perfect.

Actually, there's a desktop app for Windows too. That non-UWP app just won't support Windows Hello (not that Windows 7 supports Windows Hello either). Oh, and the desktop version is also completely free https://www.enpass.io/

Thanks for the information. I installed it and tried it out quickly, my biggest issue with this is the same as 1password, the extensions only work if you have the desktop application running. Which might be okay (I find it annoying) on desktop but where does that leave mobile in the future if we have extensions on mobile?

Well that unfortunately is a limitation of UWP. Maybe in the future UWP Apps could talk to extensions in other UWP Apps (like Edge) but for now that wont work. They could also try to make standalone extensions, but that is probably hard to do since the passwords aren't saved on their servers and implementing the whole 3rd party cloud services could be tricky.

That's what I was told when I asked the same question -- no IE.

Couldn't be happier w/ this app. Kudos!

I've been using this for a few years, and it's one of the best password mangers around for my use. I don't want something trying to do everything under the sun for me, I just want something that works. I asked for the TOTP feature a few months back, and they said they'd consider it, so I'm happy they got it added and working so well.

I wish it had an IE extension. we still have some stuff at work that needs IE.

Awesome....time to make the switch from password padlock..

Awesome. I was liking the Windows Hello integration before, but it felt more like a gimmick. This is the real deal. Now, if only OneDrive worked as well...

Is that the same as Sky Wallet?

Why hello is not supported in lumia 540? Does it need special hardware?

Uh, yes... An IRIS-scanner for IRIS-login.

Are there any good options for family-wide password managers? For instance, banking ID/pwds and stuff like that. Can Enpass be used family-wide (not with Windows Hello, I get that, but password-based)?

How i wish Enpass can have the beautiful Windows Hello login UI just like the OneLocker one.

I gave Enpass a really good go. I did not purchase it, so only tested the Desktop Software and the Desktop App I had issues getting the trial to download a 1 entry file from Dropbox on my Lumia 950.
It would not pull it down, no matter what I tried. The Desktop version is good, and free, but it needs a ton, ton, ton of work.
Th GUI is borderline bad, to functional. But has lots of issues. The App, is on par with Onelocker, but not as functional in my opinion.
Onelocker has it's issues also, but seems the dev is working on it. and getting better.
There are features I would like to see in both that are not there.
Browser Extenstions from the app itself.
(I have no affiliation with any apps whatsoever, just stating what I use and have tried.) At this time, I am not willing to pay $9.99 for a half backed app, just to Sync. There are better or as good alternatives that are free.
And not just Onelocker.