ESPN brings real-time notifications to its Windows Phone app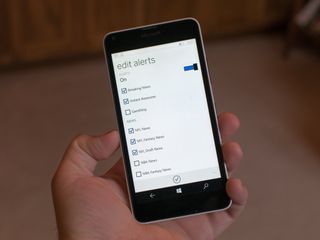 ESPN has pushed an update to its Windows Phone app, bringing along with it real-time notifications, blog post optimizations and much more. You can now keep up to date on your favorite team, with notifications when they score, overall game highlights or breaking news from the games. In addition, ESPN has made some changes to its blog posts for an improved reading experience.
The full change log for version 1.2.0.2103 includes:
Stay up to date on your favorite teams by signing up for real-time notifications. Scoring plays, game highlights, breaking news alerts across all of your favorite leagues, and more!
Improved reading experience! We've optimized ESPN.com blog posts and articles to make sure those all-important fantasy rankings tables show up in the app.
Speed, speed, speed. The app is faster than ever, looking a lot like the Panthers charging into the playoffs.
Bug fixes and performance improvements.
You can grab the latest ESPN update from the Windows Store now.
Download ESPN for Windows Phone
Jared started off writing about mobile phones back when BlackBerry ruled the market, and Windows Mobile was kinda cool. Now, with a family, mortgage and other responsibilities he has no choice but to look for the best deals, and he's here to share them with you.
Good. Screw the Score app people.

So glad to see this. And already noticed it working this evening as games started.

Great! Now we get to keep up with the kardashians a lot easier!

Uhh it's a sports app so what it has to do with your favorite girls show....?

Was joking. Currently ESPN has become more entertainment/political than covering just sports. Hate ESPN other than their sports coverage. They are going the way of MTV.

Why did you remove the ability to hide the Nav bar on Wp8.x apps(most) in W10m Microsoft? Why :(

Uh... you're kind of off topic here.

Update your cricket info app please. It's been a long time since last updated

One of the many reasons I bought a secondary Android phone was the lack of functionality and updates in the ESPNCricInfo app on Windows.

You must be a pro cricketer or a bookie then :P

Maybe they could fix ESPNFC while they are at it. Hasn't worked in quite awhile.

Thanks ESPN. Hopefully a Universal app and incorporating WatchESPN are in the next update.

Isn't WatchESPN a separate app on all platforms?

They are separate on ios but I'm not sure about android

They're separate on Android too.

I liked this app at first, then I found SofaScore.... maybe I'll get it another try if it tells me who actually scores the goal

This app needs a live tile badly. An accurate, updating scoreboard tile is what live tiles were made for.

Thank you ESPN. Much appreciated!

Espn needs to update espnfc. I think it's been two years and the app never works. It just cant connect to server. Espn is such a big brand and it doesn't suit them

Trash! Hasn't worked for me for some time now. Unable to access clubhouse error.... L1520 Win10IP

Stories are blank when I click on a headline.

Glad it's not just me. Hopefully they push out a fix soon

NICE - hopefully these live score updates will push through to my Band!! :)
I'm checking for updates now and I'm excited to hear the ESPN bumper jingle when my scores come in, like it does on Android.

Sweet now I can get real time notifications of the golden state warrior wins! I wish it did the SportsCenter sound though,

If you can find that soundclip somewhere online (which probably isn't too difficult), you can load it onto your phone and set it as the notification tone for the app.

Real question here. Why don't apps come with their own tones like they do on other platforms? Is it a limitation with windows? I know we can download them and assign them to the app but we shouldn't have to do that.

I want my live score tiles back, not this Android push crap.

Hallelujah. Now I can finally get notifications about my teams. Thanks ESPN.

Does anyone know what ESPN "Instant Awesome" is??

Bring the ESPNF1 app back to the store!

Just add live tile support and make this app complete

I really wish Cortana could do more for tracking your favorite team score updates. Like show score updates on the live tile??

ESPN, don't forget about your broken-*** Windows app! Posted from the sweet LG G4

Is this different from the ESPN Hub app that came on my L822 from Verizon? My ESPN Hub app hasnt been updated since 3/20/2013 with version 2.6 and barely works anymore.

The ESPN Hub app was abandoned a long time ago.

Oh. I guess I should delete it then and pick up this new one. Thanks

Yeah, that is a confusing situation. ESPN should pull that Hub and the ScoreCenter apps if they're going to support the main app.

I love all the people on here complaining about an app we don't have instead of appreciating the fact that they are still updating the app we do have. Notifications is one of those things that most sports app lack, including the Microsoft app. I've been using the Microsoft app because I like the way it looks and it's fairly fast, but it's always sorely missed notifications. So thank you ESPN for brining this back!

Finally!!! I've been missing this the most since I left android a year ago. Now if they could just update the ESPN fantasy football app.

They updated the fantasy football app....but the only change was the new logo, haha. Hopefully next year they update it to mirror the other platforms

Nice! Glad they're still supporting the platform. I wish they'd update the Fantasy Football app too but I'm not going to get greedy...

They updated the fantasy football app....but the only change was the new logo, haha. Hopefully next year they update it to mirror the other platforms
Windows Central Newsletter
Thank you for signing up to Windows Central. You will receive a verification email shortly.
There was a problem. Please refresh the page and try again.