Eve V launches on Indiegogo starting at $699 [Update]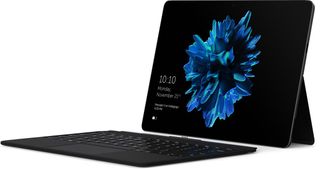 Update: And just like that, the campaign is sold out of units. Eve previously noted this first round of pre-orders would only cover 500 units, and it appears they burned through those rather quickly. If you managed to order one, you should expect it to arrive sometime in February. There's no indication as to when we might expect more units to go on sale.
Eve has officially launched the crowd-developed Eve V 2-in-1 tablet on Indiegogo. The tablet, billed as a "Surface killer," is available starting at a price of $699 for the entry level model, and tops out at $1,399 at the high end.
Here's a look at the three models available, along with their prices:
The V m3 ($699): Intel Core m3, 8GB RAM, 128GB SSD
The V i5 ($959): Intel Core i5, 8GB RAM, 256GB SSD
The V i7 ($1,399): Intel Core i7, 16GB RAM, 512GB SSD
Do note that these prices appear to be promotional for early backers, and the actual MSRP prices are $300, $530, and $770 higher for each model, respectively. Each configuration is also set to ship with its Alcantara keyboard and Pen for free as well.
Units are expected to ship in February of 2017, and there are a limited number available. For much more, be sure to check out the Eve V Indiegogo campaign.
Windows Central Newsletter
Get the best of Windows Central in your inbox, every day!
Dan Thorp-Lancaster is the former Editor-in-Chief of Windows Central. He began working with Windows Central, Android Central, and iMore as a news writer in 2014 and is obsessed with tech of all sorts. You can follow Dan on Twitter @DthorpL and Instagram @heyitsdtl.
Promotional? Fair enough... Does it ship internationally?

Should ship internationally yes, almost sold out though!

Surface Killer hey... looks interesting, would love to check it out!

How is this a Surface Killer, may be a Surface 3 Killer, but certainly not a Surface Pro 3/4 Killer If you are going to spend this much, why not just get the real thing, which is cheaper....

Shipping is $119 to UK - does that include taxes? Just says shipping... nothing regarding taxes.

Hello. The shipping to european countries does include VAT, custom clearance and local charges. This is done for sake of simplicity (Indiegogo as a platform does not fully flex to all the different scenarios). However the shipping should be priced at 119 usd, not 189, as you said. Could you snap a screenshot to support@eve-tech.com for details if the problem persists!

Apologies, Mike. It is $119. I must have miss read it...

Indiegogo is a den of theives. Really wish you EVE guys would have used a place I can support. Looks like a decent item.

Hi Sunstorming. For convenience we decided to use Indiegogo almost 6 months ago. At the time our community thought it was a decent option. We'll optimize our web store meanwhile for later production batches and you can order the unit there later. That being said, finnish law prohibits crowdfunding so as a finnish company we can only offer pre-orders. From legal stand point of view it doesn't matter whether you pre-order on indiegogo or from our web store. We are still as committed by law, our reputation and our personal sense of honor to deliver and fulfill your order all the same. Meanwhile, thanks for your kind words :)

Yes shipping cost includes taxes and duties for EU and US addresses ;)

what about the GPU not a single mention ?

Integrated Intel graphics. There is no dedicated GPU

Probably the integrated Intel 515 for M3, 520 for i5/i7. At least thats what I remember from my own Surface Pro 4.

Intel HD615.
It's better than the HD520 of the SP4. But the CPU is not even close to the performance of the SP4. It's Intel Y (in the past they called them coreM 5 and CoreM 7) vs Intel U in the Surface Pro.

You should probably compare the processors properly. Apart from a lower memory bandwidth and some missing security features there is not much difference. It even has a higher max frequency.

Yeah and it can stay on the higher clock speed for a few seconds instead of a few minutes like on the U series with a active cooling.

You could connect an External Desktop Class GPU, though.

Intel HD Graphics 515. You can also power up the V with Thunderbolt 3 certified external graphics units. One of them will soon probably be in the making. Of course @ eve.community.

Couldn't buy it now (I need to be a bit sensible with money...). But I'm very curious of the device, and of the price where it will be available for everyone (Q1 2017 I believe). Will wait for reviews and to see the competition when I'm ready to buy my next device!

Would love to have a phone from EVE. This 2-in-1 looks beautiful.

At that price I might as well buy a Surface.

How do you know the keyb's way better?

I have a question. It is curently sold out on Indiegogo, and it says it will be available in Feb. Will the price still be the same then? Or will they increase as the article said? I really want to buy the core i7 version, but was a bit late and now they are all sold out :(

But don't expect i7 performance. There's a huge difference between the "i7" Y in this tablet and the i7 U in the surface line.
The Surface CPU is way more powerful. This here is basically a coreM CPU with a different name.

That depends on your use case. In day-to-day normal use, you'll see no difference. Head on to our community to see why over 1000 people chose this CPU over the 15W one at our community (just search for CPU)

Eve-Mike,
You should be crystal clear about the processors used in the device. These are essentially Intel's M series. Not the 'real' i5, i7 used in SP4 for example. Massive difference.
Other than that, well done. Looks solid build. I might get few for my kids if prices remains same.

Well it's actually Intels fault. They replaced CoreM 5 and CoreM 7 with i5 and i7. Therefore they are actually Core i-CPUs but probably not what some of us expected.
I think it's a good choice for the "i5" model. But I don't think it's the best for the expensive "i7" version.
But hey at least you can hook up a real powerful GPU thanks to eGPU.

As I said above there isn't a "huge" difference.

You can reserve a unit for the next batch after IGG deliveries. The perks have been freshly updated!

Surface Killer with Intel-Y? Sorry but the Intel-U in the Surface line is still much better.
It's basically a m7 cpu.

February? In July they were telling people not to buy the Huawei Matebook because the Eve (then the Pyramid Flipper) was "just around the corner." Eight months is just around the corner?

It's irresponsible for Windows Central to promote anything on Indiegogo. They are thieves and there is no accountablility. They ripped me off once and a few colleuges a few times as well. Indigogo will tell you "Go away" if *ANYTHING* goes wrong. And Paypal will not protect you, again it happened to me. Nor will VISA or Mastercard or your bank. Fair warning.

I got a charge-back for one of the times I was scammed by Idie-scam-Go, another time I left it longer than 6-mth, so my bad, IGG is atrocious though. If anything happens (anything at all) they don't want know about it, you're completely & utterly on your own, they give you nothing but platitudes & empty statements, then they ignore you completely. KS is FAR FAR better, IGG is where projects go when they fail on KS (or if they're kicked-off before then), far less oversight, due diligence etc.

There was a time I was crazy about the ideas on Indiegogo/Kicktarter last year (starting from the Jolla Tablet). I contributed like to four to five different projects, only two of them delievered on time. I understand the risks, and I totally got the idea that Crowdfunding is different from Pre-order. SO, no more crowd-funding in my life!!

That is exactly the reason why we are not crowdfunding. Of course the fact that crowdfunding is also illegal in Finland plays a big role here. Keep in mind Intel is also backing this project, so this really is a preorder :)

Yeah, fair point...
If you move from IGG for the bulk of the orders after this initial run, then I'll be FAR more interested.* Bragi (German registered IIRC) is an example of doing an initial run from KS, but then moving to their own system. https://www.bragi.com Cheers.
*assuming all goes smoothly with the initial run

You almost make KS sound reputable. They are absolutely horrible as well. I have 2 projects (Soundband and Agent "Smartwatch") that have been in limbo for years and will never see the light of day. They both were promoted based upon blatant lies and KS doesn't care one bit. Not that I even want the items from those projects anymore but I sure would have liked to have gotten my money back. *sigh* Live and learn. I have had a few successfully back projects on KS, so when it works... everything appears great. But it's when you have dirtbag scam artists or the project encounters problems and the creators disappear that you find out how bad the "service" is and how little they actually care. Everyone gets the same boilerplate form letter response when reporting a problem no matter how many people complain or how many complaints they get.

Nah nothing amazing, but ratio -for me- has been far better; 6 from 7* Vs 1 from 4.
And that 1 from IGG is FAR from what was promised, and was hugely delayed. *might be 7 from 7, YTBFD

With core M equivalent CPUs? A Surface 3 killer maybe.

We are talking Kaby Lake here, not Skylake. The differences are tiny.

I am a bit skeptical about this crowd funded​ products. The product does look good on paper but I'll have to see and feel it before buying. Also, it is already sold out at the promo price and Feb 2017 delivery. All is left is a promo reservation for April 2017 delivery. And last but not least, Surface Pro 5 around the corner for Spring 2017 and the full price of Eve is close to Surface pricing.

Looks really great but i'm scared to buy it.

"Do note that these prices appear to be promotional for early backers, and the actual MSRP prices are $300, $530, and $770 higher for each model, respectively. Each configuration is also set to ship with its Alcantara keyboard and Pen for free as well." So the actual prices are $999, $1489, and $2169?