Evernote updated for Windows Phone 8, brings faster navigation, speech-to-text, and more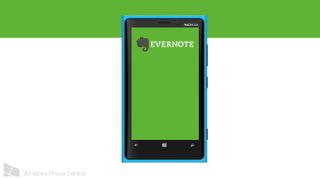 When it comes to note taking on Windows Phone you have a variety of options. There's the built-in Office suite that includes OneNote with SkyDrive integration. And there are others, like popular cross-platform app Evernote. It has been updated on Windows Phone and brings a slew of new features that you'll want to take advantage of right away if you're a fan of the elephant. Details after the break.
The last big update to Evernote came in late March of this year. The app was bumped to version 3.0 and brought a new design with some new features. Here's what you'll get when you update to version 4:
Windows Phone 8 support: Faster loading and navigation
Multishot camera: Take multiple snapshots without exiting the camera
Slideshow: Swipe through a slideshow of all images attached to a note
Speech to text: Transcribe your words and save the audio to the note
Auto-title: Smart note titles based on note content, calendar events and location
Anytime an app developer claims speed improvements with an update you can only test it by trying it. Evernote version 4.0 does seem to be a lot snappier and responsive than the last time we used. The new transcribe feature is pretty handy and a nice way to create notes on the fly. If the output text isn't quite right, you can always just place back the audio file.
Unfortunately, the app still doesn't include a double wide tile or lockscreen support. Features that both could present interesting implementations with a note taking application.
Evernote for Windows Phone is available for both Windows Phone 7.x and 8. Although it looks like this particular update is only for Windows Phone 8 users. It's a free app and you can grab it in the Store. Otherwise hit up the QR code or swipe to the right in our app.
Windows Central Newsletter
Get the best of Windows Central in in your inbox, every day!
Very nice but I tend to use one note and office more. though I have to admit I've never used this perhaps i'll give it a try.

I've used Evernote in the past. It's a pretty nice mobile note taking application. They have apps for nearly every OS you can think of as well. If I wasn' so deep in the Microsoft ecosystem (aka love OneNote), I'd be all over Evernote.

Same with me Sam. I'm pretty much everything office and OneNote . I've been playing with it now for around 30 min, it's very nice. Just office and one note works for me because I can a do much more. My note taking is just that short reminds. though this is nicer than OneNote for extensive note taking.....

I use Evernote, and would love to give OneNote an honest try, but the lack of support for osx or linux makes it pretty hard for me. And I have gotten pretty used to the find related notes feature when I search in my browser...

Same here. One note works so well with my corporate office suite apps including skydrive access. Happy that evernote is on board wp8 nonethless.

I would like to use Onenote exclusively, but not having Office 365, or Office on all of my computers means I can't access my notes everywhere.
Evernote has some premium services too, but I can sync notes from anywhere.

Yes you can! Any browser can give you access to your SkyDrive/OneNote stuff.

Its good they can transcribe. Onenote cant do that. I can now play the "see what gibberish it comes up with" game. Thanks Evernote

Huh? Hold the windows key, say "Note <your note here>" and it will transcribe and include an audio recording.

Nice, I didn't know that.

Nice app. I use OneNote also. I tinker with Evernote, it's a very nice app. Just wish I did something important so that I needed to use Evernote, or OneNote more often. I don't really need to use either. I just write stupid stuff down so I can enjoy the apps. Does this make any sense to anyone??? I guess my point is they are both quality apps.

Evernote has better search and navigation. Mobile client is really better than OneNote. There is just one rule to become addicted to this type of apps: write more often into them and you will see the value.

This is a nice alternative for people not buying Office 365 but want sync note across devices.

strange.. my onenote is synced accross devices and i dont have office365. must be magic or onnote is based on skydrive since ages... but i will stick with magic

I apologies if i seem do not know that. My comment will not change, without making One Note and Skydrive looking bad, regards.

OneNote syncs notes across devices without office 365.

I think OneNote doesn't come free, if i'm not mistaken.

You would be correct about the desktop app that comes with office, but if you use Windows 8, there is a free windows store app version.

True, as Sam Sabri said above. It is on Microsoft ecosystem(minus XP, Vista, 7), and none for other platform.

Well... I can agree that you have to use the web app version if you are on earlier windows and don't have office, or are on mac or linux. But there is also a android and ios app for oneNote. Not that I necessarily think it is the best solution for those platforms.

Yes, though i can not say Evernote do their best for WP. But i think it's sync speed is noticeably very fast and UI is enjoy to use, though it has limit for storing voice notes for free users.

OneNote is also free on live.com.

Very true, it is almost a given knowledge for every WP user.

I was using OneNote until all notes were lost on the phone. Spent 2 days trying to solve it. Notes were on the PC, not on the phone and would not sync. Now I have EverNote & like it. It even syncs w my old HP TouchPad.

Problem here is that I can't seem to easily create, group, or rename notebooks. Am I missing something?

Maybe I just don't "get it", but I've never been able to figure out OneNote. I mean, opening OneNote I'm given one choice, "Personal (web)" with no option to change that name or create another. Within that I have one sub folder, Unfiled Notes - with no other options than to sync or search. Then, finally within that subfolder I can create Notes. Why go through 3 tiers just to create notes? Why can't I change the name of "Personal (Web)"? Not to mention you can't even save a webpage article to OneNote from within IE. I'd like to take advantage of it more, but it doesn't seem very user friendly to me. But that's just me. I'll stick with emailing web items to Pocket, Pouch app, and TinyDo. I'll even trhrow in Boxd. I really wish Google Keep was available. Anyone else figure out the best way to use OneNote? Am I missing something?

You need to create a notebook. Personal Web isn't what you want.

And how do you do that? When I launch OneNote, the only options at the bottom are recent and search. Under the menu, I'm presented with sync, show closed notebooks, and pin new to start. I see no option to "create a notebook."

You should Bing it: how to do OneNote in Windows Phone 8. You'll get lots of materials to teach you how to do OneNote

I know "how to do OneNote in Windows Phone 8". But I challenge you to find a tutorial in Bing that tells you how to create a notebook, in the WP8 app, at the "OneNote Notebooks" screen. You can't.

Its because you're born in 1972. You're old and its hard for old people to learn things.
True story Oh, and watch the tutorial

Ha! The very fact that you don't have a quick solution and must resort to deciphering what you think is my birth year, only proves that though you think you're younger, you still don't know as much as you elude to know. Which also proves that you yourself have no clue because the answer is that you can't create a new Notebook within the app. You must go onto the mobile website and create it there first. Also, becasue of your lack of perceived knowledge on this, the last part of your screenname is an oxymoron.

lol, you're tired grandpa

You're missing something. Just watch the tutorial.

I use Evernote, because it works great across my multiple devices, I.e. 920, MacBook Pro, Nexus 7, and I feel future device proof. I'm sure One Note would be my go-to if I was Microsoft platform exclusive. But I haven't even used Word since Office for Mac 2004 on my PowerBook.

Same here.
Not that I have a Mac or Android tablet... but it works well acroos all my PCs.

It STILL does not have landscape mode when entering text. How the heck can a note-taking app not have that basic feature??

It still doesn't work on my htc 8s...
Windows Central Newsletter
Thank you for signing up to Windows Central. You will receive a verification email shortly.
There was a problem. Please refresh the page and try again.