Evernote for Windows Phone updated to version 3, brings new home screen and more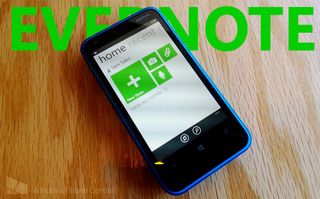 OneNote is a killer note taking application built right into your every single Windows Phone device on planet Earth. But if you're coming over from other platforms like iOS or Android you might have a ton of notes and data in similar applications. Evernote is arguably one of the biggest competitors to OneNote for note taking and archiving. And today it's getting a fresh coat of paint for Windows Phone.
If you install or update Evernote to version 3.0.0.1 you'll find yourself staring at a completely redesigned home screen. The team at Evernote didn't do this just to make it 'look' different, functionality and purpose was the driving force behind the latest look. What's new?
Redesigned Home screen
Shortcuts
Redesigned Tag List
Premium feature – Document Search
Notebook Stacks
Checkboxes
Faster performance throughout the app
The home screen now gives quick access to the most common things you'd want to do or see when you first launch the app, like note creation, search, and shortcuts. Clicking your username at the top of the screen will now give you your account information.
Up above we mentioned shortcuts, but what are they? Shortcuts are a fairly recent addition to the Evernote ecosystem (Mac users have been using them for a while) that let you jump to any note, notebook or tag that you access frequently. Shortcuts are a handy feature within the Evernote ecosystem because they sync across all your different devices running Evernote.
The app now has better designed Tag List. It's now a familiar interface that we've grown accustomed to over the years on Windows Phone – app list and letter picker anybody? The screenshots below show it off. You'll also notice that you're able to see more tags on the screen at once.
Here's a premium feature for Evernote users –document search. Anytime you attach a Word, iWork, or OpenOffice file they'll be indexed so you can search the contents of your documents, spreadsheets, and presentations.
Checkboxes are now supported in the Windows Phone version of Evernote, both for creating and editing. Fairly similar in functionality to the how OneNote and Word handle checkboxes on Windows Phone.
What do you guys think of this latest Evernote update? Anything else you'd like to see or are you content for now? We for one, our stoked on the latest update and glad to see Evernote having success on Windows Phone.
You can download Evernote for free on both Windows Phone 7.x and 8 devices right here, use the QR code below, and swipe to the right in our app.
Source: Evernote Blog
Thanks for the tip Kevin!
Get the Windows Central Newsletter
All the latest news, reviews, and guides for Windows and Xbox diehards.