Evernote for Windows Phone updated to version 3, brings new home screen and more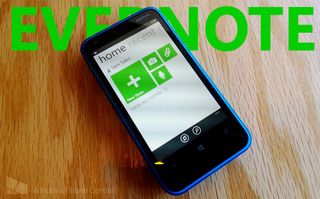 OneNote is a killer note taking application built right into your every single Windows Phone device on planet Earth. But if you're coming over from other platforms like iOS or Android you might have a ton of notes and data in similar applications. Evernote is arguably one of the biggest competitors to OneNote for note taking and archiving. And today it's getting a fresh coat of paint for Windows Phone.
If you install or update Evernote to version 3.0.0.1 you'll find yourself staring at a completely redesigned home screen. The team at Evernote didn't do this just to make it 'look' different, functionality and purpose was the driving force behind the latest look. What's new?
Redesigned Home screen
Shortcuts
Redesigned Tag List
Premium feature – Document Search
Notebook Stacks
Checkboxes
Faster performance throughout the app
The home screen now gives quick access to the most common things you'd want to do or see when you first launch the app, like note creation, search, and shortcuts. Clicking your username at the top of the screen will now give you your account information.
Up above we mentioned shortcuts, but what are they? Shortcuts are a fairly recent addition to the Evernote ecosystem (Mac users have been using them for a while) that let you jump to any note, notebook or tag that you access frequently. Shortcuts are a handy feature within the Evernote ecosystem because they sync across all your different devices running Evernote.
The app now has better designed Tag List. It's now a familiar interface that we've grown accustomed to over the years on Windows Phone – app list and letter picker anybody? The screenshots below show it off. You'll also notice that you're able to see more tags on the screen at once.
Here's a premium feature for Evernote users –document search. Anytime you attach a Word, iWork, or OpenOffice file they'll be indexed so you can search the contents of your documents, spreadsheets, and presentations.
Checkboxes are now supported in the Windows Phone version of Evernote, both for creating and editing. Fairly similar in functionality to the how OneNote and Word handle checkboxes on Windows Phone.
What do you guys think of this latest Evernote update? Anything else you'd like to see or are you content for now? We for one, our stoked on the latest update and glad to see Evernote having success on Windows Phone.
You can download Evernote for free on both Windows Phone 7.x and 8 devices right here, use the QR code below, and swipe to the right in our app.
Source: Evernote Blog (opens in new tab)
Thanks for the tip Kevin!
WP news blowing up today! =D

Telekom customers in Germany can get free premium for one year

Windows Phone is in a roll!

Love the way this company supports their app. Really admire them a lot.

Yup they do. The support and dedication they do to their app regardless of the platform. Shouldn't that be the mindset of every developer? well I guess money does the talking for some.

Checkboxes are not supported in the Windows Phone version of Evernote

I believe you meant to say

now supported

. One little letter makes a big difference there.

Thanks! Word is good at catching misspellings, not a decaffeinated Sam.

Technically that's not a misspelling, though.

Great. Google is attempting to get at Evernote and they just changed the game on em. LOL. Good job Evernote.

Wow! Windows Phone is really on a roll! They have been really going for the gold! Pretty awesome last two weeks, Pandora ad-free, NOKIA firmware update, Temple Run Announced, Exclusive to Windows Phone so far Gravity Guy 2, EA Market Sales, Spiderman and Dark Knight Rises....Need I Go On?

Temple run is now available on the Store :)

Thanks! Haha I didn't even know!

This is impressive, thanks Evernote!

Great to see their commitment to Windows Phone.
The only thing missing is a camera lens!

Can someone please help me. My lumia 620 rarely gets updated itself..instead I have to scan through the forums and use the QR code to go directly to the updated software. Even right now, I went to the store and searched Evernote, but it didnt show an update..used the QR code after scanning and voila.. Sames the case with every other app or nokia update.. I'd really like it if I was just shown a notification that updates are available rathar than have to do this over and over again..

I really miss a share to Evernote or OneNote option in IE10. It would be really useful!

Love this update! Do we now have feature parity with iOS and Android?

I'd really like to see their secondary apps come on over to WP, like Evernote Hello.

Evernote is a great service, I am a premium user. The bottom line though, is that on Windows Phone, the load time for OneNote is much faster. There is a difference of 5 secs vs 1 sec. Yes, it matters. The speed at which I can jot things down directly affects the usefulness and my enjoyment of the app. Perhaps Microsoft has stacked the deck on this, but MyNotes and NemoNotes take about 1 sec as well, so there must be a way to reduce the launch time for a new note significantly.


I am a big user of Office. Love it. But, I have great distain for OneNote. Total rip-off. Wasn't always free, not cross platform. Evernote rules. Period.

And, you can use the Evernote clipper in IE10. Highlight what you want and right click. Should be there as the clipper should auto-intstall.

How do you put direct links to the phone Store? I need this for a video of mine.


You are welcome, glad to share the tip!
Windows Central Newsletter
Get the best of Windows Central in in your inbox, every day!
Thank you for signing up to Windows Central. You will receive a verification email shortly.
There was a problem. Please refresh the page and try again.