Everything you need to know about Outlast 2
Everything you need to know about Outlast 2!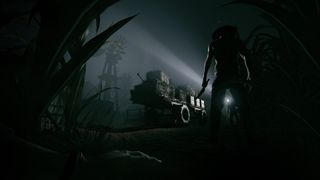 We have release dates, trailers, screenshots and more!
Outlast was scary, wasn't it? It's still one of the best horror games on Xbox One. It was gruesome, and the scare tactics worked brilliantly.
The premise was to investigate an insane asylum, using only a battery-powered camcorder with a night-vision mode, which sucked the player directly into the action ⸺ and now we're back for more! The sequel to the acclaimed original is an even darker journey into the twisted depths of the human mind.
What is Outlast 2's release date?
Outlast 2 will be released on Xbox One, PS4 and PC on April 25 2017. It was initially set for a 2016 release but was delayed by the developer. In their statement on Facebook developer, Red Barrels said they, "could not, in good conscience, release a game who's limits haven't been tested to the extreme," promising to "scare the crap out of fans."
What is Outlast 2's story setting?
Moving on from Mount Massive Insane Asylum, in Outlast 2 you play as cameraman Blake Langermann. Blake and his wife, Lynn are investigative journalists, taking the plunge to uncover the stories no-one else would. Following a trail of clues from a pregnant murdered Jane Doe, the couple ends up in miles deep in the Arizona desert where they become separated. Blake finds himself stranded in a village of cultists who believe it is The End of Days.
Outlast 2 takes place in the same universe as Outlast, serving as an indirect sequel but featuring different settings and characters.
What about Outlast 2's gameplay?
The camcorder makes a return in Outlast 2, with night vision for those darkest moments. However, batteries remain in short supply. The enemy AI has been completely overhauled, so they behave differently to the enemies in Outlast. Way to keep us on our toes, devs. (How long will we get to keep them for? Just asking.)
The number of places you'll be able to hide has been increased; where before you'd hide under beds and in cupboards, you'll now also be able to hide in pools of water, behind furniture or even in an empty barrel. It should make for a more contextual, creative experience.
Will Outlast 2 get a demo?
The Outlast 2 demo is available now on Xbox One. Download it here! (opens in new tab)
Outlast 2 banned in Australia?!
Thankfully, no. An error by the developers when submitting the game to the Australian Classification Board, meant they sent the wrong video along with the final game code. The video they sent was not a final representative version of the content in question, which happened to feature an 'implied sexual assault.' Red Barrels later confirmed they didn't need to change any content when the right video was sent, and the game was cleared for release in the Land Down Under. Needless to say, this game covers seriously mature themes ⸺ don't be a dummy and buy this for your kids!
Outlast 2 VR support?
Not at launch, though Red Barrels stated on Twitter that it's something they might not say no to in the future. With Xbox Scorpio looming on the horizon, could we see Outlast 2 in VR on it at some point later? We hope so.
Outlast Trinity ⸺ what's that?
If you loved Outlast and the expansion enough, you could get Outlast, Outlast: Whistleblower and Outlast 2 for $39.99; available for pre-order now.
See on the Xbox Store (opens in new tab)
Outlast 2 will launch on Xbox One, PS4, and PC on April 25th, 2017.
Are you excited for Outlast 2? Did you play the original? Sound off in the comments and let us know!
Windows Central Newsletter
Get the best of Windows Central in your inbox, every day!
Lauren Relph is a games writer, focusing on Xbox. She doesn't like piña coladas but loves getting caught in the rain. Follow her on Twitter!
They said on their Twitter account that the game (Just Outlast 2 not the pack) is gonna cost $29.99. Just wanted to put that out there. ALOT of people are Steam are wondering what the game is gonna cost.

It's on Amazon for$39.00 outlast trinity is confirmed it includes outlast.whistleblower.and outlast2

The first one was pretty good.

VR support would've been amazing.