Everything you need to know about Microsoft's #MoreLumia event in Berlin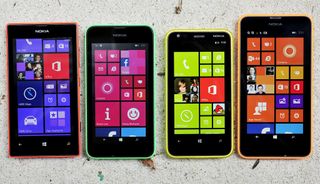 Did someone say Lumia 730 and Lumia 830? Rumors have it that Microsoft is planning to unveil two new Windows Phones this week in Berlin right before IFA starts. The event is set for 10 AM CET on Thursday, which is 4 AM ET and 1 AM PT – so make sure you have a cup of coffee (or three).
Mark Guim and I are in final preparations to fly to Berlin to give you our best hands on coverage of the event, including our traditional live blog, comment room for you folks, video hands on and our first-class photos. Later that day we are sitting down with Chris Weber, Corporate Vice President, Mobile Device Sales at Microsoft to discuss the new products.
This is everything you need to know about the event.
Live stream and our live blog
If you are new to the Microsoft (and old Nokia mobile) scene, then you should be happy to know that they always stream their press conferences in high-quality video. This time is no different. In addition to our live blog (which is a few seconds ahead of the video), you can watch the event as if you were there with us!
We are embedding everything in one main page, letting you participate in a single go-to place for all your Microsoft news.
You can find that page here, so bookmark now! www.wpcentral.com/berlin-2014-microsoft-lumia-live-blog
What we expect
What is Microsoft announcing? So far all indications are pointing to two new Lumia Windows Phones, including:
Lumia 730 – Featuring a 4-7-inch HD display, 5 MP front-facing camera, 1 GB of RAM and unibody design, this successor to the popular Lumia 720 should be a hit for those looking for a premium budget phone
Lumia 830 – The followup to the Lumia 820 from 2012 should deliver an affordable flagship design with its 5-inch HD display and rumored 10 MP PureView camera. The design itself is very reminiscent of the current Lumia 930, but reportedly it is thinner
Accessories and new firmware? Microsoft and Nokia rarely just announce new phones and then walk off the stage. Nope. Usually there are supporting accessories and new gadgets to go along with it, and we would not be surprised to see some new creations from the Mobile Devices team revealed in two days. Likewise, we reported on the followup to the Lumia Cyan software codenamed 'Debian Red', which we are hoping gets some light shed on it in Berlin.
Your timezone
Have no idea when 10 AM CET is in relation to your local time? No sweat, just follow this link to convert to your time zone.
Further reading and forums!
If you need to catch up on Lumia 730 and Lumia 830 news and rumors, check out our main super pages with all our coverage. You can also hop into our dedicated forums for these phones to discuss more!
Lumia 730 super page
Lumia 730 user forums
Lumia 830 super page
Don't forget to follow us on Twitter: Mark Guim @MarkGuim, Daniel Rubino @Daniel_Rubino, WPCentral @WPCentral and Instagram: Mark Guim, Daniel Rubino and WPCentral.
See you soon from Berlin, Germany!
Windows Central Newsletter
Get the best of Windows Central in in your inbox, every day!
Daniel Rubino is the Editor-in-chief of Windows Central, head reviewer, podcast co-host, and analyst. He has been covering Microsoft since 2007 when this site was called WMExperts (and later Windows Phone Central). His interests include Windows, laptops, next-gen computing, and for some reason, watches. Before all this tech stuff, he worked on a Ph.D. in linguistics, watched people sleep (for medical purposes!), and ran the projectors at movie theaters because it was fun.
Bring on the 730...720 was one of my fav phones and I would love to get my hands on a 730...

If only they announce a Surface Phone.

That's exactly what I'm waiting for, but I'm not sure how long I can wait. I imgaine if they end up making a Surface phone it won't be until RT and WP merge.

Ya, a whole event for two mid range phones. Um...ok. Whatever really. I'm sure the coverage will be great, just disappointed at the lack of a flagship announcement.

Can't agree with you more on the flagships.

Well, they have 2 flagship Lumia phones already (1520/930) and there is also the HTC One m8 for Windows. The low end did get a refreshment last spring (630/630/530) its time for the mid end phones to get an update. When Treshold comes this spring I think its soon enough for new high end devices from Microsoft. And then again, the 830 looks to become a very nice phone!

I am looking for a 1020 replacement and 930/Icon type of dealio for AT&T here in America.

Me too. Same boat. Currently on Android, just waiting for an 8.1 device on AT&T thats high end & FitBit compatible.

How are you disappointed? I'm not saying that they will announce anything, but how are you disappointed already when the event hasn't yet happened?

Probably because the build up is to introduce two midrange phones. While in the apple camp the buildup is to their top end phone and may introduce a few midrange choices. The problem with Windows Phone marketing is that it's a lot like Android, there is no focal point. There is no signature product yet. Windows Phone has no signature model. Just a build up to some variation to a phone that looks extremely similar to reach other that don't even have names, just numbers. BMW is probably the only company that can do that. Surface is a name and already indicative of a serious high end reference design. The Lumia Surface by Microsoft Research Labs. The phone would have the famous kick stand built in. Do it. Make it happen. Everyone is waiting. Duh.

Two midrange phones that look exactly like other Nokia phones. This is supposed to be exciting?

It pains me to say it but I agree with you. This is depressing and honestly I'm surprised if Dan and the gang are really that excited for this announcment. I could be wrong of course but these are people who love phones, the latest and greatest, and while I appreciate hitting every market with all price points, (which is what MS/Nokia have been doing now for a while) they seem to be forgetting about the high end at a critical time in the USA where it is the most important time to have one. This is the pre holiday season that is why these announcments happen in September. Now MS is going to have to go without a high end phone which I have a feeling they will try and state these Lumia's as high end phones that everyone can afford. They are doing this right before XMas. I truely hope they have another one planned or atleast another even planned in October but I doubt it. My Lumia 920 is on the verge of death with a poor battery and a camera assembly that is breaking down as well. Bummed. I might be leaving soon...

+9000 And, I find it hilarious that some people refuse to understand this basic concept: Windows Phone needs a signature model, aka flagship, to help establish itself as a solid brand. Yes, it's great to have a diverse product portfolio to cater to a wider audience, but, these two phones are being unveiled at a time when other companies are releasing flagships. What phones do you see the carriers pushing more? IPhones, Notes, mid-range Lumias? The answer is obvious.

No, over at AT&T the Windows Phones are pushing Cortana. Sad that Cortana didn't first come out on a Surface Phone and then got pushed down to the other Lumias. But that would mean you would need a signature phone.

Seeing that Apple is about to make a potentially significant iPhone announcement, it's possible that they may lure away some Windows Phone users desperate for a new flagship. Sad to say, I may be one of those people.

Well if you go into AT&T the "Premier Partner" they have a 635, 1020 and a 1520. The 635 has a crap screen, the 1520 you already know if you want a giant phone or not and the 1020 while an awesome phone is so "niche" that it doesn't even show up on any ownership charts. And their trying to compete with Fire phones, iPhones, Galaxy S5, HTC One. All getting top shelf space. While the Windows Phone display isn't even pushing a phone, but a service, Cortana.

Its exciting for people that own lower spec lumias looking for an upgrade. I own a 820 and while I like the specs of the 930 and the 1520 both of them are overkill for what I need in a phone. The 830 is in the sweet spot for me I can't wait to see its official specs. I chuck my 820 in my pocket and go cycling, something I can't do with a 1520. The 930 is too much of a brick looks wise for me to consider it even though it has great specs. I would like to continue using my SD card and the 830 will allow me to do so.

I'm not saying these phones aren't important. I'm just saying these aren't highend phones. I think it's fantastic your going to upgrade but to a lot of people here they really want to update there 920 since it's been 2 years and they don't have an offering to go to. I agree about the 1520 and I can't even get the 930 or the HTC One. My options are worse for me now then that have ever been. Again I'm happy for you but MS is forgetting about a segment of the market that they shouldn't be. The race to the bottom is obviously more important to them and in a lot of ways that is the right move to make but plenty of other people will have to miss out, and MS, may potentially miss out on my business.

I agree totally with you... I love to use an SD card in my phone, be able to swap batteries, physical camera button and capacitive buttons. I love all those stuff in a phone.... I'll be amongst the first to own a Lumia 830 if it meets all my requirements

I agree. I have an 820 that I like a lot. What I'm looking for in a new phone is a bigger screen, check. Better camera, check (though would love 20mp). The 830 may be for me. As long as it has IQ charging available and still has a replaceable battery I would be all over this. (Honestly, I don't know why more people don't opt for the replaceable battery. I have a wall charger with a battery in at all times. If I have been using my phone at home and it is half battery and I am leaving I swap the battery in 30 secs and leave with a full charge) I'll look forward to see what the event has to offer!

I doubt if a midrange will have wireless charging, but I really hope it will. Wireless charging and SD card support.

MS will need to make sure more devices come to Sprint and its many MVNOs and those devices are updated. 2 generations of Lumias never made it to the 3rd or 4th largest carrier. That is not a winning strategy. Also if Sprint doesnt want to carrier WP8 devices at least get them on Boost Mobile and Virgin Mobile. People that want cheaper service love cheaper phones. I see so many sales of LG Volt and I am sure a device like the Lumia 530 or 735 would sell well based on the audience who is accustomed to purchasing devices for under $200.00 or even devices that cost more and do not have subsidies,


Forced to agree.. nothing special here I'm afraid by all accounts I've had WP's for 2 years now and I genuinely like the platform - not to the point of some of the crazy fanboy comments that you see here mind! - but for me it's still a case of potential unfulfilled With Samsung launching the Note 4 today and the new iPhone coming next, I'm afraid the general public won't really care about 2 mid-range phones that are not really any different than any other Nokia phone.. the Lumia 920 I've been temporarily using again is still as good as it was 2 years ago (which is great for me as a user, not so much for a company trying to get people to buy the new ones!). If you're outside the US you're even more out in the cold which is ironic seeing as WP does better in other markets. To be honest I've had enough... am picking up a Note 3 today and will get the 4 next month or when it's released. 2 years and still no REAL progress (I don't count bringing the platform up to date with features/functions it should have had from day one as progress) is too long in today's market. Pity, but as I said, potential unfulfilled.

I am like you except have no money to get a new phone. Maybe by then there'll be something to dazzle us?

How exactly would a "surface" phone be different? They have Nokias hardware division, if they can't create compelling hardware with those resources what makes you think a "surface" phone will be any different?

They can use vapor mag for the body, better CPU like 805, 3 GB ram, great front camera like surface pro 3, 20+ Mp main camera, a 5+ QHD display with clear black and clear type tech. Also a SD card slot and mini display would make it a great flagship.

Flagships usually are. Not every phone has to cater to the low-end of the market.

That would be my next phone. Maybe a 5.5-inch display. I've been spoiled by the 1520.

I could see a Surface phone being a much larger version of the Zune HD in many ways. The aluminum body, a bigger screen, etc. Actually a way a Surface phone could be REALLY different in the future is by sporting one of Intel's x86 SoCs that are designed for handsets that could allow it to pop up the Desktop when docked with mouse and keyboard attached.

Microsoft can use updated SoC for a change and for Spring have the Snapdragon 810 which is the first quad core 64 bit SoC. But I don't think they even think that way; since they are kind of shy at doing cutting edge technology on the WP platform. All there hardware is at least a year old before it gets release. They have been pushing the 800 SoC and that SoC is about 16 months old now. The Nokia/Microsoft design team does not care much about cutting edge. The marketing team controls the subdesigns f the various models for the carriers and on some models for the U.S. marketplace they have split it to two or three submodels. I just don't get why the U.S. carriers get so much attention and the end user is treated poorly. All phones are locked and limited by carrier radio frequencies like the U.S. carriers want so desperately.

It doesn't have to be priced for everyone. It doesn't even have to be sold through a wireless carrier store. Make the Lumia Surface Phone only available through the Microsoft store and on line.

It wouldn't sell nearly as well that way, they might as well sell it through as many places as possible, but it should also be available unlocked direct from Microsoft.

You missed the point. The 520 is meant to be sold everywhere. The Lumia Surface phone is exclusive. Plus it draws people to your stores and offering it on the internet is well the largest damn store possible. Just ask Amazon.

But there aren't any Microsoft stores outside of the USA. And the Microsoft store isn't nearly as well known or widely used as Amazon. But I get your idea.

Yes, this. Why wouldn't they develop a flagship phone that has the look of their Surface devices?

Surface Phone amongst the "Gods"? BRILLIANT! Everyone will opt for that instead! I don't know why Microsoft didn't think of this!!! .....No. You have to look at the landscape as a company. Microsoft(or any of these companies) are not OUR(we people willing to check forums and blogs for phone releases) buddies. They cater to us but ultimately the goal is to gain market share. We have to put our desires aside and take in our status in the AVERAGE CONSUMER WORLD for what it is. Not to mention its common knowledge whether you want to believe it or not that putting a new property out with the iPhone is a BAD IDEA. I would much rather Windows Phone move slowly than try to infiltrate Area 51 with a 380, because admittedly even the rawest WP released around the Sams/Apple timeframe will be only a 380 to the world. Great for us, saddening for Microsoft. The only device so far I ever owned that failed was a Dreamcast, I don't want to feel that despair again. Bring on the budgets, release the king in Jan/Feb. I'm far from whatever I'd need to be to be factual right now but I'm CERTAIN this is not the time to release a Megazord.

Either you're in it to win it or you're just trying to play the odds.

Oh actually maybe the 730 and 830 are all a ruse to hide their true surprise announcement!

My cat friends and I don't appreciate you interrupting the conversation...

You were talking to yourself sir. And you're a turtle.

Daniel, will you personally test out the selfie feature on this phone? It would make my day XD

This better be the cover image of the hands on with the 730 article!

LOL, that's what I thought. I wonder if this cat has pics of Rubino on his wall... Hahahaha

<sigh> Still waiting to hear about a real successor to the 1020. I'm not budging until then.

Whatever that is will likely be the replacement for my 920 when I go phone shopping next. I promised myself (and my wife) that i'd hold out at least 2 years (so, February).

Don't worry, I'd say third quarter.
Maybe second.

I'm almost with you except for my fears that a high end flagship will once again be a carrier exclusive as I had to unlock my L1020 that I'm using on T-Mobile.

Same here! I hope this week but am not counting on it.....

More of the same? at what point is doing the same and expecting different results not just insane, but stubborn? MSFT needs a disruptive hit to dig themselves out of the bad choices made by the windows phone leadership. Successors to mild hits in the WP space aren't it.

I agree with you. They have the software side of things going in a great direction but they really need to make up for that perceived app gap and Jack of mindshare by putting out hardware that is impossible to pass up. 5MP front facing cameras on everything. Wireless charging across the board. Glance on all models. They need focus and execution, not model spam. While having phones at different price points is important around the world, they really need to win over the North American markets... And because of carrier subsidies and contracts, every phone costs pretty much the same to an end user. So make a flagship and one cheap phone and make them the most amazing hardware and experience that they can. Don't give customers a reason to doubt your overall offering. That's the winning formula for the iPhone and the galaxy. Customers "know" that they'll do everything they can think of and then some.

+925 Producing a true flagship-level model available on EVERY carrier isn't just about appeasing the admittedly small geek crowd. A flagship phone is really about advertising that generates word of mouth interest in the entire line. (And if the carrier won't promote its respective flagship WP phone, *cough* TMobile 925 *cough*, Microsoft will have to do it. Must do it.)

Yay for Lumia news. It has been boring hearing about the other phones lol. I'm hoping there is some surprise Lumia and app features.

Sadly with the lowly 10MP 830 camera this means there is now no ideal mid-high end phone. There is nothing with a 20MP camera, SD card, removable battery, quad core processor. 830 was looking to be the perfect phone until rumours dropped Pureview camera down from 20MP to 10MP. I had hopes up about the 830 but unless they spring a surprise with a 1030 it's not going to be exciting for me. Cameras are what brought me to WP. Where is the current high-end camera phone?

Lmao that's the m8.....sadly Microsoft is screwing us over for it so it can have better sales.

Yeah because no sales equals cancelled ecosystem.

10MP is actually great for a midrange phone.. Although 20 would be awesome. Posted via Windows Phone Central App for Android!

Dude, this will supposed have a better camera than the Lumia 920/925 and you are complaining? Those phone still make some of the best photos around.

Those extra megapixels do pretty much nothing but allow you to have more detail to increase the image size when printing/zooming. Seriously, it actually sounds like a great camera and knowing how well Windows Phone runs on the lowliest hardware, I don't see how this mid-range phone isn't improving the baseline WP experience. Not to mention, whatever you are holding, unless it is a 1520, 1020 or 930 likely doesn't have a better camera.

The whining is real, I mean come on. What you describe as a "mid-high end phone" is simply a high end phone. You literally (yes literally in this situation) just described a Lumia 1520 minus the removable battery or the Icon minus removable battery and SD support. I'm also not really that convinced that SD card support or removable battery = high end as many phones now a days are high end but lack sd support and removable battery. To top this all off, you are complaining about a phone that has not even been announced. Go find something better to do with your time than spending all your time wishfully thinking about your perfect phone. If you are able to do that, then I can quit wasting my time getting after inconsiderate and selfish people that expect companies to design phones perfectly for each individual person /end rant

Ready for the hate and yes I did reply to myself

No hate for you, only respect and agreement. Some of these complaints are getting out of control.

Thanks for doing the ranting for me so now I don't have to do it myself LOL!

If I have the time I will be there. Maybe i will meet Daniel Rubino and Mark Guim ;).

At a meet and greet? Or just by coincidence?

Daniel how we add this event to calender ..plz send the link please,

surface phone would be awesome! but highly unlikely... ther would have been some leaks :) but it would be a nice feature to get a 200-300$ discount to buy a surface pro 3 if you buy a surface phone ;) (just a thought)

If the 830 is coming only with a 10mp camera then i think i'll let it slide, wow what a massive let down. All the hype and leaks leading to a mediocre mid range phone. If Nokia just put the exact same camera from the 930 i wouldve gotten one without a second thought. Now all rumors are pointing it to be a nexus 5 spec phone with an average display.

The only hype came from people passing the rumours around, no one at Microsoft created any hype. If you expected more, its your fault for believing rumours. And really, when has megapixel count been the sole measure of quality for a camera? If that's all you want buy the oppo with a 55MP camera, should have enough MP for you!

That's a 13mp camera that stitches 4 images into one from a 10 burst shot. Hardly a 55mp camera. Oppo LOL... One plus one LMAO. 930ftw

Yes i expected MORE because when the 820 was out it was far ahead of the competition and had the same camera with the 920 but without OIS that was a fair downgrade but nothing massive was sacrificed. And they were released at the SAME TIME.
The 930 is OLD. SUPER OLD, the competition has caught up with it in terms of photography, and im guessing nokia is already in the works of a 930 successor with a different camera, WHY would they not put that same camera in this phone?
As of now, this is another mid range phone with super mediocre specs. There is tonnes of Android that edges it in terms of specs alone.
And also dont give me that "get an oppo BS" tell me right now which would you rather have a 20mp camera in the 930 or a 10 mp camera. Dont be a hypocrite. You know you'd want the 930's camera. If the rumors are true this is a DOWNGRADE PERIOD.

It's a midrange device.. Not a flagship. Posted via Windows Phone Central App for Android!

So WHAT? The Nexus 5 is a mid range, and that has obviously a way better display, a processor that is exactly the same, and that came out YEARS ago and there is already a replacement around the corner. Saying that its not a flagship is not an excuse when other manufacturers can do it and Nokia can't. Even the 930 is already showing its age.

Why not saying the time in GMT? For the european people?

And why not China? And why not India? And why not... You see where this is going. I put the time in CET and linked to a converter that gives the time in every single time zone in the world and embedded a countdown clock. I can't do all the work for everyone ;)

Sorry, didn't notice the link. I made my comment because here in Belgium we calculate with GMT +1/... and I thought that GMT was the international standard ;)

Americans will not accept GMT as standard, you know they always want things don't their own way!

I think they kinda do accept it, because for example, PST is labeled as "-08:00" and so on.

Of course the USA accepts GMT as standard. The US military calls it Zulu time. The FAA uses GMT. All our time zones are calculated from GMT. Etc.

GMT is the standard. As is the metric system and the Celsius scale. And the word "football" for that sport played by 22 players with a spheric ball. But go tell that to good old 'murica! lol

I'm on the moon working in a secret mine, when should I tune in??

Mmmm hows the weather there.

If you're working on the moon I am sure that the tech us masses have available is light years behind what you have seen and use.

I'm really really excited. Bring it ON Microsoft!!

Here's hoping for some wearable tech!

Here's hoping its 20.1 mega pixels for the 830 but what ever will be will be

I'm wondering if Sprint & Microsoft will make up and bring Lumia's to Sprint anytime soon? (Fully realize this is very unlikely to be announced at this event...)

Daniel throw in the GMT time so we don't feel left out! *sniff sniff

Hope for a new version of the Glam Me app. And also for new apps. Maybe even the Snapchat announcement.

The new Lumia design language makes my 925 look bad. But like others, I want a Surface/Microsoft/Xbox Phone. No more Nokias for me.

Yay more Lumias. Who cares if they're high end or low end.

Any chance that a smartwatch will be unveiled? Considering that most Android OEMs have already announced one and Apple will announce next week, if MS doesn't do it now, then they will be late to that game too.

Sounds true, but unfortunate. Hopefully, it will be announced this year and start shipping before 2015.

Yay my wish for mid range phone has come true thx Microsoft and Nokia ;)

I'm in Malaysia, 6 hours earlier than Berlin, so I don't need a coffee.

Shat about a decent flagship phone? 930and 1520 don't cut it for me.

They couldn't wait until after lunch?! Come on! Us folk in the US need our beauty sleep.

Enjoy Germany Daniel, u must hire a Porsche and blast ze autobahns. Look forward to your coverage and quick hands on videos. +930

Why cant we just wait for the official announcement? Rather than running behind rumours

Exactly Posted via the Windows Phone Central App for Android

Lets hope for some more surprising news :) ....

So guys i havent been prowling wpcentral the past couple weeks just wondering if theres been any word on a 1020 successor? Im not feeling anything less then 41mp since owning this phone

daniel, for future refrence we should only discuss time in terms of EST/PST no other time zones matter :)

I noticed you took my comment to heart and added the times. Thank you sir. Now lets see what "we" can do about more 1020 successor news.

I hope they release a high end phone 5 inches 920 successor

The 930 is okay but its lack of Glance and availability in the US ruin it for some.

I want #moreupdates #windows9

Mid-range phones?! Ain't nobody got time fa dat! Where's the high end phones?

Agree with you. We need high end phones.

September 4th is the event, if they do not present a highend Lumia starting September 5th the remaining of my friends, family, and co-workers that are on AT&T/T-Mobile and still using a Windows Phone are all jumping to LG G3, iPhone 6 and Nexus X. Midrange Lumias looks great but they mean nothing to well-develop countries and territories.

Just purchased a Galaxy S3 for $49.00 from AT&T: I didn't have to use my upgrade option, so I can still upgrade in November. I'll use it as my midrange phone. Plus it gives me a chance to check out Android for consideration when I do my next upgrade.

Haha, a time zone converter too. Daniel's really crossing the limits of "spoon-feeding" these days. :P

Where is the Lumia 1030? Thats what Im waiting for.

Same here, I really want that camera. I hope they include Qi this time around, and use a Glance-compatible screen.

After seeing The M8 for Windows, I'm kinda over the colorful polycarbonate design Nokia has been pushing out for the last couple of years. My Lumia 1520 looks so dated compared to the M8, not saying the 1520 is bad, but the same design has been being used since the N9. The best thing I've seen from Nokia so far as of late is the 930, so the 830 might peek my interest, but the 730 is nothing special as far as design.

Looking forward to the 10xx series.

What? no lumia 1525 rumors? After when happened to Leo, not so sure I want to go the 1520.3 route.

Cant for for some Lumia Love! What about the wearbales? Wheres the watch?

BORING! Bring me flagship!!

They have. It's the 930. And the upcoming HTC M8. You have two flagships on Windows Phone already. That's already better than last year at least.

I hear you and I have an Icon and while I love it, im also bored with it! More like disappointed...camera sucks in low-light and coming from a 928 that was a huge let down. I hear Cyan is supposed to help but bleh..... who knows when ill get that with the big V.

Ouch, that start time is way early, 4am for those of us on the east coast. I'm only checking-in if my newborn decides to wake me up, otherwise I'll read it when I wake up normally.

looking for something to replace my 1020 so this week will be great, really not thinking about going back to Apple but the Note 4 is a serious contender come on Microsoft please at least say something of flagship quality is coming in the very near future

Just wondering are these devices coming to the US? Hopefully no exculsives my 925 got stolen so I'm in the device hunt again

Daniel, I'm very excited for my new phone. Enjoy and have a safe trip guys...

It's been over a year since the 1020 correct? In the next 7 days Samsung are gonna reveal the Note4 while Apple are gonna reveal two iPhone flagships. Can't somebody at WPCentral reach out to Microsoft to see where their 2014 Flagship is????

Any news on Windowsphone 9?

Looking forward to more stuff I won't be able to get a hold of (not that I'd even want to). Yeah, go T-Mo!!

Anything can happen, none of us was expecting the Nokia 130 and one day they just announced it, surprises can happen, even if it's a small one

@ Daniel rubino , when will candy crush saga will launch fo windows phone ,, please tell,, me

Stop bro... Just staahhpp...

ya lokan cha kahich nai hou shakat!!

Tech na mitra... Aamchi ijjat ghalavtayet ikde yeun...

Can you please find out on the next flagship device? I'm really curious what a next generation WP will feature that makes it worth while to look forward to...

Nice phones. I will not switch to anything that is not high end and supports 2 Sim cards and a SDCard though. So I guess I'll just stick to my 1520 for a few more years.

Oh hey! I have tomorrow off too! I'm kind exited to see this live Posted via the Windows Phone Central App for Android

I really hope the 830 is smaller than 5".
It doesn't make sense to have every phone 5"+ other than the low end phones.

Hopefully Verizon doesn't beat it with the ugly stick they used on the 822.

Not everyone can afford a high range device or a flagship device. Specially in countries where there is no carrier support. So its important that these mid range phones are being launched so that those who are looking forward to upgrade nd those who can not afford a flagship can have the wp experience at affordable price.

And, no one has said otherwise. But, that doesn't mean that Microsoft should ignore the high-end segment of the market.

They are not ignoring it. 930 ,1520, and Htc M8. Best they merge wp and windows before launching any high end devices in my opinion.

Although those are high-end devices, they still have no flagship. Those devices aren't available to everyone. I somewhat agree with you, as they can use that merger to launch a new device. But, depending on when that merger takes place, waiting to release a flagship - especially during the holiday season, when most, if not all, OEMs are releasing flagship devices - is a big mistake, in my honest opinion. Sure, those in this market segment will purchase these, no problem. But, those awaiting a flagship device will likely look elsewhere.

Really hope a 1020 successor comes along before my contract is up in 12 months.

Like I said in another comment, at least for the US market it doesn't matter what they announce, since hardly any store where people normally buy cellphones will sell them. Since this is not announced in the US I guess it's not for the US market though. Microsoft is really putting the cart before the horse in the US at least.

Remember how Microsoft surprised us by the surface pro 3 instead of Surface mini?

Exactly! All of the leaks and rumors pointed to Surface Mini. Shows that we can be wrong or misinformed.

thank god 1:30PM in INDIA! but i guess i'll be sleepless from tonight :p... waiting for L830

Wow! All these negative comments... for an event which has not even happened yet! Calm down guys and gals :) While yes we pretty much know what is going to be announced tomorrow, I am thinking they may have a surprise or two in store for us. Even if they don't have any surprises and the announcements are exactly what has been rumored, we have to keep in mind that MSFT still has ALOT on its plate since the Nokia acquisition. They are still dealing with the effects and after-shock and it might be well into next year that that division is even able to kick itself into high gear again. We just need to calm down, take a breather, and recognize that better things will come to those who wait. As for me, I am really eyeing the 830.

Ugh we need a super high end phone

Since we follow @wpcentral already, wouldn't it be redundant to follow your personal accounts too?

We need some FLAGSHIP phones. You know like the competitors do once a year. All this mid-low end phones are great and all but I think MSFT has already released enough of those for 2014. Now give us the big stuff. And please don't freaking release carrier exclusives. I'm sure everyone here would agree with that point.

Be interest in how Microsoft is going to market the 735! I hope they have an unlock U.S. version in the Microsoft Store with all the colors. I don't care if they boost it up in price; just as long as I can buy my first non-international unlocked Lumia WP. I don't think it going happen but it a nice dream. Microsoft can make the 930 unlocked and sell it on their website too with all the color choices; it would be an instant hit! But that not going happen either since the carriers would complaint! F the users is Microsoft slogan now a days - it all about the carriers! LOL!

1:30 AM in L.A. Ill stay up & butter some popcorn! :-)

Hey, i live in Berlin.. My school is just a few km far away from the IFA (Messegelände) !

The only thing left I want to find out about 830 is if it will carry both the 1800 and 2100 LTE frequencies for me to buy it. With those frequencies present, the 830 can then totally replace my 925!
And if those frequencies are present in the 730, I'd buy one too to give to my brother.

No glance = epic fail (again)

So no new flagship? The 920 is nearly 2 years old and we havent seen a replacement from them. This is not good guys...

I am also waiting for a flagship phone from Nokia/MS to replace my 920 in Jan 2015. I like the 1520 but its a big phone. 930 without an SD card and a medium range battery is out of question. I want a Snapdragon 800/801 phone with 2 GB RAM, SD card Support, 5' LCD 1020 pi screen and at least 3000mah battery with slim profile. Thats my dream phone in the near term.

830 could be a better hit if it has 20MP cam

Ms should launch 935 for 5" Full HD 1080p.. 801 processor... 3 GB ram... 30mp camera... 32/64 internals.. And 128 Gb sd card storage... Slim aluminium phone.. Interchangeable backs.. Built in wireless charging... Notification light... 3200mah battery... S- Amoled Display.... Xenon/ Dual Led flash.. And yes waterproof phone and with notification light.. Front cam 5 mp with flash and pureview tech

How can i live stream the event? Any links or any site? Posted via Windows Phone Central App

how can it possible when i posted a comment, same displayed in the name of someone else. i cant edit my comment, popup shows "you are not authorised edit the comment".

How can i live stream the event? Any links or any site? Posted via Windows Phone Central App

I never liked the looks of 820, but its successor looks great and with a PUREVIEW camera too and even great if it comes with changeable back cover too.

Samsung launched Galaxy Note 4 Edge today ( I dont like the Android part, but its a gorgeous device) and Microsoft Lumia 830/730... Its sad to see that! Hardware doesnt matter for us, WP users, but we need better flagships... And we need because it sells phones...And Lumia 930 is not a decent flagship...

Great no contenders for galaxy note 4 :p

I wish they were coming out with the next evolution of the Lumia 1020. Had mine since it first came out and ready for what's next. I was even contemplating the HTC One M8 WP but I saw the image quality and it's just not there.

Can you please add the time in GMT next time

What are the phones in the image of the article? I knwo that the first is the lumia 520, but the rest?

I have Red L720. I feel its the best looking Lumia phone. But I would opt for L830 in future becoz of higher specs.
Windows Central Newsletter
Thank you for signing up to Windows Central. You will receive a verification email shortly.
There was a problem. Please refresh the page and try again.