Everything you wanted to know about Operator Billing in India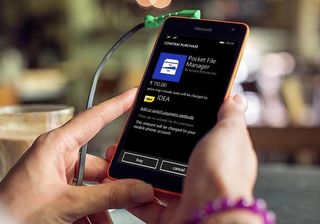 It was the end of 2014 when we reported that Idea Cellular subscribers in India can now buy app and games from the Windows Phone Store via operator billing (or carrier billing). Idea Cellular is India's 3rd largest mobile operator, with over 150 million subscribers.
Microsoft and Idea Cellular introduced operator billing on the Windows Store for Idea subscribers. This partnership enables Idea users on all Microsoft Lumia devices as well as all Windows-based smartphones across brands to access their favorite premium apps and games from the Windows Store and pay for them through integrated operator billing.
Unlike other parts of the world, credit card penetration in India is tiny and this in turn impedes the consumer purchase experience and limits app monetization. There are only 19 million credit cards in India, which is less than 2% of the total population of the country. Even adding debit cards to the mix pushes the number to only 350 million.
Globally, the Windows Store offers 81 mobile operator billing connections in 46 market. 80% of people across the world prefer operator billing versus credit card when available. Microsoft claims that the average paid downloads per user increases by 268% when operator billing is available. Operator billing also helps developers increase revenues, and there's an increase of 8x per month for total paid transactions in emerging markets and 3x in developed markets.
When available, operator billing is the default payment instrument on the Windows Store. It helps in India even if you are a card user since you can skip the annoying, but mandatory, two-step authentication. The amount will be either added to your monthly mobile phone bills or deducted from pre-paid balance, depending on your data plans.
Idea implements a per purchase cap of ₹300 ($4.83). That's generous because only a few apps/games like Minecraft – Pocket Edition (₹360) for example are more expensive than that. However, I'd prefer if Idea Cellular would set a per-day cap to avoid this limitation or allow me to choose an amount for the cap myself. Microsoft says that the cap is Idea's doing, and a choice other carriers can make or improve on.
Idea Cellular is the first operator in India to offer integrated operator billing on the Windows Store, and incidentally, Microsoft is the first platform company to have operator billing in India. Of course, operator billing with other carriers in India is in the works, but there are no definite timelines. With the introduction of operator billing, Microsoft would see a significant increase in consumer commerce in India while benefitting both consumers and developers.
Get the Windows Central Newsletter
All the latest news, reviews, and guides for Windows and Xbox diehards.