Everything you wanted to know about Operator Billing in India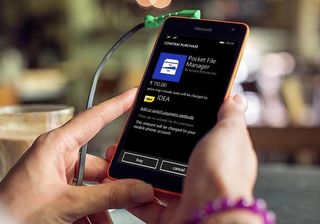 It was the end of 2014 when we reported that Idea Cellular subscribers in India can now buy app and games from the Windows Phone Store via operator billing (or carrier billing). Idea Cellular is India's 3rd largest mobile operator, with over 150 million subscribers.
Microsoft and Idea Cellular introduced operator billing on the Windows Store for Idea subscribers. This partnership enables Idea users on all Microsoft Lumia devices as well as all Windows-based smartphones across brands to access their favorite premium apps and games from the Windows Store and pay for them through integrated operator billing.
Unlike other parts of the world, credit card penetration in India is tiny and this in turn impedes the consumer purchase experience and limits app monetization. There are only 19 million credit cards in India, which is less than 2% of the total population of the country. Even adding debit cards to the mix pushes the number to only 350 million.
Globally, the Windows Store offers 81 mobile operator billing connections in 46 market. 80% of people across the world prefer operator billing versus credit card when available. Microsoft claims that the average paid downloads per user increases by 268% when operator billing is available. Operator billing also helps developers increase revenues, and there's an increase of 8x per month for total paid transactions in emerging markets and 3x in developed markets.
When available, operator billing is the default payment instrument on the Windows Store. It helps in India even if you are a card user since you can skip the annoying, but mandatory, two-step authentication. The amount will be either added to your monthly mobile phone bills or deducted from pre-paid balance, depending on your data plans.
Idea implements a per purchase cap of ₹300 ($4.83). That's generous because only a few apps/games like Minecraft – Pocket Edition (₹360) for example are more expensive than that. However, I'd prefer if Idea Cellular would set a per-day cap to avoid this limitation or allow me to choose an amount for the cap myself. Microsoft says that the cap is Idea's doing, and a choice other carriers can make or improve on.
Idea Cellular is the first operator in India to offer integrated operator billing on the Windows Store, and incidentally, Microsoft is the first platform company to have operator billing in India. Of course, operator billing with other carriers in India is in the works, but there are no definite timelines. With the introduction of operator billing, Microsoft would see a significant increase in consumer commerce in India while benefitting both consumers and developers.
One Q..
If they enable operator billing..after that, should able to buy app via debit card..?

I'm from the UK, but is it not possible to set up PayPal with your bank account or debit card linked to it? Or is PayPal not an option in India?

Don't know about PayPal, but Visa debit n credit card works..

PayPal has not reached India, I think.

It has. You can create your account on their website

Yes it is possible to link PayPal with the debit or credit card here. But I don't see an way to add a PayPal account in the WP wallet app as a payment method.

Thanks for the info. And yes, they should add the payment option!

It should work with all the operators.

Last line holds the Truth! Nice article.

We need Airtel ... or Vodafone...

Need all company to join it.

Yes, we need both of these ASAP!

Vodafone does provide this service :)

No it doesn't, not from purchases from the store. IAPs is another story. Aircel, Airtel, voda n idea allow opera to billing for IAPs in some games

Gameloft is one example, which has been highlighted in the comments below :)

Well.. I did an in app purchase with AirTel. So I guess its supported at some level.

But i thought airtel was already doing that? I had done some in-app purchases in asphalt 8 thru airtel, and back when it was Nokia I had done app purchases thru airtel on my n9.

That's for Symbian not windows phone..currently only !dea is supported on windows phone

You can do it with any operator, it is IAP of asphalt 8. You cannot buy any app from store other than idea

Gameloft allows you to make in-app purchases through carrier billing for all operators in their games. I was wondering why they ask for my carrier when the game starts.

Now they need to work with the various joint ventures that control tap to pay ie. Softcard(I think they went from good to worse with the name change) & enstream

If I'm not mistaken. Digi already support that in Malaysia.

I take it that 'operator billing' is unheard of in th USA then? its been available in the UK for years, I remember buying polyphonic ringtones that way back in the day and I just assumed it was a standard thing. Anyway if it's gonna help people buy apps without the need of a debit/credit card then its not a bad thing.

Can anyone help me how n which debit cards I can add??

Don't know about other debit cards...but i paid Metrotube via IDBI..

SBI goldcard (mastercard) works for me. I guess any international debit card that has a 16 digit number and CVV on the flip side should work just fine.

I have a debit card with 19-digit number. Store only lets me enter first 16 digits, then says the number is invalid! :(

Best article of 2015 confirmed "Operator Billing in India"

I am sick of WAP service activation from operators, and links are always hidden behind ads...

It works with Airtel aswel... Been using the same for some time now. Lot more easier than credit card billing

Definitely increased, I bought 3 games after its implementation. Total worth of ₹220

This should help keep the momentum going in India :).

I can't buy anything from the store although I use Idea. When I touch the "buy" key as in the article pic I get the message "We're having trouble connecting to the Store at the moment. Try again in a little while."

Had the same problem. Then realised you have to buy it through the idea data connection. Use your mobile internet, not Wi-Fi.

Let us persuade Airtel to bring operator billing on Windows Phone Store.

Open a ticket with the tech. Not here.

We already have these billing thoe in Indonesia, it is supported by 2 or 3 major carriers, FYI

Unfortunately for Malawi, our operators don't seem to care about us. Internet abruptly stops working in the middle of a download especially when its a big download and service doesn't return until 6 hours later

Hope it arrives soon for Airtel, I'm sick of the store saying my debit card number is invalid.

You just need MasterCard or Visa Virtuon. Not Maestro or Visa Electron.

Still waiting this feature for Pakistan also

Great news....what an idea !!
Waiting for this for a long time....now I can purchase my favourite apps...Thanks Microsoft for your efforts.

Earlier Nokia Ovi store....provided operator billing facility....microsoft is not the first.

But that's not a smartphone..

there were Nokia smartphones.

Good news for developers as well.

If they manage to get the other key operators to offer this, there would be a tremendous increase in sales.

when it is coming for airtel customers

Airtel also need to be added for purchase of apps and games

I'm using Airtel, and the operator booking worked for me already when i did a few gameloft in app purchases. So I guess Idea's not the first?

upto I saw the draft which said $7811 , I didn't believe that...my... sister realey making money part-time on their apple laptop. . there aunt has done this for only twenty two months and resently cleard the depts on there home and bourt a great new Aston Martin DB5 . linked here ........... ➜➜➜➜➜ www.netjob70.com

*Sigh* They really are everywhere.

Microsoft is NOT the first compamy to implement operator billing in India.I am on Airtel & I used to buy stuff on the Nokia/Ovi store back in 2011. Loved the exprience though.

Who uses credit cards? Debit card FTW

Every one who is not a kid and travels need a credit card.

True that.. Credit cards are a must if you are travelling a lot..

Works here on Brazil too.
Windows Central Newsletter
Get the best of Windows Central in in your inbox, every day!
Thank you for signing up to Windows Central. You will receive a verification email shortly.
There was a problem. Please refresh the page and try again.