Evidence points toward Touch Diamond 2 on Sprint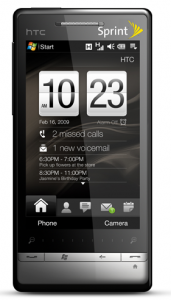 We're about to really get into the ones and zeros here, and we're going to do so after the break, so bear with us. But the skinny is that it looks like legendary ROM chef Conflipper has found evidence that the HTC Touch Diamond 2 will be coming to Sprint. (That's just us slapping a Sprint logo on a TD2 up there, so nobody freak out just yet.)
Sure, that might not be a surprise, given that Sprint carries the original Touch Diamond and we've seen a Sprint-branded Touch Pro 2. But how Conflipper came to this conclusion is pretty cool, and he's shared it at ppcgeeks. Click on through to the other side as we break down all the dirty details. (And thanks, Brandon, for the tip!)
So Conflipper has found a site that will spit back some model information for HTC devices. We'll let him explain, from his ppcgeeks post:
And, here's what Conflipper got out of a Sprint Touch Diamond:
The long and the short of it is that each HTC phone has an internal code name. If you've ever wandered around ppcgeeks or XDA Developers, you've seen them. The original CDMA Touch Diamond is the Victor, the original CDMA Touch Pro is the Herman. The GSM Touch Pro is the Raphael, etc.
Along with the model codenames come various suffixes, Conflipper says, depending on carrier. And he (or she) has found a tool online that will discern these codes. And from that, we've gleaned that Alltel has a suffix of L14. Sprint's suffix is R2. Cellular South's is D8.
Now, we know that one code name for the Touch Diamond 2 is the Topaz. That's not news. But Conflipper has been slipped a list of model names for the Topaz:
Topaz#C
Topaz#C-R2
Topaz#D
Topaz#TD
Topaz-A2
Topaz-C5
Topaz-C9
Topaz-D1
Topaz-L3
Topaz-L6
Topaz-L9
Topaz-N15
Topaz-P2
Topaz-T14
Notice any familiar suffixes there? Sure enough, there's the Topaz#C-R2 on the second bullet point, pointing the way to Sprint. Now, wasn't that fun? Conflipper and friends are building a database of the internal information, so head on over and help 'em out. Because as we learn which carrier the rest of those suffixes point to, we'll have a pretty good idea of where the Touch Diamond 2 is headed.
Windows Central Newsletter
Get the best of Windows Central in in your inbox, every day!
Phil is the father of two beautiful girls and is the Dad behind Modern Dad. Before that he spent seven years at the helm of Android Central. Before that he spent a decade in a newsroom of a two-time Pulitzer Prize-finalist newspaper. Before that — well, we don't talk much about those days. Subscribe to the Modern Dad newsletter!
Very nice right up. Sprint is also getting Commander#C-R2. No known device specs or pics or anything, but sprint is getting a new device, and that is the code name.

This is some pretty sweet news! I was getting worried that sprint had dropped the diamond since we had seen shots of their pro2 leaked and no diamond pics leaked. Now I might not have to settle for the chunky pro2.

O yeah I see it is Topaz#C and if I remember correctly, the topaz c had a 3.5mm head phone jack!!!

This is great news! The Diamond2 is the phone I want. I've looked at the Pre and the Hero, but I find things I don't like about both. But, I was about to settle for the Hero if the PIM applications function correctly. Now If Sprint will get the Diamond2, I will get it!!!

Great article! I hope Sprint gets the Diamond 2. I have the Touch Pro on Sprint now. I really like it, but it's a little too chunky, and Touchpal is a great virtual keyboard, so I'm okay with losing the flipout. Also with the larger screen, 3.5 headphone jack, and hopefully a 5 mp camera, how can you lose??
Did I mention that I was excited :)

Very cool. Just submitted my AT&T Tilt info. Seems that ATT is T13, which means it's not getting the Diamond2.

Nice! Now I can take a this phone and flash it to MetroPCS, my Mogul is starting to run out of RAM.

FOR THE LOVE OF GOD SPRINT ANNOUNCE THAT THE TOUCH PRO2 IS COMING OUT JULY 20 OR 21. i think the touch hd was a better phone than the diomand2. the diomand2 is nice but i need a keyboard. i dont know it i should wait for the omnia pro or just settle for the touch pro2.

Who said the internet was only good for porn? Now if only Big Red could get a leg up on Sprint with a new phone like the Hero or the Diamond 2.

Tell me about it. I like Sprint and don't want to change carriers, but my phone is 3 YEARS OLD!!! I've been holding out for news on the Diamond2 for like 6 months now. Since Sprint had the original Diamond, I was hopeful, but I am this close to dumping Sprint for Verizon which has the Omnia2 coming up (with release dates floating out there). Come on Sprint! I need a new phone yesterday!!

Release dates! I need release dates. When the hell are these phones coming to sprint?

Of the upcoming generation of HTC devices (and besides the fact that I'm disappointed the processor is the same as the original) this was definitely the device I was most eager to see. I can get by just fine without a physical keyboard (love TouchKeyboard 2) and I love the specs. Also, as a SERO customer it's looking more and more like our choices for future upgrades are getting slim and HTC devices seem the only real option.

bogus picture.
It you look closely it has HSDPA symbol H on the phone screen and outside sprint logo.
DUDE sprint don't run on hsdpa.

Yeah. Um, go back and read the last sentence of the first paragraph again. :)

all I can say is...they better come out with something soon cause my contract is nearly up and I'm about to move to tmobile G2... sorry sprint... time has just about run out for this long time faithful user who is sick and tired of waiting for something better

so get the TP2 for Tmobile august 12

Just emailed my Sprint rep about if/when the Diamond 2 was coming out and his response doesn't look promising: The Diamond 2 is not on the current roadmap for this year nor the initial portion of 1Q10. I personally doubt we will carry it as the HTC Touch 2 hasn

Sure it hasn't been a big seller.... its $449.99 before rebate. And the iPHONE is 199. WORSE yet the same model is sold by Verizon for 199...... And they wonder why why its not a big seller.

Man i think Sprint is just testin us Sprint loyality but u only can wait 4 so long i have the frist Diamond an it 2 is old not 3yrs old but over 1 yr old thats old enough I WANT 2 NO WHEN THE DIAMOND 2 RELEASE DATE NOT TOMORROW RIGHT NOW
Windows Central Newsletter
Thank you for signing up to Windows Central. You will receive a verification email shortly.
There was a problem. Please refresh the page and try again.