Eyefi Mobi is now a universal Windows 10 app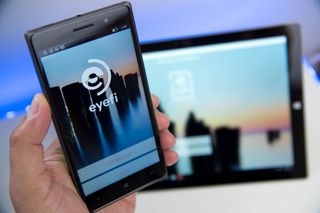 Many of the newer digital cameras now have built-in Wi-Fi that can easily connect them with smartphones or your desktop wirelessly. If your older camera does not have that feature, you can rely on Eyefi Mobi (eyefi.com) cards to add instant photo transfer. The Eyefi Mobi app launched for Windows Phone 8.1 in June, and it has just been updated as a universal app for Windows 10.
What's new in 1.2.0.0
Windows 10 Universal app
Automatically connect to the card when the app launches or when photos are available on the card.
View photos by camera they were taken with
Album view for big screen experiences
Various bug fixes and performance improvements
An Eyefi Mobi card works like a regular SD card but unlike ordinary SD cards, Eyefi Mobi includes built-in WiFi that connects your camera to your smartphone, tablet, PC or Mac wirelessly. Just click the shutter and watch your photos appear on your favorite device. Eyefi sells a Mobi card along with its mobiPro card. The main difference is the pro version supports RAW images.
We'll soon go hands-on with these cards to show you how they work with your Windows 10 devices. Do you think these cards are useful? Let us know in the comments!
Now the question is when windows central will launch it's universal app?

Suddenly this is looking a more attractive buy for my DSLR.

Be sure to check compatibility as it doesn't work with all DSL(R/T)s

Does this service also support Video camera's?

They do at least they did for the older Generation of cards

Why would I need this on my phone, which already sends my pics to one drive??

?? The goal is to send pictures from your camera to your phone, not from your phone to somewhere else... So you'd need this if you wanted your camera to get more "connected".

Yes, this allows you to download/view your photos, taken by your camera, directly to your pc/tablet/smartphone via wifi instead of having to do it the "traditional way"

Good to see.
If only because Canon seems content to relegate their "pro" cameras to the amateurish field of iOS and Android.

The windows central app on Wm 10 loads so so slow .....even on WiFi with 60 mbps down.

Pretty sure its becuz its a win 8.1 app. Ive hear a lot of them run slow, but will get better as we get closer to RTM

I love my eyefi x2 what's the difference between this and mobi? It has also made for the most used accessory behind my speedlight for my setup. I recommend these cards to anyone I know.

the mobi is newer/faster (supposidly) beyond that no clue.... I stopped using my X2 as it was too small (4GB) and TOO SLOW/UNRELIABLE for transfers.

They've moved to 802.11n that what. & of course the cloud features have drastically changed

does it not uplaod like it did before?do you have to subscribe to it now? that seems a little off. All of my pics would just go straight to flickr.

Ah! this is good news indeed! Now I can splurge on a mobi wifi card.

Same here. Hopefully, the brand new CF Type 1 adapter I ordered with the card will work in my D4. ACL approaches. I do find it interesting that I had long given up hope on ever seeing has been released and updated to Win10 universal in such a short time. I wonder if this will be a highlight app of the Android/iOS to W10 platform port?

Nope, this is not a bridge app. This is a native Windows UWP XAML app

Does anybody know if this will work fine with the Canon 5 D Mark 3?

I have several friends using them in 5D M3 to their iPhones.

For those of you who want to check your camera compatibility, here is a helpful link http://www.eyefi.com/cameras

Canon does not make an app for Windows phone I wish they did .

Well my Lumia 925 with Windows 10 mobile build 10572 isn't connecting to the wifi of my eyefi mobi card. All it says is "no internet connectivity". The eyefi mobi desktop app that I just downloaded on my windows vista PC works with the card wirelessly... what gives!
Windows Central Newsletter
Thank you for signing up to Windows Central. You will receive a verification email shortly.
There was a problem. Please refresh the page and try again.