Eyefi Mobi for Windows Phone will help organize photos from your phone and camera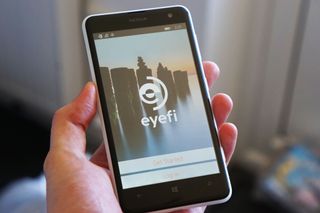 People who take pictures with both their Windows Phone and a standard digital camera can now have images from both devices organized under one app. Eyefi has just launched its Eyefi Mobi app for Windows Phone, which will not only get all those images together but also allow them to be shared with others quickly.
Eyefi says:
In addition the app works with any Eyefi Mobi and Mobi Pro WiFi SD card:
Pricing for the cards start at $49.99, and all of them include a limited time membership to the company's Eyefi Cloud service. The regular monthly subscription fee is $4.99.
Download Eyefi Mobi from the Windows Phone Store (Free)
Source: Eyefi
This would've been great a year ago. I have since changed my camera and it has integrated Wi-Fi. Still, better late than never.

Great idea, does it support OneDrive?

No they have thier own service free only stores it for 7 days while subscribers will be able to backup longer & both teirs sync to pc/mac. It has also upload for fb, Flickr, ftp, mobileme, picasa(this was what was available at least for the older gen. that used eye-fi centre)

More apps making their way to the windows platform, who knows what will happen when windows 10 launches

Been hoping for this app since I switched to Windows Phone. Ok it's been a long time coming, but this will be handy until I upgrade to a camera with integrated WiFi. Also good to see them supporting the platform. Edit: Should have looked closer. Only works with Mobi cards. Not the one I have! :(

And now I'm waiting for Nikon to release an app fow WP

Finally omg!!! This is a very important app for me!!! I'm so excited!!!!

Glad to hear you're excited! I'm the lead developer on the app, if you run into any problems feel free to reach out to me on Twitter. More features coming soon!

Good workd dev's,, we need developer like this who care to all platform.. Thks..

Does it use Wi-Fi direct or is it like the roku app where it requires to be on a Wi-Fi network?

The app connects directly to the SD card, which has its own Wifi network. If you go to Eyefi's website, there is a FAQ that goes into more detail. Hope that answers your question!

Guess this is the 1st that thats happened on wp seeing as none of the Wi-Fi hdd support wp

John, does it support the older EyeFi Connect cards?

The Eyefi Mobi app only supports the Mobi family of cards.

Its a shame that the center gen. cards couldnt be managed. Guess Android will have to do

Any clue if say ms stores will start carrying them?

Will do, probably use it a ton over my baby bonding time coming up. Thanks again!

Yes finally! Took long enough! Glad to have it here

I like how when you go to their site, the Windows Phone store option is listed before Google play :D

I'm planning my next vacation and I'm really considering getting this now that it's available for Windows Phone (Mobile). You never know when the SD card in my DSLR will get corrupted. Thanks for the support :)

Long time coming! I use a 16 GB Mobi Card, and this is definitely another reason to ditch my iPod Touch.
Windows Central Newsletter
Thank you for signing up to Windows Central. You will receive a verification email shortly.
There was a problem. Please refresh the page and try again.