Facebook's official app for Windows 10 Mobile exits beta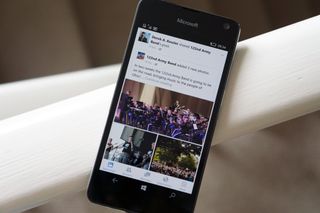 Facebook has now launched its non-beta app for Windows 10 Mobile. The PC version of the same app launched earlier this year. However, the current beta version still remains available to download in the Windows Store.
The feature list for the app indicates that it works on Windows 8.1 as well. The Facebook app, unlike the old Windows Phone 8.1 version was actually created by Facebook itself, rather than Microsoft.
Download Facebook from the Windows Store (opens in new tab)
The old Facebook beta app for Windows 10, which launched back in June, is still available to download. It's likely that the company will continue to keep this app alive to test new features and improvements before they are added to the new non-beta Windows 10 app.
Download Facebook (Beta) from the Windows Store (opens in new tab)
Thanks to Nicholas for the tip!
Windows Central Newsletter
Get the best of Windows Central in in your inbox, every day!
While it is nice to have a new Facebook app, I just cannot, mostly due to the nature of my work, get into these sorts of "hey, here I am, still alive and kicking" type of apps.

But how will anyone know what you had for breakfast? It's the most important meal of the day you know.

Forget breakfast, what about lunch?!

Better yet, second breakfast!

What about afternoon tea and supper?

& @summer_moon Reminds me of Pippin from Lord of the Rings..

One Took to rule them all

"You fool of a Took"... LOL

@batabole ha! you mean you don't eat second breakfast? I thought it was one of the standard 8 meals a day :) P.S. Somebody needs to lighten up with the downvotes, go get some supper, you get angry when you're hungry :)

I know right, it's like people don't like food or lord of the rings, crazy people!

What about what I order from Starbucks?

Did you preorder it or did you use the new Windows 10 Mobile App which cant remember to keep the user logged in?

Don't forget the crazy political rants that comprises of a whole of text, because you gotta have those! Oh, and cute-kitten-being-adopted-by-Alaskan-huskee shares.

Don't forget the random open ended posts for attention. I'm just, "Sick of this!" LOL Seems like those come up every few months.

Approximate download size: 101...mb does it have Facebook live included?

Does it really matter that its 101mb? :P

It doesn't. But it likes to crash on SD card more than on internal storage, and collects insane amount of cache trough daily use. It can even go up to 1 GB in size :D And you see, it's problematic with 8 GB of internal storage.

It used to be like that in Android and iOS as well. At least now on Android, mine is just more than 200MB which is quite an improvement.

You could just use the browser to use Facebook's website without these app problems.

Facebook app and some of their apps typically bloated for whatever reason, even on iOS and Android. Though our app isn't exactly have feature parity to those platforms, makes me think why this big? It seems that all junk is left on the app package, eating up more space.

wonder how silly developers Facebook have. While there are some beautifully designed app in the store. Company like Facebook can't design one. shame.

Facebook still not stable I hate the constant lag and crashing

Agree! It's too buggy to be the official app

crashes less than the windows central app..

Yeah wcentral apps is sucks

Windows Central app doesn't crash, it just animated back to Start screen, it's a feature.

Lmaooo.. At first I thought you were serious

It has never crashed on me

The WC app improved a lot lately, in terms of stability. It crashes way less now than before :D

What phone are you using ... Maybe it requires up to date specs that it was optimized for.

It's not crashing but yeah lagging a bit.

I just wish I could find how to turn off the noise.

The Microsoft app doesn't open now, it says This version is now obsolete, please uninstall and use the facebook app from your app list. Now this **** app keeps crashing every 30sec or so, whether on SD Card or on internal memory on my 640. So slow and so pathetic!

Just deinstall the official app and the ms one will work again

I agree! Seems to work better on my 928 on 8.1

Mmmmm still feels like a beta, the thing takes ages to open and load your stuff. Maybe I should ask NASA for one of their computers.

Microsoft version wins any day...

Yeah I'm still going to keep the old Microsoft version. The new one looks like crap tbh. And you can't even make the tile transparent.

Neither compare to Facebook.com Posted via the Windows Central App for Android

True. I do hope they keep that app up and running. I can't even stand the UI. It's too "soft" just like "Groove".

After installing the facebook app, I cannot open the microsoft one anymore. It asks me to uninstall it.

Especially on reactions. The old app has better reactions than the new one. /s

the old app doesnt have reactions.

i often wonder where these trolls come... "Old app has better reactions" LOLWUT?

I often wonder how some people can be so foolish. I was sarcastic.

yeah in terms of performance but not in features.

Nice for the people who consider this to be important to them!

From what I can see, there is no access to your 'most recent' feed in the new app. Because what *you* want to see is not as important as what Facebook wants you to see.
Glad I'm weaning myself off Facebook as a whole.

It's still there, but it's buried deep enough to discourage anyone.

It's there, just some extra steps. More > See More > Feeds > Most Recent.

It's in there. Have u never used Facebook before? Menu - feeds - recent feeds

I'm talking about the new app, half wit. As others have pointed out, it is now in 'More > See More > Feeds > Most Recent
Pay attention before going into snarky ******* mode.

Same as on other platforms.

Just have to dig thru a few settings. After you find it add it to the favorites section and you will be able to find it with ease

The fact you have to "Most Recent" to your favourites just to have it at convenience makes it even more ridiculous lol

I have to regularly uninstall those ports to clear more than 1GB of accumulated data..
Microsoft should have a way to clear app data like Android

Windows 10 on the desktop does have this buried deep in the Storage settings for each app, hopefully this comes to mobile soon too.

If you have Android you can use the new app: AppAll (www.appallmobile.com) their a cloud storage company allowing you to store your apps on the cloud so they don't take up space. I heard their making an iOS and Windows version but no news yet, I just signed up for their Beta after seeing my collegue use it.

storing apps on the cloud...like a website? wow, that'll be useful. /s

You come off as a shill for that product

Considering it takes ages to load in internal storage, using this you may as well forget about ever getting it opened

Looks promising. Appreciate Facebook's support of Windows 10. Just one question .... can't seem to find Facebook Live. Am I missing it? It's in the Windows 10 Desktop version.

It seems to be lacking on the Windows version, just like Stories is lacking on Windows version of Instagram

I'm I the only person who thinks this app is badly designed ?? I think MS facebook app is way much better.

Not that bad to be fair but not as nicely done as the MS Facebook app. The only issue with MS Facebook app is its outdated and some devices having a problem with it, other than that its got all Windows integration and nicely done animations and UX, things that Facebook app doesn't, only few things ticks on that unfortunately. That opening animation on MS Facebook app is sweet, a nicely done seamless transition. I wish Facebook did that, like seriously MS did make Facebook looks better and cooler to the app. Now People app integration is still half-baked in official version which is sad. Idk if MS ever encourage Facebook to use the API, but MS doesn't even care at all it seems that the People app looks and feels bit trashy. I don't even know if the API for People app is open for any developers plug into it. They are slowly killing the essence of People app, turning into boring contacts app.

Is there a way to get the old fb app by MS?

Amazing. My wife said it was crashing all the time so I read that you should uninstall and re-install if it does that. So today I uninstall and re-install, and first run it crashes. It did then run on a second attempt, but I'd still call this quite Beta.

I consider it still a Alpha. It is unusable, does not even open. And if it works it bloats up to 1Gb of storage.

I installed this app and Uninstalled the one from Microsoft and now the Prople app does not have any News under What's new. I went into Settings and I cannot find Facebook. Thanks for any suggestions. I did restart my phone just in case. -Rich

You have to turn contact and calendar sync on in the new app, if its there of course. It was in the beta so I assume its present in this final release.

i couldn't find it. where should it be? Edit: found it. More > Contacts and Calendar Sync

Sorry, cant remember, cant download as i dont have wifi but on the beta i think it was under the settings area but possibly it hasnt been enabled for this new app.

That will allow contacts to link up, but the what's new tab on mobile is not in the Facebook built app.

Do you have problems with calendar sync? People are syncing ok but calendar events and bithdays are not syncing.

The new app doesn't support people integration.

Indeed, well more accurately it doesn't pull social feeds anymore. Really sad part. As usual I did expect this to happen, Facebook is just fine with releasing the app enough to be usable for us but not totally on par on previous Facebook app. MS doesn't even care at all with the integration, heck MS doesn't even encourage or lure developers to use the API if even publicly exist.

Its not even usable! Crash crash crash!

Yes, it does. An update was released recently to address this...

The app is a complete mess. Overlong startup time (15-20 secs), lagging, slow and buggy scrolling, crashing. Let's hope they don't remove the Microsoft version just yet. The MS version is actually usable, this port isn't. That being said, I personally only ever use Facebook via Edge, as the mobile site is significantly faster than either app.

People scream "official", but sometimes....

Half the time it freezes upon launch, I end up using Edge instead...

Used to happen a lot to me as well but it seems they have fixed it... ​Well, at least they have in the beta.. Don't have that problem anymore

That app doesn't work anymore on my phone. So they already did!

The MS version says that this version is outdated and I should use the latest version (the FB version I just installed)

Is nice to hear that we have a official Facebook (non-beta) app :) I've been using the Beta app for a few weeks and I enjoy it more, it haves the new reaction likes (which are really nice), the ability to post sticker in comments, also contact and event sync! although it feels a little slow to load (my phone only haves 1 GB of memory, a Lumia 535, although it helps if you install the app in the phone, and not in the SD) and seems to consume a lot of battery, hopefully this issues should improve in future updates. The only thing I would change, is the buttons/icons design (news feed, requests, messages, notifications) to be more inline with Windows 10 aesthetic design.

The non-beta doesn't have the people/event sync. Or at least I couldn't find it. Edit: found it

Installed it and uninstalled it a day later. It's not the lag, I can tolerate that, it's the constant "do you know" notifications that annoy me. I'll stick with the mobile site

They are rubbish aren't they! I disabled notifications through the settings app, but that means I don't get the notifications that I actually want. I was getting 3 'Do you know?' notifications a day for completely random people all over the world who couldn't possibly have a connection to me.

Swipe the notifications left within the FB app and you can hide them or disable them.

The main thing for this app should be speed at this point. I can wait for more function later but speed and smoothness should be top priority.

To be fair, they improved the speed of the Instagram app significantly, but it's still a slow app compared to native W10 apps. I doubt they will be able to do the same with the FB app though, as it's way more bloated (sorry, has more features) than the Instagram app.

My take on this app is that at first I was concerned about the design, being an obvious iOS port....
But, after using this app, and understanding how many features it has, I see that it being an iOS port is a good thing... This app literally has almost everything that iDroid users have received recently, and have had for years. No, it's not a Metro/Modern themed app, but that sacrifice is well warranted, and you get over it fast. Over all this app is much better than any other FB experience to date, and I challenge anyone to say different.
......
My two complaints about this app are:
1. Speed
2. The photo selector
Speed is obvious... Choosing a photo to post is ridiculously slow. The issue is that it uses the picker that's built into the app, and doesn't use Windows native system picker. That needs to change. It's also slow to load from close. If FB works on this app, and increases speed in several key areas, it will be a winner.
Not being used to the design of an app is one thing, but to write it off as bad, because we're not patient enough to give it a chance, is another. This app adds ten times more functionality then any FB app on Windows before it.... (not speaking for desktop. That app is ridicules, and needs serious attention. Lolz)

The photo selector problem is unlikely to go away. The Instagram app has the same problem, and it hasn't been fixed. Although going to the Photos app and "Sharing" to Instragram can be used as a workaround.

I can't agree that it's unlikely to go away, if enough people complain about it.. The problem is that we have a small user base and not everyone will switch to the new app, and submit feedback. A lot aren't used to the design, so they are stuck in the MS app. I think MS should push FB to update this, and Instagram, and set a date to shut their app down. This app has way more potential than the one everyone refuses to give up. I just wish the community was more open minded.

I'll be surprised to see it fixed. Think about it, Instagram is solely about posting photos, the app has 2 ways of selecting a photo (from the in-app library, or taking a new one). The fact that the main way of selecting a photo (from the in-app library) is so slow that its almost broken shows that they aren't at all bothered about providing a good experience for end users on W10.

well they want their tools what can you do if they dont hear our complaints :/

So far I agree with you for me it's great just add the speed and it will be better.

It isn't worth it. Mainly due to the UI. I won't even bother opening the app if it isn't built on the Metro Design UI. I just hate seeing rounded corners on Windows since it isn't what Metro UI is. If I wanted rounded corners, curves, and all that soft UI elements then I'll go with iOS or Android. They could've just used the existing UI of Microsoft's Facebook app and improved that. But I guess they can't be bothered to create a decent app seeing as they didn't even bother using an HD icon for the Tile. The ecosystem needs apps but half-assed is half-assed. The OS is already like that. We don't need more half-assed things.

I love the Modern design just as much, if not more, than the next... But, I am not so biased as to not try something (that is potentially better) just because it's not "Metro"... I mean, I've been here since WinMo days, but I have to be reasonable about these things... But, I respect your opinion. Everyone is different.

WOW.. I see video in fb u can minimize then u can watch while reading any comments and post..
This is Better than android :)
keep it up

Where's the live feature?

There isn't a live feature. Maybe one is coming. I've noticed it on the screenshot in the store.

This app should be in Alpha

I have nothing against these iOS ports, but the thing that boggles my is the space it takes up 254 mb. Geez.

Nah all apps made from fb xxD

Doesn't work on my lumia 640XL

It works. Simply move the app from SD card to internal memory.

So if I move this app to internal storage it will fill up all memory, since W10M has no option to clear app cache.

So far app is good for me you can approve posts to your timeline, remove posts and edit them. Calendar sync and people sync still there. Needs speed improvement and live tile but not the one that shows cover photo that was rubbish better as a static tile

well just give us control over it to choose not only to have tile but either to choos to jus thave badges but they dont care xD

Still no Facebook live. Smh

Is anyone else having issues with Video Autoplay? I have never been able to get this to work in this app or the beta version.

It works... but it's horrible.

& summer_moon I eat 3 huge meals a day, no need for 8 XD. You can dislike the food but LotR? Really crazy peeps..

Still not connect with people hub. Ignored many use's requests.

You have to activate it in the app settings.

How? I don't see that in the settings.

Most important to me is to sync profile pictures to contacts. While the MS app does a great job, the new app loads only thumbs in miserable quality. I can only ditch the old app, if this is fixed.
I deactivated notifications in the old app though.

Despite the lack of people hub integration and absence of inline replies in the action center... the new Facebook version is much faster than the previous (beta) build.. :)

I won't be installing it. I need fb profile pictures for My contacts. Iam very much satisfied with MS fb app

Which is why I have both installed. Turned notifications off for the MS 8.1 version and just use it get the new feed and profile pictures in the people app/hub.

Quicker to launch than Beta version. I'm only a light user for some groups so is good for me. Don't spend my life in it like some saddos. News feed seems more current than the patchy MS one.

I like this. Smooth on my 950 xl. Love to see we can react to photos now

Finally it appears in the store. Now if only I could turn off all those bloody sounds.

I don't understand the hate. This works way better than the MS one on my 950. Newsfeed updates real time, search works normally, comments are fixed. The ms one is a joke.

I'm getting the old UI and crappy slow stuff....it makes me phone looks like I'm on 8.1

try to move to Phone storage

No issues with it at all... What's the fuss about?

move it to SD xD to me on SD card its unusable but on phone its good but i dont like giving 300mb to fb xD

Ugh. What an awful app. Slow, glitchy, crashes often, and seems to make everything else on my 950 run at half-speed.

one thing I've reported for quite sometime is when you save picture from facebook it goes in your Camera Roll pictures folder and NOT saved folder, i hope many people report same,if you haven't you should , why put such saved pics in Camera Roll when it should be in Saved Pictures Folder like when Msft did their FB app

Can we get a nice live tile that just shows a notification count? I don't need to see my neighbors smirking mug or some other random photo. In looking for the Facebook app...kind of hard when you hide the Facebook logo. At least make this an option.

yea and for messenger too. i hate it that 3 of its apps have 0 control over live time on user side

It just crashed on me after 2 mins of use.

No Facebook live? Crushing blow!!!

So is it just me and/or a bug, or is the Facebook app and Beta loading the crappy old version and UI?

The last official qpp I was waiting for is finally here. Hopefully it will occupy me as I wait for the AU on AT&T

Comes out of beta, and just like messenger... It has the awful base UI instead of the UI iOS/android has. Hopefully this changes in the future... Maybe them taking it out of Beta shows the foundation of both apps are finished... Now they can add the extras like UI? We can only hope :P

What do you mean? It does have the awful iOS/Android UI. If you see anything that has rounded and soft edges then it's definitely not a product of Metro UI.

It's ios UI. Good luck getting any ported app with a Windows UI. At this point you should be happy with the scraps offered to us. The future is very gloomy for Windows phone.

Synced contact gets unlink every time the Facebook beta app gets updated. I think the same problem exist in the non-beta app too.

OK to get the best of it you should have it at phone storage just saying on SD CARD its ****!!!!!

I didn't know that there was a facebook app from facebook itself i was using the facebook from Microsoft way better thanth one from facebook

Crashed on startup. Nice.

What's New in People now longer shows Facebook. Anyone know how to enable this?

It's a not a feature in the new app. Keep Microsoft's app and turn off notifications.

Saw the new app, thought I'd download it and give it a chance. Downloaded it. Tried to open it. Crashed. Tried to open it again. Crashed. Tried to open it one more time. Crashed. Uninstalled it. Reinstalled it to phone storage instead of SD card. Repeated process. App is still unusable. Uninstalled for last time. If this is the release version, I don't want to know how bad the beta was.

Installed and using. And I have to say it's really good. No crashes here, and it's pretty quick. Better than the Microsoft app. Finally UWP is paying off.

Also you can't share anything to this app from your phone.

One of the updates from a week or two ago finally let you share to Facebook's FB app (finally).

Still can't share from mine. Can you

I can't even open this app on my Lumia 640, really bad working with SD card.

I'm liking the app! Improvements include: ​Can quickly unfollow people, unlike in old Microsoft app. Can respond to new member requests for Facebook Groups, unlike old Microsoft app. News feed reliably updates, unlike old Microsoft app. While initial startup takes a long time, resuming is quicker afterward.

Yes but you also can not quick reply from action center. Does not support people app, faces are have been erased from contacts, and Facebook Live is missing. Yes it wasn't on the Microsoft app, but it should have been on this one.

It does support the people app you can sync your contacts with this app. The actionable notifications can always be updated into the app.

You can sync contacts in the people app, but the "What's New" feature is blank.

Although is quite buggy, it's definitely way better than the old Microsoft app.

Windows 10 Facebook app is much slicker but it has some bugs. Will try both and see what will be my default app.

The Microsoft one stopped working

Just uninstall this version and the Microsoft version back to work.

Im not sure if its because I'm running this app on a Lumia 650 but its soooo slow. I would say unusable.

Worst App ever.. Freezes all the time after playing video...

Interesting... video is playing perfectly and immediately with no app freezing on my phone (Lumia 640 XL with W10M 14393.67 build and app installed on internal memory).

The Microsoft one now tells me to uninstall it

Any reason they couldn't have just updated the beta to the full app? So once again we have to go and link all the accounts for people that use short names? Like Jeff/Jeffery or Sue/Susan? What a pain in the ass.

so what are the changes made on the non beta? ☺ Posted via the Windows Central App for Android

Now no more updates until the next Windows Phone reboot. :D

Can this app work with Windows phone 8.1

You MUST install it on phone and NOT SD card so it won't crash. Most crashing and freezing issues are results of installing on SD card.

it is the same i already installed in my internal memory. Lumia 640 XL win 10

Yes not all SD installs crash, but the ones that are crashing are.

Why no live tile? And my finger photo isn't displayed on the Facebook tile....

There is a live tile but it took about an hour on my phone to kick in. It shows friends' photo posts when there is a new one? The live tile is not constant (right now on my phone it is back to not displaying a live tile) which leads me to suspect it only shows a live tile when there is a new unseen post.

App crashes and force close frequently, and my phone RESTART!! Lumia 640XL win 10. How come such basic socmed apps so bad in win10 mobile. Far away quality when i am using facebook in WP8.1 Microsoft facebook apps also the same, smooth in WP8.1, but very slow in win 10

I hope they bring that to win8.1
Sent from Lumia 630 via Windows Central, Lumia Denim

If you remove the Microsoft app and use just this one, is there the same integration into WM10, in terms of populating your contacts from Facebook, general sharing to Facebook etc?

Not yet. You can get your contacts, but as of now the news feed and statuses are not downloading. I currently have both and keep the MS version just so I can see the news feed in the people app/hub and see peoples status updates on their contact cards.

Can't share Pics and Videos directly from Facebook app to Emails and WhatsAPP. This feature was there in Microsoft Facebook app. Now need to save the media and share it.

Still can't rotate pictures and no people hub feed... And like usual takes a lot to load.

Still no Transperent Tile..

What will happen with the Facebook beta app? Will it continue to be beta or it will update to the non beta one?

FB Beta will continue as Beta to test new features to be added in the future. Just like Insiders, beta testers will be the first to experience new features before it will be rolled out to offical app.

Can't get this to load on my 950 running the 14393.82. Used internal storage only, and can only get the initial splash screen to show up. Tried uninstalling and reinstalling multiple times with no luck. Tried multiple reboots and even tried moving ot the SD card (with no luck) just for grins. Even removed the Messenger app thinking some hook into it might be causing the issue. Any ideas on how to get it to load up?

...and FB from Microsoft no longer works.

You're right it doesn't work anymore. Oh well

Just uninstall this version and the Microsoft version back to work.

Great! I now have 3 Facebooks on my phone! Hahaha

Just so you know, installing the official Facebook app causes the microsoft fb app to tell you it is outdated. Just uninstall the official fb again and the MS version works again.

Runs fine on my 930. No crashes and better loading time than the beta. I got one issue though, few contacts pics cant sync with the people app. Can this occur because of some privacy settings of those fb users?

Unable to download it. Shows error

Well this one has Facebook's promise to update regularly. That's worth the download. Looking forward to bug fixes and new features!

We are diehard fans of Nokia/Microsoft. But deep down we know that the Windows 10 mobile OS and its Apps are still not stable. Ex- Instagram and Facebook crashes when you use it for a while continually. And the FB cache is building up and there is no way to clear it. And compared to the IOS and Android apps we are far behind. Still we don't have a proper facebook app. We have 2 FB apps from Microsoft and 1 FB app from Facebook. Non of them are up to date and stable. Most of the time we get app updates after IOS and Android gets it. I know that we cant compare the platforms because each platform has its unique features + pros & cons. But at least we should have a proper up-to-date stable OS and Apps ( Facebook, Messenger, Instagram, Viber and Whatsapp etc ). Most of you may not agree with me but this is how I see. P.S - I'm not a Apple/Android fan boy. I have a 640XL Dual Sim. And have been using Nokia products for more than 1.5 decade. Thank you.

initially the only reason why I took up windows phone is bcz of Nokia, just by brand.... they have moderate price, stable phones. I was a lot satisfied with win7.1, 8.1 but really hating win10 It has great features and at the same time no matter what u do there r still bugs present in it which disturb our daily work. Until 10 is introduced for mobiles we proudly use to say our phones doesn't require GB's of RAM, higher processors, Higher Battery backups. But now the situation is changed. Win10 OS phones require as much as config of an Android. We gave Android nickname as Laggy Phones and they named us Buggy phones. 2200 maH battery is not enough to run a phone for a single day even though we turn OFF all background apps, Use only WiFi, maintain dark themes, low brightness settings etc etc Okay but what about the people who purchased L950, L950XL with 3000 mah batteries ? they too have battery drain issues. Only thing i am hating about my phone is I need to charge my mobile atleast twice a day which almost takes 3 hrs for full charge. MS releasing 10's of patches for Fast Rings and hugely neglected Production builds. What sense is this ? New users gonna install Fast ring and test a beta OS ? Its been a yr and no complete bug solutions, however anniversary update resolved few issues and brought new bugs. So forever we have to wait and wait and wait for bug fixes....

No Lock Screen notifications No actionable noitifications Half Backed People Hub intergration UI not as clean as the MS version (Icons, Lots of ads) or even the Facebook version on desktop. <- button closes app instead of minamizing it. Live Tile is Ugly That's all I got.

Wow this is great news, just as we 'Fade into irrelevency'!!! I just read that Windows phone now has less than 1% of the market!!! Yay, go microsoft! Thanks for driving it into the ground!!!!


Apparently this is the app. You have to use now. I had both apps installed to Facebook and Microsoft. As of yesterday. This morning when I tried to use the Microsoft app, I was prompted to uninstall and use the Facebook app. Anybody else out there.

MS facebook beta app is still working for me. I have 3 fb apps installed. The 2 from MS and the FB one.

For the most part I prefer the new app. Because they have added the new features face. The only problem I have is not being able to rotate videos within the app. To fill my screen.

Gave the app a try. Eats up battery, half baked integration with People Hub and very stuttery. This still feels like a beta app. Gone back to the Microsoft FB beta app. Much better performance and integration.

I think beta is better. Now crash a lot.

Slow progress but they actually seem to be truly making it work.

Not as smooth as MS fb app... while i am swiping posts it was not smooth

Do we always apprear on line with the last version of this app ?

Now if they would only enable it so I can add it to one of the lockscreen spots.

Did anybody notice that profile video is coming soon on the app, just like in iOS that you can set a video as your profile pic

App is really poor. Slow, laggy, pics take ages to load. Can't pin people / groups to start screen. Bring back the MS app

MS app is being discontinued

For me MS fb app was lot better. New one no Live tile working, app is not stable, crashes, swiping posts is very hard and not as smooth as MS app.
Difficult to set news feed prorities

Yep, let's hope they update it often. I truly hope we are given Facebook Live.

How can you turn off live tile, I dont want to see pictures of other people on my facebook tile on my screen

Too many attempts at opening this app on mobile is completely ridiculous!!

Is it available on windows phone 8.1?
I can only the app created by Microsoft.

No ability to share to posts, no live tile, notifications not working. Huge regret at removing the Ms app. It does not appear to

Link into the Ms system on the phone at all. Utter rubbish quite frankly. Messenger appear bored as well.

How to connect this app with people app on W10

not able to download facebbok app in windows phone 8.1

Not available for 8.1 just W10M
Windows Central Newsletter
Thank you for signing up to Windows Central. You will receive a verification email shortly.
There was a problem. Please refresh the page and try again.