Facebook Messenger announced for Windows Phone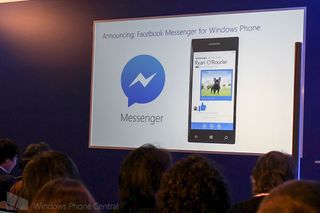 Today in Barcelona, Microsoft announced a new Facebook Messenger app coming for Windows Phone in the "coming weeks". The app was a collaboration between Microsoft and Facebook and ensures the top messaging experience for Windows Phone users.
The app was one of the most requested features to have a standalone, regularly updated app for Windows Phone and now it will be open to all users going forward.
No word on specific functions, but because it is a standalone app, it can be updated with new features on a regular basis.
Get the Windows Central Newsletter
All the latest news, reviews, and guides for Windows and Xbox diehards.
Daniel Rubino is the Editor-in-chief of Windows Central, head reviewer, podcast co-host, and analyst. He has been covering Microsoft since 2007 when this site was called WMExperts (and later Windows Phone Central). His interests include Windows, laptops, next-gen computing, and for some reason, watches. Before all this tech stuff, he worked on a Ph.D. in linguistics, watched people sleep (for medical purposes!), and ran the projectors at movie theaters because it was fun.
I think the integrated chat works well enough. But more features are always welcome

Can't send pics or receive pics through the integrated chat. Thats a big thing thats missing for me. And group chat also. The native chat works well but its bare bones.

Agreed. Also, don't forget about sending audio clips.

but who's fault is that? MSFT which can't update their OS if their lives depended on it. so bad and so slow is the WP dev team that it took less time for FB to make a dedicated app, basically a patch around the slowness of the WP team, to support features we had since....10 years ago.

Integrated chat only work when chatting with users that are currently online. Half the time people send me messaging with the option "appear offline" on, so I don't receive their messages. I hope the app fixes that, allowing us to send and receive offline messages.

Finally! I need a reliable group chat!

while whatsapp's group chat is great, it is not good enough when you want to keep up with a group chat from your computer or tablet also. only being able to chat from the phone kinda sucks.

Viber? Does also phone calls, even from PC. And isn't owned by Facebook

In the US whatsapp isn't really a thing because most of the carriers lock you into paying for unlimited SMS. And there is no way that I would be able to get any of my friends or coworkers to use it when they all have iPhones or Androids. I feel like a lot of people want to get away from Facebook but all my friends and contacts are there already—even my parents. No way I'm getting my mom and dad to sign up for yet another service with login credentials that they'll just forget anyway (and then bug me about it using a group facebook chat or Skype call).

Yeah this one's kinda funny since WP has it built into the messaging app. Not sure what is to be gained by adding a stand-alone app. Maybe group chat? Meh - not really a big deal to me even though I use FB pretty frequently and rarely touch the messaging portion.

I thought so too...until I used FB messenger on an android...man the freedom to innovate like chatheads, etc. When its a standalone is why I hate integration now and why I get MS is moving away from that.

This type of announce undermines the system

why do you want a single app when you could have 20 chat apps updating in the background all spamming your notification center (oh wait WP lacks it in 2014 still). I much rather run an app for each service none of which collaborates or consolidates itself in the OS. why would I want that!

Because you either integrate IM APIs into the OS and wait forever for updates. Or you break out each app on its own for frequent updates. MS have switched to the latter. They have done this, as over the next month or so 8.1 update will introduce notification and action centre. You can either be notified, or you can chose to have them silently go into action centre - all collated into one. So you have the best of both worlds. Frequent updates. One place. Feel free to stop trolling now that I have corrected you. :)

Whatever gets me my Pusheen stickers faster!

Who is dprubino77 Is it you daniel

Someone stole his phone and made this post :|

No,he is daniel's long lost evil twin who has returned to claim his rightful place as editor in chief of wpc.

Name changed to Daniel Rubino. Problem solved

This is great news. The messenger going to be developed by Microsoft or Facebook themselves ?

Oh come on, the article has 4 phrases in it. Is that too much to read?

It is a collaboration of both ;)

Collab between both. Said in the article.

Most of the people here dont reed the articiles lol, only the titel and the first phrases.

let me check: it will be out this year. yup definitively not MSFT in any major way. If that was the case, it would ship with windows phone 10.1

And good thing Google and Apple have nothing to do with it either. If that was the case, it would steal all your data, spam your contacts with malware, and/or be launched in a broken state.

Makes no difference. Hope Facebook paper is launched as well.

For now try out "Booklet (beta)" http://www.windowsphone.com/pt-pt/store/app/booklet-beta/7a0c5ecd-b269-4... seems like Facebook paper.

I tried, it's not usable at all.

Well than lets hope we get the original as soon as possible.

I've used it, so it must be somewhat "usable".

I saw this recommendation to another person but I thought I'd give it a shot. Thnx for the suggestion... I like Booklet. It is quite tight and clean. Admittedly I haven't used it a lot as yet, but on the surface it looks like it does what I want. Cheers

Integrated inbox works great for me... But for sure, I'm excited about this...

The integrated chat is too buggy never got it to work on my data network, Wish they either dump it or make it usable.

I had some problems dude... But now it works really good... I'm not in need of Facebook messenger actually... By the way, I'm using 2g network...

It's something related to where I live because I none of whom I know who live near by could get the integrated messenger to work either.

Mmm may be... In my friends circle, 3 of us using built in messenger out of 5 Lumia guys and we have no issues...

It was nice.. Though no group support sucked. But with WP8.1 it be gone.

The only reason why I'm using fb app...

Hmm, well it never synced messages I sent to people anywhere else like in the browser or the Facebook app, occasionally a message would never be delivered at all and it was often slow at receiving them. Plus, the intergrated inbox is removing integration with Facebook, so you'll have to use this app come the 8.1 update, whether you like it or not ^_^

Yes. I've to... But removal of built in fb is a bad decision... Let see...

It's a good decision. They can replace it with an app that can be updated on it's own and doesn't have to rely on OS upgrades.

Like fb app?... Its being updated and its still the same sh!t...

Considering the early days, I wouldn't say such a thing.

The integrated chat has lots of missing stuff :(

Of course... But I'm still comfortable with it... The only thing I'm missing is, picture attachment...

I know...lets hope this app fixes that

Lol ! That one . Is this feature available ?

i hope so, but i don't think it will ever come

i said i think !
but every app on WP8 use 100% of the screen
"Chat heads" doesn't
so it may come with a different UI
or with live tiles option

I'm just asking dude . I can read -,-

lol, didn't mean to be rude
but just to make sure "only opinions!" :)
but seriously i think it's really cool if we get it

Hahaha . Okay then . I hope it's a metro style . A poped out live tile as chat heads maybe ? Lol .

The chat heads will surely be confined within the Facebook app, like on iOS. Only on Android and on jailbroken iOS can the heads exist outside of the app.

that's what i meant :)
but didn't know about IOS's app

What do you mean ? Exist outside the app ? Can you explain ?

i think he meant, if you used Chat heads on Android
it's not the same on IOS
you can only use it if the FB app is open
which he think will be the same with WP

Okay , now I understands . Sorry , WP8 is my first smartphone :)

No problem :)
you did the right choice !
i used to have Android (HTC One X) it was flahship phone
Switched to L520, and soon i'll get 925

Thanks :) My friends still with their 'Andy' .

Here's an example: http://www.youtube.com/watch?v=9BErKgBKJlw

We might have something similar to that which will work for every messaging app with actionable notifications in wp8.1

I would like to have a function of replying to the message in the action center without having to open the app to reply. I believe this thing is available on BBOS10 but it would be nice if it gets implemented

i hope not. i bloody hate that thing on android. and you can't even turn it off properly, it's facebook taking over our phones through the back door

They could easily do the WP version through live tiles, pin groups / chats / people on home screen. In fact, WP8.1 probably is going down this route, or at least I hope they do. They just need to open up API's and hooks so that when an app receives an update, say a FB message, your pinned contact (people) will display those updates. For group chats, you can pin those too, so it'll be much cleaner than chat heads.

DPRubino77? Daniel Paul Rubino, 37yrs?

HEY! 77 DOES NOT MEAN 37 YET! :P ;)

So there won't be delayed notifications anymore?

I was getting Facebook toasts hours after the messaged arrived in Messaging. Then, maybe two days ago, I am now getting the toast for Messaging and Facebook at the same time.

I got my message on time.

Wound explain why Facebook is being removed from being built in :)

Nope, do your research dude. All of them will eventually be removed because of the new awesome integration. Official social apps will be able to INTEGRATE themselves into the OS. This alllows for faster updates from the social media company instead of waiting for an OS-level update. So for example, when you login to the Facebook app, you'll see all your FB contacts, photos, events, etc. in the appropriate hubs/apps. I'm sure the all other ones will follow suit, but Facebook will be the first to showcase this new integration.

And when you chat you need to open a NEW app - is that 'awesome'? FB messenger should be integrated in the current app, not a new one.

I think you're a bit off, and speculating way too much. And the app dependency is hopeless and pointless. There is absolutely no way that an "app" is better than built in. No matter how buggy some of you like to claim the current messaging set up (which is BS) it will never be as buggy as an "app" can, and will be.
And with FB's current involvment in app making form the WP platform I really don't see how this is in any way better. It seems like WP is waivering and catering to the crybabies.... that shit is never good.

Yeah. Because they removed Facebook intergration in wp8.1 ?

Actually its disappointing me...

But we have no choice... Lets hope it will work great unlike fb app...

Removing fb app from os is not that simple. I guess something better is cooking somewhere within microsoft...

I heard that they removed integration in pcs...

but, but the integration in the people hub is a the one I liked the most. >.< they should have let it stay on the people, And I really like the live tile of people hub, I don't care if they will remove it from the messaging app.

Agreed - it was pretty sweet to show off, when I had a Lumia! But like a few others said in the comments, it wasn't particularly reliable. :( I'll take a standalone app any day if they make it have reliable notifications. That's one thing I don't have with Facebook on my BlackBerry 10 phone (my OLD BlackBerry had a devoted Messenger app that worked 90% of the time!).

It has already been confirmed that the apps will be able to integrate into the OS. But it's different now since they hook into the OS. So the developers are now responsible for making it hook into the OS Where it used to be Microsoft that had to program the integration. This is a lot better, let's wait and see how it pans out. I don't mind jumping between apps as longs as everything comes together in the associated hub. I am also hoping the messenger app will be able to recieve more than just sms messages...but I'm guessing that's a long shot...

I don't think they will... or at least I'm hoping liike hell.
If you look at W8.1 the people hub works a lot like WP, but you don't have to put FB, twitter, (whatever else) info in anywhere on the device. As long as you have the accounts linked through your Live/Outook they show up on the device.

Like flipboard was coming in weeks...!

In fact, one year equals to around 48 weeks. :P

yeah don't know what happened to that...they won't reply to tweets.....

MS loves delays apps/games releases to release them all in big announcements. Just wait for BUILD: final Instagram, new FB, new Twitter, Flipboard, Snapchat, Candy Crush etc.

And then you hit your head and wake up.

while i agree with most of that list, whats wrong with the official twitter app currently? works fine for me

I so nor get notified when someone retweets my retweets or favorite them like other platforms

haha so far i think pattern has happened to be something like that :P

So, we will can change the default messaging app for FB Messenger app and receive all the messages in one place. Great!!! Can't wait for WP8.1!!

Super cool logic out of nowhere :D

actually it's confirmed (not officially, but in the SDK) that WP 8.1 will alow us to change the default messaging client, and facebook messenger on android already support sms so it's actually cool logic out of some info we have and it will probably happen :)

Mmm i know that dude... But replacement with fb messenger!!! And think about the wp restriction stories... So i think fb messenger can't handle sms... Or maybe I'm just over acting like a wise lol...

We don't know yet what WP8.1 will allow, anyway, why adding an option to select a default messaging app? What else then changing the default sms app will this allow? If it would be just for the IP messaging it wont really change anything, sms app will work as it did and the chat app will work as it did, the option would be irrelevant. So yeah, I believe MS will open up the platform a bit and we will get a mixture of iOS and Android, which is good, an open platform for more options, but still locked down to a level that it's fast, secure and reliable :D PS. they did kind of the same thing already with camera lenses, you choose the default lens and it totally replace the default camera app, I'm using Nokia Camera and works totally like it's a stock default app :)

Ya of course we still in need of lot of features... Not only this sms ryt... But your imagination is reasonable... I just made a comment... Leave it :P

FB messenger can handle SMS on android. so it just might be the case on windows phone also. allowing fb messenger as a default messaging app for texting.:)

I think that feature was removed.

Yes... But the sdk version is not the final one... Let see...

DPRubino is the devil side of him. LOL!

Finally, coz the build in fb message really bad, also the facebook app very laggy

Why don't they just more integrate Facebook messenger into inbox, which works just fine? What's the purpose of having both?

They won't have both: it's begin removed from being integrated as a stand-alone app in Windows Phone 8.1. The built in service will be replaced with this app, which can be updated on a more regular basis, which much greater flexibility than if it remained built in.

Agree, The features they plan to develop for messenger can be added to default integrated Facebook app easily I think, at least it would be more reasonable.

The integrated Facebook Chat is notoriously unreliable and adding new features means an OS update just to add something as simple as Stickers. Going with a separate app means that new features can be added without an OS update ;-)

Any link so we can watch it live ?

nope, it has finished and no live stream.

At last, the first good news from the MWC... Waiting for it..
Hope so it won't have any toast notification problems as the original Facebook app...

Feels great to see my favourite OS growing day after another, I hope microsoft keep pushing such apps and updates for windows phone time to time...

Guys Don't get excited, they told the similar way for Flipboard. But it's still not available for Windows Phone.

Don't worry this will be in coz by April fb integration wud be gone for wp 8.1 preview... And fb has already made an official app for wp so why worry

So this is one of their guns in barcelona.

Atlast we are getting it
Go Windows

And no flipboard yet although windows 8 has it. What's the point of kernel equality then for mobile and pc?

Awesome now all we need is the Facebook app to be fixed and were good!

Why aren't they focusing on updating the core Facebook experience first?

core? Chatting is most important fuction of FB

Oh, i wan't to see "Sent by Messenger for Windows Phone" :D

Umm.. When you update your status from 'me tile', it does mention windows phone in fb

I think he mean about the chat not the status.

off topic : when will wp users get new whatsapp update for new privacy settings like hiding status dp or last seen...

and talking bout the messenger it arrived too early xD ... i think vlc devs are dead...
tr2 ss 512 mb support is also dead... opera mini not available.... fuck everything, i just want vlc....

I was actually happy with the live tile Facebook pin for messaging, but I will GLADLY take this! May probably stick that and WhatsApp side by side, what the heck.

Why? Its already built in. So its more like.... ehhh whatevva!

In the coming weeks, or in Microsofts terminology, in six months.

Uhm why have a seperate messenger while it's built in already??

Because the built in fb messenger is being removed in WP8.1
There are pros and cons to this:
Pro: Can finally send pictures to friends and have a fb group convo
Con: No more unified messenger. I think that Microsoft should update the unified messenger app and update to put all the cons I mentioned in the app to make one great messenger app

That sux if thats true. All the built in stuff is what makes it different from all the other shit. If i wanted an android phone i would have bought one.

Why does it sucks? Do you know all that built in stuffs you said are making hard for MS to keep them updated or on par with other platforms? Look at how crippled People hub facebook functions are as compared to the Facebook app. I do welcome this. At least, I don't have to get an Android phone to enjoy a decent Facebook messenger, while I'm still on Windows Phone platform. Ain't that nice?

the Con the you said might not hold true if it is like the FB messenger in Android that allows texting and making it as a default messaging app

I'm not sure what the android experience is like but is it bad? is Facebook also integrated within the OS?
Because in WP Facebook is integrated within the messenger app. And you can instantly switch between phone and Facebook contacts

The built in messenger app is mediocre, it doesn't supports pics, stickers, or anything else beside text and location. Where as the fb app by Microsoft lacks speed and feature, the chat is very slow and often crashes while sending pics.

The built in messenger does support pics and so forth. You must be thinking of the facebook app or?

That's why they should fix the issue in the WP8.1 update. Instead of removing the built in messenger app they should update and fix it. Since I use the app alot, I enjoy this feature in WP8

What I hope they do is include an option in the messenger app to receive toasts through the SMS app, like how it functions in the GroupMe application. That would give users a separate app and also include the integrated messaging that other people may want.

So this will be built by Facebook or Microsoft?

Well essentially it is already built in, so....

okay before someone says to you...let me tell you....is it so hard to read article....its just 7 lines....

I was excepting this from you. Try harder next time... KID. That was collabration. Not yet mentioned It is by Facebook Inc. or not. Facebook App by Microsoft is also a collabration & it is crap till now.

JThat's why I prevent using it for now. Unless they make one that's on par with ios and android.
I know the integrated one lacks lots of things like sharing post and stuff but the "official" lacks things the android and ios version has.

joe said "More apps coming from partners over the next few weeks" on stage, So I hope this app is actually developed by Facebook

While fb chat in messenger hub is buggy and I won't really be sad to see it go, I really hope they dont remove Facebook account integration. I really like having it for my contact list and having all of a friends info in the one place.

Well if they can manage to make it work like how it works on android or ios, with just installing the app, I would mind at all if MS took away the whole Facebook integration from WP 8.1

There is absolutely no way that is better then what WP currently has.

I'm with you. As long as they keep your contacts synced somehow, it's cool with me.

+1020 this is the one I like and also the live tile in peoples hub

I've had that all the time. Go to messages, setting, turn on facebook messages. SIMPLE!

Without capability of attaching or seeing the attached picture though..

Only the messenger app or the official app too for viewing profiles timeline etc

Finally! I hope if it will have same features from other OS, or at least the ones that are very requested.

I hope it will be available for windows phone 7.8

Can and Will be updated regularly are two very different things.

I'm sorry, but why is this such a big deal? By having my facebook account on my 1520, my fb messaging is threaded in my sms; no need to load the fb app, or even need to think about a messenger app

yes because they have removed the integration in wp8.1

Facebook chat is already built into windows phone. What do we need this for?

Is only a alternative to the native system. Is good, because some operators offer the data using this app.

just hope this is not the begginning of the end of WP Hubs, a very distintive feature.

Unfortunately, it sounds like the hub concept is being scrapped, at least how it is currently implemented. That's not going to make some people happy (like my wife) who use the People hub's What's New feature more than anything else.

Fix the main app. And if its too broken, rewrite from scratch.

Yay! But I'd stick to the integrated inbox.my office blocks facebook and in a strange way the integrated fb chat in my inbox works its way to bypassing the firewall

YES FINALLY!! omg i think im crying

Pages Manager for WP8 pls..

Yea...finally... :) Totally excited

Will it be following the metro designs, or just like the Android version?

Let me guess, Facebook Messenger will also have 2 apps and only the Beta one will be good to use and both will still be behind other platforms? /s Lol well I don't use Facebook messenger and don't intend to start doing it, but if people want it, let them have it.

Yep,the official app on W8 is god awful and Microsoft's Facebook app on WP8 still sucks.Takes forever for notifications to come thru.Im guessing Facebook Messenger won't be any different.

The official Facebook app on Windows8.1 is excellent. Much better than the MS piece of crap for Windows Phone. If this chat messenger is done by Facebook, I bet it will be working good.

WTF?? There is damn near no difference between the two? Please stop with the brand whore BS.

Awesome.....but need Facebook app also....

Also with windows phone 8.1 may be i can select this app as default messenger app so built in messenger may removed

if it is the same with the FB messenger on Android that allows SMS . then it will :)

This will be because in 8.1, Facebook integration is lost

God :') yu've listened to my prayers

Nice. I'll get that. With the acquisition of WhatsApp, Faceboom will soon be the go too messenger service.

I think beefing up the Facebook messaging in the app would have been better so they can showoff deep pinning resulting in app developers not needing to make separate apps to give users quick access t features like this. Great news though were getting more requested apps, but if it goes on like this then I fear WP will just become what Android and iOS homescreens are.

Lol get a proper working Facebook app first Microsoft.

Nice! Now bring us Facebook Paper.

Can you replace your default messenger with Facebook Messenger, like you can with Android?

Yes please and thanks. And if FB would get behind of doing a real FB app for WP, even better. Also, for the whiners here about the FB chat option going away from the Messaging hub ... get over it. The thing doesn't work well for most. It's just 2-way text-based messages only, void of all other Messenger options. If anything, SKYPE for WP8 should be scrapped and re-made as the new Messaging feature; combing SMS and Skype chat into one seemless experience flanked by options to video chat, voice chat and the rest.

FINALLY. I wish we'd get Hangouts next.

Tommorow will be the most beautiful day ever for windows phone user \(´▽`)/

Just make sure it'll be better than your current Facebook app

Anything is better than the current Facebook app. The current app is pure garbage but we still need it because this new app will be messenger only.

To be honest im hoping that the new messenger is good enough because I use the native facebook app for 2 things only. Notifications and I can check them from the ME tile and messaging

I know people saying this is good news. But. What if it replaces The integrated Chat?

I hope this means we get stickers and iOS emoticons.

I hope the app isn't slow like the FB app and has the same features as the Android app (minus chat heads...never cared for it). Definitely will be on my phone! What would be cool is the ability to pin group chats and individual chats to the start screen. Your unread message count would show on the live tile, and toast notifications would appear based on your fb settings. The group chats I'm in are very active, so I turned off notifications so I don't get the message sound all the time.

Can't you pin conversations right now? I could have sworn you could...

now thats what i call , a good news :)
Anyone has any idea about the expected date ??

Probably sometime after WP8.1 is released as that's when the FB integration is supposed to be removed and default SMS client is allowed to be changed.

Fb messenger + WhatsApp + WP messages ~ may be all integrated in WP 9

Just a desperate question- will it be available for windows phone 7.x ??

Ah man. You guys do get shafted a lot. I had wp7 for so long and now I have a 920. Two completely different worlds. I feel for ya

This is bad because they'll be removing this feature from the main app so you don't get duplicate notifications. Sucks for us that prefer a one stop app.

I some how have the sensation that this could be the end of whatsapp!

Haha, Ryan O'Rourke, could you get a more Irish name?

Finally! The integrated messaging works well, but with images and stickers and what not, its a horrible experience, so this is pretty exciting news

I know its not released yet but i think it seems faster after the update Posted via the WPC App for Android!

I swear if they pull the crap that they did with Windows 8.1 which was get rid of the intigrated chat service in the OS for a 3rd party app i'll be pissed. A big part of why I switched to Windows phone was to no have to keep swtiching between my text messaging app and a Facebook app. That was really annoying when I had an iPhone.

Why standalone? who determined that the major public wants a standalone app? I didn't. I was actually wishing for a more integrated expierence. Why not add more message and messenger function to the current people hub. And what about photo uploads in the people hub. I think this was a missed opportunity by microsoft. Oh, well can't have everything I guess even though facebook integration was already part of idea of an OS integrated experience with facebook. Guess that's logic these days.

Do other platforms have this?

Hoping with WP 8.1 update there will be an option to receive your texts in the fb messenger app and set it as default that'd be totally awesome cuz I love the already built in fb integration int the stock messaging app.

Might just be me, but doesn't this kind of confirm the removal of Facebook Integration in the Messaging Hub, just like they did with Windows 8.1

But FB is still integrated into W8.1 through the people hub. No messaging though.

FINALLY!!! We want a messenger app exactly like the one on iOS or better.

I'm confused why they have a separate app for Facebook and messenger, when messenger is built into the Facebook app (and WP messaging) too. Same goes for IOS and android.

It's about time they did. Posted via the WPC App for Android!

Well, integrated works just fine for me, but cant send pictures, that's one the most needed thing.

Yep. Pretty much the only thing needed. I don't see the value of a new chat app. Like we need more battery drain.

I don't buy the rationale here, they've been updating the FB app fairly regularly, but even with the flow of recent updates, we are still requesting some features to be added. How's launching a new app going to help the situation, unless a completely new team is handling this FB messaging app?

Today my Nokia Lumia 925 can't connect to IM after I get new updates ??!

I think this app will solve my problem

What the heck is the point of this? You have a ton of Facebook apps already. And, until Microsoft pushes out 8.1 and TRASHES INTEGRATED MESSAGING, we had FB messaging built-in. I'm so disgusted with Microsoft right now I could spit.

It's about time!! Cuz the integrated chat is pissin' me off already!!

Third world app more like it!

Sure specially since windows phone has an facebook messenger right build in to the software. So in need for one. Not really. Posted via the WPC App for Android!

The build in chat does not support for sending pic and so

That should be an easy fix. There's no need to become app dependent fomr something so simple. (Assuming FB realeases the full API's to do it).

I like the integrated chat. I hope this doesn't mean it will go away.

"In a few weeks" translates too someday eventually...

Great news. As the integrated chat feature has never worked smoothly for me.

Very good idea in Nokia Lumia 520 please

Here's hoping it isn't completely shithouse like the Facebook Beta.

New apps are good and all but I've always thought the cool thing about WP8 is that where others need an app, we have features built right into the phone

I've not understood the desire for this. I would just prefer the integrated chat functionality to be improved. I use that a lot already as it currently exists but adding features to make in on par shouldn't be too terribly difficult.

"putting people first" by removing all social integration from the OS.

Going backwards to appease the crybabies who feel like they "need an app for that".

It'd be nice if the Landscape view was added to the facebook app for windows phones....just saying

These kind of seems like a step back. They should keep it integrated but release a stand alone for powerusers. Removing FB integration is one less selling point I can argue when trying to show off all the great features of WP to so someone with Android or iOS. I loved being able to say "You don't need an app for that" because it's a user-centric OS rather than app centric.

UI looks cool.. I need it asap cause the integrated chat doesn't work good for me. Posted via the WPC App for Android!

Considering all he moves facebook has been making, I can't help but think this is not so much to benefit WP as it is to benefit FB. I personally think they want this because it forces branding if nothing else. The way FB chat is now sometimes you don't even realize you are sending IM's thru FB... which is exactly what FB doens't want.
From what I've been reading and seeing so far I don't like it. Oh, and I'd 100% HATE to see full FB integration go away. I don't see how or why it would since it still works on W8.1 if your accounts are linked. But making the OS so app dependent is NOT a good idea. This won't be any less buggy, it MIGHT only mean that if an update is needed it'll happend faster. But considering what FB has actually done so far for WP, I really don't see why peole would believe that.

Yes waited for this and bbm for a few months after switching from android to wp i find wp much better cant wait for them

And one decent app for facebook...

Instant messaging is a great way to maintain real time communications with friends and colleagues around the world. There are now a number of instant messenger apps that are for all smartphones. https://play.google.com/store/apps/details?id=com.crittermap.airhockey