Facebook Messenger Windows 10 Mobile app is currently unavailable from Windows Store [Update: It's back]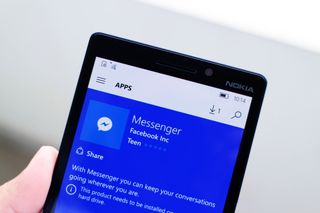 Update: The Facebook Messenger app is now back in the Windows Store for download. Thanks to everyone for the tips!
The Facebook Messenger app for Windows 10 Mobile is currently not available in the Windows Store. So far, there is no word as to why the app has been removed from circulation.
Ironically, the app received a small update earlier this morning for users who already have Facebook Messenger installed on their smartphone. However, if the app is uninstalled the Windows Store shows that it is not available. There have been reports from some users about touch problems with the app, and it's possible Facebook removed it from the store to fix those issues.
We will post an update when and if we learn more about the Facebook Messenger app's current status.
Thanks to Olivér Aho for the tip!
Windows Central Newsletter
Get the best of Windows Central in your inbox, every day!
I just updated 40 minutes ago...

I dare you to uninstall it. Double dare you.

I've updated it as well.. It now has the phone and video call icons

Same here, there was a complete UI for calls and videocalls, try to make some but don´t work. after closing and open it again just gone. +L535


Really I updated it put the phone and video call icons didn't exist

I'll delete it no problem. I have fb beta too LOL :-)

Ok, just went back on it and the call and video icons are now missing

The option only comes when you open app for the first time after the update

Apparently, the stable app is now ahead in build number compared to the beta app, though the beta has landscape mode whole the stable one doesn't.

In other news, Messenger beta works in landscape now.

Pssstt... I uninstalled it yesterday before I updated to build 14915

"A double-dog-dare. What else was there but a 'triple dare you'? And then, the coup de grace of all dares, the sinister triple-dog-dare." At least you have him a chance still Daniel, everyone knows you can't back down from a triple dog dare!

Dan, I uninstalled it a few days ago because it was not responding to touch after opening. At least now I know what's happening

Well sometimes touch stops working on fb, messenger and instagram. Have to restart the phone in order to use it

this is happening for ios ported apps, looks like

I uninstall the Facebook app three days ago because it keeps on crashing. So this one doesn't surprise me now. I can't even install the Windows 8.1 version of the Facebook app anymore.

Facebook only has problems in SD card if you put it at Internal storage everything works fine!!!

I had it uninstalled yesterday before updating to the latest build on the fast ring. The way I put it back was to go the store and selest download under My Library. Searching for the app doesn't allow me to download. This still requires to have the app under My Library but it worked for me.

I take this challenge and will uninstall it right now :)

Also had major issues in Continuum, pretty much unusable. Not too surprising to see this happen.

Yeah, it'd never load for me on Continuum. Same with Facebook.

Lol. Just don't uninstall Microsoft Facebook as it's also gone.
That won't be funny guarantee you at the realisation you don't have people link.

Taking Ages to Load....!!!
Not Smooth

It brings a feel that my phone is too slow...damn...

Yes, takes ages on my Lumia 830 too. My wife has a cheap and cheerful Samsung J5 (Android) and it loads super quick on that. My 830 used to be the fastest phone I'd ever had but it's dragging its heels on everything these days. Slower than my work iPhone 5s even.

The only app i have noticed that is slower than the rest on my 830 is mainly the new facebook app. They are all super slow when compared to my 950.

Messenger beta is available.

I tried with that after the uninstall, but it was also not responsive at the login

Well, at least we know they're on top of it and did the responsible thing of blocking more people from downloading a bad update

Sometimes one wonders if there is any product quality check and testing "Before" release to public with these multi million or billion companies. Maybe they can't afford it. :/

Are you saying Microsoft couldn't afford to test the Lumia 950xl before release? Nope, these companies willfully neglect testing internally.

I hope they see that using their own tools instead of Xamarin or Islandwood was a bad idea. Posted via the Windows Central App for Android

Facebook and instagram have had had the same touch problem since launch and its still up.

The Facebook app also has the touch issue, I hope they fix that too

Had same message for the Facebook app from Microsoft as well

Are people installing apps that often for this to be an issue?

Bring back the old one please.

Good they really need to fix it. It's a POS.

Slow, buggy, no (video) calling, no chat heads. Rubbish

Are chat heads even possible on Windows 10 Mobile? I mean, even if facebook decided to add them, would that be possible now?

Because that's an Android feature and it's not possible on Windows.

I hope they make the app more stable. It usually takes me about 5 minutes to type a few sentences on it as the keyboard keeps crashing, and it sometimes cuts sentences off when I send a message making it half complete. Also it takes about half a minute to load up a chat with someone. Other times the app won't even load up. Would be happy if when it comes back up, that they are fixed

Guys you can download Messenger Beta from this link. https://www.windowscentral.com/e?link=https2F%2Fclick.linksynergy.co...

I have officially switched back to Skype because of the new universal app. Closed and uninstalled WhatsApp. But kept Telegram and Viber for transition phase. May keep Telegram forever because of it's superior file sharing options.

I don't understand how you can just decide to switch? For me, it depends entirely on what my friends and colleagues use. Thankfully, that's usually either Messenger (which usually works pretty well for me) or Skype (which is working quite well with the preview), with a smattering of GroupMe (which is also pretty good now).

1) Suppose we have 10+ messages unread in a chat.. Opening it and then tapping on the button to go up those many messages doesn't work. Imagine getting 300 messages !
2) Really slow to load and yes, touch (scrolling) is a pain !!!

I uninstalled it yesterday

I'm using win8.1. My Lumia 630 was once running win10 mobile but after recovered using windows recovery tool, I cannot go forward to win10. :3

I had some major problem with this app a couple days ago as well. However, the Dailymotion app still holds the crown as the most unusable app for me. Have you guys tried it? Crashes on start, freezes, unable to interact with most buttons. Ugh...

That horrible app? No thanks. It's clearly still alpha material.

it's still better than that Messenger app facebook Inc. gave Windows 10 Mobile users

No it's not. Skype can't even do the most basic things right. Messages magically change in order, for example you send something, the other person replies, and then the next time you open the app the message from the other person is showed before your message.
Also you can't remove contacts without being forced to block them. And you can't remove conversations. LMAO. Also the whole contact syncing feature is a complete one directional failure. It adds every contact you add to your outlook contacts, but when you remove an outlook contact, it doesn't sync and remove the contact from Skype. Making my skype contact list a complete mess. If you really believe the new Skype app is any good, you either haven't scratched the surface of using this app or you are completely delusional. With all respect.

To say nothing of the fact that, for a service with broad messaging ambitions for the enterprise, Skype is *still* subject to, and infested with spam, often of the adult variety. It's past time that issue was also resolved.

Also agreed. Well, I could mention more skype bullshit but then all you guys would get tired of scrolling. Probably the biggest thing about Skype that fundamentally annoys me is that you have 4 different Skype platforms. You have the skype website, the skype desktop app, the universal app and the skype for business app. What truly annoys me about this, is that you can almost do nothing in the universal app, you have to launch the skype desktop app for many functions. And even there you can't do everything. You have to go to the skype website to do other stuff. There is not ONE place where you can manage everything. And why the **** skype for business has to be a different app is beyond me. But I'm sure the mutated chicken developers in the Skype team can explain me that..

I would switch to Skype but I hate that it doesn't have message read confirmations so I don't know if my messages have actually been received and read.

Good this app is full of bugs

They must have just realized they still have apps on win10M and probably should make sure they at least work without crashing or freezing. Then they can worry about the additional features later after they let the users band together in awe for a working app on win10m.

In all fairness this update brings improvements in startup time. 4 sec now on my L650

Sounds like the recent Instagram updates too. Since the last couple it loads from a cold start in about half the time (About 4 seconds instead of 8-9). They are definitely doing work to improve things which is encouraging to see

Not available for PC too.

Actually, the touch issue hits ALL FB apps (instagram, Facebook and Messenger). And when ONE app becomes irresponsive (well the app updates and all but touch is irresponsive) then ALL 3 apps are in the same state. Reboot is required. I don't know if ONE app in particular is causing this, or if it's the current RS1 production build. But I hope Facebook have identified it, it's a pain to reboot for these apps.

That's what I think too. It's probably RS1 issue. (touch irresponsive)

Yesterday I was using Messenger app without any troubles but this morning it doesn't work any longer the touch input in the app (the same with Facebook and Instagram), perhaps some changes in RS1 that conflicts with the iOS ported apps?

I never got notifications from messenger so I removed it anyways....fix that before putting it back

Touch problem is coming in Facebook and Instagram app too. Think its the anniversary update issue, coming only in apps which are ported from ios

Please add to video calling option

Not available on PC also.

Maybe they bring the old 8.1 app back

Download it from the store under My Library. Worked for me.

Try the download again. Something happened on our end...

Try the download again. Something happened on our end...

I don't know if I'm alone, but the Messenger app stopped working completely for me. Uninstalling/reinstalling works, but only on the initial load. After that, it hangs and crashes every time. Perhaps it's related to that.

I updated the app yesterday and upon opening the app, it is totally non-responsive. I tried uninstalling it and re-installing it. From there, I couldn't even login because the keyboard would never show. As of right now, I have a messenger app that does nothing but open and shows login screen. I doesn't respond to touch at all. Hopefully this will be fixed soon.

Both messenger and fb are slow. If only they had a refresh button (or shake to refresh)

Actually that's not unusual. Apps also sometimes get taken off other app stores temporarily to fix issues with the app or sometimes they go as far as to completely redesign the app, my best guess is they are going to add a calling feature. Basically don't get overly concerned, yet.

When I use messenger in continuum it's rotated 90. Impossible to use it. If they are working on it... I hope so...

In a lumia 635 Facebook app crash continuosly. Now I have a 950 and both work right. So... Memory use and abuse could be the problem

Good thing i did not update xD

I wish for a redesign! Asking too much for a multi billion company???

After the last big updates messenger became a very nice and polished app. But there's a strange issue on my Lumia 640. After typing some text, the keyboard randomly stops displaying suggested words on top. I wonder if it's messengers problem or OS bug

It's a problem with messenger & W10M since the Anniversary update on my Lumia 650.

I do hope they fix this app because it's really slow to open !!

Guys the beta is gone too

Hope they fix the UI too. The app is ugly as a butt.

I wish they would give us god damn transparent tiles!!! Seriously how hard can that be???!!!!

It's back, but not updated. Weird.

The app went down with their satellite. Foo fighters did it. No, not the band.

Is it true what I read that these 3 new Facebook apps (fb, messenger & instagram) are having problems because they were actually bridged over from iOS using project Islandwood? If true then this suggests a problem with Islandwood rather than with WinOS or the apps themselves Posted via the Windows Central App for Android

before 2-3 months i read Facebook use her own bridge and not the islandwood project.

Sorry to post it here. But it has bring in the light for most insiders as this is the current hot topic @ WC. flashlight not working in build 14915.1000 (RS2) & action centre cannot be swiped up from middle of the screen, only from the end.

I cant swipe the action center from the middle but my flashlight works fine.

My action center also not going up from middle.... But flashlight working well

Windows mobile is useless .
It is sad but true

Some comments are useless.

What's the point of commenting if it is

Except you still can't dowload it, at least i can't

Looks like this version isn't just for WP10.

Lol it's so funny people were vowing for Facebook inc to bring their apps with more features to windows phones and started stating negative things about the Microsoft Facebook app.Now the table has turned, the same people wish they would go back to the Microsoft Facebook app with lesser features.Well you played yourself lol.facebook inc is playing you.

I have Messenger on Win 10 desktop. But I can't find a way to delete messages. Is it possible other than removing the contact?

Would be quite somthing if the title went: Facebook has ended support for Windows 10 Mobile.

I still can't download, server error.

Let me tell you iv updated my facebook messenger and i got video calling and awa audio calling feature but it crashes alot then another update and both gone.guys please wait they are bringing audio and video calling in upcoming update so cheers for that and hope for the best

Any news for messenger with audio and video calls its very bad me and other Windows Phones user are waiting for it.Can anyone tell me why Facebook messenger not upgrade