Facebook Messenger scores an update, likely fixes login woes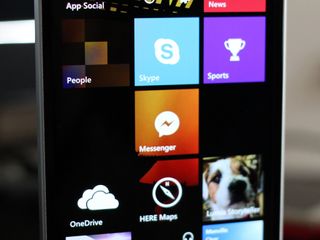 If you were experiencing the sign-in issues with Facebook Messenger that were reported earlier today, your troubles might be over. The app just received an update and, while there's no new changelog, it's likely that it addresses the sign-in troubles.
As we noted in our previous post, the sign-in issues appear to have begun late on Wednesday, serving up a "602 error" to users who were unable to login. Facebook hasn't given any word on the issue, or what is contained in this update, but it's likely it isn't a coincidence.
In any case, hit up the link below to grab the latest Facebook Messenger update and let us know if it resolves your login issues in the comments below.
Update: We now have a changelog for the update, which indicates that messages will now finish sending in the background even if you exit the app, among other changes. Here are the full details:
See when your messages are delivered and seen.
Send and receive messages faster.
See when you're connected or still connecting
Messages you've sent will finish sending even when you close the app.
Fixed issues to make the app more reliable.
Thanks, Thamarai!
Download Facebook Messenger from the Windows Phone Store (Free)
Windows Central Newsletter
Get the best of Windows Central in your inbox, every day!
Dan Thorp-Lancaster is the former Editor-in-Chief of Windows Central. He began working with Windows Central, Android Central, and iMore as a news writer in 2014 and is obsessed with tech of all sorts. You can follow Dan on Twitter @DthorpL and Instagram @heyitsdtl.
Seems to resolve my sign in issues.

I never had any sign in issues. But it did add little gray circular check marks on the side. No idea what they mean.

Omg they're here! Those have been there in the other versions for a long time.
Those tell whether a message is sent, delivered and read etc.

When you scroll up or down, it's clear that the scroll bar was not adjusted for them. They do seem useful though.

did you get a message saying that they are makign a beta for messenger? i signed up for it

I hope that they will add the call button in a sooner update

I never get the issue about the error but after the update it connect alot faster than before.

Or should rephrase seems faster

I thot you wouldn't need a facebook acct to use it anymore

Facebook and Messenger desperately need an overdue update. Windows Phone users have suffered enough!

So what you're saying is if you're not happy with the sub-standard apps, we should just abandon the platform? Clown.

Your English alone is an indication of the level of malfunction your brain is suffering.
Go get fucked Syed.

GET FUKT (inspired by REKT) :D

What's wrong with what he said? Let me rephrase that for you: "Windows Phone users have been suffering for ages because of the lack of updates for Facebook and Messenger." Now, tell me. Where did he go wrong?

So I should get a phone with OS I don't like just because some apps are not as polished as they could be? That's BS, I won't buy Android phone just for a better Facebook and Messenger app...

You could always quit Facebook.

I'm pretty pleased with the Messenger and Instagram apps. I will say that I was kind of worried about the possible responses though. If the apps had been pulled, it would be a very telling and chilling message from developers for the platform. Even if they're on life support, it at least shows that Windows 10 Mobile isn't dead yet.

Can now send messages in the background

What do you mean by "Send messages in the background"?

Probably hit send then press start button before the msg was sent to the server. You can do this on WhatsApp but you can't do on messenger.

It's because its happened plenty of tines with me as I'll be saying bye to someone, I'll exit the app and I'll suddenly get a notification saying "Messenger couldn't send these messages" Or sobering like that. It's because it wasn't able to finish sending messages if u closed The app to early. Which was annoying if it for some reason took longer to and a simple message than usual.

@unknownguns & @Vitor Ferreira: Thanks for clarifying. That hasn't happened to me using Messenger, but I hope they get it fixed soon.

Finally!!!!! It was ridivulous before.

LOL it does.. just use the gifpy for messenger app eh? been using it sicne few weeks now

I hope this also fixes the Lumia 640's connectivity issue. Has that been fixed yet? It is bad.

I've been using it for 2 weeks now and I don't have any connectivity issue...

I got Netflix, group me and Verizon mobile also updated tonight.

Verizon, NFL mobile, shazam, and Hilton

nfl mobile has been bad since that update but lets hope they fix it. video wasnt working but i hope the further updates fix it

They changed the seen icon now it's in circle!

Was just coming to post that I noticed it as well

Seen details has been removed

Good, now we need a real facebook app...andoids and ios are owning.

They've added a new "Seen". There's now bubbles. :P

Come on facebook just release a fully featured #UWP Windows 10 facebook app already. Mostly people who manage groups and pages on facebook do it from their PCs, wouldn't it be easier if they could do it from native app with better notifications and faster/smoother experience than having to use the browser?

They need to improve the background service. My WiFi is always connected but sometimes when I open the app, there are unread messages that i didn't get any notifications for.

I thought that's happening because the bad apps. It's almost 2016, and Microsoft is still struggling with the crucial mobile OS functions, which should be done 5 years ago!! C'mon Microsoft, you expect to be competitive and attract developers, but you have half-finished OS! I just feel like i'm losing my love for Windows phones...

U do realise they are making Win10Mobile right? By what I've noticed, I don't have this problem anymore since I upgraded to it. Even if it's on Insider builds. Remember thou that sometimes notifications won't appear if battery saver is on. Easy mistake to make sometimes

Yes, battery saver mod turns off wi-fi when device is locked. That's happening in previous OS versions, i don't know what's about TP10. But i heard from few wp 8.1 users that they have some delayed notifications in regular usage. I'm still waiting for complete win10, and first impressions.Then i'm gonna decide should i stay with the Windows or switch to the Bugdroid :(

When Will Official Facebook, Twitter App made by Facebook, Twitter comparable to IOS and Android version come to Windows 10 Mobile?

Facebook needs an update also. Feeds are always repeating.

I need actually Facebook app made by Facebook, not made by Microsoft which is nowhere near good and fluid as compared to Ios and Android versions

It's bcus the feed isn't "Most recent" go onto the side menu and press "Most Recent" and it shouldn't repeat :D

What about battery life using this app?

Fixed the sign in issue for me.

They changed the "seen" icon to a more circular with the check being inside while on conversation group, it now shows the profile picture of the person that saw the replies. It looks really small though unlike it's iOS counterpart. At least on iOS Messenger, I can see clearly the picture of my friends but on WP, it's so small and blurry.

No guys, this update didn't fix login issues for me, because I still am using the former version last night when it kind of fixed itself and I was able to log in. The fact is, I'm just about to update just now.

Same with me. However that might be that they have fixed their server? And that the update prevents it happening again? Highly likely this is the case

Is there a different tick sign for seen? Because the messages that hv not bn seen(user was active 20 hrs ago) nd those that hv been, both show the same tick mark!

Yeah I'm confused about that. Is it just for delivered messages?

The earlier version was better, at least we cd see, if the other person had seen the msg or not, maybe they will fix it in next update...

Fixed my 602 error. Very good...

Oh...mind blowing, superb, fantastic. What the hell this is going on! This is like doctor is supplying oxygen to someone who is almost to die. Giving 2-3 small changes every 3-4 months is just like ****. I am really frustrated. If you don't want to support Windows the clearly say that otherwise make it to the level of Android and ios. That's it.

The another frustrating thing is that ms itself hasn't updated it's fb app since long. Is it because of they are really behind Windows 10! So many issues we are facing in the app and they are blowing horns of "universal". I will only make suggestion that "Make better whatever you have, then and then do something new."

The Facebook app is Facebooks responsibility right now. MS only laid the foundation.

But author is MS, not facebook right now...if everyone comes to know that Facebook is now handling that then your point is correct.

Please update Facebook Messenger like version iPhone& Android Can call, video call I need

Still can't register with phone number :-(

Why would you wanna do that?

since it's working on Android and was announced even on windowscentral why wouldn't I? Besides, I'm not on fb ;-)

I find it more easier and quicker than typing my email. Makes sense to use what u find more comfortable with to sign in, me and others find using mobile as username is quicker and more convenient :)

I Hope they fix the hole app someday.

For messenger to have the bigger features like calls and or video, it has to be fast. And from the feel of it, 602 errors, small performance tweaks, everything has to work before those big features can be released. I'd rather them get all the bugs and performance out the way first before a release failure occurs.

This did fix the login issues.

i never had any issues lol

The Live Tile dosent have the text Messenger anymore, just logo now

Plz add call option and android messager update update update

Still no PIVOT SUPPORT... For the Love of God is Messaging app I want big keyboard

Messanger Need Call Upadte :( and Need Offical Facebook app like IOS and Android

I have several Lumias, one android phone and one iphone 5s, and Man.... Wp facebook and Messenger apps compared to android and Ios are just plain shitty .... But not only these apps, i dont think that we have one social app that is comparable to its android and Ios version... Wp social media apps are bad.

Jokes aside, it feels a bit more responsive on my 640, which is great.

I found one thing in this update. The circle tick indicates the msg send and the grey circle indicates the msg delivered.. If the msg is seen then it ll changed to their profile picture..

Hoping for a universal app soon which should increase startup time. Also, They should get on making windows 10 fb app.

There is a change log.....apparently wen a txt is sent there are blue tick..and grey ticks if not

Facebook app won't receive a healthy update until windows 10 mobile is complete. Do you guys not remember that continuum is the name of the game? For those that forgot it goes a little something like this... "Write for one, write for all." This means working on an app for a soon to be abandoned windows 8.1 is futile. Things will make more sense by the end of this year and we would see a new Microsoft born by 2016 onwards in terms of apps and on all platforms working as one in the literal sense of the word. This is something that ios and android can't do since they are mobile specific and not cross platform.

But when we gonna get a good update for fb app

Never experienced login issues but I wish the messenger app was faster. It's very slow to both start the app and send messages. And especially if I compare it to WhatsApp that works a lot faster.

Yea noticed the changelog messages now have send amd deliver blue mark, this is good

Messenger ditched the app name on the live tile. Now it's a plain transparent app tile with the messenger icon at the center.

Seriously i did a big mistake to choose windows phone... Coz developers are not interested in us...They give update every week on Android and Ios but in windows phone they give it after 2 or 3 months later...???Why developers are we enemy of yours or u have any jealousy with us...Or U want we all windows phone users move into android or IOS..If Yess Then Sorry we Love our windows phone coz its smooth as butter and we love it that's y we love windows phone...