Hands-on with the new Facebook Messenger for Windows 10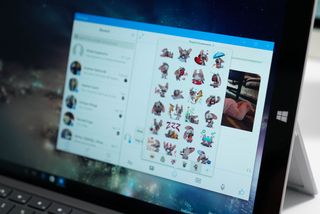 Facebook officially released their Windows 10 app for Messenger on Wednesday along with the Facebook app for PC and Instagram for Mobile. While there are plenty of messaging services available, many of my friends still use Facebook Messenger. I just installed it on my Windows tablet (opens in new tab) and I'm very happy with it. Watch the hands-on video if you want to check it out before installing.
Messenger for Windows 10 comes with many of your favorite features like stickers, group conversations and GIFs. It also has native desktop notifications that make your experience richer and more complete. You also can see when you have messages waiting for you in its Live Tile.
There are a couple of tricks I noticed after using the Messenger app. When you swipe left on a conversation, options appear to let you delete, mute, archive, block, or mark the conversation as spam. Also, if you swipe down in the contacts list, a search form show up on top of the list.
I can use Facebook's Messenger service with a web browser, but the dedicated Windows 10 app adds the conveniences of having notifications and live tiles. What's missing right now is the ability to make voice or video calls. I hope Facebook adds those features in the near future.
For fans of the Windows 10 Mobile OS, Microsoft has announced that a new Facebook app will be "coming soon" to phones. It's safe to assume they mean to include Messenger as well.
Messenger for Windows 10 is a free download from the Windows Store. Go download it now and let us know what you think of it the comments!
Download Facebook Messenger for Windows 10 PC in the Windows Store (opens in new tab)
Windows Central Newsletter
Get the best of Windows Central in in your inbox, every day!
I can do with the current FB app on mobile, but the messenger experience is really a shame. They should bring the mobile apps fast.

It really lags behind in both features and performance. They should indeed do something about the mobile platform. Seeing the release of the desktop version I'm optimistic they may have secret plans.

for me it doesnt lag at all in the pc and does anyone know how to search gifs on this app... i dont see the search bar like on the video up there

So does the app have calling function as its on other platform??

I just want to know, why the hell is the Windows Mobile Facebook app 222MB?

its pretty large on IOS as well

It's 'large' on every platform. Trashes a lot of Mb for all that tracking they do on everything you do.

Even if they ever port it to mobile, the lack of voice and video call kills it.

For me, both the Facebook and Messenger apps are slightly broken. If I attempt to use them in portrait mode on an 8" 1280x800 tablet, they don't resize properly. Some of the items on the right side are cut off.

Under settings go to 'Report a problem' and help everyone else out. :)

Messenger isn't working for me either.
After opened it's impossible to input email/phone and password! #FAIL

It also won't snap on my surface pro 3

What about the theme in chats? And I don't think it has all the functions that Android and iOS versions have. Lumia 730 DS, Windows 10 Mobile.

You're able to change the colors of chats and emoticons, if that's what you're asking. Or at least, others are. I haven't tried to change it myself yet.

Ok, hope it has all other features that other platforms are enjoying.. Lumia 730 DS, Windows 10 Mobile.

I sometimes wonder if some people comment intentionally before reading the article...

I'm in the US, so 99% of my direct non-voice communication is via text message. It's the easiest and quickest, hands down. Only 1% of the time do I end us dealing with people via FB Messenger (and only if THEY initiate it). I look down on use of emoji and stickers and all that garbage and tend to ignore any communications that include them. And, as those have mentioned, the performance of the Messenger app is incredibly slow.

I don't like stickers at all, but emoji I personally find useful to understand what the person means a little more. In life, we obvious hear the words someone says but we also see their face and hear their voice and therefore understand the tone. With emoji, a certain face can allow me to understand better if a person is joking or is genuine, is worried or laughing it off, all of that kind of stuff. Sometimes it can be just spam, but it does have it's uses.

The 70's called and it wants its grouch back...

Understandable (I feel the same way about xbox and all games). But, then none of this FB stuff is designed for you. So, no big deal.

I noticed both the new FB and Messenger lack lockscreen's quick counter. They are crucial, especially on PC where you can't access the action center right from the lockscreen. Now I have to unlock to see how many unread messages & notifs on Facebook. While I'm at it, you can add Skype UWP to the list too, but Skype is still in beta, so I passed it. Bit still, messaging apps like these should have lockscreen counter by default. What's the point of testing for so long then?

Imagine how bad it would be if they didn't fix as many bugs as possible.

Wont even let me use the new Facebook app on my PC, closes saying i need Direct 3D 9_3 or higher :/

Are we going to get Mobile version this decade? :D

It seems that Facebook would've been much better off using UWP and Microsoft's bridging development tools, but they wanted to try to justify some previous acquisition, which simply made more work for their developers and an inferior experience for the customers. Sometimes its better to just cut your losses and move on to better things, which is what Facebook should've done here.

Yeah. This year. Probably in 1/20th of a decade. You're in luck.

I really don't understand why they brought these apps to pc first when they are mobile apps. Pc has a full web browser they can get the full web experience of Facebook And then they say it's full parity to the other platforms when its still missing voice and video calling and the Facebook app is missing the live feature

I feel it is more directed to hybrid computers than actual desktop computers. Like the surface pro series.

Even still those have access to a full web browser

I see your point, but it may still be a matter of tastes. Some people prefer to use touch, and while it is okay to use the web browser version with touch it's not flawless. That's why I like the introduction of messenger for pc.

Relying on web only browser sucks with just a touch screen. So many web sites have big problems with touch and mouse hover menus etc.

Their priorities are indeed mixed up, but I like the messaging app. This forces me to only use chat and not start scrolling through my wall. Additionally, I get a clean UI and Windows notifications when people send me a message.

Many more users on desktop and tablet. It may make sense for phones, yeah, but it's not unexpected really.

A textbook case of theory willfully trumping reality.

It looks like the desktop version takes up the whole desktop. I want that as minimized as possible.

It's not showing any notifications when I get a message even though they're enabled. Typical...

But it's working on my laptop Posted via the Windows Central App for Android

That looks fast. Hope it performs the same on Mobile (whenever it comes, I don't mind)

Looking forward to the new facebook app on mobile. Right now it's really not worth spending time in the app... Posted from Windows Central for Windows 10

We know that it's beta program... Finally it's not arrived... Let's see what we can get from Facebook Posted via the Windows Central App for Android

It's working fine on laptop.... Most imaging the ilke,emotion emoji are working very well ....better then Android... And get notifications faster than Android. Posted via the Windows Central App for Android

It's working fine on laptop.... Most imaging the ilke,emotion emoji are working very well ....better then Android... And get notifications faster than Android. Posted via the Windows Central App for Android

One of the reasons I left Windows Mobile. Even if there is an app, it's light years behind the same app on other platforms, and it's never given priority. Posted via the Windows Central App for Android

I'm exactly the opposite. If a service refuses to bring quality products I just quit using their services. And believe me, not having FB is not as bad as it looks. There are tons of other ways to communicate.

I don't know if the developers are seeing that many of us can't use neither de fb app and messenger app both crashes I've been seeing that others users have the same problem but there is no answers :(

The big question is whether a calling feature will be implemented in the mobile app. If not, then we still won't be on par with other platforms. Sure, the new messenger is swell and I want it on the phone but I want the full deal.

This app as well as the new FB app continue to crash at start up. Anyone have any success in getting around this or a solution? I've tried rebooting, uninstalling and reinstalling, I'm at a loss here.

Not work yet.
Like android ver crash always. Posted via the Windows Central App for Android

And of course, its lacking features. No video calling, no voice calling.

Please add video calling feature Posted via the Windows Central App for Android

Not sure why but after installing the new Win 10 FB and Messenger apps, when I open them, they come up with the spash screen and logo then close immediately. Anyone else having the same issue? And is there a fix? Have tried uninstalling and reinstalling but getting the same problem, can't even log in to the app

Same here Lumia 730 DS, Windows 10 Mobile.

I'm not sure if this helps but you could try to run CCleaner and then the Registry Cleaner feature. Might help :\

@DougJapan, usually those tools do more harm than good.

How "evvin" difficult can it be for MS and FB to put together an app that actually works? Facebook and Messenger ARE NOT rocket science. And, if they are, get rocket scientists to build them. Question: did FB an MS get rid of "smiles" in this version or did they just hide them realy, really well?

There is an icon in the chat for the stickers. But I assume you mean the standard smileys. I've just turned on the taskbar 'touch keyboard' to insert standard smileys in the mean time. Right click the task bar - 'Show touch keyboard button' and it will appear just beside your time. Not ideal but you may like it.

How do you start a group? It says you can in the above, however the video does not address it.
Windows Central Newsletter
Thank you for signing up to Windows Central. You will receive a verification email shortly.
There was a problem. Please refresh the page and try again.