Facebook app for Windows 10 Mobile out of beta and now officially released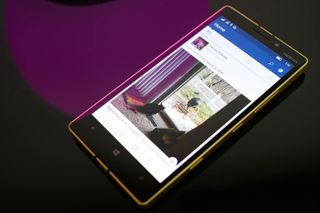 After a few weeks of beta testing Windows 10 Mobile users can now download a version of the official Facebook app that's been made specifically for that operating system. Windows Phone 8.1 users can also get an update for the Facebook app as well.
For Windows 10 Mobile phones, the version number is 10.1, while Windows Phone 8.1 users still have the old version number of 8.3.7.0. There are no new published change logs with this updated app so if you notice anything major, please let us know in the comments and we will update this post.
For those on the Facebook Beta for Windows 10 Mobile, technically this official version is newer. However, the beta is likely to continue to get updates and features ahead of the public version. As such, it is your choice if you want stable and public or a more cutting-edge experience with the beta program (you can also just install and use both).
Thanks to Jeffrey for the tip!
Download Facebook for Windows Phone/Windows 10 Mobile
Windows Central Newsletter
Get the best of Windows Central in in your inbox, every day!
Now I just need Twitter please.

Nah, Just get Aeries better than Twitter on the PC/phone....or web site by far...

or Tweetium :) Works a charm on my L930 and SP3 :)

Nope. Token based apps will expire eventually. None are as good as the real client in terms of consolidated notifications anyway

Appreciate the efforts but useless... It still redirect you to mobile website for necessary.
They just made it look universal for windows Phone 10. Nothing Great! Please make this Totally independent from browser then I'll again appreciate.

Doesn't look to follow the windows 10 design language. Looks almost same as the windows phone 8.1 version.

The old one has become dysfunctional now and cannot be uninstalled. Also cannot sync contacts.

Will people on fb beta wp 8.1 get it?

nope you have to uninstall the Facebook (beta) and install the one from Microsoft named Facebook

thanks :) I was wondering why I couldn't get it to work.

I still get the same old app with the 2.6 star rating (which is probably too optimistic)

they are still missing features like: -Reply to comments -cant take pictures within the app -cant add links to status -"add activity" option is missing -watching a video dosent show related videos -No browser support within the app

I just noticed that I got a notification for a friends activity (this was running with some Nike app that sends notifications) and when I clicked on it in the W10M notifications it opened it on the website in Edge, not the app - in the Desktop mode no less, since currently Edge can't display the rich mobile site.
This app is just as pathetic as the old one. This is seriously what will be available for the most popular app in the world on the new flagship phones from Microsoft? Un-freaking-believable.

Yeah. Edge on phone has serious issues with displaying mobile sides.... Really want internet explorer back. Screw universal apps on this one

It really is a shame, and a slap in the face for the users!!
Every time new and "improved" fb app comes i install it, see it's stil just the piece of stu..d, unusable s..t that it was before, and delete it again!!
Luckily, i've seen this thread so I won't even install this one!! Is it so hard to make an app that doesn't NEED to use web browser for anything usable?? It's EASIER and FASTER to use browser from the start, you can even READ and RESPOND to the MESSAGES, and not be forced to use ANOTHER app just for messages. That way i only use ONE app-EDGE browser, and not THREE apps. Luckily, we can pin ANY web page right to our desktop/start screen!! :-)

This is still by Microsoft. Wonder when actual Facebook app will come

Facebook is only valued about 300 or so billion. They don't have the money to waste on Microsoft platform apps.

They are making one. Currently there's a closed beta of the desktop one. It's an ios port using islandwood.

Wasn't there just an article saying it wasn't a port and it was only (temporarily) sharing the icons? Posted via the Note 4/Nexus 7 (2013)/Lumia 1020/Lumia 2520

nobody knows anything about it

It's the real thing on the desktop, Facebook said it themselves.. They said that it will be out "soon"

Friend of mine was lucky to get the beta, and it's really good. Hope this comes not only to desktop but also to mobile.

This is not the win10 app by fb. Still say made by microsoft corporation.

Can anybody tell me about the performance of this app on Windows Mobile 10?

Its pretty superb with slight delay on opening seperate posts.

It's fine but it's slow at opening...

Works great for me. Lots of negative comments but it's no different to Beta.

For me it crashes quite often. I'm on Lumia 635. The overall feeling of the app even on a lower spec device is that its faster, the crashing part is annoying... Maybe its like this on lower spec phones though

When I had FB many moons ago the app for WP was horrendous. Hopefully its up to par with ios and android counterparts

nope. still isn't. probably won't be for a long time to come.

Maybe the new upcoming hardware will help...

From what I understand, Microsoft doesn't make the FB apps for iPhones and iClones, only for Windows...so the problem lies with them being made by 2 COMPLETELY separate companies. Ya dig? ;p

Yeah, fb should step up and take over. They're too lazy I guess.

It's an app from Facebook look it up.

Should be....didn't they announce that "partnership" at the press announcing all the new devices?

Yes, they did and this is the actual Facebook app.

It is not. This app is from Microsoft.

I want the html5 integration back.

Well this is the same old stupid app in different dress

Ehm.. Not really? How isn't it? It's still miles behind the ios and android app.

Imho, its a big step from the Windows 8.1 app but it still has some ways to go.

How exactly? What does this one do that the 8.1 app does not? I'll give you a hint; one word, begins with N, ends with othing. Or am I missing something?

Well, it doesn't send me to the mobile site when I click on notifications. So that's one thing but more like a bug fix than feature.

Sends me to the Desktop site.

Yes, it is. Just the same app with a new Interface. Not good enough.

Sounds like lipstick on a Pig.

They did add some new features so it isn't exactly the same.they added actionable notifications from the action center for events you are invited to, continuum support, better contact/calendar syncing with force sync, and updated push notification. Not a huge amount of new features but it isn't exactly the same app.

Nice! It doesn't sync friends with the phone, though.

That's the first thing it asks to do after logging in.

It syncs People app with the Facebook app. What do you mean?

FB removed that feature but it does with poeple.

Go in to settings then tap "Connect Facebook with Windows"

Out of topic :
" WINDOWS DEVICE RECOVERY TOOL " also got update today..

Out of topic: I like turtles.

Yeah came to tip you guys. Hehe

You didn't even take the time to read the title properly.

I read man... but i don't have 8.1 anymore, but my friends have, my question hurts you ?

Taken from the article you totally read:
"For Windows 10 Mobile phones, the version number is 10.1, while Windows Phone 8.1 users still have the old version number of 8.3.7.0.​"

Don't know why people are downvoting Corvodin's comment as he's absolutely correct. FernandoDB comes into an article with the title saying "Facebook Windows 10 Mobile Released" and asks about it being available on Windows 8.1...

Windows 10 can't be as good as 8.1 ever

And 8.1 can't be as good as 7 either.

And 7 can't be as good as 6 either... 9 was the best though. /endSarcasm

Elegant fast functional people hub. Those were the times.

Yeah. And nothing is as good as Windows 95.

95 come on it's all about 3.1

3.11 windows for workgroups was the best ever! Time to run some coax cables around the office.......

Throw me a t connector and I'm in.. BUT what about NT?

It's all about NT 4.0. The rest isn't good enough.

Windows 95 Rocks ! :) (it did for it's day)

That beeper though. Beats everything.

Already is and it isn;t even released yet.

Windows 1.1 is same as Windows phones 10 :p

Good improvements over the last official version, but still lacks lots of features.

not an avid facebook user, what features are missing?

Reply to comments and automatic video playing I think

Keep getting it can't refresh after update. but exactly same app. But with windows 10 fonts, and menu's.

Lol! Lazy ass developers.

Hey, they made efforts to change the version number from 10.0 to 10.1 and also removed the "Beta" word too.... :P

It looks a lot closer to the iOS app now (Or closer to the version I last saw on my wife's phone). The hamburger menu on the right throws me off, so used to it being on the left

So technically Facebook won't be releasing the mobile app only pc UWP

Ok cool...what about windows 10 mobile RTM? Will we get it before christmas? -.-"

Hopefully this week since 950 comes out on the 20th

Is it thanksgiving yet? I haven't even heard the bird...chill, lol ;p

Not necessarily, unless you join the Windows Insider Program, in which case yes. - It would seem unlikely it'll go out to ALL existing phones quickly. Once you have Windows 10 Mobile on the device you can opt out of future insider builds. I'm sure when the "RTM" happens Windows Central will do a nice article showing how you can get it right away and then stay on the mainstream consumer release schedule (I hope they do anyway, it will be the quickest way for anybody who wants W10M on an existing device to get it)

Anyone having trouble with syncing contacts in this version? Also can't open posts to groups. And now I can't revert to the old one, dammit...

Awesome. Can you reply to a thread with this app now?

Nope, you can still only like a reply.

Then why all that excitment?


Because it is fast, it looks great, it has a lot of bugfixes. That's why, it is a good remake of the old one, now let's hope they add the few missing features, I only miss reply to comments and I'm fine.

Still excessive spam from the FB team (do you know xxx? and similar), or has this been "solved"?

At least its not coming up in a foreign language...a while back all my notifications and email messages were coming through in German! rofl =p

Hahaha. They released that version... Ffs I had my hopes up for that app. Knew I should not have bothered!

The biggest update. Change the version number and portable with windows 10 with minor tweaks. Thats it Posted via the Windows Central App for Android

After upgrading on Windows 10, now I have two facebook apps on the apps list, while I can access the last version, the "first and old" facebook app is still in there as a second app and I can't uninstall it.

One thing of note, it supports continuum. Reduce the DPI scaling on your device and you will notice the UI changes to accommodate the greater screen real estate.

So that means using 950 this app will turn into a PC version on a bigger screen?

So... There is still a "real" UWP app in the works right? Like, this isn't the app Microsoft talked about back in October?

Facebook could very well build their own app soon...and stop letting MS take all the heat. I think Mark is just too laid back lol =p

Fonts are too small. Otherwise seems to work well.

Still slow at loading comments even when there are no comments but it's a step in the right direction now bring the new Messenger, instagram, wwe network and windows central apps

I hope they fixed the horrible timeline

So yeah, same crappy timeline issue as it was in the beta - mine goes from 21mins ago to 4hrs ago. At least it looks pretty...

You saved me asking a question. I have W10M 10581 and I tried the Beta app, but the 'Most Recent' newsfeed would show only 7 new most recent stories, then the next one would be hours prior. I know there had been more new posts than was shown though (as I compared the news feed in Beta app with Facebook website on my laptop). I reported via the in-app feedback, but obviously they haven't fixed it. I'll stick with the version I already have, until this issue is resolved.

This time ppl can't complain about long waits
App released before the OS
:)

Can you reply to comments? That is the big difference I see in Facebook app. I have to use the web app to reply to comments.

Well that sucks, then. Looks like it is still way behind! I guess Microsoft is still developing it, not Facebook.

It's been super buggy for me..hope this addresses most of the issues

Well, the live tile won't update now and the contacts won't sync

the old fb app sticks in the list of apps, does not work, and cannot be uninstalled

WTF? I want ONE UNIVERSAL APP for Mobile and PC from Facebook, not Microsoft.

This doesn't look like the iOS port... :/

If this ends up being the app they spoke about in October then talk about false promises.

Another junk, half baked app.
Typical windows app. Posted via the Windows Central App for Android

What about the Beta of Windows 10 desktop Facebook app??
Still waitin' the release...

Something I thought would never happen...OMG. So far better than the Non-beta version that has been up, but, need to fully beat on it for a few days to know for sure...

So.. now we have 5 versions of facebook? (WP8/W8/W10 beta/W10M beta/ W10M)

Doesn't show facebook banner on live tile. Or does it ???

I hope they'll update the app to better fit the Windows 10 Mobi design language a bit.

I hate that the store has beta apps and production apps. I wish there was a switch in-app like Windows 10 Insider builds. It's a pain to switch between the two, especially with two factor authentication!

How can it be the official Facebook app, when you go to install it it says Facebook Microsoft corporation?

Since Facebooks mobile site stopped working in Edge on my phone, I really want this app to come out...

facebook mobile is not working on edge, facebook beta didnt pick up links in-app for the most part (videos work in-app though...), now the regular facebook app does the same... I got NO choice but to look for other FB apps from other devs in the store... this is just sad...

also, pinning groups to the start screen is useless because it just opens the regular news feed, not the group's feed...

Yep, FB on WP is a mess right now. They need to fix this, now.

Good app few bugs but inline videos are great.

Is this the recompiled iOS app thats been rumoured?

no, it's really just a tarted up version of the 8.1 version

Seriously! How is that possible?

Still cant view links but can see videos within the app. What's worse though, still can't view and respond to threaded comments which makes the app worthless for meaningful interaction beyond viewing the basic news feed. Come on, Microsoft.

But it's still a MS published app. I'm waiting for the real UWP, published by FB. I suppose we'll see that when the PC version is available.

Fb messenger, you are next.

uh oh... I was using the Beta for events and contacts sync and the old regular app for everything else because the beta was totally failing at showing comments when accessed through the notifications... hope it now works better! :/

Interestingly enough if you go over too the Facebook for android. And read the reviews for that people are still complaining and saying that's rubbish! I guess we'll get a clearer picture if their is still a new app to come. When they release the pc version.

I imagine/hope this is just a temporary app to ensure W10M users have a Facebook app to use until the full UWA is finished

This app are really shame! Do MS really think that these shitty apps are enough for people to switch from ios or android?

Facebook is a multi billion dollar corporation. You really can't blame Microsoft for not delivering the best Facebook app for windows when it isn't even owned by Microsoft. They just created a basic app for Facebook so you can at least get on there for basic daily usage. If you want to be upset that Facebook doesn't have an awesome app for windows maybe you should direct that to Facebook itself. They can definitely afford to put out something amazing for windows pc and mobile. Don't see the point in getting mad at Microsoft for not making something that Facebook should of made long ago.

So much better that old app.

How do I find this in the store? I just see the old app which I already have installed on my W10M device. Anyone got a direct store link to it? Thanks. Ian

Not quite sure how we, WP8.1 users, can get this update. I went to the store and I didn't see my "view" button changing to "update" on FB's app page. I'm not getting this. I do have the latest version for WP8.1. Does this mean that if somebody on 8.1 didn't update to 8.3.7.0 will get the 8.3.7.0 with W10M version interface or what?

It's for windows 10 (when it actually releases, it did not release today) once it does you'll have to upgrade to Windows 10 mobile when you can to get it.

Same with me, M too on 8.1, and store didn't show me update, however the app last update date is 18/11/15

now where is my instagram app

Does this update enable you to reply to people directly? That's mostly the only feature I look forward to.

This update doesn't exist. But in the beta, no it did not.

my windows 10 mobile store keep give me the 8.1 version

Me too, no update and the version is 8.3.7.0 I'm on windows 10 mobile build 10581

Hello I am Using windows 10 phone TP 581 :/ But can't download the new version . I've uninstalled old FB version then download from store but not change It has 8.3.7.0. version ..

Same problem. Just installed the new build and I'm unable to get the new FB App :-/

I didn't got any update for Facebook but got for other apps

HI guys, I am not able to get the official FB app, the version shows 8.3.7.0 which is 8.1, i reinstalled from w10 store but still the version is 8.3.7.0 can anyone help me in getting the FB app for W10M....

same here sometimes it shows late may be after an hour or two

Either somone was on some really good crack or MS already pulled the app and replaced it with the old One, because that's all that's in the store now.

Nothing changed for me. Bullshit I call that !

Checking out the store for the update I still cannot see anything, still the same old version of Facebook, anyone with a better idea how to get the update? Have uninstall the app trying to install again

Still on 8.3.7.0 on windows 10 crap... No update found on store also..

When would windows10mobile release...??

I can't see it in the store. Why?

Can't see the update either. I'm on build 10581. FB still on 8.3.7.0

It still has problems loading comments fast even on a 5GHz wireless connection. Sometimes when i`m on cellular data it`s impossible to post a picture from my phone. The news feed is outdated... i still see things that happened the day before. Mostly i use the browser version of FB but that`s kinda slow with the loading. WP might be great OS but for Facebook is a total disaster, nothing really functional about it. People`s app in Win 10 is broken compared to the one in 8.1 . It loads the previous feed and after that it loads the current one .. everything related to FB is slow or clunky on Win 10 ... Btw is there anyway to make Win10 open a Youtube app instead of browser when you click on Facebook YT posts ?

I don't have this version available in the store, on my 930 with the latest w10m build. Still the 8.1 version.

Official buggy to:)). With every app that updates i feel i'm in a more beta stage. May windows 10 mobile be more snapy then before(not by mucj) but is still slow and buggy, so buggy i need 30 minutes to write all the bugs:))). I hope the official release will be on par with 8.1

Really buggy. Not recommended for daily use.

when we'll get update for lumia 1320 ? abt W10!

Great !! .. But why isn't Facebook updated for Windows phone 8.1 yet ????

this new fb app is just like the old they just changed design, no new features and its not even close to fb apps on other platforms

On the store there is the old version. They pulled out from the store the new one?Updates? From win10mobile

Calm your tits, guys! This isn't the universal app that facebook promised to us. Microsoft just updated this app to fit into W10M world!

There is no other app in the windows 10 store apart from the 8.x version. Even though I am on insider preview I am unable to upgrade to 10.1 version of Facebook.

I may be missing something - I am only seeing the old version of the non-beta app no matter where I go. I have the Beta and stable, only the Beta is the new look and feel?

lol i just took my phone to 8.1 fresh then did a mobile 10 upgrade via insiders and installed the new facebook app.2 days later after fresh install i havw 16 apps all part of the phone faileing downloads and installs, Its sad that this is still a issue, its sad that its been a issue in insider since the start and its even sader that microsoft cant sort it out in 14 months that they have had. Here is a list of the apps that show up in my store and will not install or download but they constantly show in the store. Ps they are on my machine and work so whay are they showing up in store? Microsoft photos plugin(instaled 3 times sucessfully but still reapearing lol.) These dont even go past the download, Lumia selfi lumia help and tips mixradio extras and info lumia beamer here maps device hud lumia cinemagraph nokia account? here drive network servises transfer my data lumia storyteller app social rate your device motion data. 14 months to stop these showing up in the store or at least work properly, 14 months microsoft. I know its insider but come on. Im geting a bit fed up with the snail pace of progress and even degration like this. My phone is a lumia 930 and last week it only had motion failing(i saw that as progress lol.) . 16, 16 app updates all showing and failing is not a good sign.

i think i might do a review on you tube and hilight these issues.

I think MICROSOFT no more interested in WP10 OS...
And one thing MS time is now Your Android app porting app is fail but don't worry u have IOS option....DO something Other wise U haven't anything for crying....!!!
The Success Of The OS is WELL DESIGNED APPS and Only APPS...

Why i cannot find the update :/

I can't find the new version either.

because, it is removed by microsoft, might it happen error :(

why on build 10586 i get the old app? and cant update to the new app ?? WTF ?

UPDATE THE THREAD TO SAY IT WAS PULLED!!!!

I have the Windows 10 installed on my Lumia 640 XL. But i can't see any new version of Facebook. I tried to update but it always say that no updates are available. I also tried to uninstall the app and than re-install it but it is still on Version 8.3.7.0 of Facebook App. How can i get this new one? Can anyone help me on this please? Awaiting

This is misleading. Your link still takes me to download page of v.8 in the Store. Wasn't your "update" made prematurely?

Live tile is not working here... Facebook 10.1 does not show the current cover picture, as previous versions (8.3.7.0 and 10.0) did. :(

Facebook contacts and events sync not working properly. Contacts sync works if you go into facebook and sync manually, but events doesn't seem to want to. FB version 10.2.1.0 on Lumia 950XL, core build 1132.6 app version 1.0.10
Windows Central Newsletter
Thank you for signing up to Windows Central. You will receive a verification email shortly.
There was a problem. Please refresh the page and try again.