Facebook for Windows 8.1 gets a massive update for Thanksgiving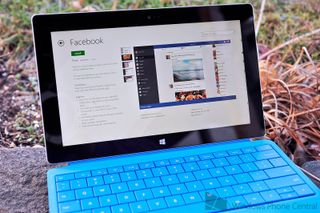 Following on the heels of yesterday's momentous update for the Facebook beta app for Windows Phone 8, its Windows 8.1 counterpart has also been bumped with some significant changes.
Last updated on November 13, this new version will sure to make many happy as there are slew of new changes and fixes for the popular social networking app. Let's see what's new!
Facebook for Windows 8.1
Tagging
Improved Live Tiles
Set windows profile pic when you upload a new profile pic
Download and upload files from messages
Download and upload photos from messages
Upload photos to a specific album
Choose and set your cover photo
Choose and set your profile picture
Use your profile picture as your Windows account picture
Add a secondary tile to go directly to messages (choose this from the app bar in messages view)
This release also includes many bug fixes
We're not regular users of the app, but we're going to take a wild guess that all of those new features and improvements will go over hugely with you folks. From improved Live Tiles to tagging, this feature-set update should go a long way to addressing complaints from users that the app is still lacking.
If you haven't received the update, head here to the Windows Store (opens in new tab) to grab it now. You'll need to be on Windows 8.1 to use it, but that shouldn't be a problem.
So how is it? Let us know in comments!
Thanks, BernNutz, zafehouse and Salman M., for the tips!
Daniel Rubino is the Executive Editor of Windows Central, head reviewer, podcast co-host, and analyst. He has been covering Microsoft here since 2007, back when this site was called WMExperts (and later Windows Phone Central). His interests include Windows, Microsoft Surface, laptops, next-gen computing, and arguing with people on the internet.
Nice can't wait to try it out later

Really massive; Dialing the fire force to lift the laptop off my lap!

While I like Facebook messaging directly in WP8, I think alot of people would like the ability to pin a messaging tile especially if it was a live tile

Confused. You can pin a live tile from the FB app for WP8 that goes directly to messages.

In latest WP beta release there was on screen tip letting you know you could pin messages to start.

This app should be on WP8 and everyone will be happy.

The Beta App for Windows Phone released yesterday is really good.

I agree, but still leaves you wanting more i.e. Your notification preferences are ignored. Even if you chose to not have notifications for messages, it notifies anyway. If you pin a group live tile and FB app live tile, you need to clear notifications individually, just clearing group doesn't clear app tile. Lock screen notifications sometimes don't sync and clear when you open and close app.

I would like to be able to choose which album to put photos in on WP too...that would make it super! But have in marked 'sent by mobile' or something.

still no feature for filtering to your 'favourite lists' :/

It is available from the biginning.! Or I misunderstand u.?

Windows 8.1 Facebook app has it. but Windows phone app not :/

Yeah.. That's missing on WP
I have to keep using mobile web version.

yep. me too. looking forward to having this feature anytime soon ... ;) hope! :D

Much better Live Tiles now.

I liked the idea of the first ones better, tbh.. I don't want random updates on my live tile.. I want notifications and messages there.. (alsmost) like before or like now on WP8

My laptop just won't update to W8.1 so it actually is a problem..

Was your laptop an xp laptop? If so it's normal as 8.1 isn't compatible with XP machines.

That's rather vague and probably incorrect. What's the new requirement 8.1 brings?

More accurately you can't upgrade directly from XP - You have to do a clean install.

Ah, I see. Well clean installs are the best option, upgrading is at best a patch job and there are always issues. Better to start fresh.

No.. My laptop was originally W7 and updated to W8.. 8.1 fails for some reason, everything goes as should except the update process gets stuck whn it has rebooted and is 'configuring'..

This is what fixed that issue for me on my desktop that I updated from Windows 7: http://www.eightforums.com/tutorials/26512-dism-fixing-component-store-corruption-windows-8-a.html

Thank God I have a Windows 8.1 laptop, or else I would be bitching about this app not being available for Windows 7 xD

Better thank the developers first. They did all the work, not your imaginary friend. Just sayin'

Of course because his beliefs offended you so much that you needed to mock them. Smooth move bro, stay classy.

Lol I don't know why you would thank god. He had absolutely nothing to do with it. Like someone else said ... Thank the developers.

At least you used small 'g'... I would have been irate! Stop saying imaginary friend.

I agrew 100 % please lets give credit where its due. Developers deserve it not a figure of anyone's imagination...

Lol, and the religious developers wept.

Nice! Please release an update for internet explorer.

Because explorer is an embarrassment right now.

The metro or desktop? Since W8 got 2..

Metro. Its crashes or freezes every single time with about 30 minutes of use. I have a SP2, so I don't use desktop much. And chrome or Firefox don't have an touch app yet. It really sucks.

How so? Just curious. I find it much better than it use to be, and much better on W8.1 than Windows 7. I also find that installing tool bars to be the root of most IE issues I've had. So I dont install them.

Yep, toolbar is just a mess. I found it really messed up with any browser even for Chrome, or Firefox if toolbar is installed. Even more, I think I never found toolbar is so that useful.

A program called AwdCleaner is a good one to run that will remove all that junk from your system. You can find it on bleeping computer.com. Also I have no proof and its just conjecture. But it seems like any google site (Gmail, YouTube, Google search) all run really slow on IE, while other sites I go to run great. But if you use chrome on those sites they work fine. Are we getting scroogled if we use IE?

Hopefully they've fixed the issue with notifications not 'clearing'. For example, if I look at a message or notification from another app or browser, it'll still say I've got an unread one for ages and it gets my hopes up :(

Now with "Share" option :)

Is it?? I was hoping this feature would come soon. Can't wait to upload it!

Great ! Going to try out when I am back. Out for some errand now. :)

In the meantime, Twitter is dead in both Windows platforms...

My notifications are not coming through on either, just started two days ago.

Twitter for Windows is fine, notification is working as it should be but it's missing many feature like quote tweet.

Awesome update, finally ATTACH!

Glad to see the updates. Is it just me, or does it seem like every Facebook app (whether official or third party) lacks the ability to edit details for an event that you are an admin for. This would be extremely helpful to me... Hopefully this becomes available in the future.

Do you know if this works with other platform official apps? On Android or IOS?

I can't seem to do it on my Galaxy Nexus

Ahh...maybe you should message Facebook on Facebook about it? Or the FAQ's? Would be very helpful I guess!

Most of these features were introduces and then removed in past updates, maybe because of bugs. Nice to see them back. Live tiles are nice now, they keep updating constantly from your feed.

What live tiles? I'm sure I'm missing something. I know the main one of course…

Glad to see an update. Facebook is quite good on win8. Twitter needs an update badly. Needs pivots or at least faster load time. Also, how do updates work on 8.1? I go to the store to try to force an update but I never see a way to do this (like you can on WP8). It appears they update automatically but is there a way to force the update?

Yes, of course. In Store, go to Settings>App Updates and click on Check for updates and it's done. I just did it.

From within the Store app bring up the charms bar and go into Settings. Under the App Updates menu there is a button you can click that will force the store to check for available app updates.

In Store Charms Menu -> Settings -> App Updates

So we have to manually check for app updates? I didn't look at my Store tile for an update notice, I clicked on the link and went directly to the FB page and manually checked.

Normally, you don't have to manually check. The tile notifes you if an updatede is available but that can take some time. To prevent that, you can manually check as described above. You can even turn on auto updates so you don't have to bother, at all.

Daniel, I need you to do yourself and the WPCentral team a favor: TAKE THE DAY OFF! It's Thanksgiving, and I feel the entire team should be with their families! ;) And Happy Thanksgiving to all at Mobile Nations.

I'm working, and I expect new WP stories hourly from you guys. I don't think that is too much to ask.

I have to work tonight at UPS since I'm Next Day Air! But we all need a break too man!

It needs to get more languages.

Wow messages tile looks weird, never saw facebook using that icon before.

It's the new Messenger icon. It's been used for a while on iOS and Android Facebook Messenger apps.

It's the new iOS7 look were Apple invented flat design. It's catching on I here?

They did invent colorful and top-notch gradients. This Thanksgiving I'm thankful for Jony Ive

Please don't forget the PATENTED rounded corners that provide a much more productive and enriching experience.

Seems to also be a lot faster

Well done! Now for a major update for the Facebook app on WP8!! Really wish they can do a major overhaul for the messenger, or come up with a brand new app for that. Right now using ICQ..most stable and functional but still miss messages here and there..

I haven't missed a message notification yet on the WP8 FB beta. I'm wishing I can mute/unmute conversations in app since some of my convos are muted. I still get a tile count for it, though.

Still on the old version. I went to the store, and it says last updated on the 11th.

You have to force an update. It's on the setings charm.

I'm also getting the same

Nice. This is on of the only feature I don't like on windows 8.1. Auto update.

Johnny boy, you know you can disable this right??

While in store, go to charms, settings, app updates, turn off automatic updates & u'r done!

They should make a Facebook beta app for Windows 8 so they can get more feedback and better improve apps on Windows 8!

I actually dislike the way inbox messages look. The font they use for the message boxes and their padding it's like not OK. Looks horrible. That's probably the only reason I still open the web version.

Why am I not getting updates on my Surface, I even clicked the link but it shows no update

Charms- setrings- app updates - check for updates.

Can you play Facebook games on the original Microsoft Surface? Just bought one today for my wife, she will likely only use it for this.

Yes! you can play them if you go facebook in Internet Explorer (not the app). You would play them just like you play them in Windows 7.

Haha... Someone "dislikes" Facebook on Windows... Danny boi, I am looking at you-hu!!

I wish Facebook treat WP the same way

I am not a huge Facebook app fan, I just feel I get so many more options in the web version... and this isn't just a Windows app issue, but apps in general, be they Android or iOS. Twitter on the other hand is suited for an App.

:/ Unfortunate, only Messenger works in snap now. The previous update allowed the News Feed and the rest of Facebook to be viewed in snap. Oh well.

If you snap, more than previous allowed limit, only then it will go into messenger mode. Which is good feature i think!

totally unrelated comment..i thought some of u must b waiting for vlc for wp8.. VLC for win8/RT is being submitted to the store and wp8 port will b released later depending upon winRT base to work correctly..check felix paul kuhne's twitter page(lead VLC developer)

Important tweak, I noticed in this update is, when u click on the top blue bar, it will bring u at the top of the news feed.

Anybody know how to force an update on the live tile so it picks up your FB cover pic for the tile? I get notifications but its been on the same F incon since the update.
Windows Central Newsletter
Get the best of Windows Central in in your inbox, every day!
Thank you for signing up to Windows Central. You will receive a verification email shortly.
There was a problem. Please refresh the page and try again.