Facebook for Windows 8.1 updated with sharing options and more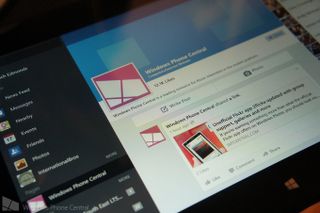 The official Facebook app for Windows 8 has been updated with some exciting new features. If you're an avid Facebook fan, you'll be pleased to learn that you are now able to download photos, as well as send them in messages. Another major improvement is the share charm support, enabling other Windows apps to share content with the social network.
But wait, there's more. Here's what's new in the latest release:
Share post through message or timeline.
Download photos, make them as profile photo or set as lock screen options after opening picture from any post.
Picture messages are now supported.
Location sharing in messages.
Share charm support to share from other Windows 8 apps to Facebook.
Messenger only snap mode if u snap narrower than previously allowed limit.
If you've spotted something else, be sure to let us know in the comments. You can download the official Facebook app (opens in new tab) from the Windows Store. Thanks, Salman, for the tip and info!
Get the Windows Central Newsletter
All the latest news, reviews, and guides for Windows and Xbox diehards.
Rich Edmonds was formerly a Senior Editor of PC hardware at Windows Central, covering everything related to PC components and NAS. He's been involved in technology for more than a decade and knows a thing or two about the magic inside a PC chassis. You can follow him on Twitter at @RichEdmonds.
And the facebook beta for wp 8 still behind.

I think Facebook for 8.1 will be the same as wp8 when they merge wp8.1 and w8.1

It must be reversed direction.! Facebook for Win 8.1 should be on WP.! Facebook in Win8.1 is far better even after released few weeks ago.! On the WP side, Facebook app for WP is still CRAP.! Even FB's mobile web has more functionality. There is more than 3 years of WP & microsoft just can't develop decent FB app for Windows Phone.!

Can I have some of your punctuation marks? There's a shortage over here.

Anything 4 u, :p !!!!!!!!!!!!!!!!!!!!!!!!!!!!!!!!!!!!!!!!!!!!!!!!!!!!!!!!! Tell me if more required. ;) !!

Seriously, if I can read post, edit, and post statuses, I am satisfied.

Yeah, I also submitted the tip too. :) Those are pretty nice updates. Facebook is doing a great job with the Windows 8.1 app. If only they took over the WP app too. MS seems lost devloping that app.

Facebook for WP still crap as ever, slow as f*** and just overall a not good experience. Cant believe its been 3 years and we're only at the stage we are. How comes the FB team are making so much progress with the Android version litrally around 3-4 beta's come out a week.

How can you possibly think the Facebook WP app is slow? It's superb! Easily as good as the FB app on the other platforms if not better!

Although it is a massive improvement on what it used to be, it is still slow. What I notice is if I am viewing messages and hit the back button, it takes a few seconds to just get back to the previous screen.

I have to disagree with you on this.Facebook on WP lacks so many important features.Its not even on par with web version of it.I don't say its slow but its not what a standard Facebook app should be.Overall its a CRAP!!

It depends on your phone. Its terrible on WP7, its bad on cheap WP8 devices and its pretty good on high-en WP8's. I upgraded from WP7 to Lumia 920, its a night and day difference. Facebook is near perfect on the 920. Only notifications and the live tile have issues but the app itself is fast and smooth, a joy to use.

i have a 925 and its pretty slow

The notifications dont work...

Jay the WP version is very good like you said but somewhat behind the iPhone version. It doesn't bother me because I use the social integration also.

You're kidding right? The WP app is utter horseshit. It's incredibly sluggish and slow. The Windows 8.1 app, even in its first version was light years ahead.

Agreed, except for notifications, its a fantastic app.

I have to agree with you Jay.. I have no problem with wp8 Facebook app.. It moves quickly and smooth for me. I never expect any app to be as good as the website. For my needs wp8 Facebook app suites me just fine. I would say the only problem I have is with notifications but my email keeps me informed.

No notifications (I lost all hopes about notifications to work), No smiley support in messeges, Not be able to see stickers / smileys sent to u in messeges No favourites list news feed support, No way to edit post, commments. Can't unfriend Slowest FB App on any platform!

Can't share to specific profile Can't tag friends.

... and more! Don't show all posts. Don't show instagram posts The time format on old posts should be 24h or at least show AM/ PM If you have a Page you can't publish in the name of the page etc etc etc

Unfortunately my experience is different. If I compare it to my friends using the iPhone app WP's app is much slower. I wouldn't say the WP app is terrible, it's ok, and has certainly improved. But it still needs a lot of work. For example: - Notifications
- Missing posts in news feed
- Messaging limitations e.g. stickers (they don't even show up if someone sends you one), not auto refreshing, no 'seen' status etc
- No images in comments Updates seem to have stalled. The last major features were added in August.

No is not. Tapping on comments or pressing Back has some kind of weird lag happening. And it is missing custom lists which other platform already have. Not to mention that Facebook messenger require manual refreshing, while other platforms just update the chats by itself.... Facebook for WP is really really miles apart comparing to Android / iOS version. Frustrating to use it.

No is not. Tapping on comments or pressing Back has some kind of weird lag happening. And it is missing custom lists which other platform already have. Not to mention that Facebook messenger require manual refreshing, while other platforms just update the chats by itself.... Facebook for WP is really really miles apart comparing to Android / iOS version. Frustrating to use it.

It is incredibly slow compared to Android and iOS. It's fruastrating that after so many "performance improvements" updates, but they haven't fixed any of these issues. It's embarassement that after three years, Microsoft and Facebook still can't deliver an on-par experience with Android and iOS.

Indeed. What puzzled me is as Facebook released an official version for Windows 8.1, yet WP8 is left out which is not a new OS in the market at all. This really show how pathetic WP is when comes to getting attention from the developer communities.

WP app has late or no notifications lags and freezes from time to time so yeah its way behind from other platforms.

I had a chat with my friend yesterday with the Facebook Beta app, and the app tells me that I have new messages long AFTER I have read them already. In fact, he sent about 10 text messages and I only had two notifications that were delayed.

Lumia 1020 regularly get cant access data message

I often find myself preferring the web version than the app we have. Only using the app when I want to send a picture.

Does anyone know how to upload an album or even a picture in the app? I've pressed and held, looked for a + sign, but I can't find a way to do it.

When you are looking at your newsfeed at the top hit the Photo icon to the right of status. Or if you hit the status button to make a new post there is a camera icon in the window that opens that will allow you to add a picture.

Curious, when is the surface 2 and surface pro 2 review going to come out?

Been out for some time now.

It wasn't really a "review". And no video review as well. http://www.wpcentral.com/microsofts-latest-generation-surface-devices-ha...

You didn't say "review". You asked when the tablets were coming out.

Woops, I meant the review, My bad. And I know the pro 2 and surface 2 are out, as I have a pro 2 myself, lol. I edited my comment.

In other words, Facebook for Windows 8 JUST got released.

If you are talking about for devices that are still on regular 8 and haven't updated to 8.1 yet, and Facebook is out, cool. I still suggest 8.1 though.

I don't feel like treating 8 and 8.1 as two different operating systems. We're still in the Windows 8 era, version 8.1

Well the 8.1 version has been out for some time, heck, this article is about it, so why are you saying it has "just been released"?

Hmm, I thought it would be easy for people to understand that, what I mean is that this should be the Facebook app that should have been introduced in the first place. THAT is a Facebook app, the v1 was just a browser when you looked at it feature-wise.

It's stupid the Windows Store won't show what's the latest version number for an app whereas the Windows Phone Store does. I can't even force the app à la Windows Phone style.

yes, you can.. swipe in from the right -> settings -> app updates and then check for updates.

Thanks for the tip!! I was wondering how to force an update because mine said it was updated on 11/5 and I didn't know how to make it update to the newest version.

no problem ;) version numbers woukd be great, tho.. as well as forced changlogs..

Thanks! Gladly to be mistaken :D

Wow, that was fast! I sent Facebook a suggestion to add the ability to save pictures just last week; not kidding. Good job!

So did about a thousand people a few years ago.

Oh com'on! Don't rain on my parade.. :)

They still need to improve share options. For example, right now its better to share with Contacts App, you can chose the image you want in the post. Also in WP8 app, if you share a link isn't the same that if you copy and pase it in Facebook.com :\

After a year of ignorance, they really seem to take this seriously, now! I like it :)

No update for wp for last one month. Did they stop beta program???

They've got nothing on them to update it any further.MSFT alone just can't provide a decent FB app.So be satisfied!!

Facebook still works better in the browser. No need for an app on a desktop OS.

yes, there is! Having notifications is just as great as being able to chat in snapped multitasking ;) especially now, that they've reduced the width of it.

It should have released more language options, like Spanish.

in what way could you possibly be an "avid Facebook fan"?

I use WP's FB beta and I see nothing wrong with it. But then again I'm not a heavy FB user. It's too 2010.

Sweet!! Downloading it on my laptop and Surface 2!!!!!!!!!

+720. Hope it also get better in Windows Phone :|

Thank goodness they fixed the snap view to be narrower.

Messenger snap is awesome. Meanwhile on WP, you cant even copy from the chat.

Noticed, we can now use pictures in comments, don't know it is available from the start or not?

Hey people I'm in trouble, how am I suppose to update the app? Since I upgraded to 8.1 I don't see the little number in the Windows Store App. Now I enter the app and no updates, how can I update apps? Thank you beforehand

Open the store, go to setting, select app update and choose check for update. Cheers :)

Thank you buddy, however, I can't find any Settings option in the Store, where can I find it?

The only thing I want is the ability to create albums and upload pictures and then I am happy!

Hire Rudy Huyn, the WP will be finished in a month! Has MS only got 1 programmer?

Rudy is an awesome programmer (hands down!) but sometimes his UX uses are a bit wild for what I feel Metro should be like and what I've been used to. Not that I don't like evolution, which I do!
So having said that, if Rudy were to make the Facebook app for Windows Phone it'd probably end up with a buch of 3D flipping cards ;-)

Where do you see apps you have installed have updates? I don't see this anymore. It used to have a number on the tiel, now nothing?

Sometimes it takes a while. In my phone, there was suddenly 11 updates at the same time.

Open the store and its in the charms menu, app updates.

Loved it! The last time I wanted to send an image through chat, I had to save the image to skydrive and upload it through my phone.
Now that I think about it, why the hell didn't I just go to the Facebook web page??

I have the Surface Pro2 while my wife has the Surface RT. She can't download the Facebook app! WTF! I'm never going to make a Mircosoft Phone and Tablet enthusiast if it continues to stink it up!

Her Surface RT need to be updated to 8.1 RT first. Facebook app is not available for win 8/RT users.

Lol. No offense man, but you sounded like a kid throwing his toys, and screaming blaming everyone instead of reading the instructions manual.

Still touchpad scrolling either doesn't work at all or works in reverse, a'la touchscreen. Which is annoying, since I already have my touchpad set on "natural" (reverse) scrolling, and Facebook app works the opposite way. Set my touchpad to normal scrolling, and all but Facebook app worked like that, just this one was reverse. I'm so sick of this! Also, how about other languages? If they can't be bothered to make an app for THE operating system of the World, why should I be bothered with an app in the first place, since Web is already in my language? Oh, and it scrolls correctly.

I don't know why so much hate on WP Facebook.

Probably because you haven't used the Android or iPhone version.

The iPhone one is not much better.

C'mon. Bring it o Windows Phone already... The one did by MS is really a piece of crap!

I prefer browsing facebook on a browser

Anybody else notice WP FB beta hasn't had any updates in a while? Maybe this is why. Perhaps they're working on many improvements needed in conjunction with Windows.

Then they can just as well do that on the main app branch. Having a Beta is just a pain.

Someone else also still has the bug that the live tile won't update? It shows an old notification that won't go away and also who's online won't refresh in the app. I've had this sinds the first version of the app on my Surface RT..

Touch.facebook.com works better for me than the wp8 app. Similar UI.

People is still better for sharing. FB app just shoehorns the link in a status update, it doesn't do that fancy formatting.

The app finally lets you place photos directly in comments. Source: http://www.inferse.com/10301/facebook-app-windows-8-1-receives-another-u...

There was an update today that removed ALL the nice changes. -No share charm
-No adding photo on messaging
-No adding location on messaging
-No saving photos NOTHING! I wonder what made them backtrack so drastically. I feel cheated. :(

and it seems it's gone, I updated the app. but since then reinstalled windows. now I download it and it doesnt have the small message snapp view