Facebook for Windows Phone 8 updated: performance boosting goodness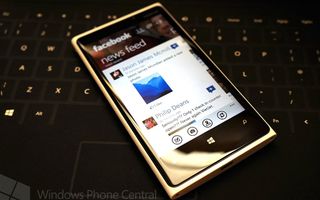 Today sees an update go out for the Windows Phone 8 version of Facebook. The social networking app had been significantly updated for the latest version of the OS and now we reach version 4.1.0.0.
The battle to tame Facebook and shape it into a well-performing mobile app has been a long and difficult road. Windows Phone has always done a pretty good job of it but performance has always been a sticking point. That's not to say Facebook have been very successful mobilizing their website themselves, other platforms have seen some dreadful implementations. Can the latest version for Windows Phone 8 be "the one"? Let's find out.
The user interface on the app hasn't changed at all from what we can tell and to be fair that's not a bad thing. The developers have done a good job of fully utilising the panoramic spread to allow you easy access to photos, newsfeed and your favourites. You have the ability to pin your message inbox, events and nearby places to your home screen as well as utilise photos from Facebook as a lock screen with tons of other stuff thrown in too. It's a very rich app and if you're big into Facebook then you'll be in for a treat.
So what is new? Well, when they cite performance tweaks they aren't kidding, the app now moves along on Windows Phone 8 incredibly quickly. The speed of the app now is very similar to the native OS, very fast and fluid. This is a very welcome change indeed and scrolling and panning are all very slick. When it comes to that all important user experience the app is scoring really highly here, sure there are likely some features of Facebook still missing but that will always be a moving target. For now Windows Phone 8 users now have an app that works great. Yes folks, it could be the one.
We're still unsure why more of Facebook's features weren't just rolled into the excellent People Hub as that would be even better. We suspect that only minimal integration will exist and the preference will always be to brand the experience with the dedicated app. Let us know what you think of the app in the comments below.
You can grab the app from the Windows Phone Store here or scan and download with the QR code below.
Thanks again for the QR code. The lack of notification for updates in the store is getting very annoying.

I get them usually in the evening at 11 PM.

Is there word on why the store notifications are so poor currently?

Take a leaf out of our morning schedule and just sit finding apps in the Store to see if they have un-announced updates. In the meantime we can be your early warning system. :) RB

Noted! Wpc is where i turn to first anyway..so i should quit moaning. Just wondered if it was a known issue (or not). I currently have fewer apps installed on my 920 than on my WP7.5 so it probably figures id see less update notifications...

You can't expect for everyone to receive notifications at the same time. The notification is sent all around the world. If they would send it to everyone at the same time and people would all start downloading the update at the same you would complain that the download is freezing. Normally it takes about a day for everyone to receive the notification, and it's not a bug. It's normal.

Actually, I can expect that, or rather pretty close to it. It's called push notifications. This happens with Windows Updates every month on PC's.

Now that said, I understand that WP is a bit different, and it could simply query more than once per day. There could be a simple "query on open" or "manual check" option. Heck, even the "Check Updates" in Phone Update settings could trigger a check.

It's quite annoying.

it's not about getting them right away, its about getting them at all. my 920 hasn't seen a single update show up via the store tile in weeks.

This is what happens to me as well. I haven't seen a single update on the store in I can't tell you how long. I just went to the store and found some app's with updates... it's frustrating they won't just show me they have to update.

Weird, I get update notifications almost daily, maybe account related in some way?

I'm getting app update notifications the same way I did on WP7, throughout the day, NEVER when it goes live. It checks periodically, just like your computer...

Idk, a day later after getting my 920, I received 12 update alerts at once from the store.
My only issue is that since I have a Windows vista still running on my PC, I don't know if over the air updates will be available whenever there is a new is update(I can't update any current info with my PC because 920 doesn't allow anything under win7 to work with the phone. Which is an epic FAIL)

Me too, I think it is poorly designed, and functions so slowly its barely worth using. (note I am using the WP7 version but I assume as they haven't bothered to improve the app at all for so long on WP7 that the WP8 app has the same disappointing flaws)

Wow... You're saying the app is bad because it's slow, and it's probably the same thing on WP8... Half of the article is about how fast the app is now for WP8...

Did you even read the article, wow...

You don't have a WP8 device yet you feel you can make an assumption. Wow.

Tell us why at least or are you just venting? :) RB

I still don't like it, and I've been using my 920 for a few days now and the only noticeable difference is that its faster. That's it. Nothing else has changed.
I guess it doesn't matter how fast crap comes out, its still crap. I did make the suggestion to them to upgrade the app to be more like the web site as in the form that I can share a pic directly from the app, have ease of access in the way I look for my friends page and pages that I normally look at.
Instead, I'm still having to jump through hoops, make a couple of back flips, set my self on fire and then barely be able to find the right page I'm looking for.
Sure, I can go and use fb on my ie, but in that case, what would be the point of having an app?

You can share a pic directly from the app.

Yeah, I don't think so. If I click on an immage that I want to share that's on the app, there are no option to do so. I can share a pic from my camera or web to the actual FB page, but not through the app it self.


Can we get a way to share post from the app

I am looking for the share feature too. Also, like button under a post instead of a context menu option would work great for quickly liking posts. Just got my 8x. Any tips, cool features?

Is there any chance of a double sized facebook app for windows phone 7.8?? That looks so cool. :(

actually the facebook app has an option for double sized tile on 7.8 but its just blank grey file not even blue with the F logo, may be an update will fix it when 7.8 actually rolls out to devices

Oh really? I haven't noticed that. Thank you.

Yeah, I hope so.

Off the subject, this morning I finally got to dual my Lumia 920 against my coworker's iPhone 5 camera challenge. I'm happy to say the Lumia 920's camera blasted the iPhone 5's out of the water! Best of all, they all agreed. And one of my coworker who adamant that the iPhone's camera was the sadly had nothing to say. Shots were done in a room with good lighting, with flash on, and next together taken at the same time.

You don't seem to use Facebook much (and not only the app) if you're happy with what is bult into WP. Personally I could never live without a separate app.

The app I use mainly to check inbox and for eye candy. Metro does look sexy.

I rarely use the app at all... the only feature I'd feel is "missing" from the People hub is the ability to like comments. Everything else is baked into the OS pretty well for my needs. I don't feel a need to open the app just so I can like a comment though, so I either comment or skip it.

That said, yes, actually I do use Facebook A LOT. A heck of a lot more than Twitter, that's for sure.

I even keep chat signed on 24/7 just so that messages come to my phone without opening the app. I share links from IE, pics/videos from Pictures hub, and that suits me fine.

Honestly, I can't really find something that the app offers that the OS doesn't (aside from certain tagging and liking options).

Actually, the os integration DOES allow liking comments, just not liking pictures people have posted. Took me a while to figure out why some times I couldn't... Very annoying discrepancy.

Huh? Are you using WP8? Cuz on my WP7 Tango updated version I can only like the photos, and not the comments. How do you do it if so?

Still enjoy the mobile Facebook page over any app. And the 'Me' tile for notifications.

Same here, I use the People Hub and Me tile for most things and touch.facebook.com for anything else usually. Sometimes I use the full Facebook site

Does it have the location in the messages yet like the iphone app does?

For sure you can add your location and post a message on facebook with the "ME TILE"

Yes, although I personally HATE that option and shut it off. If I want to broadcast my location, I use check-in.

meanwhile, wp7.5 users are left with nothing.

Yeap... poor thing, we need:
Speed, last commented message up first in groups, polls
That's I think ;-)

No kidding...you don't have Windows Phone 8

The main problem with the app is that notification just don't work. I would like only notifications for messages, but nor this one works.
Anyone know a app that can push notifications that works from Facebook? I will use it only for that and then acess site from the browser.

if it is only messages, just use the native messaging hub with facebook chat. never had any problems receiving notifications for messages.

Logon to FB chat in the messaging hub. It will send messages to you instantly. Set your status to "Invisible" if you don't want people to see you online 24/7, although, I don't bother... I just answer when I'm good and ready.

And don't worry, it doesn't suck up any battery life to do this. :)

Off topic guys, I'm with T mobile and ready to upgrade my Lumia 710. Which do you guys recommend more, the 8X or Lumia 810?

Everyone's different. I wanted the HD screen and beats audio with slimmer profile so I went for the HTC 8X. The way the 810was shaped felt like a brick, plus the mobile reps told me they had like 5 return first day because it was buggy. The 8X has been exactly that for me from second day of launch, no bugs, no random reboots.

I have a Nokia 810 and it's not buggy and I like the shape. The 8x shape looks like a iPhone 5 long and skinny.

8x for HD screen, upgraded camera, sleek design and build quality. Don't worry about Nokia apps. They're not out of this world. You can find what you need in the Microsoft Store. If you're concerned about storage most, get the 810.

http://forums.wpcentral.com/ is where this question should be posted for maximum effect not in comments. RB

This app is still getting horrible reviews in the store as of today. I'm almost scared to update.

There no real significant changes. Its as when they hyped the iPhone 5 to then realize that its just the 4s with a bigger screen and a semi faster loading speed.

The Facebook app on WP is pretty rotten. All the things I have hidden on my normal feed like game requests and crap always show up on the app. The mobile site is the best option for now. Maybe this new version will work better.

Wow! Its way faster. Still shows too much junk in the feed.

Came to post the same thing. My timeline shows all sorts of game requests that I have chosen to hide...so much so that it is pretty much unusable for me.

I started using it and I must say, snappy and fast.

Crashing. Lots of it. L920.

Specifically when trying to "like" things.

Can you be specific on what you're liking? I'm not experiencing that on my L920...

plz update the 7.5 version, for god's sake!

Is it me or the app in the picture is black? Find it way more sexy that the blue version
Also I can't get the large size tile, it's all white. Lumia 920

Hopefully they fixed the background task. It keeps crashing to where it gets disabled on WP8

Who cares about a performance increase... They need to fix the push notifications quickly! A bit of a joke to be honest.

Am I missing something with this app or is there really not a search function? ::edit-> I found it buried under profile/friends. Nice.

I wonder if they fixed notifications? That's my main gripe. They are terrible, and absolutely unreliable.

Didn't Microsoft actually go to fb and pay them to develop this app?

Photo section is bugged, I have one l920 with the new version and one with the old version and the new version when you view a photo it gets glitchy. I then updated the old version and that one also does it

Facebook is no longer listed at all under background tasks after the update. Hope notifications will work from time to time now.

So far it does seem much faster. Also doesn't seem to be randomly crashing out when when in messaging. Now if only the push notifications would be more real time!

OMG I still don't understand why so much moaning .I think this app is great ,it's really fast and it shows all my Facebook content ,only notification system has to be fixed ,but everything else is fantastic.

This just proves M$ don't give a shit about their costumers. WP7.5 still get the slow and glitchy facebook app.

Patience child. Either wait or upgrade to the new and improved wp8.

I keep getting pissed at the FB app when scrolling through my feed. Sometimes it will refresh and kick me back to the top, requiring me to scroll way down again. It's annoying as hell, even moreso when all the blocked games and crap aren't filtered out.

Was hopping in to say the same thing. Every time I look at a post I get sent back to the top of my feed. Notifications Just open the app instead if the post. The newsfeed is faster but the notifications screen is obnoxiously slow. The screens they chose for swiping are unimaginative (why not ur friend list). You can't like a post from the feed, you have to click the post first. The ui is junky and feels like a lot if space is wasted.

Same here, it is so annoying, it has been doing that since the previous update.

Same issues for me! You actually can like a post from the feed, you just have to press and hold the like icon and a little menu will come up with the like function.

This is the best news I have heard since purchasing my 920.
The current Windows Phone Facebook App is just AWFUL in virtually every measurement. I felt it was the weak link in some otherwise STELLAR app selections. Poor touch responsiveness, unable to clear notifications, and buggy. Hopefully, MSFT will not stop here and continue to improve the app until it is the best mobile Facebook experience.

One tweak I found that's nice is when u click the notification icon, then click on a notification, when u hit the back button you now go back to the notification lust so u can check the next notification, instead of returning to the home screen and having to re-enter the notification area. That used to drive me nuts.

Oh wow, did they fix that? FINALLY! I'm still on a WP7.5 device but this is great news for when I upgrade. Thanks for sharing!

been playing with it for about 20 minutes...so far, looks like my notifications are, for the most part, feexed.

Heck yeah!!!!


Thanks for the notification... Unfortunately I didn't see the significant speed increases and the app still has the tendency to scroll to the top of the news feed after commenting on a post.

I wish they implement all this stuff to people hub. You can't even save pics from the app I think.

I found it removed the background task after upgrading. I had to do an uninstall and reinstall.

Come on men WP Facebook app is the best!! I don't know what you al complaining about it..its different from any one out there..i dont use it.true its missing a lot of functionality but it's not bad..it will get better..be patient..

Okay, Mr Ballmer. Thanks for your opinion. lol.

They updated the BBC app to Wp8 today as well

They can update this app all day. Its still garbage. It needs to be blown up and re written!

Installed the update this morning and my Nokia 920 locked up for the first time having to do a soft reset to get it working again. The problem occured repeatedly either crashing the app or locking up the phone while scrolling down the wall looking at the news feed. The problem seems to be a long post with about 413 words in it causing it to crash. The feed reads fine on a pc. Every time I read this post it hangs up. Hopefully someone from Microsoft will get this bug report as it definitely is the long post causing it on my phone at least. The post also has a picture with it of a poisonous spider found in the US for the first time that supposedly killed several people in Florida.

After I post on a friend's status, it still goes back to beginning of my feed. This is a huge pet peeve for me. At least the problem is nonexistent with the People's hub.

It is a lot faster now... I also just switched the front Tile large and wow it is a bit quicker then before as well!

Please do a video to compare Facebook for WP8 performance vs the old version on WP7. Would be really helpful.

I can't find people on searching. Not useful.

Hey guys. What is wrong with the app?. I personally been using it for a while and its been fine

The messaging is also fixed. I was often kicked out while using msg earlier. It is much more stable now.

Personally I prefer the FB Touch app. It has better functionality, and its UI is much better IMHO....

Eh. It still isn't good. It is usable, though.

This update is actually a huge deal. The response time makes this app bearable now.

My big problems with it still exist. You can't follow links in posts, you can't search, and if you open up a picture or status from someone then hit the back button the news feed refreshes and kicks you back to the top of the feed. The speed did improve slightly but that was never an issue for me to begin with.

I hate that refresh, can't open anything without thinking that I have to scroll back... Twitter does the same, I wonder if it's something around the SDK

Wish they would update WP7.x Facebook app but it's good that they are already bringing the MUCH needed update to WP8 already. Well played, Facebook. Well played ;)

Yes its way fast love it everything works good for me.

Has anyone got the banner image to work?

I still don't get notifications for messages (and rarely for anything else). What I would pay for someone to develop a facebook messaging notifications app... And don't tell me 'just use the messaging app' because that doesn't work either.

Fast app but notifications doesn't work

Too bad it still crashes on me. I'd say about once a week it'll just stop working. When I go to launch the app it'll play the animation for launching, then immediately animate back to the Start screen. Only way to fix it is to uninstall/reinstall.

How are you guys only using the People hub? You can't even see who liked your posts. That is basic functionality. Sure you can check each like notification and see which post it takes you too, but that is a ridiculous workaround.

I see my liked posts using the Me tile.

I wish I had more Facebook friends I liked ahaha

this may seem a stupid question, but I've just got a windows phone 8s, installed the facebook app...
how on earth do you post on someones wall??!!!!


how to share a pic in ur fb page via this app...
itz don't show frnds b'day


go to the page where you found friends then search ur frnd open there wall and post there ..

Hi everyone, can somebody help me a little. I have HTC 8S. I've downloaded the facebook app from the Store but i can't log in. The email and password are correct but it keeps telling me "Log in failed, try again later"
If someone is having the same problem or had pls tell me what is the problem.

Thx :)

Life keeps going...love is meaningful and it means something special...but happiness is the key to making your dreams come true...if you dont have love and if you dont have happiness you'll never find a reason to keep living life...but as I said. life goes on...either with you or without you. diabetes mellitus
Windows Central Newsletter
Get the best of Windows Central in in your inbox, every day!
Thank you for signing up to Windows Central. You will receive a verification email shortly.
There was a problem. Please refresh the page and try again.