Facebook for Windows Phone 8 updated: performance boosting goodness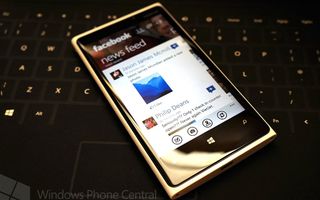 Today sees an update go out for the Windows Phone 8 version of Facebook. The social networking app had been significantly updated for the latest version of the OS and now we reach version 4.1.0.0.
The battle to tame Facebook and shape it into a well-performing mobile app has been a long and difficult road. Windows Phone has always done a pretty good job of it but performance has always been a sticking point. That's not to say Facebook have been very successful mobilizing their website themselves, other platforms have seen some dreadful implementations. Can the latest version for Windows Phone 8 be "the one"? Let's find out.
The user interface on the app hasn't changed at all from what we can tell and to be fair that's not a bad thing. The developers have done a good job of fully utilising the panoramic spread to allow you easy access to photos, newsfeed and your favourites. You have the ability to pin your message inbox, events and nearby places to your home screen as well as utilise photos from Facebook as a lock screen with tons of other stuff thrown in too. It's a very rich app and if you're big into Facebook then you'll be in for a treat.
So what is new? Well, when they cite performance tweaks they aren't kidding, the app now moves along on Windows Phone 8 incredibly quickly. The speed of the app now is very similar to the native OS, very fast and fluid. This is a very welcome change indeed and scrolling and panning are all very slick. When it comes to that all important user experience the app is scoring really highly here, sure there are likely some features of Facebook still missing but that will always be a moving target. For now Windows Phone 8 users now have an app that works great. Yes folks, it could be the one.
We're still unsure why more of Facebook's features weren't just rolled into the excellent People Hub as that would be even better. We suspect that only minimal integration will exist and the preference will always be to brand the experience with the dedicated app. Let us know what you think of the app in the comments below.
You can grab the app from the Windows Phone Store here or scan and download with the QR code below.
Get the Windows Central Newsletter
All the latest news, reviews, and guides for Windows and Xbox diehards.