Facebook is working on a 'dislike' button, says Mark Zuckerberg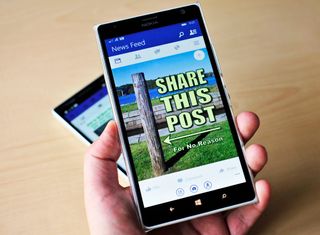 Facebook users have debated for a long time whether or not the social networking service should have a "dislike" button alongside its famous "like" feature. Now there's word direct from Facebook CEO Mark Zuckerberg that a "dislike" button is not only in the works, but it closer to a launch than you might think.
CNBC reports that during an online Q&A session, Zuckerberg had this to say about a "dislike" button for Facebook:
Zuckerberg said that he didn't want such a button to be similar to the "downvote" post feature that's used on sites like Reddit:
Zuckerberg did not offer a specific time table for when or how the "dislike" button would be tested on Facebook.
Download Facebook from the Windows Phone Store (Free)
Source: CNBC
Windows Central Newsletter
Get the best of Windows Central in your inbox, every day!
Great❕.. They can add it to the splash screen on the Windows Mobile/Phone app....

But will we get the dislike feature in wp? It's not certain..

Dislike is not needed ... What we need is a 'so sad' button ..because whenever there is a post about something bad happened to someone... I can see lot of people liking it.. Wait.. Are they really liking it? :p

Uh, that's what it is Posted via my Blackberry Q10 or Lumia 820

Not familiar with facebook(have never used it), this is Greek to me. Facebook doesn't have a dislike feature? You have to like everything?

Like or dislike, this will be the question!

Most needed feature is a way to filter out all pictures of friend's dogs without blocking their non-dog related posts.

I want that feauture, but for babies.

Already exists: http://getrather.com/
(sadly it only works on chrome)

You obviously don't have kids.

Here it is: http://getrather.com/ (need chrome to use it, sadly)

that looks awesome, thanks.

They say that a dislike button on Facebook will double the amount of teenage suicides

This might not go well for some people in my friends...

Yeah, they say it'll be used to express empathy when it's really just going to be used for spite.

Aren't empty, and spite, really just the same....

I feel like it might be confusing. I think it's generally accepted that liking someones post is always positive, even if the situation is sad. On the other hand, a dislike button is much needed for other stuff.

That notion only exists to justify "Liking" something for ads and other attention seeking reasons. It NEVER made sense to Like a post about someone's loss or bad news.

I rather know who likes and dislike my stuff, that way I know who to delete from my friends list that dislike me most.

I don't think that's what the point of this was. It's for "My dog died".

I always hit the like button for that.

Never mind the dislike button but Facebook App on Windows mobile is sure shot dislike.

i've been using my dad's "forever in his drawer" Xperia's Facebook app... and DAMNNNN it's such a diferent Xperiance (sry), like a cloudy white eye hurting day and a starry night. it's so great on android, it's really sad.

Where's that "sorry for your loss" button?

I really hate those posts.. We also have lost our loved ones you know

You hate when someone posts they lost a loved one?

What are u getting mad at? I don't understand your deal here.

Why not rename the like to respect? It could fit both purposes!

Just gave you some respect. :)

Because on facebook there's everything BUT respect. That'd be like adding a "virgin" button in a brothel.

What do they need to work for that? Just invert the 'like' icon and rename it. :D

They are acting brand new, like MS, with this one.

Exactly what I've been saying. Open source code, CTRL+F "btnLike", add "btnDisLike", copy code over, done.

First thing I will dislike is the wp app

Like, dislike, hate... Those are the 3 we need on fb :)

"Despise", "burn it", "wtf did I just read?" XD

I'm waiting for the "Meh" option

that would be fab. sashay away


How about "Here's your fish, troll somewhere else?"

What about on somebody's father died post people click 'Like'????

Sadly the WP version wont be feature complete, so you'll only be able to "disl" posts, the rest will be coming soon...... :)

Coming soon with all features! *in small text* to only android and IOS.

This isn't going to be used well...

Yes! Now I can do some damage!

Will it allow you to dislike facebook itself?

So we'll see this feature implemented into the windows phone version in 2017 then. Seeing as how 'comment replies' have been around forever and we still don't have them on Facebook for Windows Phone.

I dislike Facebook. Is there a button for that?

Yup, the uninstall button on your phone

Some people are so touchy.

They should add the F button

And we thought getting hyped about a product launch was insane, now we are launching a "dislike" feature. And for what I understand it should say "I feel you" not "dislike"

So more nonsense sometimes I don't like. Make sense

So finally facebook decided to move all user to instagram forever!
And go for a long trip!
By shutting Facebook down

If you actually read his post, it's not literally going to say "Dislike"... it'll probably be customizable by the person who posts the status update.

This will cause alot of bullying.

I can't wrap my head around cyber bullying. It's horrible and causes great consequences. I don't get it, and that's on me. I've always just unfriend people that seem like jerks. I grew up before the "social networks" were popular..so, I guess I have different mentality.

"Working on a button" really! and they have some of the best talent around that hilarious.

How about Facebook work on something useful like a fully functional app for Windows Mobile users!!!

Sadly the weather forecast hasn't predicted any flying pigs. So I doubt it. I mean how long has Facebook been around? I think if they was going to make a decent Facebook update for wp, they've have done it years ago sadly

You would think they would remake Facebook as a "Universal App" and have feature parity but we all know that isn't going to happen any sooner. Not like I really care too much, I mainly use the Messenger to keep in contact with people so it doesn't really bother me.

How do you "work" on a new button? Surely with the staff they have they could get one implemented in a couple of days. Posted via the Windows Central App for Android

Good. Facebook will get even more toxic and start destroying itself from within,

How about giving us WP users a f-ing working app..

So, Reddit? Expressing empathy? Lol, more like starting wars with people. Dis gon be good! Although it did always feel strange "liking" a post about a death, etc. I mean, I don't like it but I want to say "hey, I get it and am here as a friend." Sure a comment can accomplish that easy enough, but sometimes a quick click for an acquaintance works best.

A quick click doesn't really express empathy no matter if it's like or dislike. They should just add an " I took time out of my life to read your post but won't waste my time by writing a comment" button, no need to like or dislike since a button doesn't convey an accurate opinion and mostly I think the like button is used to show somebody you read their post.

What about a "Fuck off with pictures of your kids" button or a "I don't give a shit where you're eating dinner" button.

Hope not. If you don't like, simply don' LIKE it.

That's good, I like sharing news to friends without actually sharing it to my timeline, which means I like it.. But when its something sad which I want to put out there I feel uncomfortable liking it.

I can't wait, I can finally hate.

That's just going to cause a lot of shit

Facebook app on windows mobile sucks bigtime...cant even upload pics...and we have the best camera phones outhere...big dislike

And no, a sad face button doesn't count.

I see misunderstanding and discord. Perhaps even outright hostility. It will not be used for the most part in the way MZ seems to envision.

Yesterday i also commented on this sukerburg's session. I asked him that when facebook is going to launch the official app in windows platform? And then i was banned from q&a session page.. Such a coward mark suckerburg..!! He's really not having the courtesy to answer simple damn question. Wtf!!

Whoa they banned you for asking that?

Facebook is Working Only For Android AND Ios Not for windows phone lovers...Thats Y we Didn't get a major update from past six months...

They should better be working on a new universal windows app... :/

So if i post a sad thing, people will dislike it? Isn't that cruel ? :D

This feature should not be added. It will cause so much controversy. There is really no use of a dislike button. Just like when you see those amazing YouTube videos with millions of likes and 30 dislikes and people are like, why?

This feature will come to WP in 2025.

"The best dislike button is to not use Fecesbook at all." - anonymous internet user of a news site

Can we get a fail button while your at it?

I wish there was an auto-pilot mode in Facebook that would like and comment on posts so my friends and family don't complain when I didn't like that picture of their breakfast. I find Facebook a total waste of life yet due to social pressure I'm forced to be on there at least for an hour a month.

This means facebook is dying.

Do you want teenage suicides? Because this is how you get teenage suicides.

Can we dislike the dislike button?

Share #wpFACEBOOKupdate #Lumia #Facebook #Microsoft #Windowsphone https://www.change.org/p/microsoft-facebook-in-windows-phone-needs-updat...

#wpFACEBOOKupdate #Lumia #Facebook #Microsoft #Windowsphone #WindowsInsiders #Windows https://www.change.org/p/microsoft-facebook-in-windows-phone-needs-updates?recruiter=372750732&utm_source=share_petition&utm_medium=copylink