Fan-made video shows why you should switch to the Nokia Lumia 920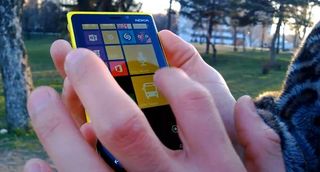 There's nothing we love more than to see consumers create their own media to promote the platform and smartphones they use. There have been a number of Lumia Switch Pitch videos created, but one that caught our attention is by the YouTube account benurfi. Titled "Benji_SwitchPitch," the video goes into some detail as to why the Lumia 920 is a good choice for consumers.
We'll not go into too much detail, so be sure to watch it and see what you think. It's definitely an interesting way to promote Windows Phone, and judging by how positively the video has been rated thus far, it seems to be the right way to go about it.
So what do you think? Good, bad? Be sure to add your opinion in the thread on our forum.
Source: YouTube
Windows Central Newsletter
Get the best of Windows Central in in your inbox, every day!
Rich Edmonds was formerly a Senior Editor of PC hardware at Windows Central, covering everything related to PC components and NAS. He's been involved in technology for more than a decade and knows a thing or two about the magic inside a PC chassis. You can follow him on Twitter at @RichEdmonds.
Nice video couple apps I didn't know about

I wasn't familiar with Scalado's functions. I'll give it a try now.

Scalado is the technology behind the SmartShoot app. Its also the technology that is powering BlackBerry Z10's TimeShift camera. BlackBerry licensed the technology last year before Nokia bought Scalado tech.
Pretty good video that should probably go viral. Shows practical uses for the apps and humanizes the tech.

Thanks for the breakdown and info Murani.

Ehh its not even in the app market anymore

It's not an app, it's the technology behind Smart Shoot and Cinemagraph.

Wow...best WP by far. Extremely creative.

Not a fan of that genre of music, but very well done!! Great work!!! Shows some benefits of the 920 quite well.

Well if you have the know how then maybe you can make one of a different genre. The more the beter :)

That was great. Needs to be out there for the public.

That was dumb. I would had rather heard him talk about it vs ........well, that.

Well just talking hasn't been very effective. This video is more informative than any WP commercial to date and far more interesting and attention grabbing as well.

I agree to a certain degree. I understand why he decided to do a song, the way he approached it and presented himself is uber cheesy. The presentation of the apps was great and helped me understand some thing's I didn't understand before. But I would not allow that video of that guy in his glorified cheesiness to represent the phone or the company.

I agree it needs some refining. Also maybe have someone like Common perform the commercial and they can allow the original creator to advise on the project.

Yes! Common would be great. On the creator to advise, I would surely hope he would mostly advise on the presentation of apps and features. But that would be it. Lol.

For sometime now , General the destroyer (feel free to look him up on Youtube/twitter) was like the best Nokia advocate online in the 900 launch days even Nokia gave him a free 900 then a free 920 , although Nokia is a very polite company they used a very profain guy to promote , was this video cheesy YES , will kids now like it , well YES and NO , you won't expect a kid (or anyone really) to download this and play it for pleasure its just an adv its not even official which means its hip because its fan made, so its hip because of the extra effort and not because of the lyrics/rapping style or clothing.
I hope you get the idea.

Waaaaaaaaaaay far from it.

Really? Not too far off from beastie boys at all... Old school beats, cheesy outfits, similar rhyme style and delivery... Plus he's white, soooo.... Pretty similar I'd say.

Beastie boys have a very well refined style.
That was crusty the clown cheesy.

See, now I thought it was old school Beastie Boys style too. Sure, its a fan-made, homemade video...but I thought the same thing.
I give him credit for all the work & effort he put in to making it. Its a fun video, good for him!

Don't get me wrong, I give him credit for trying and succeeding to a certain degree.

That's same thing I thought.

That right there needs to be a superbowl commercial or something lol

That was extremely creative! Kudos to the homie!

Amazing! Viral hopefully.

Really nice lol he does present all the best features of the Lumia 920 in a nice way

Very creative. I love it!

Da bomb. Better than anything I've seen so far from Microsoft. I believe, given airplay, this vid could be more effective than the celebrity endorsement ads. This one has a hip factor and a youth appeal that none of the celebrity ads do. Creative and catchy lyrics. There could be a series of these, all with different flavor. See what I did there... reference to the necklace clock.

"Da bomb" "hip factor" This was very very bad. Terrible rapping, cheesy as hell. When the youth is listening to 2 Chainz, Tunechi, and Kendrick Lamar no one would connect to this except old people. Because no one young would think this is "hip".

I wholeheartedly agree with you 100000000000000000000000000000000000000000000%

shame all the rappers your mentioned suck, and get their fanbase from people who will basically listen to anything. this guys rap is much better than the garbage 2chainz puts out. Todays rap has no substance, its just a bunch of money hungry morons who act tough through lyrics they write in a studio. people support this terrible genre of music and it saddens me.

heres an example And when he tells you you ain't nuttin don't believe him
And if he can't learn to love you you should leave him
Cause sista you don't need him
And I ain't tryin to gas ya up, I just call em how I see em
You know it makes me unhappy (what's that)
When brothas make babies, and leave a young mother to be a pappy
And since we all came from a woman
Got our name from a woman and our game from a woman
I wonder why we take from our women
Why we rape our women, do we hate our women?
I think it's time to kill for our women
Time to heal our women, be real to our women
And if we don't we'll have a race of babies
That will hate the ladies, that make the babies
And since a man can't make one
He has no right to tell a woman when and where to create one
So will the real men get up
I know you're fed up ladies, but keep your head up More lyrics: http://www.lyricsmode.com/lyrics/t/tupac/
I'm popular and poppin' dough
Breakfast at Pappadeaux's
Dodging all obstacles
Trapping at the Stop-N-Go
Boy you know you lame if you still riding stop and go
Disect the beat and then I turn it to a particle
Pardon though I'm hardin' though
You should read the article
I'm riding high and dodging hoes
You better hope im dodging your
Model hoes dollar hoes, white looking Madonna hoes Dolce Gabbana, Ferragamo, and the Prada hoes
College ho Zone 3, niggas with a lot of gold
Snoop guard the door
I just love being by the stove
Heres some food for thought, a little food for your soul
Like a comma, I love being right next to O's Lyrics from <a href="http://www.elyrics.net">eLyrics.net</a>

first one is tupac, second one is 2 chainz. when i started listening to rap, rappers had a message, not all of them were positive, some were insightful and gave a sneak peak into peoples lives that were difficult. now everything is corrupted by ignorant fools that think acting like a dummy and looking like a fool is cool, and destroying an intricate art form that people with real talent master and are overlooked because they arent stupid. Sorry lol rant over.

Seriously, lol. You're joking right? he's the equivalent of vanilla ice. Complete garbage by todays standards.

Who tupac?? Your joking right? What standards of today are we talking about? Tupac had messages to his music. There were rappers that really knew how to spit, and your "todays standards" aren't it. Just hoodlum trash. Rappers like biggie smalls, big l, the wutang clan, eminem, dmx, tupac, busta rhymes, big punisher, jay z, dr. dre, snoop dogg, easy e, ice t, ice cube, and cuban link, those are the people that defined gangsta rap. And if you disagree your entitled to but that won't make you right.

I agree people like 2chainz, asap rocky, waka flocka are ruining hiphop/rap music
But there are still artist like j.cole, Lupe, big boi, game and many more constantly make awesome albums.
Don't know what you have against Kendrick Lamar though ? His last two albums section 80 and good kid mad city are dope

Also tech nines label strange music have a solid lineup with mayday's first album and a wreckonize mix tape being dope as too

That was surprisingly good, both in terms of production and getting across the points in a fun way.

That was great! Kudos to this dude

Pretty good.

Of course the part about not being able to scratch the phone is total BS. My wife's phone has scratches and now the screen is cracked. She's like, "I thought it couldn't get scratches or break." Well, it is scrarch resistent, but not impervious.

I found out the hard way the Gorilla Glass 2 is definitely scratch proof. However it is thinner than GG 1 and my first 920 shattered from a basic drop. My 900's both had a minor scratch vut the glass never shattered, and this is after throwing it out of a parking garage (showing off to my iPhone toting coworker).

I was wondering why my glass got scratched. Now I know its because the glass is thinner. That suck that happened to you. Particularly when you did that in front of your iPhone loving friends.

My gf's 920 also got scratches, no idea how. Probably by keeping it with the keys in the bag.

Tragic. Mine got scratched by some miniscule pebble that was stuck on my finger. Didn't know it was there 'til I felt the screen being scratched. Pissed me off so much, I wanted to destroy the phone. I obviously didn't, and I try very hard to forget that my screen is scratched. Not easy at all.

This was funny and it actually does a great job of showing off the 920's abilities

Finally something other than just a person talking in a commercial...or a celebrity that people feel they can't relate to...

Yes it was, I think that was the point, to show what other phones can't do.

Did you guys notice Samsung taking a swipe at Nokia in its latest galaxy 3 commercial?? The one where they finally finished the unicorn game. "so you finally made the 'switch'" says one of the guys.

Ain't nobody got time for that commercial!

Those Uniform commercials are such shit. I must not be in the target demographic. It just tells me what I already know: Android/Samung is a bad joke.

I actually liked this vid! Love the old school is new school feel & style of the video! Props, good job.

Hahahahahaha that was funny

Fantastic as well as catchy!!

Good video... Mentioned all the difference and selling point of Lumia.

Bad artistic performance from the singer.

@Quinn 2013 What is the matter with you? Why so much negativity? You've already stated how you didn't like the singer, why do you continue replying others comments? I thought the guy did a wonderful job and was very creative.

What's wrong with me commenting wherever I want to.comment? Is this guy related to you somehow that you feel I'm insulting you as well? Sorry bro, not trying to be negative.

Well.... I'm sure we are all related somehow, and no I'm not offended, but that is besides the point. Anyone who has read through the comments already understands that you didn't like it and that is ok, its your opinion. I just don't see the need to repeat it over and over, its not like the rest of us are going to change our minds and agree with you. As far as I can see, only a very small portion of people didn't like it.

You're reading to much into it and besides, I can only speculate you're just only focusing on a few comments about him. I bet you didn't even read the other comments I posted that have nothing to do with that guy.

Pretty over the top, but intended to be. Great work.

Beautiful... I could see this on tv, on the right channel.

Just showed my wife the video. She loved it and the first words out of her mouth were "Hey, I want that phone". Then I told her she already has a Lumia 920.

Great video, funny yet to the point about great features of the phone. Need more creative ads like this.

Is this guy a professional or aspiring rapper, because if he is, then I can understand the critique some of you guys are giving him.

Ridiculously AWESOME! I wanna try the dancing Shadow! now that's amazing!


This is the kind of ad that wouldn't work if done my Nokia but as a fan-made tribute it does work. I wish Microsoft would understand that... The beatboxing suits in the Surface Pro commercial was painful to watch.

Marky mark wasn't a clown. Lol

The wired charger at the end is exactly what happens after a night out. Love just putting my phone on its pad.

Hilarious and informative. His rapping isn't meant to be taken seriously so I don't know what's with all the critiquing of his style.

Proudly shared this video on my facebook.

Exactly! its a parody of rap!?, I can't believe how dumb some people are.

This is so funny, and great, to those who say nay, I challenge you to do better. I've seen his Christmas song, and its so funny. 'john cena lunch box' haha

Great vid - the YouTube page says it was filmed on a 920 as well.

I just have to say that video should be on TV!

Saw this vid on PhoneArena's site and loved it. Ha ha watch it every time.

Finally rap makes itself useful and provides a clear message :)

I hate to say it since it's such a cheesy video, but I think this is probably THE BEST promotion of the 920 yet! It concisely anc clearly highlights every standout feature of the 920, something Nokia and Microsoft have failed to do since the very beginning. They've both gone for more creative approaches, which we "in the know" certainly understood and found to be entertaining, but most definitely didn't do much to educate those already saturated with Apple and Droid marketing.

cheeky way of putting an iphone charger cable lol

Should of done a rock video cant stand chav shit lol

Cool vid i need a 920, just got upgraded to 820!!

Say what you want , this guy didn't insult other companies or people much like OFFICIAL SAMSUNG ADVS does.

nice try, good vid, MS should take about how to grab attention with viral media

Dope video! Gotta love him rockin' the throwback Barkley jersey too.

Can't wait to get 920s for my wife and I next month. I just hope AT&T carries over their $100 credit per new contract. I can't dump T-Mobile until April 5th :(

MSFT or Nokia should contact the artist and try to work something out. It's the second best adv for wp (first:Cam Newyon ad) it does a fantastic job of communicating features. Yes it's cheesy but a little cheese doesn't hurt anyone and adv from all of the top companies have cheesy ad campaigns. it does work for better or worse. makes me want to create some of my own .


Hey guys would you please shown some love to my app just launched in Windows Phone Marketplace: https://www.windowscentral.com/e?link=https2F%2Fclick.linksynergy.co... it is like Flickr Simplified!!!!

Lol this kid wants to go to TOSH.0

I give the guy a 100. If you don't like it, make your own. Wear your thickest skin when reading the comments.

Wonderful advertising....
This is just great ...
Nokia must list this video in its main advertising scheme

Ha.. Posted in the forum on 5th March... ;)
Windows Central Newsletter
Thank you for signing up to Windows Central. You will receive a verification email shortly.
There was a problem. Please refresh the page and try again.