FasText app lets you send text messages in fewer taps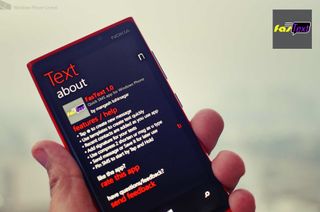 While leading messaging apps like WhatsApp are ubiquitous now and the new ones like Telegram are gaining traction, there are still a zillion texts sent out every day.
If you do frequent texting, but hate typing, FasText is an interesting app. FasText is a glorified alternative to the default SMS/messaging app that allows you to quickly send texts by just tapping one of your predefined messages.
The app allows you to use message templates, shorten your messages, and add a signature to your messages. As you use the app to send messages, you can quickly access the recent contacts.
I quite liked the ability to pin specific templates or a tile to compose a message on the Windows Phone Home screen. The app comes pre-loaded with common messages related to work, love, special days, and festivals. The last update also brought the ability to post status to social networks directly from the compose screen.
Download the free app for Windows Phone 7.x and Windows Phone 8 devices from the Windows Phone Store. It's not the best design, but has an intuitive and functional user experience. If you frequently send text messages, try it out, and let us know how you like it.
Windows Central Newsletter
Get the best of Windows Central in your inbox, every day!
That could be a playa's dream app. When she texts you, just send a fasttxt back. Girly "When you coming by?" Fast Txt: "When I get finish rebuilding this transmission"

You sure you don't mean "Once I finish this lube job."?

LOL @ Lube job. Nice one.

Where is offical telegram app

If you're that frequent of a texter, you probably use it to chat, in which case this wouldn't be too useful

I like the templates but don't see a way to create my own template, or to modify an exisiting one - I emailed support with this question.

This would be much more useful if the user could add/modify/delete templates. I remember having an old Windows Mobile 6.5 phone where the texting app had this. It was a great help to me, since I was able to send a daily message home advising my wife of my commuting status (what train, arrival time...etc.). Since this could vary with the time that I left work, I had several templates, one for each train. Found an app, SMSplus that does just this. I was also able to send an SMS message to my email address instead of a cell phone number. My wife is not on her cell phone frequently, but is usually on her computer at around the time that I leave work.

Hi Neil, As per your suggestion we have added template feature. Create your own template and use it while composing message. We have also provide option share message via email. There are many new features in latest FasText app. Please have a look at them by clicking link below. We would like to have your feedback. http://www.windowsphone.com/en-us/store/app/fastext-pro/95e5c918-40c1-4e76-87ea-f0b6a2c5eaaf

Hi Abhishek, Thanks for the review. Feeling good . New version development is underway and we are launching it soon.

Newer version of FasText App is out now. It is now FasText Pro.