Fhotoroom now available as a Windows 10 app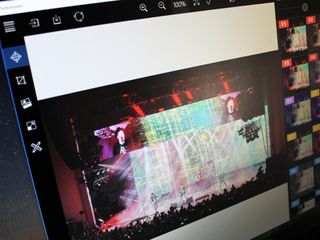 Popular photo editor Fhotoroom has been updated, and is now a Windows 10 app. Fhotoroom will still work with Windows 8, and an update to support Windows 10 Mobile is still in the works.
In addition to Windows 10 support, Fhotoroom added a new blur feature and fixed a couple of notable bugs. Here are the release notes for this version of Fhotoroom.
Border Blur
Fixed AMD processor bug.
Bug Fixes and Improvements.
You can grab Fhotoroom from the Windows Store right now.
Download Fhotoroom from the Windows Store (opens in new tab) (Free)
Windows Central Newsletter
Get the best of Windows Central in in your inbox, every day!
Yes! Best news of the day! Love Fhotoroom. Really looking forward to the WM10 update.

Why didn't they do directly a universal app? Wouldn't it save work?

What do you mean? It's an universal app. They're just testing the Mobile API's (which isn't final yet). Not all API's are universal, theres some specific mobile API's.

@Artur - W10M is not yet released .. May be they are waiting for an official release .. That gives them more mouth publicity ...or may be Zapella is right :)

Thanks. Im glad they updated to w10!

In addition MS has only now had a third party introduce a silverlight bridge and it is very low in priority. This means that for most of us who did silverlight on the phone are left with very few choices and really no useful bridges as of yet. This has left me with the long process of rebuilding the app from the ground up while trying to reuse any possible existing code from both Windows 10 app and WP8.1. We have even tried to fix the WP8.1 app to address some W10M issues temporarily but the exact command used to load the photo library in Silverlight is completely broken in W10M. We hope this will be fixed in the next update before release so we have a little more time to get things right.

Our preset WP app is still Silverlight so the move is very large and our Tablet app was designed to be very different than our Phone app. So the situation is the our WP app has the correct UI but wrong backend, and our Windows 10 app has the correct backend but wrong front end. Lastly although we were technically available on Windows 10, our app was still a Windows 8.1 app that had adapted to the new Windows 10 resizable UI. This release is a true Windows 10 universal platform app.

I usually try not to be "that guy" but FH has been a Win10 app for a while. I think they updated it to new functionality about 2 to 3 weeks ago.

Then don't be. Simple as that.

You are technically correct, but that was a W8.1 app optimized to support Windows 10. This update is a true Windows 10 app so loads faster as well as adapts to your computers screen resolution and scaling unlike how Windows 8.1 apps did.

It is a windows 10 app for at least 2 months

but it is only now a true Windows 10 app unlike before which it was a Windows 8.1 app.

Mabe someone out there is a little smarter than me. I downloaded Fhotoroom to my Windows 10 PC and now my PC froze Now I did something wrong! I tried to open a picture and it wouldn't open, I right clicked, It said search online at the App store, okay I did that, It came up with a program that was called Fhotoroom, so I thought okay, it's Microsoft's App store, pretty safe, not true, it froze my PC. I had to pull the plug. When I was trying to load the app it wanted my Microsoft Outlook account, username/password after I pulled the plug it won't let me sign in with my PC password I have to use my Microsoft Outlook password. When it comes on I can't really touch much if I do chromium opens, then will not shut down, I'm sitting here waiting, tired and screaming flipping mad! Anything I open freezes.
Windows Central Newsletter
Thank you for signing up to Windows Central. You will receive a verification email shortly.
There was a problem. Please refresh the page and try again.