Microsoft wants your car: Fiat 500L gets Windows Embedded Automotive OS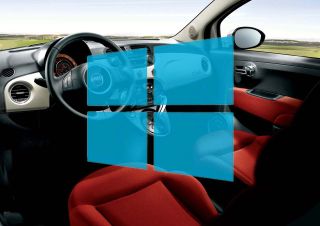 A Windows powered car is not anything new; Ford has been factory installing their Windows Embedded in-vehicle communications and entertainment system, SYNC, with cars since 2007.
Now, six years later, Fiat is getting in on the action by installing a redesigned Uconnect system based on the architecture into their latest 500L model. The Fiat 500 was first produced in 1957 until sales plummeted in 1975; the rebirth of the car, to celebrate its 50th anniversary, was in 2007. To this day, the Fiat 500 is still considered as one of the first city vehicles and as an automobile that truly redefined the term "small car".
The newly redesigned Fiat Uconnect system, running on the Windows Embedded Automotive OS, features a 5 inch touchscreen with Bluetooth connectivity, SiriusXM Radio, and voice recognition support. If that isn't enough, you can upgrade to Uconnect 6.5 which sports a larger 6.5 inch display and provides a dealer-activated navigation system with over 6 million points of interest. Using the voice recognition system, drivers can respond to text message by selecting from a list of 18 predefined responses.
The effort to integrate Windows began ten years ago in 2003; a team of Fiat and Microsoft employees met in Redmond to discuss possible collaboration. The development of the platform began in early 2004 during which, Microsoft developed the hardware and software from scratch. In June of 2005, the project was handed over to Fiat for final production.
Candido Peterlini, director of Product Planning Infotainment at Fiat, stated that Uconnect was a perfect balance of technology and implementation: "We needed a high-quality, upgradable solution, but didn't want a huge processor that would drive up costs. With Windows Embedded, we found the sweet spot."
Are any of our readers sporting a Ford with SYNC technologies or planning to upgrade their current ride to a Fiat 500L?
Source: Microsoft News Center (opens in new tab), The Fire House, Windows Embedded Blog (opens in new tab)
Windows Central Newsletter
Get the best of Windows Central in your inbox, every day!
I have sync in a 2012 Fusion. My only gripe is that Bluetooth doesn't display the song title or any more information with windows phone at least.

Weird. Even my Accord does that (non Sync car too). Then again, Bluetooth cuts short when giving navigation directions. Music is A-ok, but when routes come up it's like "Turn right at Lakeview Ave then...snip".

I had a rental corolla, and it displayed song information from my HD7, but then when i got my fusion, SYNC didnt support it. I hoped that maybe the phone just wasnt as well supported as others, but the same thing happened with my 900 and 920.

It's actually really frustrating becuase if I'm streaming, I have to wait for the song to start playing before I know what it is so I can skip it. Or take my phone out and look, but I dont like doing that while I drive. First world problems.

Still, that really is lame. I mean, I get SYNC may not totally exploit all Windows Phone features, but showing song info is quite basic I would have thought...

I am 900% with you, Daniel.

The Microsoft UVO system in all Kia cars does voice commands, texting and shows the song playing from your windows phone on the in car screen. Works amazingly well, plus Sirius-XM, HD radio, jukebox, USB, 10 speaker infinity sound system.

It actually works really well with android and iPhone, just not it's own software, windows phone.

I believe SYNC is using an older version of Windows Embedded Automotive (Windows CE for cars, basically) and the version i remember reading it was based on was a pre-windows phone version (CE 6 i think, while WP7 was CE7 and WP8 is WinNT/WinRT)

That may explain the issues. Unless they are now using the latest version.Then nevermind.

Android doesnt actually support transfer of track information over bluetooth. Stock Android only supports AVRCP 1.0. You only get track info if you have a phone with Sense/TouchWiz/Some other skin.

What I find ultra annoying is that my 2012 focus with sync and myford touch doesn't even play music correctly half the time. If I start the phone music too soon after starting the car the audio starts and then cuts out every couple seconds and apparently no one knows how to fix it. Lumia 920 (3rd one for various reasons). Worked fine on my hd7 but not 920 :(

I don't have Sync, but I just installed a new Kenwood Excelon head unit. It boasts the latest Bluetooth compatibility, but it also does not display song information when I am playing from my Windows Phone. Also, the voice prompts when using Nokia HERE Drive do not broadcast through the stereo either - not a huge deal since it already has its own navigation, but still disappointing. I haven't had it long enough to experiment much further than that.

SYNC is poorly supported with Windows Phone. Both my parents have new Fords and they have had nothing but problems. SYNC seems to be that one product Microsoft has ignored with all their recent round of product updates.

It displays the song information on my Audi. What's awesome is that it doesn't work as well with Android than with WP8. When using Android you can see the name of the song as well but not for how long it is already playing :p. Get an Audi guys =)

If you have the two-line dot-matrix LED display, it won't display song titles over Bluetooth. But MyFord Touch does display song titles over bluetooth.
If you have a Windows Phone 8 device, you can also play unencrypted songs over USB.

Thats weird, my 2012 Focus displays song info from my Lumia 920.

Try a 500 Abarth, then tell me ;)

Noooo 500 or Punto Abarth are only a 500 or Punto with more HP... 500 and Punto are not good car. Punto is 50% good but 500 is a Panda with a different aspect. Where do you want to go with it? Try an Alfa Romeo GTA... Or also a broken Alfa Romeo... It is enought to forget FIAT :D :D I want Windows on Alfa Romeo!!!

Alfa Romeo has Windows for years... FIAT, like many other automotive companies use Windows (Automoive) for the onboard infotainment (and assuming they also use it for Traction Control etc, since Bosch uses it as well however that might be a seperate circuit).

So basically all the issues we Sync owners have had are being ignored because they had something else in the works? Awesome...

It would have been a great news if there was a tighter integration with windows phone and if it would have used here maps

I wish Chrysler had Microsoft Sync or something other than this UConnect p.o.s. It's so bad that I won't connect any devices to it, even though the car is new.

I would love to get a fiat 500 abarth, but with a baby on the way, it isnt very practical. :-)

Better than older kids who won't fit in the back ;o). I have an Abarth and its awesome, maybe you can make it work!

Trust me, if it was up to me, I would def make it work. My wife, on the other hand... :-)

this isnt even the 500L, but the abrath is very nice i want one as well :) the 500L has 4 doors and is about as big as the new mini coopers from what ive seen so im in a toss up on getting it or not, but i will test drive it! lol

Have used Sync, its pretty good. I would like to install a windows-based head unit in my car... Any out there?

What? I have a new Dodge Dart with the Uconnect 8.4 screen and it works great for me- no issues here.

I have no issues with my Lumia 920 and Ford when using Windows phone music player not Nokia music.

Anybody caught a peek at Microsoft's stock? Tides turning?

I wanted Sync with the big screen in my 2013 Ford C-Max company car. But Ford Europa does not deliver Sync with the big screen in Europe yet. Ford's alternative in Europe as big screen option, is a Pioneer AVIC head unit with custom made dashboard fitting. So I got me a Pioneer AVIC F940BT. And yes, that runs Windows Embedded too. It works great connected to my Lumia 820. All the good stuff including full BT connection including reading incoming text messages.
Also the mapping is done through maps from Navteq, part of Nokia. I'm fully covered :)
In fact many many cars have systems running Windows Embedded. Also most cars, at least in Europa, use maps from Navteq, part of Nokia.
Also looking at the new Pioneer head units, it looks like they are sporting a Microsoft/Windows8 logo as home button.
http://www.pioneerelectronics.com/StaticFiles/PUSA/Images/Product%20Images/Car/AVIC-X850BT_large.jpg

Damnit! I wanted a DeLorean powered by Microsoft!

Microsoft's next new product: The Flux Capacitor! Haha

I have had Sync with my Ford Flex and now I have Sync with MyFord Touch on my Ford C-Max Hybrid. I absolutely love it and haven't had any problems with it. It works amazingly well with my Nokia Lumia 920. I especially like how it reads incoming text messages and lets you dictate a response.

Yeah, the text interaction is pretty nice. But one would expect better overall integration with a Microsoft phone being paired. I think in many ways an iPhone integrates with Sync better than WP8, and that just isn't right.

I just tape a bluetooth to the steering wheel and press the button to access Microsoft Tellme, I can send and recieve text messages without having to touch or look at my phone.

Bluetooth audio with my Audi Q7 works well. Can read and dictate text messages thru the car speakers, tracks play thru the car B&O system well too. Although track listings are hit and miss - sometimes it shows and sometimes it doesn't. BTW, i have a 920

Fun fact: Fiat 500L is made in Serbia :)

Been doing this for years. Anyone else interested in doing it yourself with the car you have now, check out the mp3car website and checkout the centrafuse website.

FIAT has been using Microsoft for a while, the current 500 & Abarth has Blue & Me which is also an MS product that works well with my WP. There were rumors that FIAT was going to use an upcoming Apple product, good to see the stuck with MS.

Really ?? Have to make a call to Sergio...

Have a 07 bravo with blue and mr, wish I could Bluetooth music to it

It was Ferrari who was talking to Apple IIRC? Technically that's FIAT also :) but they still operate seperately I believe.

You'd think Microsoft's own products would work together the best, but that doesn't seem to be the case with Sync. For shame.

Have three Fords with Sync. Wish for closer integration between WP 8 and Sync.

Here is a comment that I posted back in January. The issue is still happens often, but not all of the time, even with all of the latest updates.
"Is anyone having problems with their Ford Sync system after the recent Nokia WiFi update? I have a Ford Fusion with the Microsoft Sync system installed and have successfully used it with various phones and brands. Some of the devices that were able to sync were iPhone 3, 3Gs, 4, Samsung Captivate, HTC Inspire, Motorola Atrix, and Lumia 900. Each phone did a good job with this system and depending on the make, had some limitations that were expected. I upgraded to the Lumia 920 a few weeks ago and love the phone. The phone connected well with the Sync system and did everything that was expected and all was well. Then there was an update from Nokia upgrading the WiFi and other settings.
Now when I try to place a call or have an incoming call it automatically puts the call into 'Private Mode,' which is when one would rather use the device than use the stereo mic and speakers. I am surprised because these are both Microsoft products and it worked well before. Does anyone know a fix for this or can the updates be reversed until they figure this out?".
The only solution for this issue is to uncheck Bluetooth and recheck it. This can be dangerous while driving, so I have to pull off the road :(

That is interesting. I have a 2011 Mustang with 1st Gen Sync and the same exact thing you describe happens. I never even thought to tie that in with the Nokia update but that is about when it started.
My other two cars have 2nd Gen "My Ford Touch" and I do not see the problem happening on that platform.

Why dont they fast track WP8 or Win 8 RT for a car OS?
Every time I interact with my slow ass VW RNS 510 I wish MS and Ford would just dump Sync and get WP8 smoothness in there.

I got an Alfa Rome 159 and it has Blue&Me, which I believe was developed by/with Microsoft. In any case, it seems to work well with WP (Lumia 920). What I haven't been able to get to work (or is not supported) is playing media directly from Windows Phone using Bluetooth. Also, when using Nokia Drive, it doesn't utilise the car's sound system. Only hands free calls seem to use it.

Both my cars have a pioneer AVIC Z140BH in them Bluetooth shows all info song artists ect. 05 escape hybrid, 06 explorer. Nokia Lumia 920 red.

The car in the bottom picture is a regular 500. 500L doesn't look as nice.

I'm going to try to hack this and load Skyrim up in SYNC.

I just picked up the Cadillac ATS with CUE and it displays song titles for most of my music but no album art when streaming on bluetooth. I find this odd because when I make phone calls, the contact picture on my phone displays onscreen so it seems album art should display as well. I have not tried the USB connection for music but I will soon to see if album art displays using that method. OF course the user manual shows a connected iPod/phone and the album art is displayed on the screen.

Just bought a 500L - Easy (yes, it's called an "Easy") built at Fiat Automobili Srbija (that used to build Yugos and military firearms that we bombed during the Kosovo war.) But the dealer didn't tell me the uConnect o/s was a Microsoft product. I wonder why they kept that a secret?


I just bought a 2014 Fiat 500L and the Uconnect system (6.5/RA3) won't pair with my iPhone 4s nor will it pair with my Droid Razr HD.

The system is maybe running on windows embedded but it doesn't support Windows 10 mobile. It doesn't have the uconnect app for windows 8.1 or 10!