FIFA 16 free trial now available for Xbox One owners with EA Access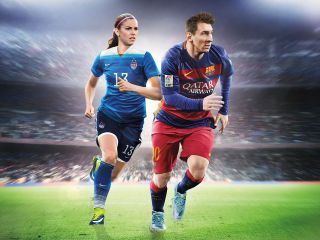 Xbox One owners that are members of the EA Access subscription service can now download and play a free 10 hour trial version of the pro soccer game FIFA 16 several days before the full game is released on September 22.
Publisher Electronic Arts says:
EA Access also allows Xbox One owners to play a growing number of full Electronic Arts games for as much as they want on the Xbox One for the price of $4.99 a month or $29.99 for a year.
Pre-order FIFA 16 for th Xbox One on Amazon (opens in new tab) ($59.96)
Buy Xbox One 1TB FIFA 16 Bundle at Amazon (opens in new tab) ($399.99)
Source: Electronic Arts
I do get the feeling that they want us to pay for demos...

?.... I've been playing since last week. And I don't have EA Access. Wait, free trial vs demo?

The demo only lets you play a game and do a few things in Ultimate Team. The free trial gives you 10 Hrs with the full game, as if you bought it. Nothing is locked and inaccessible like the demo. Try before you buy and have a play with every part of the game. The demo doesn't show you everything you can do in the game.

Who's that rather effeminate-looking guy next to Messi?

That's Alex Morgan, from the US women's national soccer team. She's also a gold medalist of the 2012 London Olympics, was 2012 US Soccer athlete of the year and a finalist for FIFA World Player of the Year.

You can play women's team matches now? That's great.
(I stopped playing FIFA after FIFA 2003 and I don't follow anything on football anymore)
Thanks for the info! :)

Hey is anyone having a problem logging into ultimate team for the first time??When you create your team name every name I select it says that it's an inappropriate word and won't let me use it to make my team. I literally tried to just put in FIFA FC and it still said it was inappropriate I think its bugged or something anyone else having this problem??

They finally have Woman teams!! I don't have a console, but that's huge ☺ Posted via the Windows Central App for Android
Windows Central Newsletter
Thank you for signing up to Windows Central. You will receive a verification email shortly.
There was a problem. Please refresh the page and try again.