Minecraft: Story Mode's eighth episode will end the tale on Sept. 13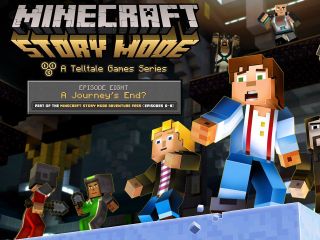 Telltale Games will release "A Journey's End?", the eighth and final entry in its Minecraft: Story Mode episodic adventure game, on September 13 for the Xbox One, Xbox 360, PC, and other platforms.
Telltale's blog states:
Minecraft: Story Mode was originally announced as a five-episode game from Telltale back in the fall of 2015, but the developer decided to launch a three-episode extension in June. You can purchase those three extra "Adventure Pass" episodes for $14.99 if you already own the first episode, which is priced at $4.99
See at Microsoft Store (opens in new tab)
Windows Central Newsletter
Get the best of Windows Central in your inbox, every day!
Minecraft: Story Mode was okay. It had its moments but it wasn't really what I wanted it to be. I was hoping they would use it as an opportunity to flesh out the Minecraft lore--staying true to the game. The entire series could've provided a narrative experience of the game through exploration. For instance, they could've set it up so the game emulated the infamous "first night", followed by a necessary flight from the makeshift shelter that leads to discovery of the various biomes, villages, and temples in actual Minecraft, new to the protagonists, as they piece together an understanding of the world they're in, fight off sieges by mobs and other human NPCs, and eventually they discover portals to new realms--The Nether and The End--all the while they're forced to learn new techniques likes smelting, enchanting, potion brewing, etc. Instead, the game was pretty much just a collection of cliched and disjointed mini stories that had random bits of Minecraft nods tacked on. I think it was missed opportunity, and I hope the Minecraft movie doesn't follow the same path.

Can't wait. Although need to stream episode 7 yet!