First images and video of voice-activated 'Hey Cortana' revealed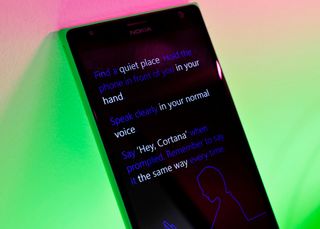 As Microsoft rolls out the Lumia Denim update, one feature those with newer Lumias are looking forward to is 'Hey Cortana'. Based on passive-voice activated technology similar to the Kinect, the forthcoming feature lets users call up Cortana by merely using their voice. The feature works even when the Lumia is in standby with the display off.
The images and accompanying video, shown below, come from the site MSFTPlace who picked up the Lumia Denim update on their Lumia 1520. As they note in their article, Hey Cortana is not yet available in Spanish, so they needed to change to English in order to enable the feature.
In the posted screenshots, the tutorial for Hey Cortana informs the user of how to set up the feature. The individual is instructed to be in a quiet room to train the app to recognize their voice. Once done so, Cortana can be called upon when the device is in standby.
Google already has a similar feature on the Moto X series, but this is Microsoft's first attempt at bringing it to their Lumia line (it is not clear if the HTC One will get it as well). Currently, only the Lumia 930 (Lumia Icon) and Lumia 1520 are known to be able to use 'Hey Cortana' due to their use of the 800-series Snapdragon.
Source: MSFTPlace; Thanks, Gabriel, for the tip!
Daniel Rubino is the Executive Editor of Windows Central, head reviewer, podcast co-host, and analyst. He has been covering Microsoft here since 2007, back when this site was called WMExperts (and later Windows Phone Central). His interests include Windows, Microsoft Surface, laptops, next-gen computing, and arguing with people on the internet.
Yeah, but I mean... Big deal, I already have it...

We need more for the high end people say whatever 1520 has 520 has(software)...that's why people don't go for expensive wp phones...that has to change high end section needs exclusive features...starting with "Hey Cortana"

Same would have been the story for Apple had they made more than 1 phone..!!

That lead picture kinda sounds like Cortana is trying to seduce you lol

She doesn't even wake up when I keep talking like a lunatic "Hey Cortana" - phone doesn't just wake up!

Did you even get the Lumia Denim update? I have yet to get it in the states yet on my 1520.

Yeah flashed DE ROM. Got it as an OTA. Took 40 mins total.

Can you please be more elaborate?

How do you flash your mobile thanks

You have to go into settings, scroll to the bottom and train it!

Samantha from HER is actually Cortana

Samantha's gotta be hotter than Cortana!!

Too bad it is only available for a few high end phones, sucks for the rest of us; way to to go Microsoft. :-\

This is like complaining that the Lumia 530 doesn't get 4K video support. There is a reason, after all, that people pay more for higher-end phones ;)

What about 1020, it is not the cheapest phone

It's two years old, though.

doesnt matter how cheao it is, if the hardware doesnt support it, then the hardware doesnt support it.. jesus.

The Snapdragon 800 chip has a special Digital Signal Processor that allows for features like Hey Cortana. The 1020 could get the feature but most people would disable it because of the massive battery drain it will cause. Posted via the Windows Central App for Android

Years back even NL 910 was a costly affair..!!

I always had a doubt though.
When Denim was announced, the Conversations page stated that "Hey Cortana!" uses SensorCore. So maybe other SensorCore phones will get it eventually?

What is sensor core anyway technically?

Nokia's API for device sensors implemented in their Lumia line. It allows a developer to do specific functions with three sensors while using minimal battery power. Posted via the Windows Central App for Android

Nadeem which country are you from?

I have 1520 and the GF just moved from iPhone to 830 (only choice for her as 1520 is to big). It is real shame that the only high-end phones available in the USA via carriers is the 1520 and ICON. Microsoft is doing a poor job of managing launches in the USA. :-\

In USA..?? Has the rest of the world got like a 1030 or a 1530..!!

I agree, it is like complainnig about that... to an extent. Because the fact of the matter is MS has been pushing so few high end devices (song of this year and last). So a wondrous new feature that only small fraction of the market has. Not saying it can't be that way, but on devices like the 830 and 735, being left with no other flagship sides a re-hashed M8 and last years (with the 930), it's a little slap to some. To some. Anyway, just my personal opinion.

Will it support my Lumia 730

Pretty sure only phones with Snapdragon 600 or 800 SOC have the necessary coprocessor, and if I remember rightly, the Lumia 730 has a Snapdragon 400.

Well, how about this? Shame there aren't any new high end phones. So, with a 1020, there isn't anything worth buying to get it. (unless you want a phablet,and even that isn't particularly new)

Daniel I got an update of 124 Packets on the 5th December & the software release version is.(3058.50000.1424.00x3/8.10.14219.341) which is Lumia denim but on extra's + info it still says Lumia Cyan why is this.
Nokia l625 Uk on DP I'm puzzled why still displays Cyan any ideas

Yes, I agree. The reason we pay more for higher-end phones is so we can still be waiting for the Denim update while other cheaper phones get is first (my Icon won't get Denim til January or February). Way to go Verizon / Microsoft! I feel the love, really I do (sarcasm)!

Buy a better Microsoft phone or leave the ecosystem.

That's fine and all but the high end phones are limited. We need more to choose from.

Lol, it is a feature that need a hardwarr thing, not in Snapdragon S4 (Lumia 920, 1020, etc).

Omg lol yes keep buying $100 Lumia

It's more fair to complain that the highest spec WP the M8 hasn't got it yet rather than the budget devices.

1520 is highest spec phone.

HTC One M8 has a Snapdragon 801 compared to the 1520's Snapdragon 800. So, no.

The 1520, 930, and Icon are identical. The only difference is screen size and pixel density. While the 1520 has a larger screen, the 930/Icon have a higher pixel density.

Agreed M8 is the best WP and the 4th best overall..!!

Complain to HTC. This is a Lumia feature, not WP.

Is there a list of Lumias where this is applied?

Hey Cortana works with Lumia Sensor Core , not the snapdragon processor

no, @MicroWestcoast you are definitely 100% incorrect. If that were accurate, even the Lumia 635 would get Hey Cortana and there is no evidence to support that assertion to my knowledge. Hey Cortana only works on the Lumia Icon, Lumia 930 and Lumia 1520.

Daniel, once again, you sir are correct. It's directly tied to the processor.

If its only tied directly to the processor, does that mean that the HTC One M8 for Windows Phone will be getting Hey Cortana? Or do they need SensorCore and the Snapdragon 800?

It just annoys me sometimes because my previous phones were also the "lower" hardware with no features. I thought the 1020 was a sure phone to be updated with everything.

1020's hardware (except for camera sensor) was old when it came out as the OS at the time did not support newer hardware (plus MS was not clued in on the 1020's hardware design, now that the teams are merged, won't happen again).

Yes no more pushing the limits, thanks God.

I didn't know that Daniel (Nokia switch timing), makes sense.
And may explain to a degree why the camera is not of that quality post-1020.

No matter what phone you buy there comes a time where it will not have the hardware required to support a new feature. I have the 1520.3 which will support the Hey Cortana feature, but I guarantee that at some point some new feature or program will come out and my phone will not meet its requirements.

yep - that's pretty much guaranteed :)

Amen. The 1020 is their last true flagship imo. It's disappointing their hasn't been a successor announced for it and on top of that, no upgrade path to denim. The 1020 is the camera all other cameras are compared against! I've since moved on to an iPhone 6+. I can't be the only one who's felt let down by MS and had abandoned ship as much as it hurt me to do so.

IYO maybe, but the 1520, the 930 and the Icon blow the 1020 away except for the camera. And even the camera in those is fantastic. Those are the real true last flagships.

I totally agree. I have bought the 1020 thinking it is THE high end phone. But this thing is not getting the Hey cortana thing and the 4K shooting. The only feature that should be on this phone , won't be available. What a shame.

Hey Cortana" Voice Activation** – Gone are the days of pressing the microphone button to wake-up Cortana. Simply say "Hey Cortana" while the phone is idle and Cortana will activate. This is possible thanks to the SensorCore technology.

Yeah, that's great...but blogs make mistakes. Once again, show me the Lumia 635 that can do this.

The 635 has SensorCore technology

What are you smoking??? Sensor core technology uses the accelerometer... Why do you think that has anything to do with voice activation?.... Please explain, if you don't mind.

@MicroWestcoast - As I was informed by Microsoft, the "Hey Cortana" feature requires a combination of both SensorCore and an 800 or higher processor. Having one or the other won't give you the "Hey Cortana" feature, you need both. Only the Lumia 930, Icon and 1520 have both SensorCore technology and an 800 or higher processor which is why they are the only Lumia phones to get the "Hey Cortana" feature. This is the "extra benefit" you get when you buy a high end Windows phone. Kinda like the higher end camera, higher pixel density, etc you get when you buy the more expensive iPhone 6 Plus over the iPhone 6. Hope this helps clear it up.

That's info is not from a blog

Please provide us with a link to where you found this then, otherwise it still isn't clear whether this info is reliable or not

So... where is this from?

As soon as the update is complete you'll see. The 635 is the First Lumia to introduce Windows 8.1 and Cortana, in the United States

Maybe SensorCore is used, but it is also processor dependent. Snapdragon 800 processors can handle voice activation while older or cheaper processors simply can't

Quote battle: "...revealed some of the unique new featuresSnapdragon 800 processors will come loaded with, including IZat location technology, UltraHD video and quad Krait 400 cores at up to 2.3 GHz each. That said, we're always keen to save a few surprises for later. If you're wondering what more we could add to the Snapdragon 800 package, we've got two words for you: "Voice Activation"

Go back and look at what those double asterisks are referring to: "Hey Cortana" Voice Activation** – Gone are the days of pressing the microphone button to wake-up Cortana. Simply say "Hey Cortana" while the phone is idle and Cortana will activate. This is possible thanks to the SensorCore technology. ** Available on the Lumia 930, Lumia Icon, and Lumia 1520. http://lumiaconversations.microsoft.com/2014/09/04/lumia-denim-update/

Hey Daniel, I have a samsung galaxy avant with ok google working and it uses a Snapdragon 400 processor. The only thing is, OK Google doesn't work when the phone is on standby.

SD800 series chips are designed to dedicate a low power cycle solely for the purpose of voice activation. Less powerful chips don't have this ability and would drain the phones battery in hours if they tried to. However, once the phone is already in use, it doesn't use much more power to listen for voice activation. That is why your phone responds to "ok google" when it is in use. Some phones also respond when the phone is charging but on standy by. It is all to convserve battery on lower end hardware.

Yes so in the future lower end capable phones should at lest get this while the phone is in use. Trust me its still very useful.

Is it didn't work on standby, wtf it's the point then?

So all or nothing eh. That's smart.

I think the point is, if I have to pick it up to take it out of standby, what is the point of having a handsfree activation...it's already in my hand. I use OK Google on my MotoX now and again when it is sitting in it's stand on my desk, and it is nice. If I have to pick iit up and turn it on, it is no harder to just hit the button.

It's always better to have something, some of the features, on a low end phone than to have nothing. And if Android can do it so can we.

The whole point of "Hey Cortana" is being able to wake the phone without having to wake it first. Kinda pointless to have to pick up my phone, wake it from sleep and then say "OK Google." "Hey Cortana" wakes the phone without even having to touch the phone as shown in the video. Really comes in handy if you are working on something and have your hands full or messy and need to call someone. "Hey Cortana, call (contact) on speakerphone" No need to touch the phone.

Yes but its still also handy in the same scenario and your phone is still unlocked and your hands are dirty, you can still say hey Cortana on your Lumia 635. Instead of going to wash your hands then coming back to unlock your phone then press the search button for a couple seconds to wake Cortana, then tell her your request. I've lived this. Trust me, it is still useful. Why would you not want this on a low end phone. Makes no sense.

Agree that it would be nice to have the ability to activate Cortana by voice if your phone is already unlocked, and that feature might be something Microsoft is working on. But seriously, most Windows Phones go to sleep within 3 to 5 minutes of no action, so how many times will a scenario actually occur where your phone isn't in sleep mode and you need to make a call hands free? Microsoft has a LOT of catching up to do with Android and iPhone and they are concentrating on features that are not only more widely desired but economically and technologically available at this time. More and more innovative features will come as Windows 10 is released as well as newer phones, phablets and tablets with additional features, but for now, Microsoft needs to at least stay "in the game" with as many features as possible on low-end, cost-effective devices. Comparatively speaking, the cost of a 635 or 525 to a cheap android phone around the same price is a MUCH better value considering what you get on a WP comparred to the Android. Low end spec Android phones are slow, laggy, buggy and typically lack a LOT of features compared to WP. But what you must understand is that the "Hey Cortana" feature requires hardware that would NOT be cost effective in a low-end Windows Phone. The 800(+) processors are somewhat expensive and would not allow a lower-end device like the 525 or 630 or 730 to be as cheap as they are. Since Hey Cortana requires these expensive parts, you can't really expect to have these features on a low end device because it wouldn't be cost-effective to build a cheap device with such an expensive processor. While I can understand your desire to have "Hey Cortana" on your lower-end device, its just not cost effective for Microsoft to enable that feature. Now, perhaps they will include "Hey Cortana" once your phone is already awakened as a feature later on, but really, how much more trouble is it to tap and hold the search key as opposed to saying "Hey Cortana?" Its not really that hard to wipe one finger or if you activate the "super sensative" screen, you can easily place a napkin on your finger to press and hold the search button.

The feature I'm taking does not require an 800 snapdragon. It's available on the 400 series snapdragon. So cost would not be affected as I have said, this is currently working on an Android phone with the same snapdragon 400 processor the Samsung galaxy Avant. The snapdragon 800+ is only required for always listening. I can tell you do not own a low end phone. But to those millions of WP users on lower end phones this would still be a desirable feature. When owned my 521 I still wanted the Nokia Camera app even though I didn't have all the features. So try not to miss the point I'm trying to make here. It's not that complex. The feature is still cool, useful, desirable even with limited functionality.

My apologies if I seemed to be "missing the point", but I do believe I stated above that I understand your desire to have this feature. I also stated that I believe this is something that Microsoft is currently working on, and it will most likely be a feature found in Windows 10, as they are already testing Cortana voice activation on Windows 10 technical preview for PCs. Since Windows 10 will basically be one OS for ALL devices, I'm quite sure that voice activation for Cortana will be a feature for all Windows 10 devices, even the low-end phones. However it will still be only the high-end phones that will have the "always listening" feature because of the physical requirements, but what you are asking for, I truely believe will be a part of Windows 10. Patience is a virtue, as even sometimes the high-end devices get the shaft. Case-in-point, the Lumia Icon (my phone). The lower-end devices (928 and 822) are getting Lumia Denim while my Icon won't get it until "early 2015," go figure. I paid more for my phone and have to wait for Lumia Denim until AFTER the lower-end devices get it. In the end though, I will get Denim, you will eventually get "Hey Cortana" and we will all be happy. Heck, I even read where Verizon has publically acknowledged that they intend to show a lot more support and love for Windows Phones with new devices and shorter waits on updates. I'll believe it when I see it, but its nice to hear.

So Anyone could buy a 630 instead of any high end phone, to avail the feature! XD

:), welcome into the MS world.

Don't be lazy. All it takes is a simple Bing search or a trip to the Microsoft webpage to see that it takes both the 800 series snapdragon processor and Sensor Core to take advantage of "Hey Cortana!". Sounds like someone bought a phone without doing proper research and is now butt-hurt because he won't be getting the new features. Figures -- he's a Steelers fan.

It works only with the snapdragon 8xx because it have the active listening feature without being a battery hog.

Mother fucker, I'm a Steelers fan.

You have every right to be insecure, then.

It is directly connected to snapdragon 800 and above. Without it you can't activate while the phone in stand by without draining so much battery. Check the snapdragon website.
They can actually make cortana to listen (on ANY phone) while opening cortana app without the need to press the microphone it would be practical without consuming so much battery as people don't open cortana app all the time.

Correct me if I am wrong but it could be related to the number of microphones the phone has. A quick google search reveals that all these three devices (Icon, 930, 1520) have 4 microphones. Now if I am correct when Moto X was launched with the "Ok Google" catchphrase they put 3 microphones in the device. Two for ambient noise reduction for calls and one for ASR(Automatic Speech Recognition). So I think (I am not sure ) it could be directly related to the number of microphones and also partially towards the snapdragon 800 chipset because I think as you guys said it does have that low power core technology for voice activation.

You might be right but processor is key..!!

Really hope that activation phrase can be changed.

Ditto, it's awful. The rest of the world doesn't speak like chimps.

What does that even mean?

It means once again that North America has succeeded in dumbing down language and thinks the rest of the world has to follow.

In what way though? What do you mean?

What does THAT even mean?

No one knows what it means, it's provocative

http://i.imgur.com/XS5LK.gif

Means one has to talk like Mike brown, rip.

Stop being so ethnocentric.

I would think not. Also what's wrong with the phrase. I think its fine.

Maybe I just prefer something more relevant to my usage? Choice is good.

I agree, choice is good but its better to get it out, working with a default and then think about flexibility and customisation later.

making cortana listen for a specific phrase is sooo much easier and simpler then making it learn how to listen for a different phrase, THEN learn how you say the phrase..

I don't think it's about the choice or not - Microsoft wants the whole feature 'branded', for now at least - so that everyone is walking around shouting Cortana's name - if you change it to your boss's name nobody will be able to associate that with MS. I'm guessing they're putting quite a bit into this, and they want to capitalize on that. They need exposure badly - and I don't think it's that much to ask from us poor MS users :))

I don't say "hey" to anybody, why would I want to say "Hey" to Cortana? Besides, it sounds to much like "Hey Google" which makes me puke in my mouth.

I don't say "hey" to anybody, why would I want to say "Hey" to Cortana?

Think about why they used that specific phrase... I'll give you a minute.

Besides, it sounds to much like "Hey Google" which makes me puke in my mouth.

Since the phrase Google uses is "OK Google", you won't have to worry about throwing up then. Unless you think the word "Google" itself sounds too much like "Cortana" in which case you're probably alone in thinking so.

My mistake about the OK Google, but still don't understand the "Hey" part. It still sounds rude and childish. If I'm able to, I'll just say "Cortana".

It's "ok Google" not "hey Google." Get it straight.

Actually on a Classic MotoX, which was the first device to support it, the phrase to bring up search from standby is "OK Google Now". Has to include the "Now" If the phone is not in standby, you can say "OK Google". I believe the newer MotoX you can have it learn whatever phrase you want. Not sure about Lollipop. I know the handsfree activation is to be there, but not sure about the phrase.

I agree they should allow it to be changed. But really, if they have a different activation command for each language (after all, Cortana isn't the name for the voice assistant globally) then it's not that big an issue. "Hey" is pretty common for catching someone's attention.

I hope this stays a Lumia only feature. Stop giving exclusive features away, Microsoft!

That's stupid. Microsoft can't just tell HTC not to implement certain firmware so they can keep it exclusive. If HTC wants to add it, they can.

No but they can keep certain aspects of the software specific for Lumias. There's a reason why at the time, Lumias had more freedom than Non-lumia phones. I hope they continue to keep this featrure as well as the Moments app and other future apps exclusive to Lumia.

For what reason would this need be exclusive to Lumias? It's a feature that uses Cortana, which is an OS wide feature that is used in many advertisements to promote WP in general. Making it Lumia-exclusive would be very short-sighted of Microsoft. They can't just brag that the HTC One has Cortana in commercials, then cripple the features.

They are also a OEM now and need to give more compelling reasons for people to buy their phones. Google does the same thing with their Nexus stuff, does it not? Google provides a default standard for their OS but they do make things unique and signature for their nexus lines. Giving away exclusive apps like here and even worse, possibly the whole entire Lumia suite of apps to appease the minority and lesser OEMS such as HTC will only devalue/kill the lumia brand. But that's just my opinion. Let HTC do what they are already doing and making their own apps. For once in 4 years, they are actually useful.

That's just dumb. What sets Lumia apart from the rest, is quality build, camera, wireless charging, unparalleled support and an ocean of Lumia apps. Im all for keeping things exclusive but Cortana is an OS feature and a selling point for Windows, so it would be stupid to take that away from other OEMs. With Windows, MS has to work with partners/OEMs on making sure they get the full OS in order to help sell more devices which in turn gets their OS out there. By crippling it MS would practically be shooting themselves in the foot. In terms of competing as an OEM, MS differentiates itself through the hardware as well as APPS that work exclusively with their hardware. The feature isnt even available on all Lumias just flagships and ppl are already bitching about this, despite knowing they chose to pay less for their devices. In the case of OEMs the second MS takes away OS features for competitive reasons they will get the finger, which MS really doesnt need right now.

Hey Cortana*** feature is only available for Lumia phones with SensorCore technology.

Nope actually Daniel said it above just snapdragon 8xx and above devices...630 apparently has sensorcore

I think when Microsoft reaches a specific market share..They're gonna make a single device just like Apple..A flagship every year and concentrate on their sea of R&D..!! I agree with @Superboy Micah but it's not the right time to do so..!!

what your not understanding, is microsoft doesnt WANT to be an OEM, they only bought nokia's D&S division because if nokia left, WP would be completely dead, their long term goal is to get many more OEM's on board and then kill the lumia's (or at the very least turn it into the "surface" line for windows phones)

Oddly, what Google does with their Nexus phones is to not provide the "value added' of their partners. The devices tend to have less screwy features and software, which is actually beneficial. It is sort of like the signature version you buy at the MS store. That said, I think Cortana and all her features, including handsfree activation, should be a core OS feature, subject to hardware capability naturally. The 'gestures' options for silencing, invoking speakerphone, and such, that just came out should also be core OS features.

It may devalue the Lumia brand but it also opens up more options for people wanting to switch to a Windows phone or wanting a change from the Lumia line. The only thing I see them keeping exclusive to Lumia is the OP camera hardware.

You realize who you're debating with right?

The M8 owners are so sensitive lol.

The only sensitive one is the kid who downs other OEMs. Are you being bullied by Samsung and HTC phones? Did they steal your bike?

b..but they stole my spaceship!! ;(

I actually think there are so many reasons to stick with Lumia that they need to make as much available to the OEMs as possible, just to give them a fighting chance.

No the OEMs need to do more compelling stuff. Throwing an ugly case on a phone(A poor man's glance) as attractive as the M8 and some cool speakers is not enough.

I'm not sure how much they can really do... they can't skin interfaces like on Android (thank God). About all they can do is create compelling looking hardware, and support it well. However, I think we all know the money is not neccessarily there to do it right... Microsoft has reasons to do it, but the OEMs need a much quicker return on investment to make it worthwhile. I kind of feel bad for them... it's tough to complete on hardware support and features with the company that makes the OS. I doubt I will ever buy a third party Microsoft phone.

Fully agree with Poddie! ...and yes other OEMs need to step up their game and to give ppl reason to buy their devices but an OS is an OS it shouldnt be crippled unless hardware cant use it (like lower range Lumias) and by having more devices out there that use Hey Cortana allows the system to "learn" much quicker in order for Cortana to improve. Other OEMs CANNOT develop their own assistant nor should they have to spend resources to do so! That would just eat from their profits and at the end of the day MS needs them so ppl have CHOICES. OEMs help MS sell the OS, the OS helps sell the device and OEMs compete in all other areas. Imagine someone who doesnt like Lumia but loves the OS and cortana, that person should not be obliged to buy Lumia just to be able to use Hey Cortana, especially when he is paying for a flagship. Im all for exclusivity and competition but crippling an OS you created to weaken competition would be the stupidest move i have heard of, especially since MS has been trying to sway most these OEMs to their platform.

So you would have WP fail just to make sure Lumias are the best? Because Microsoft won't be building a large market share on their own. And it isn't like they're making high end phones much either these days.

I want this feature on my 1520!

You'll have it soon, when Lumia Denim rolls out for your country/carrier variant. :)

Pretty neat. Now bring on Lumia camera please.

Can't I call Cortana by some other name?

I think they are trying to build Cortana as a brand. Having people refer to the assitant by name is good for that. Everyone knows who Siri is because everyone knows the brand name "Siri."

I didn't really like Hey Google when I tried it, so hopefully I like Hey Cortana.

Is it hey google or ok google?

For awhile it was "okay google now"
Which sounded ridiculous and was annoying to hear.

Microsoft, surprise me by making this work in my Lumia 630. Would be great !

Unless you've found a way to change ur chipset don't go holding ur breath ;)

Yea, 630 has SensorCore it will work.

No, it is only for Snapdragon 800.

If that was true HTC would have it Do you home buddy the is TheLumiaEntourage right here! That's why it's exclusive to Lumia because of Lumia SensorCore technology. FYI Microsoft is switching to INTEL processors

the one CAN have it, it just requires HTC to enable it via firmware update, it only requires an SD800, probably enhanced by sensorcore, running hey cortana on an 400 or 600 would destroy the battery life..

Microwestcoast, fucking look at the requirements on Microsoft's website.

Don't listen to MicroWestCoast. I'm sorry but your 630 won't get it. However it is possible that they could enable it for when you phone is charging or when it is not on standby.

Need to get a 1520 like pronto at least until the next major windows phone arrives

Just ordered mine! Beast phone :)

Am thinkin the same..!! "Long Time,,No New Lumia We See..!!"

My information comes directly from Microsoft. Hey Cortana, works only with Lumia phones that have Sensor Core. Do your homework, I've been. No one told me anything.

You gonna buy me a 930 if it doesn't works on my 630. ;)

Yea 630 has SensorCore technology it will work.

You need to look up what Snapdragon chips have "always listening" because you are flat out wrong about it being SensorCore.

As you see in the video it said hold the up , ad you see it has to sense you doing that then it turns on automatically , its not always on, it turns on when you do the gesture

This guy has no truth! the 630 is not a hey cortana phone!

Dude, you are being a real jerk here by getting people's hopes up. It will not work on the Lumia 630.

It MAY work only while opening the cortana app. Because it won't consume so much battery as people don't open cortana app the whole time. But always listening will never happen to phones other than the snapdragon 800 and above as it is directly related to hardware and battery saving

So you're suggesting that it works on the 630? I'm willing to bet you $300 that it doesn't work lol

Source or it didn't happen.

I'll give u my 930 if u can demonstrate it working on a 630!!!

From the Microsoft Community page: "This is enabled for phones with SensorCore hardware and Snapdragon 800 processors when the Lumia Denim update is installed." Snapdragon 800 processor equipped phones currently include Lumia 930, Lumia 1520 and Lumia Icon." http://answers.microsoft.com/en-us/winphone/forum/wp8-wpcortana/hey-cort...

you lying sack of shit lol

Is there an option to keep the screen locked? It will help band owners too if the screen remains shut.

Seriously! This is needed pretty bad.
Even when I activate Cortana (or Microsoft TellMe before that) with my headset button to play a new song or call someone, the screen always starts up inside my pocket and many times wrong inputs get entered.
MS should give an option to keep the screen off if Cortana is initiated with the screen off.

Turn your phone screen so its not facing your thigh and turn off high sensitivity touch. Your issue should be fixed

Verizon wont get it until 2018

They're getting it early 2015

@daniel, can you (or someone else) write an article about which phones will get hey cortana and why? Thanks!

Here is a link to the Microsoft Community forum. It explains very clearly which phones will get "Hey Cortana!" http://answers.microsoft.com/en-us/winphone/forum/wp8-wpcortana/hey-cort...

Thanks, but I'm talking about the Windows Centrals readers. Readind the comments it looks like it needs some clarifications and explanations.

Half joined after the announcement and half read the article on WC after so many days..Plus there are some dumb asses around..So..Don't bother Daniel&Co.

This is what I'm waiting for.. The most anticipated feature of all time❗❗❗❗❗

Me to. Just said the same to my wife. Matter of fact, I think I might talk more to Cortana than my wife!

Lucky you both 1520 users..!!

Hey Cortana has so far failed for me about 20 times out of 22. It just is a gimmick that doesn't work. Guys you aren't missing anything at all!

+1520 was expecting this to begin with unfortunately :/

At least we have a feature to match Hey Siri and Google now

Feature that doesn't work isnt a feature. Only a touted gimmick.

"Sure it's a feature whether it works or not!" -Samsung
Seriously though, gimmicks sell. Whether it works perfectly right off the bat is immaterial. WP really needs a gimmick to sell phones with.

It might for some time with Oogle and SourApple but not for a low market share Microsoft..!!

Maybe you speak fucked up! Idk, just a thought.

Hi, the speech models for the wake up phrase are tuned with data from native speakers in the targeted markets (US, UK, and China right now). Similar to changing WP regional settings elsewhere, we won't stop you from turning it on from elsewhere, but we also won't promise that it's going to work the way we see it working in the planned markets. -Sandeep (@sp990)

Too bad hey Cortana won't work on Lumia 630

Awesome. Too bad I can't get the 1520 nor 930 in Canada

You cant buy it at any store but you can get it unlocked off eBay, tiger and others for around $500 CAD or less. I have one on Telus in Nova Scotia that is a ATT unlocked variant. It rocks! It will work with all Canadian carriers and get LTE most of the time.

They're available in most countries via the internet.

On the Lumia denim update page it says the 830 will also get hey Cortana .. So i wonder if they have a special s400 in there?

Read it a little more carefully. The double astersks indicate that it's only avaialable on the 930, Icon and 1520. "Hey Cortana" Voice Activation** – Gone are the days of pressing the microphone button to wake-up Cortana. Simply say "Hey Cortana" while the phone is idle and Cortana will activate. This is possible thanks to the SensorCore technology. ** Available on the Lumia 930, Lumia Icon, and Lumia 1520. http://lumiaconversations.microsoft.com/2014/09/04/lumia-denim-update/

just went and looked at the page... they changed it the * notes had alot more ambiguity to them... and it said 830 along side everything else while also talking about how the 830 would not be able to do 4k

I'd refuse to say "hey" to it or indeed to anyone. That's just damned rude.

I'm sure your phone is not gonna get offended!

Even I would not but Microsoft has a point to make here..!! More the people say "Hey Cortana" more is it gonna sell amongst "Ok Google" and "Siri Babe"..!!

Go to lumiaconversations and search Lumia denim update and read the features.

Done. Make sure you pay attention to the double asterisks... "Hey Cortana" Voice Activation** – Gone are the days of pressing the microphone button to wake-up Cortana. Simply say "Hey Cortana" while the phone is idle and Cortana will activate. This is possible thanks to the SensorCore technology. ** Available on the Lumia 930, Lumia Icon, and Lumia 1520. http://lumiaconversations.microsoft.com/2014/09/04/lumia-denim-update/

I'll do it for you: Hey Cortana only works on the Lumia 930, Lumia Icon and Lumia 1520. Source: Lumia Conversations

Daniel, what phone in the US will this be advertised on?? Know of any new high-ends for early 2015?

Ye had been there but still you are feeding wrong info and fake hopes in the minds of 630 users..!! If they had to give Voice Activation to 630 why would they leave out 73x and 830..?? To get negative publicity and cursing from folks..?? So that people buy only the 630 and leave out the 73x and 830..The more profit making devices..?? Ansa that first..!!
And when the Denim rolls out for the 630....And you are not able to activate it hands-free..Ye are in for a treat from many here..!! Merry Christmas Phony Guy

Bring it to the UK already!

If I had to bet they managed to bring it into sensor core which is a fancy name for the low power "co"-processors found in all snapdragons.. And they are not using the voice coprocessor of the 800 specifically

Great! Can't wait to use this in the car!

The New Cortana features works with Lumia Phones that have Sensor Core.

Unfortunately that's not the case. I talked some time ago with Sandeep Paruchuri via Twitter, and he said that Sensor Core has different capabilities on different chips, so only Snapdragon 8xx will support Hey Cortana. https://twitter.com/sp990/status/507592978114686976

Hey @MicroWestcoast. Quick, contact the webmaster of the Lumiaconversations website. If you have information that they don't, they will want to correct the mistake they've made: "Hey Cortana" Voice Activation** – Gone are the days of pressing the microphone button to wake-up Cortana. Simply say "Hey Cortana" while the phone is idle and Cortana will activate. This is possible thanks to the SensorCore technology. ** Available on the Lumia 930, Lumia Icon, and Lumia 1520. http://lumiaconversations.microsoft.com/2014/09/04/lumia-denim-update/

how many people's money are you trying to waste by spouting this trash?

GOD! How many times do you have to be told s800 processors only? Go away. You're a troll.

go away stop getting peoples hopes up

I can't wait to get Lumia Denim

You can. Trust me, you will.

Anyone know if HTC will be updating their firmware to enable this on the One M8?

Nope, Lumia only feature as of now :) Get a lumia if you want it<3

No, it will probably come to the one, just gotta wait for htc to add support for it

It will likely come to the One M8 and the rumored One M9.

Getting excited to use on my L1520!!!

Just "Cortana" would do, the "Hey" is unnecessary, and I don't think "Hey Cortana" really works in my accent. We don't speak like this in Wales. I hope Microsoft customises this for different countries.

Say it how you would say it and it should start recognizing it that way every time....

It's not that Cortana wouldn't recognise me, it's that saying "Hey" before a name feels unnatural and forced in my accent.

So does speaking into a phone in the beginning. You'll get used to it. :)

If England couldn't get us in Wales to drop our own language, Microsoft definitely can't get us all speaking American. We don't say "hey" in this context, and I'm not going to.

Not sure about Wales, but maybe in England it'll be "Oi, Cortana" ;)

Cortana Luv' - what's the weather like outside?

if it was Bristolian: "o'right my baber"!

HTC doesn't have SensorCore technology.

sensorcore doesn't fucking matter

According to Microsoft, it does.

There you have it folks..

I hope they release it for the HTC one!

HTC doesn't have SensorCore technology.

That has nothing to do with it. It's tired to the processor.

quit trying... your talking to a complete moron who probably bought a 630 without resarch and is trying to convince himself and the world that he made a good purchase..

.....he mustn't have SensorCore :P

I think I found out the problem with the extras+info. I've just un-enrolled from preview for developers and I got Lumia denim and again when I enable it I get Lumia cyan

That bug's been known about for more than two months. http://www.windowscentral.com/nokia-lumias-extras-info-update-causes-fal...

I know that the bug is known for two months but has anyone ever mentioned why? Or how to fix it?

No, but 1) it's nothing to do with "Hey, Cortana", and 2) You didn't find the problem.

I wonder what the battery consequences will be for this feature?

If I was super-concerend about privacy I wouldnt carry a device with two cameras and a microphone everywhere I go. The user will have the option to turn off this feature if they don't want it listening for "Hey Cortana."

Sucks that my 920 won't get it but my 1520 will. Awesome

Of course the Lumia 635 can use that feature. That's the latest phone released in the US. Hey Cortana" Voice Activation** – Gone are the days of pressing the microphone button to wake-up Cortana. Simply say "Hey Cortana" while the phone is idle and Cortana will activate. This is possible thanks to the SensorCore technology.

Go back and check what that double asterisk refers to.

Dude, last warning: LET IT GO. YOU ARE WRONG.

You should block this jerk Daniel!!!

Hey Cortana" Voice Activation** – Gone are the days of pressing the microphone button to wake-up Cortana. Simply say "Hey Cortana" while the phone is idle and Cortana will activate. This is possible thanks to the SensorCore technology.

IF YOUR PHONE HAS SENSORCORE TECHNOLOGY, YOU'LL HAVE THE NEW CORTANA FEATURE. Hey Cortana" Voice Activation** – Gone are the days of pressing the microphone button to wake-up Cortana. Simply say "Hey Cortana" while the phone is idle and Cortana will activate. This is possible thanks to the SensorCore technology.

No, read the article and Dan's explanation from the early comments.

Why are you not banned yet?

How come ok google is available for many mid range models also?

That is only possible on screen on not screen off.only possible in android kitkat or above.But yes it works.

Never compare Android with window phone. The best version of Android is on nexus devices. All the others are bull s***

But android made it possible even for mid end running kk but not Ms.That is competency of google.

I don't know how google has done this but I know that none of android devices except Motorola and nexus devices can launch google now when the phone is on standby by saying "ok google"

If you are on aosp rom or stock rom you can activate google now.That is google for you.

Not on standby the screen should be on.Any phone having stock rom with kitkat can activate gnow by enabling in the setting option but you have to enable us English nd give permission to use your phone microphone.That is it.

Because it's not. Not in this way, with total voice activation.

Cortana this cortana that people get a life and search do things yourself my god.........

how about you get rid of your smart phone get a life and jsut go to peoples houses to talk to them yourself god................

but... its cortana. from halo. that blue hot chick... ok :(

I'd love to be able to activate it by saying "Cortana How you doing?"

Toooooo loooooooooooong...

Yesterday I sent to you this information in your twitter account, I made a video and I upload on YouTube.

I guess this is ok but it seems like a gimmick/party trick that might only work in certain environments. Still it puts some phones on par with Android so it's good for the spec sheet

Is this feature in the Dev Preview?

Okay thanks. Just making sure I didn't miss that feature somewhere.

With the information i got 'hey Cortana' requires snapdragon 800 or newer, so 925 have s4 won't work on 925

It's SensorCore technology, that's why you have to hold the phone up. Then it automatically turn on.

Oh wait, are you now backpedalling and saying that picking up your phone and waiving it around to activate Cortana is the same as always listening "Hey Cortana"? Please just admit you are wrong.

That's not how it works at all.

did you even WATCH the video? i didnt see him even touching the phone, did anyone else?

They should give this feature to old phones while in charging mode ;)

I've wrote in the uservoice the exact same thing! That for me would be just great!!! For example in the car while charging=no need at all to touch the phone. In the morning while the phone is on the charger, eyes closed and say: "Hey Cortana, what's the weather right now" now you already know if you need an umbrella or sunglasses for the morning without opening your eyes!!!

That's what we are all saying, and even when plugged in you could ask her "hey Cortana what's my battery status" then she could reply telling you the percentage and also telling how mins left to fully charge your battery

You mind sharing the link of UserVoice suggestion? Let's vote for it!

The new Gestures beta App is similar to how the new Cortana feature works

This is so cool i cant wait till it arrives to USA lumia 1520

You probably don't even have that App yet.. Gestures Beta.

Micro u are ryte if gestures beta can work flawless on my +925 maybe MS can make hey Cortana wrk 4 me in the future

Make sure there ain't an iPhone near you. It's a symptom there might be one. If found any, burn it down asap. Take the ash out and bury it deep below the ground somewhere before its too late.

We are an Apple free house. Today my sister walks in worth an iPhone. Fuck her!!!!

Damn! It's too late! I did warn you, didn't I? The most evil thing of the century has targeted your house as well. I suggest you to call the priest before the sun sets.

Why can't certain phones get SensorCore? What would it do if all phones got it?

Do a Bing search on SensorCore, there you get your answer.

legit answer for once, but downvoted because your a moron.

SensorCore is hardware, so they're either made with it or not. Slso, not all SensorCore are equal.

Ms can still make this feature available for older lumias, just make it work when the phone is plugged in

Yeah, I wonder why MS doesn't just do that. It would be great for use with the charging stand.

ONLY LUMIA PHONES THAT HAVE SENSORCORE TECHNOLOGY.

Let his posts burn in the trash can!

NOPE NOPE NOPE NOPE NOPE NOPE NOPE NOPE NOPE NOPE NOPE NOPE NOPE NOPE NOPE NOPE NOPE NOPE NOPE NOPE NOPE NOPE NOPE NOPE NOPE NOPE NOPE NOPE NOPE NOPE NOPE NOPE NOPE NOPE NOPE NOPE NOPE NOPE NOPE NOPE NOPE NOPE NOPE NOPE NOPE NOPE NOPE NOPE NOPE NOPE NOPE NOPE NOPE NOPE NOPE NOPE

very effective troll here

Might be because even if the low-power issue is solved by charging, it might require a whole new set of low level instructions to make a microphone always be on.

What about the 925? I'm unclear on that. I plan to upgrade to a 1520 once I have the funds, but still....

Nope, it is tied to the Snapdragon 800.

Alright cool. Let's hope I get that 1520 for Christmas or my birthday then. If not I'll just have to save up.

Looking at these kinds of conditions i think the same having a 1020 with me.. but still there are android one devices which cost just 150$ with stock android which has OK GOOGLE feature

Then buy that Android, nothing will stop you.

Even though it's Google.... *cringes*

OK Google works when the screen is on. A limited number of Android phones have the ability to be activated from standby with a phrase.

SensorCore sets Lumia apart from the competition.

JESUS CRISTO guys, it doesn't matter whether your phone utilises SensorCore or not, it's the chipset which will allow the 'Hey Cortana' feature. Stop it with the 'well the 635 has SensorCore so it'll work'. It just wont because the older/cheaper chipsets won't allow it to work, simple as! Remember it hasn't been long since Microsoft took over Nokia's devices division so there's bound to be phones that do not support the feature. But trust me, once Microsoft gets into the swing of producing devices from the new year onwards I am sure that ALL of them will support these features, because if they didn't, Microsoft would probably be seen in a bad light. Granted, Microsoft needs to make these features available to all of their phones, but it WILL take a bit of time :)

Don't worry, it's only MicroWestcoast who thinks that.

http://lumiaconversations.microsoft.com/2014/09/04/lumia-denim-update/
It's written in here that "hey Cortana" is available for Lumia icon, 930, 1520

It has nothing to do with processors it works because of SensorCore technology.

Your not reading the Hey Cortana feature. Your reading the Denim update

Why does it have to be "hey, Cortana"? What's wrong with just saying "Cortana," just like when I talk to the XBOX..I don't say..."Hey, Xbox"

You say "Xbox On", just like "Hey... Cortana". But well, "hey" or any word do not matter, it ia not the word, it is the fact to talk to the phone.

I saw a video of a lumia 520 that has hey cortana

Why not for the snapdragon 400 series totally annoying for mid range users ??.

Because not? Why do you bought a low/mid range phone?

Hey Cortana. Can that big ass phone charge itself on my Qi charger? HA! Take that "high-end" 1520 owners!!! 920 4 EVA!! LOL Sorry. Couldnt resist. It's Friday.

1520 + Qi yup got that.....

I use the same dt900 charger that i used on my 920 and it powers my 1520 nicely :) take that old skewl cool!

The Sensor is what activates Cortana with out pressing the button, check out the Gestures Beta APP , you can now answer incoming calls just by putting the phone to your ear.

WATH THE FUCKING VIDEO EMBEDDED IN THIS FUCKING POST YOU IMBECILE

Just like the New Cortana feature it will turn on , when you hold your phone in front of your face

dont listen to him, hes clueless, its voice activation, it requires the SD800's passive voice listening feature

This gesture beta is indeed i replica of sensor core, believe me guys. Remember it's still in beta further updates will make it function without having to hold it. Win beta states that hey Cortana seemingly available to lumia icon 930 1520, windows phone central states dat it's currently available to d above mentioned devices, none states dat it will never be made available to other Lumias

Watched the video, not impressed.

In the Google Now app, by setting the language to English (US) we can just get the OK GOOGLE activation. This works with even the low end android phones. I think Microsoft must look for a solution.

There is not solution, buy an android if you want, but understand that it is only for Snapdragon 800 Lumia phones.

sad that 830 won't support. but i guess i only use cortana with my bluettoth ln me though, so not too much different.

You guys that are saying that I am complaining; I am not just stating the fact that it sucks for the rest of use who don't have the phones that can run that feature. Calm down I'm just saying; you fan boys take everything too serious, LOL to the sarcastic comment about get a better phone or leave the ecosystem, word of advice; grow up.

HTC One will definitely support this feature. It supports OK Google.

Verizon icon must wait till 2015 and beyond

Funny this if you read the previous days articals its coming sooner than you think! early 2015 like Jan if not now!

Haha 830 fail This feature pretty much sinks the 830 when it comes to attracting new users that like voice activation.

yeah but 830 has glance so i can go over it...

Okay look its pretty simple... Do you have a windows phone with a snapdragon 800 chipset? Good you can rock Hey Cortana... If you choose to own a lower budget windows phone... Congrates, you still have a rockin devise. Sensor core has nothing to do with it. It's like complaining that a 5mp camera does not take as good a picture as a 20mp camera. Shame about the 1020 its a great phone but the chipset is too old. Blame Nokia, they designed it.

Now if we could only get it for the ICON I would be happy, it is a feature that i would use all the time...i need it !! Come on Verizon get off your a$$ and release it !!!! ​ ​ ​ ​

They are realeasing it for ICON as early as jan!

Awesome news, glad my new phones going to be supported (930)

Anyone know if this will work in a car with BT handsfree? That would be awesome. It's the place I mainly use voice commands.

Guess that would depend on if the BT system in the car is passing all audio to the phone all the time. I would guess it wouldn't. Normally to kick off a BT session you have to tap some buttom somewhere, steering wheel, stereo touch screen...

Hey Mike, when connected to BT, we'll continue to use the on-devie microphones for a variety of acoustical and technical reasons. That said, we DON'T advise using your phone while driving :)

The searching sound is getting kinda annoying it should be less noisy.

No Hey Cortana for the 925 Malik Harry. I asked a few hours ago. :(

I already see room for improvement. When calling on Cortana from standby I don't want to see the lock screen unlocking animation. Just go straight to Cortana.

I got a 1520 with denim update, and Cortana working, but I can't find out how to activate hey Cortana anywhere. Nor can I film in 4K :-(

Hopefully this means a new high end Lumia will be coming, so Microsoft can have an awesome device to advertise this feature with. I mean they're not about to put out new commercials with the Icon, or the 1520.

These aren't shitty iphrauds that need a whole new phone every damn year.
These are still, highly viable devices.
"but they're not Nneeeeewwwww, wwwaaannnn wah wah wannnn"
Seriously, stop.
Almost forgot,,,, Verizon Sucks.

Your comment is null to me, because someone like myself (who is willing to buy the most expensive flagship MSFT can offer Q1 on AT&T) wants to use the "Hey Cortana" feature on a phone with a screen no bigger than 5.5" (LG G3 is probably best example). The 1520 is a great device, but it is also the biggest thing out there, and not what I'm looking for. I just think MSFT dropped the ball with the 830, and an AT&T 930/Icon will never be released. HOPEFULLY the 1030 is coming with 5" screen and Snapdragon 805...fingers crossed.

I'm confused. I have Lumia 1520 (at&t U.S.). I'm enrolled in preview for developers and it says I have Denim (which I thought was a glitch and I really only had Cyan?. Regardless, I don't have "Hey Cortana" and don't see a way to set it up. Can anyone clarify? Thanks!

I got denim on my 830 but this don't work

That won't work read the article!!

We all knew "Hey Cortana" wasn't going to be available on the 830 the day that it was announced. The 830, for me, was dead on arrival because of that.

Is it everywhere or only in the states????

Unless you have a l930 or 1520 the update is pointless as its differences are hey cortana and 4k video what needs a top device like the 930 or 1520. So if you don't own ither of them 2 then the update won't make a difference to you

My friends' family all have Android phones so when I say "Ok google" at dinner, everyone's phone goes off. Would this be the case for Cortana if more than one has an MS phone in the same proximity.

No it will respond to your voice only! It has a training feature to let you train her with your voice only!

OK Google didn't (doesn't) require any training, "OK Google Now" the Touchless Control feature on my MotoX that wakes it from standby with that phrase, did require training. Other people saying that phrase while it is off has no effect, it does not respond. Even my son, who does sound lie me to others, can't activate the Moto. I expect the training shown for this will be similar, with similar effectiveness..

The "Hey Cortana" phrase asks you to train to your voice, and then will only respond to you :) -Sandeep (@sp990)

I hope they don't hoard this only on lumias because this would just make my m8 even better

Seriously. I just don't see how it would make sense for Microsoft to do that. I think the WP8 platform would be a lot more appealing if it updated this feature across all capable devices, especially since Cortana is in a fight with Google Now and Siri. Gonna be really disappointed if M8 users get left out of this.

Ohh .. Waited much.. Still in alpha in india. When this cortana fully available to india. Lumia 520 Preview For Developers.8.1 latest update having cyan... Reply me with information. Plz.

I realize that this is a "Lumia-only" update, but surely the "Hey, Cortana" feature will become available across the Windows 8.1 platform, right? I don't see how it would make sense for Windows to only release that feature to Nokia, especially since it would be a big step in catching up to Google Now. I'm getting a HTC One M8 for Windows, and I'm going to be pretty disappointed if this feature won't be available for download soon.

Damn I want this feature!! Someone gift me a 930 or 1520 please..!! ;) ;p

I realize that this is a "Lumia-only" update, but surely the "Hey, Cortana" feature will become available across the Windows 8.1 platform, right? I don't see how it would make sense for Windows to only release that feature to Nokia, especially since it would be a big step in catching up to Google Now. I'm getting a HTC One M8 for Windows, and I'm going to be pretty disappointed if this feature won't be available for download soon.

I realize that this is a "Lumia-only" update, but surely the "Hey, Cortana" feature will become available across the Windows 8.1 platform, right? I don't see how it would make sense for Windows to only release that feature to Nokia, especially since it would be a big step in catching up to Google Now. I'm getting a HTC One M8 for Windows, and I'm going to be pretty disappointed if this feature won't be available for download soon.

Why the hell MSFT didn't delivered Denim to Lumia 930 together with the low ends ?
As someone who spend a considerable amout of money to get a hight end device, I expected a little of respect from MSFT to do not let me wating for the latest updates... Almost giving up WP.

You are getting the better features for what you paid for!! Hey cortana is waiting for you! Just be calm!! You will get it eventually! Not like us who are on old hardware!!

some 930 users are getting the update already, reported by windows central give it time!

So I need an instruction book for getting off my Lumia 520 ¬_¬

My phone wont download its showing 0% status

2 min silence for the jerks who think it will work on the 630 without the SD800 processor.

Hey J.A.R.V.I.S, bring me up a suit..

Looks like they are a Nokia fan. ;)

http://i.imgur.com/lhjhbB9.gif

There's a difference between sensor core (sd 400 1.2 ghzt) and contextual core technology. Lumia denim update has turned on the contextual core which is only possible in sd 600 and above cpu's. And plz forget dual core devices.

Hey Cortana... Possible for other phones when connected to charger ? I don't know if it is possible but just saying

Out of topic question. But i didn't Recieve the denim update even though its released for lumia 520 India. I have developer preview.. Any idea why

Hey Cortana, when are you going to understand and answer in Dutch?

Lovely... But I have one opinion about the hey Cortana phrase... If you are in house with more than 1 windows phone like mine if you say hey Cortana all of them will reply... But if we can name our phone will be better... Like hey hulk.... For one and hey superman for the other one. I hope Microsoft will do it in windows 10

Or....you get Cortana in stereo lol

-830 :( i want a hybrid between 930 and 830: 20mp cam, HD display (720p or 1080p), glance, hey cortana, 5 inches, better battery (athough the 830 battery is awesome) and so on. That would be perfect!

Ok .. It is best in my 1520

When cortana comes to Portugal?????????

Why cant this feature be enabled on phones that dont feature SoC 800 and when you are in the cortana menu.

Hey Cortana! I love you <3

Lumia 830 should have got this. Affordable flagship...

1.) Does the phone need to be plugged in and charging to be able to wake by voice, (like the iPhone's Siri) or can Hey Cortana be triggered without it needing to be plugged in (like the Moto X's Google Now)? It just makes me more and more angry with MS -- the fact that Hey Cortana is only available on the Icon, which is only, exclusively, available on Verizon even though they discontinued selling it three months ago(!!!) or on the 1520 which is a phablet I will never want, is absolutely infuriating. If the 930 would work on LTE in the U.S. I would buy one in a heartbeat. But to be shackled to Verizon, spending twice the monthly amount as now, for a phone they dont even market anymore is just insane. Why does MS permit this situation to go on? The experts now say the next high end WP/Lumia device (aside from the HTC One series, I assume) will arrive in late summer 2015. That is an eternity. Game over WP, I need a replacement for my Lumia 900 now. I cant keep holding out! I have been doing so for over a year and now I am at my breaking point. If something doesnt change soon I will go with the Moto X or maybe the Nexus 5. :( MS is destroying its entire phone experiment with the neglect it shows in hardware. WP 2012 = iPhone targeting flagship phone line in sculpted polycarb cases with quick performance and superior camera optics. WP 2014 = low-spec, prepaid phones in generic, cheap, thin 'bucket' shells using last gen chips that cant even fully utilize Cortana. And still a huge app. gap. Oh and yeah, in 2014 MS gave away Office and Skydrive to other platforms for free... So sad.

BTW how to enable this? I have ATT 1520 and I did receive denim yesterday after hard reset.

I was psyched to try out Cortana, but upon opening her app, I get this disconcerting EULA,"To help Cortana work best, Microsoft collects and uses your location, contacts, voice input, info from email and text messages, browser history, search history, calendar details, and other info [what more is there though?]." Is anyone else creeped out by that overly broad collection of data? And people are upset that the NSA collects simple call metadata. Meanwhile Microsoft very well could have every bit of info you have ever seen or sent from your phone. And we are ok with this, and click "allow." why exactly? I'll live without this "feature", thank you very much.

Short answer: If you wouldn't feel comfortable giving the info to your secretary, then opt-out, by all means. Long-answer: From what I have gleamed about how Cortana works, she integrates with your historical and contact information in order to make recommendations or add items to your email, calendar, connect with your apps, etc. A personal secretary at work would also require access to your contacts and timetables to perform job duties. If you ask the secretary to "Call Mr. Brown", they need to know who Mr. Brown is and how to reach him. If you want the secretary to then add a meeting "Re: wine-and-dining Mr. Brown", they will need permission to edit your calendar. If MS didn't have this broad disclaimer, some people might get upset when Cortana opens one of their apps when the customer had kinda' implicitly asked her to.

What's the chance of getting Denim on my Verizon Icon? I'm thinking none!

What's the chance of getting Denim on my Verizon Icon? I'm thinking none!

Actually my point was not that MS should work on it or that I wish they would but simply that it can be done with the snapdragon 400 processor with some limitations.

If MS is serious about WP and the Lumia line they will knock off this 'only the highest end' nonsense. I get that the feature requires the cpu to support certain features and a lot of Lumias out there don't have those capabilities. What I do not understand is why MS seems to be going after the low/mid end market, but then releases a compelling feature that is only supported by 2 devices in the line. Now that they know what is needed for the feature, maybe they can release a flagship quality phone, with a phone and phablet option, that is a compelling upgrade to people like me that have been less than impressed with the cheaper feeling Lumias as of late. Hell, if MS would update the cpu in the 928 to support SesorCore and Hey Cortana, I'd buy it in a heartbeat. It is both amazing and sad that there is almost nothing out there that I could honestly say is an upgrade to my 928. Amazing in that aside from the cpu/ram/no sd slot - nice to haves, my 928 is still a joy to use, and sad that none of the more recent Lumias has all of the same or better features as my nearly 2 year old phone. MS has a winner on their hands if they don't sour the market by releasing too many, nearly identical but none with all the features, devices. Samsung is learning this lesson, I hope MS pays attention.

I'm really looking forward to usng this feature when Denim is finally released for my Icon.

fOR US IN THIRD WORLD, ARE WE GOING TO GET THIS CORTANA WITHOUT CHANGING OUR REGIONS???? (ENGLISH) WHY NO UNIVERAL CORTANA THAT WORKS IN ANY REGION???
Windows Central Newsletter
Get the best of Windows Central in in your inbox, every day!
Thank you for signing up to Windows Central. You will receive a verification email shortly.
There was a problem. Please refresh the page and try again.