Hands-on and first impressions: Microsoft Lumia 540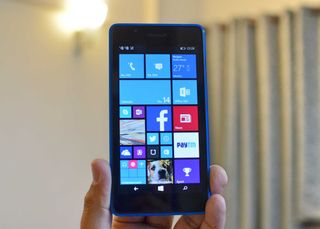 A Few months ago, Microsoft introduced the Lumia 535, a budget Windows Phone device and the first that carried the Microsoft branding after the transition from Nokia. Since then, there have been a slew of budget Lumia devices, several arriving in emerging markets like India before traditional Microsoft markets like the US or UK.
The Lumia 540 is an improvement over the Lumia 535 with a better display and an improved camera, but it comes at a time where the boundaries between the Lumia range of devices are blurring and the feature-set and pricing is overlapping between different devices. The Lumia 640 that launched a few weeks ago sells at a similar price to the Lumia 540 but features better internals, although with a limited front camera.
The Lumia 540 was launched in India earlier this week, and here are my first impressions of the latest budget smartphone from Microsoft.
Design
The Lumia 540 looks quite similar to the Lumia 535 with those rounded corners and swappable colored back covers that wrap around the phone. It sports a layered design that we saw in the Lumia 532 as well as in the Asha series. There's a translucent plastic layer around the edges at the back giving it a frosty look. It looks pretty good, although the glossy finish makes it susceptible to smudges.
Typically, the right edge of the phone features the power and volume rocker keys, and the camera button is missing like most budget and mid-range Lumia devices. The black keys offer a nice contrast in the design and offers great tactile feedback. Like the Lumia 640, the 540 doesn't feature capacitive navigation keys but instead sports the software ones.
There's nothing new about the design of the Lumia 540 compared to some other Lumia devices, but the build quality is solid and it feels great in the hand and great to look at.
Hardware
The Lumia 540 features a nice, vibrant display and the 5-inch HD (720x1280p) IPS LCD with ClearBlack technology impresses on the first glance. Corning Gorilla Glass protection is missing, so the display will be more susceptible to scratches.
Powered by a 1.2GHz Qualcomm Snapdragon 200 quad-core processor and 1GB RAM, the Dual SIM Lumia 540 packs in similar hardware to other recent budget Lumia devices. In the little time I spent with the device, I did not notice any lag while launching or switching between the apps and browsing the web. The internals are similar to the Lumia 532 which was a surprising good performer.
There's 8GB of internal storage, expandable to up to 128GB via a microSD card which is pretty good for a budget device. The phone has a 2200mAh battery, which is larger than the 1905mAh one on the Lumia 535.
Camera
The Lumia 540 packs in an 8MP rear camera with 1/4 inch sensor and f/2.2 aperture, and sports auto-focus with LED flash. On the front, there's a 5MP shooter. It looks like a good combo on paper for a phone in this segment, and the Lumia Camera apps enhance the ability to leverage the device's camera to its potential.
Software
The Lumia 540 runs Windows Phone 8.1 with Update 2 out of the box, the latest iteration of the Windows Phone operating system with the Lumia Denim firmware. There's an updated and enhanced Settings app, ability to connect a Bluetooth keyboard, and App Permissions setting. Click here for a quick tour of all the new features of the Windows Phone 8.1 Update 2.
First Impressions
At ₹10,199 ($160), the Lumia 540 is a decent budget-to-mid-range device with a quality Windows Phone experience packaged in a well-built device, although the Lumia 640 sits right next to it with beefier internals. A slight drop in the price, as it usually happens on the retail shelves, will make it a better buy.
The Lumia 540 is possibly one of the last ones on the Windows Phone 8.1 horizon before Windows 10 devices arrive; though recent launches have surprised. A detailed review of the Lumia 540 with real-world usage and camera performance would of course follow soon. What are your initial thoughts about the phone?
But in the Network it is specified as 3.5G.Is it a bit faster than 3G?
Link: https://www.windowscentral.com/e?link=https2F%2Fclick.linksynergy.co...

3.5G is likely referring to DC-HSPA+. Support for that is network dependent.

Microsoft has said that it provides software update to unlock 4g capabilities in newer Lumias... Might be this one also get that!!

Yes. I'm not too familiar with the underlying architecture of the S200 bur Qualcomm chipsets usually come with a modem on board, and the specific bands are locked by firmware. On my sisters nexus 5 i unlocked the European bands for LTE even though it was refer US variant. The devs made it happen. So its not out of the question to unlock bands. The main question is whether the S200 on this thing has an LTE modem in there or not.

Depends whether you live in Murica or in the rest of the world. If in America, then it's 4G since HSPA+ is referred to as 4G in America. In other countries, it's 3.5G.

This is not entirely accurate. AT&T does refer to HSPA+ as 4G, but that is not the standard across America's networks. For instance, Sprint uses LTE for their 4G. Plus everyone knows in Murica, as you so elegantly put it, that AT&T is not a company that you admire and will do anything - including lying - to get you to be on their network. But that doesn't mean that AT&T is the standard for America. Thus the reason it is more accurately described as 3.5G. You get better speeds than 3G but not as good as 4G (you mean 3.5 is between 3 and 4?!?!?!?!).

Any idea if it has Lumia camera 5 like 640?

The camera is fine. And if you are a selfie-freak, you would love to capture selfies/ Plus, the other camera are also pretty good. My brother has got this and I am using the 640.

IMO an unnecessary entry to the lineup. 640 was the perfect budget-midrange after 535. Now these phone makes 730/735 look senseless.

Cause 730 was 30 series phone... Wait for 740s arrival

Agreed the launch was unnecessary..but it stands no chance in front of 730/735...the camera, screen etc that the 730 sports is mind blowing and this or for that matter even 640 does not even stand close.

Other than the front camera and the screen size, all the specs of both phone are same. I agree the camera is better on 730/35 but 640 is available for less and many people wont mind the tradeoff for the less cost.

You wont understand the quality of Lumia 730/735 camera over that of the 640 until you use the730/735 for some time. 640 cam cant even come close. xZeiss is magical !! So at Rs 11000 now on many websites, 730 is a far far superior device than 640 at 10000. Take my word on it !!

I chose 640 over 735 because of its sim type (which is useless if your other handset uses micro sim,I also avoided 830 as well) The screen size is also too small on the 735, The battery lacks longevity compared to 640, It doesn't have Lumia camera 5, or lcd display, or glance, or update 2 And over all feels really cheap to me with a back cover that seems to look more like the design of the old 800 Even without wireless charging,640 is better replacement for my Lumia 820 which is now running W10. Always personal choice,, but I just don't like the 735.

TheAccelorator puts some of my views here. Glance is one of the most used feature for me. And I have also had first hand experience with Lumia 730. As I said before, if I forego camera, I would surely pick up a 640.

I would like to differ on the points when you said the screen is too small. Imo its perfectly placed...not too big that you need to use two hands for basic operations...and not too small that you cant read or do basic stuff on it. The amoled screen consumes less power and my 730 lasts for more than a day with my 3G data connection always on and being used.And talking about the screen..maybe it doesn't support glance but its the crispest I've seen!
Lumia camera 5 will soon be coming to 730 as well..its got the same internal specs as 640 so yea...covers that up too!:)

But why make 540 more costly than the 640?? Answers anyone?

Probably the initial MSRP cost. It will eventually come down in a month or two.

Even with a pricē correction, a SD 200 device at 10000 or so makes no sense when you have awsome SD 400 Lumia 730 with xZeiss at 11000 !!

That's what I am trying to say. 540 is an unnecessary and illogical entry to the lineup.

can you please tell me where you are seeing 730 for 11000?

Where's the hands on video?

Snapdragon 200 is a joke with HD display. What's the point of having HD display when it cannot play HD videos

SD200 can play HD (720p) videos and this display is the same.

The SD 200 can play 720p but can't record in 720p. It can't play high-bitrate 720p vids or 1080p vids though. The Lumia 530 featured the same chipset, but it was unable to play 720p videos due to poor driver implementation. This was fixed in the 435, 532 and 535, but I'm not sure if the 530 received an update to resolve the issue.

You know people will still complaint.. Why 540 doesn't have 4k support... Haha

It is a software imposed limitaion. If a Lumia 520 can record in 720p using the age old Snapdragon S4 (Dual Core w/t Adreno 305) @1 GHz and just 512MB ram then why can't the Lumia 535/540 (S200 Quad Core @ 1.2 GHz w/t Adreno 302 and 1GB ram. Seems the Adreno is the problem here.

Agree. Nokia X2 with the same specs can record in 720p.

I think they've flooded the market with enough low end devices now. This close to w10 mobile they should just let the hope build for that. Sure, this device will arguably get some cut form of w10m but it won't have the show stoppers, not that that is a problem per se it is low end after all, but there could be buyers remorse and lots of good will given that new devices will come out shortly and presumably if one saves they could afford something better in a couple of months. This sort of thing could scupper sales now as people don't spend now in order to wait on the future. Suppose it depends on what your budget is and how desperate you are for a device. I live in the UK so, sort me, no interest at all. But then I have a 1520 I picked up in 2013 and - unbelievably - it hasn't been bettered. It's been a long wait...

Right you are.....(sigh) Microsoft

Stop making shit up. It still be out this year. MS has a history of launching around October/November, more than likely will be before then.

Maybe you are new to Windows Phone despite your name.
WP7 - announced 2/15/2010, released 11/8/2010
WP8 - announced 6/20/2012, released 10/29/2012
W10 - announced 1/21/2015
I'm willing to side with history versus basic conjecture. As far as my grasp on 'more' and 'likely' my comment should be easy to understand. More, meaning measure, likey meaning probable. Hope that helps.

http://dictionary.reference.com/browse/more
greater amount, measure or quantity.
http://www.merriam-webster.com/dictionary/likely
having a high probability of occurring or being true : very probable
WP7.5 was an update to WP7, not a new OS.
WP8.1 was an update to WP8, again not a new OS.
WinMo has no ties to WP.
Stop grasping for straws, makes you seem petty and desperate.
I can't make it any easier for you to understand.

I really do feel sorry for you. It's laughable that you can't tell the difference between the release of an OS and an update to that OS. Almost as laughable as your lack of comprehension of the phrase 'more than likely'. You try to steer the conversation towards grammar when its clearly about WP10 and a possible launch date, which again looks desperate. Either that or you are just a troll. But anyway like I stated earlier MS has a history of releasing their WP mobile OS, not update, in November. That is a fact regardless of how you fail to understand that. This is what I base my comment on. Continue on troll.

My reasoning for thinking they will release WP10 prior to October or at the very least late October is because the market is demanding it. If they fail to do so it just might kill the little momentum created by the Build announcement. Even when they launched WP7 and WP8 in Oct/Nov it was still very late in the year to make a big impact. MS can't afford to continue this release pattern if they truly want to gain a larger share of the smartphone and mobile market. Now tell me why do you think that WP 10 will be delayed? MS has in the past released an OS regardless of how mature the OS actually was so I highly doubt the progress of the beta program would hinder the release date. Btw, please explain my misunderstanding of the word grammar. As I understand it as meaning the construction of language and sentences.

Not at all. As I said earlier MS has a history of releasing WP OS versions in October/December. Why they have done so and why I feel they should deviate from that are separate. It's not I that really want it to be released since I'm content with my 1520 but the masses who want it earlier. I know you are aware that by releasing it so late in the year it puts them at a disadvantage. Initially the projected launch of Windows 10 for Mobile is the 2nd half of this year, which unfortunately MS tends to release WP at the end tail of their projected dates. Personally I feel this time around they will not be as late as they have been in the past. Btw, my edit of my post is merely adding on due to submitting the post accidently. Big fingers on a touch screen can have that affect.

Not contradicting myself, I have to chalk that October/December up to this predictive keyboard. Wouldn't have noticed that error without you pointing it out. To be clear I believe they will release the OS prior to October. Previous history indicates late October-early November, I just don't think that would be wise. Also , I have to humble myself for coming off as an asshole so my apologies for any insults I might, well have thrown your way. It's not easy trying to quit smoking with this damn patch.

I'm with you. If they don't release a WP10 flagship by October the management should all be fired.

Can't really see myself upgrading from the 1520 just for Continuum. Thinking about purchasing a 735 just for the size option and an actual signal (Tmobile killing me since I moved from Florida to Missouri and my 1520 cannot take advantage if Wifi calling) so I might have to move back to either ATT or VZW.

Enough with only putting out "budget" phones! Are you Microsoft or Micromax? Where are the flagship devices?!? WTF is the Lumia 1030!!!!
News for you Microsoft, there are consumers outside of India and the United States of Apple! We demand more than an 8gb model with 1gb if memory and a shitty camera. Either play the game or leave the field dammit.

Give up buddy. MS won't make 1xxx phones anymore!
The best you can get will be the 940. And, there is not purpose to release a new flagship phone if you can't offer something new in the OS. They HAVE TO WAIT for Windows 10.

They made it clear at build that no new flagships until W10. Did you not know that or are you just spewing nonsense on purpose?

United States of Apple❓❓❓❓ LMFAO hahaha❗❗❓

Dude, that was hilarious! Hahahahaha...

I don't think Microsoft can generate profit from flagship phone (a loss in profit is most possibly to happen)..
I guess most of the people would think "with these price, why don't I go for iPhone/Galaxy /Note/HTC"...
There are simply just not enough rich man to support a Lumia flagship
last time windows central post sth about Microsoft strategies (about 3 weeks ago, using the plantation theory as analogy...couldn't remember the thread name) one of it is mention about gaining more users..they cant simply gave a phone instead their strategy is to make more budget phone

Well that may be so. Microsoft flooding the market with affordable low end phones was a smart idea to get new people to try the platform. However MS is going to have to eat some profit and provide a couple of flagships to insure the longevity of most of these new users.. Example. I tried windows phone off a budget 520.. Very shortly after that I got the Icon off Verizon. Huge jump in hardware and Best phone I could get from the carrier that meets my coverage needs. I don't care how many budget phones you sell, most of those users will want to upgrade and have a great phone if they are happy and stay with winphone. My 2 cents on the matter lol!

Agreed. Bought a 520, pretty impressed with the OS and the camera that period of time, sold it and got myself a 1520. ;)

I hate to break it to you, and everyone else. The 1020 was a pure niche device that was never meant to be a flagship. The last true flagship was the 920, and while the Icon/930 was supposed to fill that gap, it never quite hyped itself to be that flagship. And if you want a better phone, I can recommend the 640.

I think Lumia 640 is better.

1020 is better in camera department... ❕❕❕

Alienware phone is still better.

Nope.... Lumia Cyanogen 1260... That's best.

I own both, the 1520 pics seem better unless I needed a outrageously long distance shot, which is almost never. The 1520 takes the best pics on any phone I've ever used.

True.. Especially after Denim.

MS should waited a little more and released this phone with a updated processor with 4G support, just like Motorola did with the new Moto E.

Yeah, they should've released this the same time as they did 535 with better specs, of course.

I don't know why Microsoft release many low & mid range smartphone...they should promote n release high end smartphone that high demand from their customer include me also

Did you realize that Samsung is only in the top because of their infinity of budget low end phones??

Except that's not true. Low end and budget phones sell. Thats why they're made.

Still on 3% worldwide marketshare. Not really a ringing endorsement of their strategy.

Things weren't better when they tried to work the high end

Microsoft knows that their most selling phones are low ends and mid rangers... And these cheap phones helping Microsoft to get more users.. More users=more apps

The low end buyers don't buy apps.

Who said so? I have seen reviews in halo:spartan assalt from lumia 435. . .
Also i use a lumia 525 from which i have bought apps for nearly 30 dollars

I think I've already bought over 50$ of apps on my 520

I won't spend even a penny on games.. I'd buy only apps that are more essential to me such as mytube, NGReader, fantasia painter etc. . .

You bought Rs 3000 worth of apps for your phone ? Seems you got way too much free time on your hands !!

Its a myth that low end phone buyers don't buy apps. I started out a couple of years back with the 520, but did not hesitate to buy good apps or even games that did not cost a lot anyways. The 520 experience made sure that I keep going back to WP and Lumias for more and I ended up upgrading to a high end 925 and buying two more Lumias for my family members. This is exactly what MS hopes to do. Spending 400$+ on a phone does not guarantee sale of more apps. I guess its about the mentality of the phone buyer.

Market analytics says so. Apple is the only one making any real money on its App Store. Google and its veritable hoard of low end phones attached to Google Play is barely a footnote in profits by comparison.

The problem is with android, android helps pirating apps via sideloading, why pay when you can get the unlocked apk with a simple Google search

Does the phone have a glance screen?

So, 535 is dead, this is the new one?

So, 535 is dead, this is the new one?

Not really. The 535 will continue to be sold alongside the 540, at a cheaper price.

"I did not notice any lag while launching or switching between apps and browsing the web"
Does this mean newly launched devices aren't suffering with loading and resuming screens?

Not really. I only spot it on my 535 when running a large app from the SD card.

Yes really. I spot it most of the times with my 1520.

Hope it does not have the touch screen issue like the 535...

It won't, they have used the same touch sensor as is used in the 640.

I have a 535, which i use as my secondary phone. After the recent firmware upgrade the touch screen has actually improved. I had the update 2 installed in it. The touch screen now works like any other lumias.
so it might have been software issues afterall.

Honestly doesn't look like a bad phone in my opinion.

Enough with budget phones!!! I'm still on my 920 waiting to upgrade!!!

Same here dude.. Flagship phone hope u come soon.

I am also using lumia 920 for more than 2 years now.Waiting for a true flagship from Microsoft. Hope they announce soon and don't push me to buy an iphone.

Nothing could push me to buy an iPhone. The UX sucks so badly that I can't stand using this POS they gave me at work. One of my favorite things to do at a restaurant is to look around for iPhone nimrods. They always have a confused or perplexed look on their faces while using their phones. It's kind of sad actually.

Yes, it is. But not in India.

I am a big fan of sharp corners in lumias. But none of the recent lumias follow that trend. The one thing which puts me on hold to buy 640 xl

Ahh...have you tried 730?

Damn, I honestly cannot keep up with these budget device releases anymore. Like, fo'real.

True, there's just so many of them, and the naming scheme is starting to not make sense anymore

It's easy. Just ignore all Lumias that start with 4, 5, 6, 7, or 8.

it is good, just a very little difference from Lumia 535 ​

No gorilla glass...
Seriously...?

Mate 535 and 540 are both budget phones. Maybe they removed the Gorilla Glass 3 because of touch issue on 535. :)

I feel my 1020 is enough, even with dated processor, current phones are not tempting enough, cause I don't play games that often or any intensive work, and even win10 preview is running fluently, so eh. Nothing worthy of an upgrade so far. Let see what win10 brings.

Still very pleased with my 1020.
We actually did a camera shootout between this and my sisters iPhone 6 Plus. My 1020 absolutely walked it in pretty much all scenarios. Full manual controls & Creative Studio helped accentuate the gap in camera quality.
Hopefully MS will follow up with a camera that exceeds that of the 1020.

I take a lot of pictures and my 1020 just crushes everyone else's camera phone pictures. It's like the white rhino when I use it too in public. People always ask what kind of camera is that, then I tell them its my phone and they are like whaaaat?? Yes people there are other phones than the iPhone. Or I have them shoot through a live filter lens. Blows them away. Then they start asking questions about the Lumia. I feel like the guy who showed up in the Ferrari.

Except people have heard of Ferraris...

1020 is still unbeatable. I think I wont upgrade untill MS launches a flagship with better camera than 1020

Absence of gorilla glass 3 is a big downer.

No gorilla glass is a bummer.

At least this is a real successor to the 520. Maybe too similar to the 535 though.

About as basic a looking phone as you could make. Meh. I'm sure someone will love it though.

No sd410 ?
OK❕ who cares❔
At least use 64bit in midrange -_-

And this asha/lumia design was revolutionary but now you're on the way of shamesung ❕

What? I must have missed Nokia's move to glass backs and non-removable batterys/SD cards.