First look at Amazon Alexa and Microsoft Cortana voice integration (video)
We took the Cortana-Alexa collaboration out for a test spin.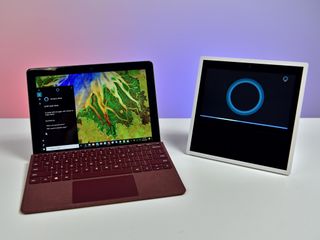 (Image credit: Daniel Rubino/Windows Central)
Microsoft and Amazon recently released their long-gestating Alexa-Cortana partnership in a limited preview to those in the U.S. (and evidently, some in Canada, too).
The program is just the first step in getting the dual assistants into the real world. From there, with user feedback and usage, both companies will take further steps to add and refine functionality.
A voice match made in heaven?
We picked up an Amazon Echo Show to see – literally – how Cortana looks on Alexa. While the animation and placeholder are not impressive, it's still somewhat surreal to see Microsoft's digital assistant living on Amazon's high-end hardware.
Likewise, for Windows 10 users or those with the Harmon Kardon Invoke, the Alexa integration is almost a bigger deal. Users on Windows 10 get much more in return by calling up Alexa at least for specific features including Amazon shopping, package tracking and its more extensive set of skills.
However, being a preview, a lot of features are missing, with an IOU from the companies. To be fair, both Amazon and Microsoft are upfront with these limitations, such as you cannot yet listen to Pandora through Alexa through Cortana, but these are hurdles likely to be overcome. The overlap between the two assistants also became substantial once Cortana got IFTTT support.
For those on Windows 10, giving feedback is encouraged. Just by opening Cortana > Devices > Amazon Alexa Devices > Settings users can type feedback right to the team handling the project.
It's not clear if consumers will actually utilize the dual-assistant tactic, but there is something to be said about Amazon and Microsoft cooperating. The notion that there can and will only be one digital assistant requires that you give up any apps, phones, PCs, and other hardware outside that ecosystem – that is, you acquiesce and surrender to a single, monolithic network like Apple (or Google).
If, however, you see the future of computing as being more heterogeneous, what Amazon and Microsoft are doing is the right approach ... even if it is a bit awkward right now.
Daniel Rubino is the Editor-in-chief of Windows Central, head reviewer, podcast co-host, and analyst. He has been here covering Microsoft since 2007 when this site was called WMExperts (and later Windows Phone Central). His interests include Windows, Microsoft Surface, laptops, next-gen computing, and for some reason, watches. Before all this tech stuff, he worked on a Ph.D. in linguistics and ran the projectors at movie theaters, which has done absolutely nothing for his career.
It is also available in the UK Daniel.

I just don't have any desire to use the Amazon ecosystem. I DO want only one assistant, and I need it to be able to function 100% hands free all the time. I don't want to go through a bunch of "Cortana, tell Alexa to tell Siri to tell Bixby I'd like to have a weather report". It's just shameful that Microsoft had something awesome in Cortana and, like a majority of their efforts, they squandered it and ignored it. And even though Cortana does all the things I need it to do--in ways that NONE of the other assistants do, it's clear that Microsoft has blown it and now Cortana is relegated to the role of ugly best friend.

The whole concept is retarded even to begin with. And "A voice match made in heaven?" Haven't read this level of cringe in months.

I think you're undervaluing it
this is great for business that uses Cortana But wants to have access to Alexa At times.
or in the future as more of the functionality comes online
Will be able to have access To all Alexa skills.
also the smart thermostat will actually have access to 3 assistance.

If this is the beginning of being able to access Microsoft services e.g calendar / email via Alexa then this is a game changer for both parties involved. Especially with Alexa for business in the picture.

Music support please (amazon and Pandora)… native or through this strange hoop. Given the lack of (promised) integration with Pandora on the Harmon Kardon, I'll take this if they add a music feature.

I'm just waiting for complete integration. Meaning, with this kind of partnership, I'm wondering if MS intends to sell off Cortana to Amazon or vise versa. I don't see this being a long-term thing. Eventually, one will absorb the other. I guess it's just a matter of which company will benefit most from doing so. Amazon has more consumer market for Alexa, but MS has the PC market with Cortana, whether or not people use it. On a different note, it would be cool to see this integration with MS's MS Launcher and/or Cortana app on Android. However, I don't see that being a thing anytime soon.

Exactly. This is the first step for Microsoft to fully adopt Alexa. Why keep Cortana when she is just the middleman?

I think it's funny you're treating these assistants as just apps that Microsoft can swap in and out of Windows 10 /Azure/Edge/ versus deeply integrated, finely tuned, likely programmed on different platforms, using different cloud architecture, highly complex systems. Do you really think that Microsoft's goal here is to let Amazon in on LinkedIn, Outlook, and Skype and just hoover everyone's personal data up? And you think that's a good idea, let alone plausible? And what will Amazon do with LinkedIn data, sell more toilet paper? Should Microsoft just let Google "in" too on Windows 10 - get your contacts, Skype, LinkedIn contacts, browsing history, computer history, etc.? Because if Cortana is the middleman Alexa is next in line

"Do you really think?"
There, fixed that second paragraph for you 😉

Whatever is the worst case scenario. That's always what he thinks.

I played around with it a little on the Harmon Kardon and also on my Windows laptop. It is a good start. Here's hoping they eventually can use each others skills, so that you don't have to jump through hoops to get to what you want.

On my first attempt, I got one query to respond, tried another and got "Something went wrong".
I'll give it some time...
Ideally, we could say, "hey Cortana", and get Cortana functionality, then say "Hey, Alexa", and get Alexa stuff.
Even more ideally, MS could work on getting the same 3rd party support Alexa has achieved...

I'd like to see "Hey Cortana" get you Cortana and Alexa stuff in Cortana's voice, and "Hey Alexa" get you the same stuff in Alexa's voice. Choose the assistant you prefer as a cosmetic choice, but get all the abilities of both.

I think most people are missing the big picture. It isn't about one being a "Trojan horse" of sorts, or that Microsoft is phasing out Cortana. In fact utilizing this partnership with greatly enhance each others' Voice AI. I think it is great I can order from Amazon from my Invoke, and I also utilize the (small) strengths of Cortana. For example I prefer Cortana for streaming music, and I could also queue up Alexa to order me paper towels or something. Cortana can STILL connect to the popular smart home automation services too. The BIG PICTURE, too, is how this is an experiment/public demonstration of how democratizing AI will benefit everyone. I think all Voice AI's should be able to talk to one another. Remember the "Partnership for AI" Consortium? Both MSFT & Amazon are in it (along with Google, Intel, and so on). The point is to share each others' work and help each other, aside from complying with standards. So, if this actually works out to benefit both users, I think more tech companies will comply and want to work together. I think people are too focused on the rivalry between companies (I wish Google had the same attitude). But in the end any voice AI should be able to talk to others in case one does better than the other. I applaud this move. I still prefer Cortana and my Invoke over Alexa and Echo (yes I know there are better speakers for Alexa like Sonos or Bang & Olufson).

So, if i have an Alexa device and I issue the first command saying "Alexa open Cortana"how long does Cortana stay open? Is there a certain period where Cortana stays open and then reverts back to Alexa or is it on a per command basis.
Windows Central Newsletter
Thank you for signing up to Windows Central. You will receive a verification email shortly.
There was a problem. Please refresh the page and try again.