First look: AT&T in-store promotion of the Nokia Lumia 900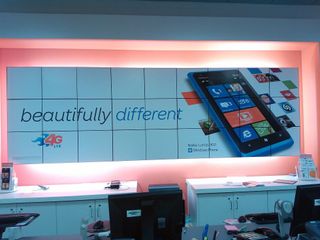 Tonight when we're driving around Long Island, we passed no less than three AT&T corporate stores (Long Island is basically a giant strip mall but with attitude). All three stores had Lumia 900 banners hanging from the ceiling and were quite visible from the road -- no doubt an odd thing to see Windows Phone featured so prominently.
Now we have a sneak peek at what some of the in-store promotion will look like with this giant billboard hanging against the wall emblazoned with the slogan "beautifully different".
We've also heard there will be a lot more with the Lumia 900 (and Titan II) with an area to test out the phones (see above) and even a section with accessories for the 900. We'll be curious to hear feedback from you folks tomorrow on what your experience was and perhaps we'll even throw a few photos up if we come across 'em.
Thanks, Jeff B., for the images!
Daniel Rubino is the Editor-in-chief of Windows Central, head reviewer, podcast co-host, and analyst. He has been here covering Microsoft since 2007 when this site was called WMExperts (and later Windows Phone Central). His interests include Windows, Microsoft Surface, laptops, next-gen computing, and for some reason, watches. Before all this tech stuff, he worked on a Ph.D. in linguistics and ran the projectors at movie theaters, which has done absolutely nothing for his career.
sucks, preorder peeps dont get promotion :(

Well I'm going to a big corporate att store tomorrow so ill keep u posted on the store change

I went to the store today to look at the Black Lumia (I had the Cyan) and not only were they sold out of everything, but the store was covered with posters! Love hearing that they are sold out in all the area as well!

What area? I'm planning on going after work tomorrow, but if you're in a small city, im going to gave to rethink my day and go during lunch.

I live in Huntington Beach CA. With about 5 ATT stores nearby. The Titan II looked great too, but I couldn't give up the lumia.

When I went to the store, they sold none. Only 3 pre-orders. It was at 12 PM though.

Got my Lumia 900 on Thursday as a pre-order and going to the local AT&T store tomorrow to check out the accessories

I don't see the promotion in the pic...what exactly is the in store promotion?

Promotion as in adveristing not in a deal or special offer i.e. How AT&T is promoting the phone in the store.

Hey Dan I just bought my lumia cyan att at&t in the Dallas/fort worth area and its just like the pics u showed I like the slogan beautifully different

This is really great to see. Come on, Rogers!!

Haha, love the interpretation of Long Island

My att store didn't have the titan 2. wierd. Love my lumia.

same with my store. But it also didn't have the banners. They only had a screen protector (zagg back and front) and on ear nokia headphones (only in black), no cases, speakers, etc. The employees were wearing nokia Lumia 900 tee shirts though.

The only thing that worries me is the attitude of the average sales associate. Are they actually going to pretend they are enthusiastic about WP? We have to understand that they will be pretending they like WP, so that's why I'm worried if they will be recommending WP. I sure hope M/N is offering the biggest incentive per device to get these guys working for WP......

Had to post it right @ Midnight, huh Daniel? I'm stoked about both. I preordered in February during that small window where the Microsoft Store was taking orders. I felt cheated, because some guys got it earlier for preordering it later through AT&T, and Amazon got it for $.01 . They were "nice enough" to give me a $25 gift card for accessories but they were handing them out to people that preordered there while AT&T did it. I guess I'm lucky because I won a Titan II at SXSW that is hopefully in the mail soon!


Today I went to AT&T to look at the Lumia 900 and the Titan 2, to compare them against each other and against my current phone (an iPhone 4... yeah, I know)...

My little local AT&T store was all decked out in blue Nokia Lumia 900 posters, and the staff were all wearing the blue Lumia 900 T-shirts, but they (most of them) didn't really know much about the 900. Not much mention of the Titan 2, either. Some of the AT&T staff there didn't even know that it had 16MP (I had to show them). In all fairness, they may have just gotten the new devices and so didn't have much time to learn about them, but still... It's kinda sad when I go there and I know way more about their devices than they do. Anyway...

It wasn't too crowded in there (fine with me), tho there was some interest in the 900 just because of how different it looks, esp. the cyan one. To to be fair, it was Easter Sunday so not a lot of traffic was to be expected anyway. One iPhone 4-toting couple were looking at the cyan 900 for a while, but then they decided to go with iPhone 4Ss (go figure); another guy was excited about the 900 and the cheap price, but didn't want to extend his contract any further (I don't blame him); and that was about all I saw today. I liked both the 900 and the Titan 2, but I decided to wait and not get anything just yet, and see what this summer and autumn will bring...

Saying that, I believe in WP and I do hope this Lumia 900 campaign will be just the success than MS and Nokia need to get WP the market share it needs and deserves.

My AT&T store knows me as the windows guys, because every time im there im 'educating' them on the devises they sell. Last week I talked to 3 reps, and not one of them knew what a Zune pass was. I don't expect my visit today to be any different.

That's what my store calls me lol the windows guy I go in there alot

My AT&T store calls me stop licking that damn lumia screen

Hey, I just jumped ship from the at&t iPhone 4S to the Lumia 900. This is one amazing phone and the OS is very different and fresh. So far, I have no complaints what so ever about this phone and the things I use my phone for. I feel like I have most of everything setup already and it is working very smoothly.
The iPhone was the Mercedes Benz of phones back from release of the original-2010. But nothing radical has changed about the OS. It works and it does the job but it got dull. It's Like the Toyota Camary or Honda Accord now. Yes it's reliable, dependeable and you can count on it but everyone has one. It has lost its exclusiveness especially now that you can get it on a few more local phone carriers.
Give it a few more months and you will be able to get it as a pay as you go phone or evern at a Spinx gas station. (no offense Spinx).
Great job Nokia with the hardware and excellent work with Microsoft on the software. Looking forward to being a MS fan for the next few years to see what happens next.


Actually the original iPhone came out in 2007 (I still have it and it still works fine!). But yeah; it was more or less the Mercedes-Benz of phones in its day; or maybe the BMW...

Just curious; how do you feel about the screen resolution and brightness on the 900, compared to your iPhone 4S? 'Cos I played with the 900 and tested it for about an hour and a half at AT&T and liked it a lot, but just not quite enough to switch from my iPhone 4 to it. I guess I'm just spoiled by the iPhone's retina display, so it felt like a bit of a downgrade to me. If I were a first-time smartphone buyer, there would've been no question about it; I would've gotten one by now.

I do like the WP7 OS, tho (I just think it needs a little further refinement before I'd feel comfortable using a WP as my daily driver), and if Apple don't increase the screen size on their next iPhone, then I'm going to seriously consider getting either the 900 or the Titan 2, or whatever WP device comes out after that (hopefully a Nokia). I'm waiting to see what WP8 (Apollo) will bring.

Unfortunately I had a bad experience..... I went to my local AT&T store in downtown Miami and although they did have the "promotions" and posters, no one was wearing any WP wear. I purposely came in and stood by the WP phones (Black and Cyan Lumia 900's and an HTC Titan II). The Cyan 900 was wrongly labeled with an Android phone description (ugh!), including their logo and everything. After standing there for about 15 minutes without anyone coming over, a young salesman did. Worst of all I had just noticed that all 3 Windows phones were OFF and with NO power cable to any of them.
I immediately told the salesperson that I was a technology writer and that I had heard that AT&T was NOT giving the full support to the new phones (Ok...so I lied, but I was pissed). In less than 2 minutes the power cables appeared and the phones were on. I'm also happy to say that in the 25 minute period that I was there 2 people bought brand new Lumia's and one of them was returning their iPhone 4S for the Black Lumia.....So happy ending :)

"I immediately told the salesperson that I was a technology writer and that I had heard that AT&T was NOT giving the full support to the new phones (Ok...so I lied, but I was pissed). In less than 2 minutes the power cables appeared and the phones were on."

Well played, sir, well played.

Thank you :) I normally wouldn't do that, but their lack of "everything" just pissed me off and I wanted them to fix that problem.
All in all, I really think that both these phones, (Lumia and Titan II) will get things going at a much faster rate.

What happened to the Amazing Everyday?

I was at my store in Columbus, OH at 10 am to pick up my BLK Lumia 900. There were posters up. However the display for the phones was not up and they started putting it together while I watched. No T-shirts, but just about all the associates was using a Lumia 900. For a grand total after taxes of $106.47 I walked out of the store with a BLK Lumia 900($99.99), BLK Nokia Gel Case (Fits like it is part of the phone, $20), and a Mophie 4,000 mAh- 2.1a power station ((3'x2'x.5') $80 value) and they also waved the upgrade fee ($36). My sales rep had been using a WP since the HTC surround but I still felt like I taught him a few things. None of the reps I spoke to knew anything about Nokia Drive, Maps, or Music.
As far a commercials, I have seen 4 on youtube, but still to see one on TV. I'd like to know if anyone has seen commercials on TV yet.
P.S> The WP handsets were all together in a section, except for the Nokia, they had their own area. In the WP area however right in the middle of the was the iPhone4s and next to the the iPads. In fact the were ~3-4 iPhone demo unis set up aroung the store.


My store also failed on awareness, as predicted, BUT.... They were sold out of Lumias! They told me 6-8 weeks wait for cyan, and no stores in the region had any cyans left in stock. Could be good, or poor stocking. They also had ZERO accessories. The reps didn't even know that Nokia had headphones to match lumias. Sigh...

My local store did have the beautifully different poster up but no lumia or titan 2. The poster was hanging over Samsung note. Not surprised. Is the original titan really going to sell for $200.

Is it me or is Lumia 900 selling for $49.99 at AT&T stores?
And the displays in Boston were lame really. Lumia had two stands, one at the front door next to iPhone 4s and Titan 2, and another stand at the back. Nice to see WP7 moved to the front, but was it necessary to put it next to iPhone 4s? I remember hearing that AT&T stores will look like Nokia stores? If this is true, this is one lame Nokia store I was in. Accessories were right under the Lumias, and there were 3 different people buying Lumias during the first 5min I was there and another guy checking it out. Overall however, didn't look to me that AT&T was treating it as their "hero" phone.

I was very surprised and pleased to see that almost every cell phone shop in Belgium had huge advertisments on their windows for the Lumia 800 (at least in Brussels, Antwerp and Bruges). Even big electronic stores like Saturn and Mediamarkt had a lot of promotional banners and whatnot in their stores.

I pre-ordered mine and screwed up - forgot to order the Cyan. The rep was great about it - said I could exchange it for a Cyan in store at no cost.
Called this morning and was told "we are sold out". Thought that was great except... THEY ONLY RECIEVED 3 BLACK and 3 CYAN!
This is the Times Square flagship store! (The on hold message is still iPhone 4S as well)


And I heard weeks for restocking...
Windows Central Newsletter
Thank you for signing up to Windows Central. You will receive a verification email shortly.
There was a problem. Please refresh the page and try again.