First look at the next version of Disqus for Windows Phone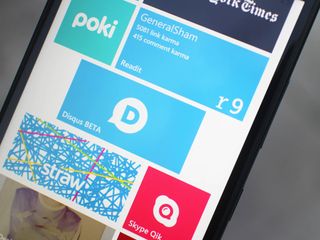 Ready for your first look at the next version of the official Disqus app on Windows Phone? Of course you are, which is what we're going to show you now. Disqus is probably one of the largest blog comment systems on the web. One that you'll find on a good majority of websites. The Disqus Windows Phone app was their first for mobile, so we're excited to see what's in store for the new Disqus 2.0 beta.
First things first, the next version Disqus was written in new and shiny Windows 8.1 code. That's right; it was completely rewritten as a Windows 8.1 Universal app.
Here are the new features over the previous version of Disqus on Windows Phone:
You can now log in/register with Facebook, Twitter and Google accounts
Follow communities in addition to users, which gets published in a brand new feed
Notifications now include upvotes, new followers in addition to replies
Notifications published to action center
New trending feeds for topics (e.g. Tech, Business, News)
User activity feeds now include favorites (stars)
You may now update your profile and upload an avatar right from the app
This is just the beginning for the next chapter of Disqus on Windows Phone. This revamp of the app allows the team at Disqus to have a new base to iterate off of. Going forward they have a ton of plans for after launching 2.0 in the Windows Phone Store. For example, look forward to support of new Disqus-exclusive communities called Channels.
First impressions of the Disqus 2.0 for Windows Phone? It's beautiful. It's fast. It's fluid. Those are the three descriptors that get tossed around a lot for stellar Windows Phone apps, and this is very likely to be one of those apps when it launches.
We're really liking the ability to now see upvotes, new followers and more inside out Notifications pane. A useful feature if you frequently participate in discussions on sites using Disqus.
There's a few steps the team needs to do before having a public beta, but in the meantime we figured we'd share what's next for Disqus on Windows Phone. We'll of course let you know how you can join a public beta when and if one becomes available in the near future.
What do you think of the new update? Disqus! ;)
P.S. Don't be afraid to check out the current version of Disqus for Windows Phone!
Windows Central Newsletter
Get the best of Windows Central in in your inbox, every day!
Great app! Loving it so far.

It is, and Disqus is actually something I think you guys should try and implement on here.

Agreed! Disqus is one of my favorite apps!

I have been asking windows central to support disqus powered comments but no replies yet. I remember the developer of the disqus app released as a windows phone only app. What harm can this support do to windows central?

They said no when the first app came out.

Mulling whether to put that in the changelog. Stay tuned.

seems more beautiful. seems faster. seems more fluid.

Just to say thank you. Having Disqus on Windows Phone has been incredibly helpful, and especially fighting the "lack of apps" argument against the platform.
When the Apple and Google fanboys realise that the app is only on Windows Phone it shuts them up for a bit.
Not sure how much longer this will be the case but THANK YOU, dear god, THANK YOU!

Yeah, I had some fun on the Disqus comments section of an Android fan site where some yahoos were ripping on Windows Phone and the app gap and I got to point out that Disqus is a Windows Phone exclusive app.

Oh yeah. THIS is certainly the app that ends the whole app-gap discussion. /s

Mobile Xbox games are the apps that end the whole app-gap discussion.

Hope Windows Central (Mobile Nations) also implements Disqus soon

Our Mobile Nation passport is your identity to all our sites and forums.

Hi Sam, appreciate that however from personal experience (widely mutual it appears from previous posts) Disqus is so much more user friendly. Just hopping that you guys do a U turn and switch some point soon however do appreciate that allot of time has gone into the new comments area therefore very little chance of that happening any time soon :-(

I've been at Disqus for almost 5 years, and I can say that I've seen it both ways. Disqus can help foster communities because: It has a single login/identity Consistent UI across sites (Believe me, this has been difficult to get sites to accept and have lost many to it, but has been better for the user overall) Have fairly advanced moderation tools The right approach, however, is one that's committed to the community. Disqus often fits into that for the reasons above, but we certainly don't see a problem when proprietary systems are done in a way that serves the community better. IMO, the mobile nations sites do that pretty well already.

Are we still calling it Windows Phone?

As of now, it's still officially called 'Windows Phone'. When W10 arrives, I guess that'll be the point at which the 'Phone' will be dropped.

It will go from having a Windows Phone to having a Windows phone. :/

Or from having a Windows Phone phone to having a Windows phone.

Rumor is it may revert back to Windows Mobile...

Great App I love it! can't wait for 2.0 with much improved design and functionality :)

Was about time... Disqs is just bad for Windows Phone 8. Just bad...

When did they release Android and iOS apps?

Not so bad. Well, at least for my experience I think it's ok. But I like the possibility of log in with my facebook account.

I could​ not log in because my account is a Facebook account. Thats why I think it's bad that way..

And that's why I luv it! I don't need a Facebook account to Login! Truth is any site that requires a Facebook account solely I don't even bother. Some people do want to keep some information private. :)

Agreed. Buggy as all hell

Hope their own typography instead of Segoe. It would make the app quite authentic and familiar :)

Can't wait to get it. I use the Disqus app a lot, but with the latest (much needed) improvements of their web interface it has fallen behind featurewise. I was worried that they might have abandoned the WP app, glad to see they have this update coming out!

Wow, that really does look like a very well done app! Those devs did an excellent job with the UI!

Really? Because I was just thinking how the current one looks more like a genuine Windows Phone app. I think the current app ranks among the most beautiful and best examples of the Modern design language. I guess everyone is just throwing the towel in on that now.

Great job Ryan (and anyone else who put work into this app at Disqus!) :D

I've been experiencing a lot of problems with the current app, it just doesn't load properly, and has become terrible, I hope this future version works better

The new design is horrible. It looks like an iOS app.

IIRC WP got a native app for Disqus first, before IOS and Android.

Seeing this has me wanting to go play the Lotto as I literally just got out of the Disqus app and was wondering when they were going to update it,because everytime I clicked on the notifications it would show an error message,then I would have to click it again before it worked. I'm so excited. Looks good!

I really wished that this site used Disqus. It's more organized than whatever you guys are using currently.

Great! I'm a huge fan of Disqus and I can't wait to try this. I wish I had an invitation for this private beta. Ryan is doing a really good job!

Cool! I almost thought they abandoned their windows phone plans ... :)

Finally!! Currently, Disqus is cramped and confusing. The tile is still blue, although it was apparently made transparent in the last update.

I hate how these guys are staying away from metro panoramic style that Microsoft started.

They need to allow log in/register using Microsoft account...

Great so see an upgrade for this app. It would be really useful but as it's now it is quite unusable. There aren't even basic features like move from a comment to the replies...

From the screenshots it looks like the UI has been downgraded over the current version which is pure and beautiful Metro/Modern. Lack of pivots (except that one screen) and icons at the top of the screen are just bad design. Reminds me of the recent OneDrive update which was rightfully slammed for being Android/iOS-like garbage.

I can assure you the design decisions were built around what was most natural and appropriate for the app. Most apps follow a linear navigation path, like - List <-> Group <-> Item - and making your way around with simple back navigation easy. With this app, it's common to be many pages away from the home screen, so we wanted an icon that would allow you to quickly get back there if desired. The icons/headers at the top also allow you to scroll back to the top of the list, which is handy when comment threads get into the hundreds and thousands. However, using those functions aren't terribly common, which is why they're at the top. The appbar itself contains the common actions and are easily within reach. There are a couple of pivot pages, and you should certainly see more as some of these pages get fleshed out in future updates. Right now there isn't much need for them yet.

That's all well and good and I appreciate the detailed explanation but the current app just looks cleaner and fits in with the rest of the OS. You should've just expanded upon that instead of trying to make it look like the Facebook app. The icons at the top are just really tacky. I'm looking forward to trying out the beta soon. Hopefully some of the issues can be fixed so I don't have to keep the current app around for aesthetic reasons.

Thos app sucked so hard. It STILL hasnt updated my latest replies or. Its stuck with the same replies from how many months ago

That's awesome. This app is great and I use it daily. The new UI looks very nice, too! Action Centre support is much needed.

The question is ... Works? Because de anterior versions off app not, a notification app don't send notification, great work disqus.

Still waiting for them to give me access to their beta sdk...

I still think Windows central should have gone with Disqus as a new commenting platform. Quite disappointed on that part.
Windows Central Newsletter
Thank you for signing up to Windows Central. You will receive a verification email shortly.
There was a problem. Please refresh the page and try again.