First look: Words with Friends, UrbanSpoon, Cut the Rope and more for Windows Phone 8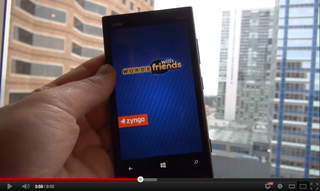 Although Windows Phone 8 is just starting to roll out for Microsoft and some folks even have new HTC 8X or Lumia 920's in their hands, those new Apollo-specific apps are still few and far between. Luckily we got our hands on a few new titles and we'll give you a brief video walkthrough on our AT&T Lumia 920...
UrbanSpoon
Words with Friends
Cut the Rope
CNN (Lens + Lockscreen)
Groupon (Lockscreen)
Hey DJ! (Voice integration)
Angry Birds Roost (Lockscreen)
Microsoft PDF Reader
ESPN Scorecenter
Overall not a bad selection and we're really digging the Lockscreen wallpapers. Of all the new features in Windows Phone 8, that has the most potential for being really unique. Anyway, sit back and enjoy the tour.
Daniel Rubino is the Executive Editor of Windows Central, head reviewer, podcast co-host, and analyst. He has been covering Microsoft here since 2007, back when this site was called WMExperts (and later Windows Phone Central). His interests include Windows, Microsoft Surface, laptops, next-gen computing, and arguing with people on the internet.
Awesome!!! I can't wait to get my Lumia 920!


Are the games xbl enabled?

Words with Friends: No Cut the Rope: Yes

Daniel!!! You are okay!!! Is your home okay?

Home = ok, but won't have power for rumored 1-3 weeks. Which means I'm probably not going home from Washington but maybe to Winnipeg.

What's in Winnipeg? You mentioned it in a previous post along with "more on that later" but never elaborated as far as I saw.

Winnipeg or "The Peg" is where Crackberry Kevin lives.

Yes on all. But idk on words with friends. I think no. But angry birds and cut the rope, yes.

What is the latest rumor on AT&T Lumia 920?

That's what I want to know. Nokia cut a huge deal with AT&T, I'm sure they know exactly when the 920 is going to launch in the US. Why the big effing secret on dates and pricing? Just a lame effort all the way around.

Just instagram!! Please!!!! PLEASE!!!

This is coming, but may be closer to christmas time.

All of this doesn't matter unless we have the hardware. Yes, I'm bitter and being impatient.

Okay, I'll delete this post in 5 minutes.

hahah no! i kid. appreciate the first look

Answers my question about Toasts appearing above the lockscreen.
Is there anyway to disable that?

Pretty bad cut the rope is still on beta. It's a really fun game...

Damn that lumia is super snappy

Kind of disappointed that UrbanSpoon is only WP8. I'd love to have that on my 7.x devices. They're a bit more impartial than Yelp when it comes to reviews.

there is ZERO reason why urbanspoon can't be on 7.x except outright abandonment by MS.

DAAAAAAAMN, those apps load FAST!!! Can't wait for my Lumia 920! Very pleased with Windows Phone 8 :)
And today btw, I learned that apps indeed fast resume if you open them again from the start screen in stead of loading again. Microsoft hit the jackpot with WP8. As far as I am concerned the best mobile OS currently today.

Cut The Rope will be available for Windows Phone 7? Please say yes. Chillingo released so many games to us, I can't understood why they will not release Cut The Rope for WP7.x too*

Because it's coming for WP8. WP8 is much easier to develop for and provides better access to the hardware. A simple game like Cut the Rope would work just fine on WP7, but clearly Microsoft needs WP8 games, and Chillingo chose Cut the Rope to meet that need.

So should we expect a lumia 920 review pretty soon?

Man, I think the new and improved tellme integration might be one of the best features to upgrade to wp8.
I just got more impatient for wp8. Thanks Daniel for that.
:-D

so, was there any value in saying "I want Pizza" to Urban Spoon? It looked and sounded like it was just listing a bunch of stuff from your preselected categories.. ??

The feature here is that tellme is finally able to hook into 3rd party apps. Yes, the example with urban spoon had a list populating which had custom preferences but they could be showing stuff based on location.. So in a way its better than local scout!!
Gotta test this in wp8

Dictionary, define "awesomeness"

Would it be possible to do an in-depth review of ESPN ScoreCenter? I'm especially curious about the live tile functionality (what can be displayed on the live tile), and, push notifications. Thanks!!

In WP8, does the picture album come with 8 pictures, 1-8?

Great start for WP8. They did a great job with the 46 out of 50. Can't wait to get my hands on some hardware.

really? Urbanspoon can only run on WP8? How frickin stupid. 7.x app support is drying up practically overnight.

Even when I used to have an android, Words With Friends was horrible and buggy. I could never get my friends to convert en masse to wordfued or words by post, but both were/are so much more stable than WWF. Good to know it's coming to WP though.

There has been alot of anticipation for the Nokia L920. Now that it is in your hands, show us that what you and the many have been waiting for.

So is words with friends coming to Windows Phone 7.5/8?

wait wait wait, can someone please tell me all these apps are releasing for windows phone 7.5 as well!? there is no way that they are doing this to their customers -____- im still on my Evo LTE but my gf is gonna be mad af lol

Cool, now we can all play Words with reneritchie2...

So great to see more of WP8 in action. Transitions are fast and smooth. Well done MS!!

This really does upset me as a Lumia 900 user. For the first time I truly feel abandoned. MSFT has 1 more time to abandon a platform I adopt before I go to Apple or Android. And im a proud media center with ceton user, Lumia 900 owners and surface owner, Zune pass subscriber

i thought espn scorecenter also had the live wallpaper

Dainel - Any word on the time frame for all of the new apps release? I'm specifially wondering if they are going to be holding on to the super slow one a week release schedule for XBL titles. I would hope that I can look forward to more that just 50 good games in the next year or so, but maybe not if they hold to the release schedule that WP7 had?

I think we need to grow quite a bit faster than that!

I don't really play alot of games on my phone but the PDF Reader app really interest me

I am so thrilled that Words with Friends is coming to WP8! That was the one game I absolutely wanted when I decided to switch from my iPhone. Awesome!

Daniel, could you give you opinion on which device you feel is better: 920 or 8x?

Good to see your still hanging tough with Lance....

PLEASE PLEASE PLEAES FIX THE RSS FEED.
Please guys.

Geez where are all the people who said they're ok with the Lumia 900 because 7.8 and 8.0 wont be that much of a different. Now I'm really upset with nokia over this nokia 900/920 debacle

Debacle? Are the Titan I/II, Samsung Focus S/4G debacles as well?

just curious from a technical perspective, how did this happen "we got our hands on a few new titles"? hidden store links? XAP? Front and Center public market items?

They found a clue scrawled on the back of a beer coaster. That lead in turn to a series of clues, each one more fiendish than the last! Eventually they stumbled into a mysterious underground vault containing the last, best hope for the shattered remains of humanity... and also some new WP8 apps to try :)

I know that Nokia, MS and others have said they will continue to support Win Phone 7.x but it is clearly obvious the platform is dead. There is no reason these apps could not be written to work on both 7.x and WP8. Smh

??? These apps were not written by Microsoft or Nokia; if these apps are not going to be available for 7.x devices, it's due to the developers chosing not to code for them, no?

That is the point. If the developers chose not to code for 7.x devices, WP7.x is as good as dead.

That is the point. If the developers chose not to code for 7.x devices, WP7.x is as good as dead.

Great preview. Man, I love that new lockscreen-app feature! I really hope that & at least some of those apps come to 7.8.

Anybody hear anything about a Sirius/XM app?

I'm curious about the ESPN live wallpaper, and how configurable it is. The only pic I've seen of it shows an NFL score, which is fine on sunday, but might get old during the week, especially if your favorite team lost. I'd hope it supports multiple favorites, and some way to prioritise them. I'd also hope they don't abuse my putting them on the wallpaper by advertising other games.
Urbanspoon is nice and all, but I have a lot of friends on yelp, and the lack of a worthwhile app there is a big downside. Same with instagram.

Excited about Live Lock Screen and Hey DJ can now take full advantage of the Tellme integration. Can't wait for more developers to really bring the full potential over to WP8

Any news on whether will get these for our legacy wp7.8?

Nice apps, Am i the only one who wants the Square credit card reader app?

cut the rope is my fav too love it man ossm designe clean and some time furstrating but cool

great clean new designe guys of wp central

nokia lumia 920

ut the rope is my fav too love it man ossm designe clean and some time furstrating but cool

great clean new designe guys of wp central.. <a title="bus limos" href="http://www.houstonbusservices.com/buses">bus limos</a

Wonderful. Share a website with you , (www.likesurprise.com/ ) Believe you will love it. We accept any form of payment.

So all of these are Nokia exclusives? The whole exclusive thing is bad for Windows Phone users because it fragments the platform. I thought these exclusive deals were for a limited time, but none of the old exclusive deals have been made available to other phones. I wanted to try out Mirror's Edge which came out in July, but it's still exclusive and I bet it going to stay that way.

Not sure about the other ones but Hey DJ! is not exclusive (I'm the developer). It will be available in the store in about a week. For updates follow me @diegohca.

Will these apps work on my HTC radar? Hopefully words with friends will at least work.

Cut the Rope is awsome, love the little guy ! Even some of the levels have changed a little from the iPhone version of it (Passed the first 2 "boxes" so far, noticed 2-3 levels that were changed from the iPhone version)

Just bought Lumia 920 yesterday can't find Words with Friends

HeyDJ seems to be allot like the Ford Sync software.
Windows Central Newsletter
Get the best of Windows Central in in your inbox, every day!
Thank you for signing up to Windows Central. You will receive a verification email shortly.
There was a problem. Please refresh the page and try again.