Fitbit Charge 2 review: A fitness tracker that hits the right pace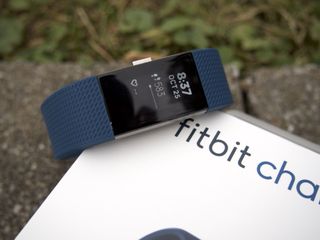 As perhaps the most well-known brand in the fitness tracker game, Fitbit has cultivated a solid reputation for itself in recent years. With one of the latest additions to its lineup, the Fitbit Charge 2, the company looks to bolster that reputation further with an eye on steady iteration.
Coming in firmly at a mid-range price, the Fitbit Charge 2 appears to offer quite a compelling proposition as a feature-packed fitness tracker that won't hit your bank account too hard. Thankfully, the experience of using the Charge 2 largely lives up to that promise as well.
Design and Display
Though the Charge 2 packs a style that features all of Fitbit's usual design cues, one thing that will undoubtedly stick out on the Charge 2 is the new, larger display.
When compared to the screen on the original Fitbit Charge and Charge HR, the Charge 2's display is absolutely massive. In fact, the Charge 2's display is around four times larger, giving you much more room to comfortably see the information that matters to you without nearly as much fiddling. While that's certainly great for general everyday use, being able to see more information at a glance is a godsend when you're on a run and want a quick peek at something like your heart rate and step count in one glance.
Thankfully, all of that information is easily visible in most conditions as well. I found the black and white OLED display in the Charge 2 to be plenty bright and crisp for most occasions, ranging from pitch black rooms to sunny outdoor hikes. That said, if you're looking at the screen in direct sunlight, you may have to squint a bit, but even the best of displays will falter when competing with the power of the sun.
One other minor qualm worth noting is that the screen is rather prone to smudges. While it isn't necessarily a problem for legibility, the smudging becomes pretty noticeable against reflections. Simply put, if you're easily bothered by some lingering fingerprints, you're in for some frequent screen-wiping.
Aside from the larger display, the design of the Charge 2 is very much recognizable as a Fitbit. The band is made of a comfortable, textured elastomer material that should hold up under well under the rigors of your usual sweaty workout — though the tracker is not waterproof. The band also uses a typical watch clasp, and comes in small, large and extra large sizes.
If you're a fan of swapping bands for different occasions, there's plenty to like here as well. The Charge 2 features a fairly simple clasp mechanism that allows you to remove each half of the band with a little pressure. You can then swap in any number of elastomer or leather bands in a variety of colors.
The bottom of the Charge 2 packs both the continuous heart rate monitor and the tracker's charging pins. The heart rate monitor does add some bulk to the overall package that could be slightly off-putting to some. However, I didn't find the added thickness to be particularly bothersome in my time with the Charge 2, and it isn't any worse than similar implementations you'd find on other trackers or smart watches.
Features and Performance
Interacting with the Charge 2 is a relatively basic affair, only requiring either a click of the side button or a tap to move through any of the tracker's options and information. While the basic input is simple and easy, navigating the menus can be a bit cumbersome at times. For example, if you accidentally pass what you're looking for while clicking through the different menus, there's no option to just go back one step. Instead, you have to cycle forward through the whole list again to get back to the option you were looking for. Thankfully, you're never more than a few taps away from where you started, so any frustration is usually short-lived.
As for tracking, the Fitbit Charge 2 packs the ability to automatically log quite a few different basic stats, including constant heart rate monitoring, steps, calories burned, flights of stairs climbed, and sleep quality. Most of this information is easily accessible at any time right from the tracker's large display, with more detailed breakdowns available in the Fitbit companion app.
Overall, I found the Charge 2's tracking to be pretty accurate. The constant heart rate monitoring consistently came within 5 beats of alternate measurements, and the step count was roughly even with what I manually tracked. Likewise, the automatic sleep tracking has turned out to be pretty good at accurately depicting how terrible I am at that particular activity. Though I did find the Charge 2 to be slightly uncomfortable to wear while sleeping at times.
As an aside, the Charge 2 can automatically start tracking different exercises, like running or biking, when it detects them. There is a slight delay in tracking however, so it would be best to manually start a workout if you're wanting to record the most accurate information.
One feature I particularly liked — and it's something you'll find on some competing smart watches and other select Fitbits — is the Fitbit Charge 2's reminders. After a certain amount of inactive time, the Charge 2 will helpfully buzz your wrist with its built-in motor to remind you to get up and take a quick walk around to get some steps in. This is usually accompanied by a cheery message like "Let's take a stroll!" alongside a joyful stick figure. It's a small touch, but it's incredibly useful for those of us who tend to get buried in work for hours at a time without remembering to move around a bit.
The Charge 2 also now packs a guided breathing feature. Accessible within a few clicks of the tracker's side button, the feature is intended to help you de-stress and bring your heart rate down. While I found that to be generally accurate (my heart rate did lower after the exercise), I also didn't find myself going back to the feature over and over again in my time with the Charge 2; your mileage may vary.
Battery life, as you would expect from a fitness tracker like this, has been excellent. Fitbit rates the Charge 2 at 5 days of constant use, and that's largely accurate. I was able to eke an extra day out of the first charge, but Fitbit's estimate has been accurate since. Luckily, the Charge 2 is quick to charge, so you won't ever have to interrupt your tracking for long.
One quick note on notifications: although the Charge 2 does have the ability to display notifications from your phone, notification aren't currently supported when paired with a Windows 10 Mobile. Essentially, this comes down to missing support at a platform level for a protocol known as Bluetooth GATT. Luckily, GATT support should be coming to Windows 10 relatively soon.
Software
On the software side, the Fitbit app on Windows 10 Mobile (also available on PC) looks superb from a design standpoint. When you first open the app up, you're presented with all of your basic tracking information, along with big buttons offering to help you manually log meals, water intake and your weight. The interface is light and airy, and offers all of the right information up front. Simply tap on any one of the tiles to get a closer look at that information. Tapping on the sleep tile, for example, will give you an hour-by-hour breakdown of your sleep stats for the last week, along with a monthly average and much more. Each section is like its own little rabbit hole.
Diving deeper, you can swipe right from the main screen to quickly move between your challenges, friends list, and messages. All of these screens present the information contained within in a fairly straightforward manner, making things like starting a new challenge or changing your fitness goals a breeze.
One particular area where the app falters is in its seemingly hidden options for the Charge 2 itself. To do things like change the clock face or set silent alarms, you either have to tap on the tracker icon at the bottom left of the main screen or in the general options menu. However, it isn't immediately obvious that either spot is a tappable shortcut to those options. It's a relatively minor concern in an otherwise pleasant app experience, but one worth noting nonetheless.
Conclusion
Since the Microsoft Band 2 is now on its way out, the Fitbit Charge 2 may seem a compelling option to those looking for a solid alternative. If you're concerned by the Charge 2's lack of waterproofing and don't mind spending a little extra, however, the Garmin Vivosmart HR+ is likely the closest competitor and is definitely worth a look.
The Fitbit Charge 2 is currently available with a selection of different colored bands, including black, blue, teal and plum — just to name a few. Available from a number of different retailers, the Charge 2 will set you back just $149.99.
See at Amazon (opens in new tab)
Dan Thorp-Lancaster is the former Editor-in-Chief of Windows Central. He began working with Windows Central, Android Central, and iMore as a news writer in 2014 and is obsessed with tech of all sorts. You can follow Dan on Twitter @DthorpL and Instagram @heyitsdtl.
Very happy with it, except that the Windows 10 app (non-english versions) still cannot sync the first time you use the Charge 2. You must use a dongle with a PC or the Android/iOS app...

Picked one up a week ago and have been pleased with it. The Windows 8.1 app hasn't been updated to support the Charge 2 but since I have the PC version I don't sweat it too much.

I wish this was a video review covering workouts and runs with Charge 2.. Also, u missed Connected GPS feature in this new Charge 2.. I would like to see how this new feature performs with windows phone..

Connected GPS, just like notifications, isn't supported by Windows 10 yet.

How well does this Charge 2 compare with Microsoft Band 2??

The Band 2 is a much more capable tracker with more on board. I just got my Fitbit Charge 2 last week and it takes some getting used to. Cortana will be sorely missed, and navigating through the tiles on the Band is much quicker than all the tapping. It takes 8 or so taps to start the bike tracking, as opposed to hitting the tile and a click of the button. However, I do love that tracking sleep is automatic, and setting alarms in the app much more elegant then changing it each night. I have to believe that Microsoft has something in mind for a wearable though. Band 2 struck a great Balance the Fitbit still can't touch. But the Fitbit app connects to my Aria scale and allows me to log food, which Microsoft didn't provide. I can recommend the Fitbit and with GATT coming soon it will get better.

You can change the order of and add and remove activities on the Charge 2.

I'll have to dig deeper on that. Overall liking it a great deal.

N.B. Band_2 does have auto sleep-tracking, it's just more accurate if you manually set each night. At least initially, IME it gets slightly better with auto over time, but then plateaus...

Depends on what you needed from your Band 2. I just came over from Band 2, and overall I am happy with the Charge 2. I don't really work out, but I wanted step tracking, heart rate tracking, sleep tracking (which is fully automatic on C2), and basic notifications so I could leave my phone on silent all the time. The screen is not as pretty, but battery life is hugely better. I've had mine a week and only charged it once. The C2 is lighter, and by design it looks like it will hold up much better than B2 since the bands are replaceable. C2 is a simpler device, but the app is good (iOS here) and it is multi-platform. Had B2 not been saddled with quality issues, I'd take it above the others, but C2 is a good product, IMO.

I agree. I loved the notifications on Band 2, especially incoming calls. Even with it upstairs on the charger, my Band 2 would tell me about a call. Like I said, I am getting used to the Fitbit (and it is not the first I have had - had the One and still use my Aria scale.) and it will do most of what I need once WM 10 grabs GATT support and Fitbit updates their app. I have yet to see decent battery, but that likely is my being over anxious. I left the office on Friday, having just gotten it and thought I had a full charge, but I began getting low battery warnings on Sunday evening. Stupidly left the charger cable on my desk in the office. I have since ordered a second, just as I did for the Band.

When my band is dead I'll probably switch, but I'm good till already February with factory warranty, and longer with BestBuy's warranty. So it may be a while.

Since my fifth Microsoft band fell apart and since the Microsoft Band Three seems to be dead. I purchased the Fitbit Charge 2. As stated in the report, you don't receive text or email notifications. Besides that, I love IT. Once a week you receive a summary of the previous week.....great thinking!!! (Paired with the Microsoft 950)

I paid $169 for it on Amazon a couple weeks ago.

It really is a lovely replacement for the Band 2, which I currently use. But nothing I've seen so far has the functionality the Band 2 has, for the price. The Band from Microsoft was a technical work of art in form and function (minus the actual bands sometimes ripping for some). It was something that I gladly saved up for and now wish that Microsoft had continued their pursuit of the market share they desired. The function of the Band 2 OS alone, is something I will miss.

I wish it had longer battery life. My Charge goes for a week before showing the low battery sign. The Charge HR does let one save some battery by letting you turn off the HR sensor.

This is no alternative for the Microsoft Band. Fitbit Charge 2 has nog GPS tracking!

It has "connected GPS" like the iWatch. So far that feature hasn't hurt Apple's iWatch sales.

I bought a charge 2 about a month ago. The only thing I'm missing right now is the notification issue and I'm looking forward to them being shown soon.

Can someone comment on the connected GPS? Does it work well with the 950XL? My Band 2 recently died with the battery issue. The MS store exchanged it, but also offered the Fitbit Blaze. I asked about a Charge 2 swap instead, since it's cheaper. They said they would. However, I LOVE my Band 2 and just couldn't pull the trigger. If the Band 2 dies again and the Charge 2 does connected GPS well, then I'll probably go Fitbit.

No connected GPS (likely because the Band already had GPS), last I heard it is coming. But prolly not before GATT, which has become quite likely for the March "creators update" (RS2). Hopefully definitely by RS3, & if you're in the Fast/Slow rings -a few months before that.

Uh. Won't the what looks like some sort of rubber material wristband suffer the same fate as the wristband in the Microsoft Band? and yes, I know that's a lot of bands! :)

You can get a milanese loop band ( on Amazon ) for less than $20 US. It's metal with a magnetic clasp. That makes it super adjustable and thus always comfortable. The band holds up well, and does not irritate in any way, even when sweating.

Knowing they could not honor the warranty on my Band 2, the Microsoft Store exchanged it for a Fitbit Blaze. Because I liked the size of the Charge 2, and had credits at Amazon, I got that also. With Fitbit you can interchange them and the software tracks just fine with no intervention necessary. In addition, I bought the very flexible Milanese bands for both ( less than $ 20 each at Amazon ), making these the most comfortable wearables I've owned. Both of these track well, and they are durable. With all of those good points, without any hesitation I would assert the Band 2 is a far superior device. The display was amazing, the capabilities exceeded my needs, and I found it very comfortable. I was astounded when Microsoft dropped the product because it seemed like it was gaining traction with add on developers, and I kept seeing reviews that used it as the benchmark for comparison, and the Band was always the standard the others couldn't quite meet. Knowing the strap would give out before the warranty expired, and there would be no repairs/replacements available, I took advantage of the free swap. However, I miss the Band 2. Also ... charging was never an issue. I put it on the charger in the moring while taking a shower and getting dressed, and that always topped it off well enough to never have concerns. If MSFT changes direction and releases a Band 3, ( not seeing it at all, but who knows ), I'd be there on release day to get one.
Windows Central Newsletter
Thank you for signing up to Windows Central. You will receive a verification email shortly.
There was a problem. Please refresh the page and try again.