GATT support, vital for wearables, should be in Insider builds later this year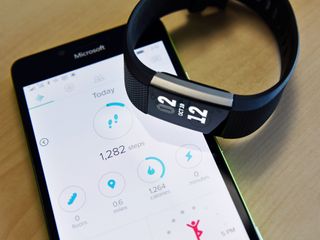 Microsoft's Windows 10 for PC and Mobile is best thought of as a work in progress. As such, there are missing features that are planned to be added including GATT Server APIs and functionality.
Why is that important? The lack of Bluetooth GATT (Generic Attributes) is the main reason why wearables like FitBit can't read and display notifications. Luckily, Insiders should see GATT support added in a future build of Windows 10 before the end of the year.
The news was posted at the end of September as an update on the Windows UserVoice page for Developer Feedback. Clint Rutkas, a Microsoft admin, and Windows developer posted an updated on the request for GATT support:
The takeaway is that GATT will be in a forthcoming Insider build and, moreover, the APIs will be added to the software development kit (SDK) so that developers can immediately build the functionality into their app. We last reported on GATT support and Windows 10 back in April, so it's about time we heard an update on the matter.
It is not clear if developers will be able to use GATT in their apps prior to the public rollout of Windows 10 'Redstone 2'. If they can't, users will have to wait until "early 2017" for the updated apps.
GATT support will greatly benefit Fitbit who rely on the Bluetooth profile for their fitness wearables. We have been in contact with the company, and they are ready to pounce on GATT support as soon as it is made available to them. That means devices like the new Charge 2 and the popular Blaze will be able to display text messages, phone calls, and more with a Windows 10 Mobile device or PC.
While there is no specific date for GATT support in Insider builds of Redstone 2, there are only a few months left for the year making the wait not very long. We'll, of course, continue to track GATT and Fitbit developments as they happen.
Thanks, Kristian C., for the reminder!
Windows Central Newsletter
Get the best of Windows Central in in your inbox, every day!
Daniel Rubino is the Editor-in-chief of Windows Central, head reviewer, podcast co-host, and analyst. He has been covering Microsoft since 2007 when this site was called WMExperts (and later Windows Phone Central). His interests include Windows, laptops, next-gen computing, and for some reason, watches. Before all this tech stuff, he worked on a Ph.D. in linguistics, watched people sleep (for medical purposes!), and ran the projectors at movie theaters because it was fun.
This is great! BUT, is anybody going to release and support a third party wearable until it's actually in production builds....Which is potentially end of Q2 2017 or later :-/ It could be late 2017 before anybody actually gets around to supporting this - There's hope for FitBit maybe doing this in a Beta format, and maybe MS even have something up their sleeves with a partner. Overall still great news as this has been missing for a while!

Fitbit will do this as soon as they can, I know that, and frankly that is mostly what matters for wearables imo. RS2 is due in early 2017, not 'end of Q2' AFAIK. Current thinking is more along February/March. RS3 is also planned for 2017 and we're now hearing of RS4 ('18) too...all of which will build out Mobile.

That's not too bad then if it's looking like Feb 2017, that would be great tbh. FitBit are the ones I'm thinking most likely to jump straight on this. Their Windows 10 support is pretty great already and they are going all they can at this point - They seem eager to support more on W10M when they post on their forum etc.

I agree. Fitbit pretty much owns the market and with no sign of a Band 3 (not to say there won't be one, but if there isn't,) they may become the wearable of choice for Windows phone users. They also have the best development team with users who comments in the forums and post here. At least we'll have a path forward once this is out to a range of quality smart fitness bands.

As many band 2 I have been through I would problaby change if this one dies again when this happens.

personally, i find garmin's vivoactive hr to be a better replacement. my wife had the charge hr and went through 3 replacements, plus it's HR readings are all over the place if you're actually exercising. the garmin vivoactive hr is solid during the day, however, when you exercise, you can pair it with the chest strap for a much more accurate reading then any wrist-based device can give you. the vivoactive hr's capability for interval training, along with the hybrid capability of both chest strap and wrist-based HR readings make it much better in my opinion. It has some quirks with windows phone, but it's functionality is on par with FitBit. The *HUGE* caveat is that it depends on MyFitnessPal for food logging. MFP refuses to build a mobile website, so you're stuck using their desktop site on your phone, or logging it when you can on another device like an android tablet or a windows tablet/pc.

RS4? LOL, are they ever going to move on from Redstone as a moniker to another again? Feels like a lifetime since Windows 10 insider builds were codenamed Threshold! :P

I'm sure they will, but a name is just a name. Project Spartan was a better name than Edge, but they decided to change it in the end.

Nether, Ender, Wither or glowstone, makes no difference to me as long as they keep hard at work on building out W10M, as Daniel pointed out. That would (will) be great. Though, I can't envision Windows 10 Creeper build. That gives one shivers...

Does Fitbit do app notifications or is it just phone/txt msg notifications? My main use for Microsoft Band is for app notifications.

Our goal is for the Fitbit app to support notifications as soon as is technically possible. I would like for tracker notifications to be available when GATT Server is launched in Insider builds. We're working on it! :)

Will connected GPS be available around the same time? I'll be honest I prefer the Band approach of having it built in but the best FitBit device (for me) doesn't support it. The support for W10M is great so far, do any devices currently support launching assistants (on any platform) via a button? Supporting Cortana directly and on-screen like the Band seems like a stretch (unless there's something brewing between FitBit and MS around this) but just launching via a button and having the audible response come through would be great (Basically like a Bluetooth voice connect like any other, but on the tracker/watch device)

Check out the Garmin VivoActive HR. Very similar to the Band.

the vivoactive hr is my favorite so far (out of fitbit one, microsoft band, charge hr, and currently vivoactive hr). the big caveat is food logging as it depends on myfitnesspal. i own an android tablet so its easy to log at home with that lying around. when i'm at work, i'm on a pc, so its easy then too. its the random times i'm not near either that its a pain. i either have to make a mental note (or cortana reminder) to log it later, or try to navigate the stupid mfp desktop site from my phone as they're too stupid to make a mobile site.

I just bought a fitbit charge 2 so this is great news

Do these have a generic button them to launch any phones digital assistant? (Like a Bluetooth headset can)

It already is later this year.

"Later this year" is really a relative term though, it's already close to/is "Late 2016" but "Later this year" is just relative to when the statement is made if you think about it

Not "late" this year, "later". "Later" means later than right now.

But why would microsoft investing so much time and work on mobile if its actually dead and they suspended even hardware production??

not sure if this is sarcasm or not, but they suspended lumia. not mobile entirely.

My wife is an avid fan of Fitbit (she currently used the Charge HR, about to replace it with the Charge 2), so having a major wearable player like that ready to fully exploit GATT via their app is a good thing. It's just a shame that Microsoft seems to be placing more emphasis catching up on lesser things instead of the capabilities and features that would attract and hold third party vendors.

This good news.GATT support is long overdue.

This is the benefit of OneCore. Windows gets a feature that will trickle to other form factors.

Thanks for the second "heads up," Daniel... much appreciated!

About motherf***ing time. Now about that FmRadio API.....

I wanted the FM feature in my phone, but while I still had it I only used it 5 times at most. With streaming services, offline playlists, and music stored on the device, FM capabilities aren't as critical as they once were. iHeartRadio is radio's answer to this shift in culture. You can still get the radio stations around you and even ones from across the country. Of course the app relies on a strong data connection, but so does traditional radio.

Exactly. I can live without FM Radio, because I only used it like once or twice a month. And that's even replaced here by TuneIn Radio. But I couldn't live without Deezer :D You know, life is a bit harder, when you don't like the kind of music aired on FM radios, and listen to Sum 41, Asking Alexandria, Bring Me The Horizon, Rammstein, Die Toten Hosen, Linkin Park, Papa Roach, and similar bands spiced with a littlebit of rap, instead of Beyonce, Pitbull and Justin Bieber :D

+1 for Rammstein, but then I had to give you -1 for Justin Bieber... So you netted 0 :)

I said I don't like him, but the radio plays his music :P :D Or does it worth a downvote if I mention him in any context? :P :D

Lol, I see now :) misread, I'll give you the upvote because of Rammstein

Actually, that is the exact difference to traditional radio vs streaming radio like iHeartRadio. Traditional radio uses no data whatsoever (unless the app displayed ads but the one from Microsoft did not), it relied on your headphones to pick up the signal

"Of course the app relies on a strong data connection, but so does traditional radio.​" Uh, no. My local radio station puts out a bit more power than any WiFi Access Point I'm aware of even if we are talking digital (HD) radio. Don't need to be within 30 yds of the radio station TX, and don't have to pay for the pleasure either.

Uh, there are API's to build a FM radio app..? They just removed the app.

There are plenty of FM Radio apps.


Do you need it to run on your computer too?

The are plenty of FM Radio apps at the store. I am using one.

Some countries are looking at killing off FM radio anyway, it's old school now. Really in cars in the main place people still use it. The FM radio experience which used the headphones as the attena has been poor for a long time in phones.

What's different about the Band that allows notifications when no other fitness trackers do with Windows 10 Mobile? I have a Band 2 but have been considering a FitBit Blaze.

Simple, Microsoft cheated as they own the platform. They were able to code around their own SDK because they make it all.

One of the few Microsoft exclusives.

Yeah there's a special permission for access to your Notifications. The MS health app requests this permission when you first run it up. I'm pretty sure it's one of the restricted capabilities. I wouldn't call it 'cheating' per se since other companies do a lot of proprietary things (Apple do it with great success in certain areas) but it's definitely not the way the rest of the industry does it and was specific to MS like Daniel says. GATT is the standard everybody has converged on so great to see it coming. Comments from Fitbit indicate we will have notification support as soon as is possible for them to implement, so we may not be waiting much longer to get in on the third party wearables. I love the MS Band specific features, and I'll miss them but having access to a wider range of wearables is surely going to be better than just one that as of now has a very questionable future.

But i just read on fitbit's website that fitbit alta DOES smartphone notifications. Can you confirm this?

It does smart notifications for android and Ios. Once MS turns on GATT then it will work for Windows Phones! Someone posted that Garmin does windows phone notifications already in the Vivo Active HR

I don't see it saying alta does smartphone notifications on a windows 10 mobile device.

It's about time. I thought this was supposed to be added in the RS1 update. It's great to hear that it is being worked on and that Fitbit is still actively developing for the platform.

My band 2 quit working several weeks ago and I decided to go with the new charge 2 which is a great device. GATT will make it even better. I'm glad to hear that Fitbit is ready to jump on it when it comes online. Hopefully they will release a firmware update to accomplish this.

No connected GPS with Charge 2, though, for us Windows users. It's a bummer.

No firmware release will be required. The firmware supports notifications in a specific way, and we can't build the service to do this on Windows until we have GATT Server. You should just received an update for the app, and if you are on a compatible version of Windows it will just work (hopefully). :) It will be an Insider build after all.

Eh, great, but eh will there be anybody left to use it? MS really needs to work on the image of their OS soon, or there will be no users or apps left. They need to communicate their commitment aggressively and continually if they still want to make this work. And time is running out quickly.

Agree. But I'm afraid that MS's "aiming at business" will mean we'll get less/no consumer apps. Endomondo already stated that they're not planning to release a Win10 app, nor update their outdated WP app. Having been a fan of WP for about 6 years now I'm seriously thinking of jumping ship. I don't feel MS is committing to WM as much as they are claiming to be. Lack of devices is another story.

That is exactly my point, its easier to wait a bit longer if you know MS is committed. But I'm not convinced this is the case. Hopefully the hw event at the end of the month will give us a better idea where our OS going. If there is no new mobile announcements we know what to do. I'll wait till then to I decide if I'll buy a new windows mobile phone.

Band 2 or Fitbit alta? Been holding back on the band 2 because of the strap issues

Get the Fitbit once GATT support is available.

Band has been discontinued, so that might influence your decision.

I'd go with the new charge 2

It's amazing that it took this long for them to address this. I wonder why it was so low on the priority list?

Every app didn't have a dark mode yet.

This should not be an insider thing, it should just go straight to release builds.

It would depend on whether it relies on any other core changes. Might not be possible

New features only go to the insider builds. Release builds only get bug fixes, until the next version of the OS is released of course.

are you kidding me? "this should not be tested." - said no one ever.

including myself because that isn't what I said.

Music and audiobook control via touch would be great. Indeed.

I'm pretty sure FitBit devices with music control already work on W10M

Well,I am both bummed out and relieved. Just ordered my Charge 2 hoping I would get notifications. This is important to me. Hoping for an earlier addition for insiders soon.

You'll like it I really like mine.I'll like it better with the notifications

I thought this was already added in Redstone 1. Pebble time manager 10 allows notifications and works really well. I highly recommend it if any pebble users out there

GATT is good new. Even better news would be a decent Band 3 or Surface Band or what the hell the name would be Microsoft would pick. Even a Lumia-Band would be ok for me. .

Band is discontinued. They've removed it from the store and pulled the SDK from their website. It's dead.

If this opens us up to getting REAL third party smartwatch support, then I cannot flippin' wait! I like the heart and sleep tracking of the band and I love the ability to reply to texts straight from the watch AND set reminders from the watch but with it going away and not being replaced, it makes me REAL nervous that the first time it breaks out of warranty. I'm going to have to turn my ringer back on. The stress reduction of turning off my ringer has been the best things about having a smartwatch... Are there any third party devices that let you interact with cortana and reply to texts via keyboard, voice or both?

When's the new Fitbit reviews coming Dan? You've been mentioning it for a couple weeks now... I'm eger to here it!

Great news. That is really missing

They need that much time! How hard can it be.

I have a Garmin Vivoactive HR and it has had notification support since I bought it when it first went on sale. I changed from a Fitbit charge HR as the HR monitor failed on it and the store didn't have another, so I ponied up a few more pounds for a much better device IMHO. The VAHR works with my 950 XL & my wife's 950. I don't know if it uses GATT or not.

Wow didn't know that.i figured since no GATT announcement that the VAHR was in the same boat. Oh well I'm very happy with the charge 2.

The Garmin musn't be using GATT Server if it's not in there. The only GATT related APIs are client related, for accessing devices with a GATT server - That's been in UWP for a goo while. Not sure how the Garmin is doing it, but can you post a video of how this looks when a notification comes in?

If you remove and then re-install the Garmin app does it request approval for the Notifications Permission? If so then it's using APIs similar/the same as what MS Band uses. It's possible FitBit could have worked with MS to do this with their FitBit devices (Pretty sure you need permission from MS to access Notifications APIs) but you can see from their point of view how it can be better for them to wait for GATT and keep everything nice and standard.

As far as I know GATT was opened since Anniversary Update. Some apps using it are in the works now and I got from the developers it's currently working for some devices.

How many years will it take to bring WM 10 up to snuff?

That may just save my growing thoughts on ditching Windows for my phone OS of choice...and I'm a long term fan too...my Band2 is likely to split once more whilst still under warranty...if they can't replace it then having a better range of other options is going to be a majorly positive step as it really has made me dwell on jumping ship.

What if MS acquired Fitbit? This would fill the hole of wearables left by Band with well known and used wearables made by Fitbit. MS would also have another app in all platforms. Just a thought.

But then they would own a hardware company and I think they are trying to get out of hardware...

yeah. i heard they were trying to drop the surface and xbox too... ... ... /s what are you talking about getting off of hardware?

Then all employees will be fired and the company will close.

Lol, another $8 billion write off

You don't know how buyouts work do you?

This is good news. Looks like I can finally join Fitbit now once my Band 2 expires.

Really sad to know the Band is basically being discontinued. Watching the detailed testing of the Band vs other trackers, it was the most accurate tied with the Apple Watch. Fitbit and Garmin had very skewed results. Plus the Band was one of the only trackers with built-in GPS (before the Watch Series 2), and the platform it was built upon was well thought out, and available for every device and partner. If they marketed the product better and had a more durable and water resistant design, it would have been a steal. No fitness tracker did as much in tandem with the phone that was truly cross platform. Not the Watch or any Android Wear device now there. Now we just have to sit and hope that Fitbit doesn't disappear on the platform like everyone else has been doing lately.

The message from FitBit is that they aren't going anywhere and want to support this ASAP. FitBit is what you describe above btw....It's cross platform and I think they'll start adding integrated GPS to more of their devices. Not sure if they work with personal assistants right now, but their devices could easily do this with a speaker, microphone and button in the same way a bluetooth headset can trigger Cortana/Siri etc. You would just lose the on-screen feedback perhaps.

But as of right now, Fitbit doesn't. And that's the point I'm trying to make. Plus their tracking results were a lot more skewed than the actual real world results in comparison to the Band. I'm sure no hardcore fitness guru is planning on using a consumer fitness tracker for everyday tracking but its the principle behind it. Microsoft had a very competitive product on the market that, with 1 or 2 more releases, could have gained the traction that other companies currently have but they never bothered to follow through with it. Very disappointing.

I'm a huge fan of the Band, I own both versions and I've developed apps for it - Really love the device. Not sure on whether it's more accurate than FitBit or not but I've seen the Band 2 described as bad in the HR monitor area a few times....Like you say these are consumer trackers and I think the results vary so much that it's not possible to say one is definitely more accurate than the other under all circumstances. As long as they are consistent they at least offer relative data to themselves. The big thing with Band is that it's cross-platform but doesn't have the name behind it to encourage enough people to use it. In the main Band group I talk with a lot moved to Android or iOS and took Band with them, those who have used iOS for the last 10 years are either not interested or only want what Apple is putting out. FitBit are the leader in the market which is a good thing for us, and will offer a wider range of devices. Given the choice I'd have a Band 3 absolutely....But that's my personal choice and I don't know if the masses would agree. I personally love the design of the Band in that it isn't distracting at all, glanceable notifications are definitely all I need. It will be sad to lose the fantastic keyboard, UV tracking and integrated GPS but I don't see a Band 3 on the horizon, if there is another wearable then there's a high chance it won't be compatible with the Band/Band 2 apps either. If we're lucky we might see some collaboration between FitBit and MS on a device that has some Windows 10 specific features like Cortana. FitBit seem to want to support W10M quite enthusiastically, you have to think theres something going on between them when FitBit could easily just support iOS and Android....I think they want to pick up the people that leave the Band as Microsoft stop replacing them,

Now waiting for the Mirrorlink announcement

Waiting to see how caller id works on my fitbit charge hr!

Yeah, the first version of GATT API is already there since Windows 10 14926, see the recent changelogs: https://martinsuchan.github.io/ApiPeek/Diffs/win10.14915.to.win10.14931....

Microsoft!! Enable the included Bluetooth on the Xbox One wireless chipset and the developers can target the console and the Kinect can have a use as an exercise device while keep the wearable sync across Windows 10 platforms...wold be nice to know how much exercise im doing while playing Kinect Rivals!!!

Yessss!!! I been waiting on this for my Fitbit Blaze...Glad to hear this!

OMG another reason for my phone to allways put my last name in all caps! NOOO

Not sure if it's because of GATT, but since 14955 or one prior I have been having continuous problems with BT on the insider build. Some examples: Turning BT off ant on via settings does not work Microsoft Band app thinks that Bluetooth is turned off on the device and will not sync, though other apps such as Band Monitor are working fine. While using Bluetooth headphones the audio will suddenly stop, though I can see that the audio is still playing (Audible, Podcasts). The only way to get BT working again is to turn off the device. The standard power button turn off won't work, though...I have to use Vol Dwn + Power because it hangs at the 'Goodbye' screen
Windows Central Newsletter
Thank you for signing up to Windows Central. You will receive a verification email shortly.
There was a problem. Please refresh the page and try again.