Five must-have games for your Oculus Rift
Consider this your Oculus Rift starter kit.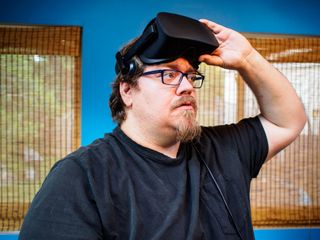 There's a lot going on in the Oculus Store, which is the primary place you get games for your Rift headset. Titles range wildly when it comes to price and description; many titles have been pulled in from the Samsung Gear VR, Oculus has funded many amazing AAA games, and indie devs are creating content at a swift pace. It's a lot to take in, and that's only going to get more interesting when you start playing games for your Oculus Rift that come from Steam instead of the Oculus Store.
To help you get started with your Oculus Rift, we've put together a quick list of titles from Oculus Home that everyone should have in their library in order to fully appreciate this incredible VR experience.
Ready, go!
DiRT Rally, for all racing fans
It's usually a toss-up between Project CARS and DiRT Rally (about $60) when it comes to the best racing game for Oculus Rift, but it seems like more people prefer the dirtier, more claustrophobic DiRT Rally. The quick turns, acceleration, and strategic braking seem to translate very well for VR, and you'll be gasping and gripping the virtual steering wheel until your knuckles turn white.
Echo Arena, for intense competitive action
There's a new form of competitive e-sports emerging, and at the forefront is Echo Arena. A free addition to the amazing Lone Echo, this zero-gravity team sport sees you trying to toss more disks into a net. There are many strategies to employ, but one thing remains the same: action is fast, physical, and rewarding. If you'd like a true challenge, be sure to grab Echo Arena and see how you fare.
Robo Recall, for your futuristic shooting action
Robo Recall, which is a free add-on to the Oculus Touch controllers, should not be missed. You're tasked with recalling a city full of rogue robots who are armed with a wide selection of weaponry, yourself armed with an ever-updated arsenal. The tongue-in-cheek dialogue will keep you chuckling to yourself, and the live leaderboard will have you coming back, again and again, to try to reach the top. If you love first-person shooters, you can't miss Robo Recall.
Killing Floor: Incursion, for a gory scare-fest
The horror genre translates incredibly well to VR, and what's better than adding a bunch of guns and blood to up the fun? Killing Floor: Incursion comes at you with all the above, plus a co-op mode, plus a storyline line that keeps the bloodshed moving along at a brisk pace. Great graphics, lots of content, and a lot of violence make this a gore lover's dream; grab it now for about $40.
Minecraft, for everyone who loves to build
Everything about Minecraft begs to be in VR. The way you can explore a massively unique world is enhanced by looking around with just your head movements, and with a gamepad, in hand, the gameplay is familiar enough that you can play quite a bit without needing to look around and see your keys. Explore, build, and share both with those in VR and those playing in standard 2D mode. Everything you can do in the standard Minecraft: Windows 10 Edition you can do in VR; just remember to keep your eyes peeled for creepers! To play, first grab the Windows 10 Edition for about $27. After that, the Oculus version is completely free.
Updated September 14, 2017: We've refreshed this list with a new collection of must-have Rift games to ensure your game library is as awesome as possible.
Get the Windows Central Newsletter
All the latest news, reviews, and guides for Windows and Xbox diehards.
Essa Kidwell is an expert in all things VR and mobile devices who can always be found with an Oculus Go, a Pixel 2, and an iPhone 7+. They've been taking things apart just to put them back together for quite some time. If you've got a troubleshooting issue with any of your tech, they're the one you want to go to! Find them on Twitter @OriginalSluggo or Instagram @CosmeticChronus.